I'm calling it football, you might call it soccer… tomato, tomahto. As long as we both know that we are talking about the sport with the round ball and not the one with the shape of an inflated pig's bladder. European football, ok? Get your head in the game!
We're a travel blog, and as such we've put together numerous awesome travel guides and top lists for Spain. But we can't turn a blind eye to Spain's national sport: football!
We'll take a look at the best teams and their stadiums from the most interesting tourist cities in Spain. Learn how these teams originated and what sparked some of the biggest rivalries in the sport. Some of the stadiums are insane, too! They are worth a visit not only for die-hard football fans.. Read on and learn.
You might also be interested in reading:
A little basic football knowledge
La Liga, formed in 1929, is Spain's football league, and a top league in Europe. Currently, 20 of Spain's football clubs are in La Liga. The bottom 3 drop down to 2nd division after each season. Only the three founding clubs—Real Madrid, FC Barcelona, and Athletic Bilbao—have never been relegated to 2nd division.
Currently, the top football teams in Spain's La Liga are Atlético Madrid, Real Madrid, and FC Barcelona.
If you add the number of Copa del Rey wins to the mix, Athletic Bilbao shoots up to second place, right behind FC Barcelona. Copa del Rey is the oldest national football tournament in Spain, organized by the Royal Spanish Football Federation.
1. Barcelona: more than a football club
Barca

FC Barcelona is more that a club—I mean even the seats at their stadium say so. 'Mes Que Un Club' is Barcelona's motto, and is meant to symbolize the club's philosophy of promoting values like respect, humility, and teamwork.
Just like Barcelona, capital of Catalonia, is a spicy, independent region of Spain with a powerful sense of identity, the city's football club is an institution in the football world with a strong brand and personality.
Unlike the vast majority of football clubs, it isn't a corporation owned by a wealthy dude. FC Barcelona's members own the club. How cool is that? Only three other top clubs have this type of setup: Bilbao, Madrid, and Osasuna.
FC Barcelona is also a big promoter of women's football, and they have a successful youth academy. Three of Barcelona's former youth academy students, Lionel Messi, Andrés Iniesta and Xavi, won the title of "best players in the world" in 2010. Quite a feat, right?
Barcelona is one of Spain's best football clubs, always competing with Real Madrid and Atletico Madrid for the top spot. Since the 1990s, Barcelona has dominated La Liga, though in the 2020/21 season, Barcelona's football club is in 3rd place in the rankings. It also has a vast following all over the world; even Pope John Paul II considered himself a big fan!
"Barça" is the 4th most valuable sports team in the world (worth $4.7 billion) and the world's richest football club in terms of revenue. The club was founded in 1899.
Tip: Read our guide for Barcelona and head over to the Catalan gem! You can book the top hotels in Barcelona here.
Camp Nou has been FC Barcelona's home stadium since 1957. It is the largest stadium in Europe with almost 100,000 seats. It is set to be renovated and expanded starting in the summer of 2022, likely causing Barcelona to have to temporarily move to the nearby Olympic Stadium. It'll get a new roof and a few more thousand seats.
There is a museum and tours available at Camp Nou, so hurry up if you want to see it before the renovations begin. The museum includes a trophy gallery and many multimedia installations. The tour even takes you through the tunnel and onto the field! That has to be a football fan's dream!
Given its size, Camp Nou has also been used to host massive concerts, like Michael Jackson and U2. Pope John Paul II held a huge mass at the stadium in 1982 after he was made an honorary citizen of Barcelona. The stadium was overflowing with 112,000 people in attendance.
2. Madrid's football rivals
The capital of Spain is also the capital of football, and two of the country's top teams reside there. Let's give both of them a proper look:
Real Madrid
Real Madrid Club de Fútbol

Everyone and their dog knows this one: Real Madrid Club de Fútbol. Heck, even my grandma has heard of Real Madrid and she couldn't care less about football.
Real Madrid is one of the best-known teams of the world and has won title after title and award after award. For example, Real Madrid has been going back and forth with Barcelona as the highest earning football club in the world (based on Deloitte's Football Money League), with an annual revenue of something crazy like €750 million. It has never been relegated from La Liga and FIFA has recognized Real Madrid as the club of the 20th century.
When you look at the list of trophies and titles the Real Madrid football club has won, all I can say to summarize it is: they have won like a bazillion times in every championship and league out there.
Real Madrid has a long-standing rivalry with FC Barcelona, and the two are arguably the best and most well-known clubs in Spain.
On the European level, Real Madrid's biggest rival is Germany's Bayern Munich. These two are the most successful in the UEFA Champions League. Whenever they play a match together there is no shortage of emotions and controversial incidents happening on the football pitch. Madrid calls Bayern "the black beast" ("Bestia negra") thanks to Bayern's black kits for away matches.
The Santiago Bernabéu Stadium is the second largest in Spain with a capacity of over 80,000 seats (the largest is Barcelona's Camp Nou with almost 100,000 seats). It's incredible to me to see photos of these huge stadiums filled to the last spot, the density of human bodies in such a small area is astounding.
Real's stadium of course comes with all the bells and whistles, including a restaurant and no less than 7 official stores. It has hosted the finals of the European Cup/UEFA Champions League four times and the Copa Libertadores finals in 2018, which made it the only stadium in the world to host two of the most important continental cup finals (the Copa is a tournament in South America).
The stadium has come a long way since construction started in 1944. The most drastic changes came in 1982 when FIFA decided that most of the seats needs to be under a roof and the façade was remodeled.
In the 1990s, the stadium's height was doubled, which caused problems with the sunlight not being able to get in very well, deteriorating the grass especially in the winter. They had to install a hot water pipe system underground to keep the pitch nice and toasty and green and not frozen and brown.
Currently, Real Madrid's stadium is undergoing more renovations that will result in more seats, more height, more roof, more restaurants and a hotel and shopping center. A city within a city, really.
Our top tips for football in Spain:
You can tour the stadium online, but if you prefer to see it with your own eyes, book a hotel in Madrid and head over to Spain's capital.
Atlético Madrid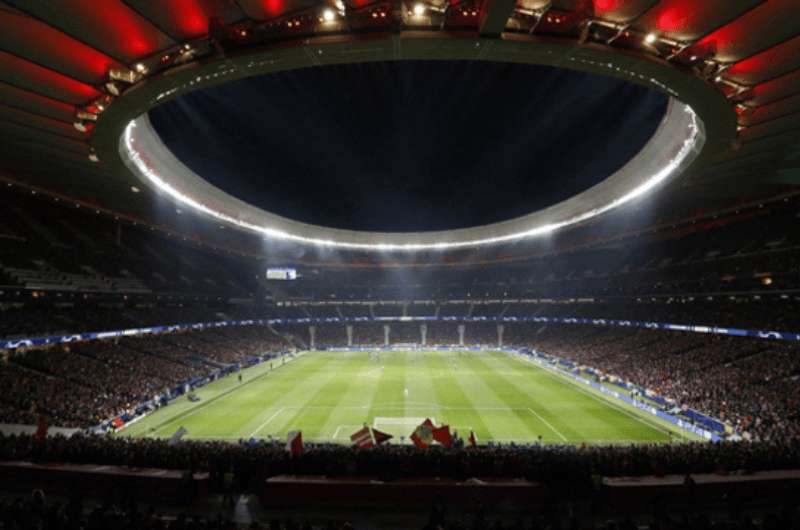 Atlético

In the 2020/21 season, Real Madrid actually placed 2nd behind it's city rival, Atlético Madrid. If Atlético was from any other Spanish city, it would be twice as famous as it is. But with Real Madrid as a city rival, they're stuck in a shadow with no end. That's not to say they haven't made a name for themselves.
Consider that Atlético has only dropped out of La Liga a handful of times in the 1930s and a then again at the beginning of this century. Otherwise, they've stayed put with the best Spanish teams ever. They've been in the top 5 for the last decade, and won the 2020/21 season.
If you look at league titles they have won, from La Liga and Copa del Rey to UEFA Super Cup, they stand in 3rd place behind just FC Barcelona and Real Madrid.
When Atlético was founded in 1903, some members from FC Madrid (which later turned into Real Madrid) deserted to Atlético, starting a heated rivalry between the two very early on in their history. Then in the 50s, Atlético was General Franco's favorite until Real Madrid celebrated success in the 1956 UEFA Cup. You can imagine this didn't help calm the emotions between the teams.
Another interesting distinction between Atlético and Real that may have helped add fuel to the fire is the difference in classes that the fans came from. Real's stadium is in a wealthy neighoorhood in northen Madrid and its supporters came from the middle- and upper-class. Atlético's stadium was in a south-side working-class neighboorhood. The fans Atlético drew were more rebellious, trying to prove that their club is better than fancy shmancy Real.
Atlético's stadium is brand spanking new. The Wanda Metropolitano opened in 2017 with a capacity of 68,000 seats, though they could've fit more. Choosing quality over quantity, the conscious decision was made to make rows easily accessible with a larger distance between them, and including adequate access for disabled fans, as well as a family and non-smoking section. A roof covers almost all of the seats.
The Wanda uses all modern technology possible, with huge score screens, an LED curtain screen on the exterior, and a 360º ribbon board and dynamic roof lighting. It's the first stadium in the world to use solely LED lighting.
They are also focused on sustainability, utilizing solar power and recycling rain water.
Other than that, the Wanda offers one of the best VIP areas in the world, but regular people won't miss out either. There is a huge kitchen serving up fresh food, as well as an outdoor area with food trucks. The stadium is ready for events like concerts and business meetings, too.
I've gotta say I'm impressed. Take that, Real! Book a hotel in Madrid and check it out for yourself. You can also visit one of Spain's absolute best museums there, too.
3. Sevilla's best football teams
Sevilla has not one, but two La Liga football teams, and they don't suck.
FC Sevilla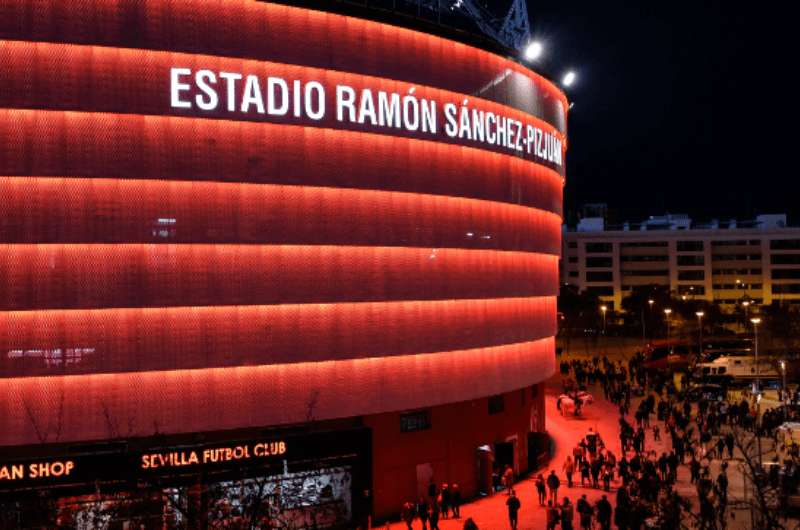 Sevilla Fútbol Club

Sevilla Fútbol Club, or FC Sevilla is the most successful club in Andalusia, but not only that. Out of all of the Spanish football clubs it has won the most UEFA Europa League titles (6). Since their 1934 promotion into La Liga, they've only been relegated a handful of times.
In La Liga, FC Sevilla are almost always in the top 10, and ended in 4th place for the past two seasons. They are 6th on the all-time Spanish league table.
Sevilla's football club also holds some other firsts of the sport: being established in 1890, it is the oldest sports club in Spain devoted solely to football. Sevilla's team played the first ever official football match played in Spain—winning against Huelva in 1890. And those UEFA titles? Sevilla is the only team that has ever won 3 successive titles.
The Ramón Sánchez Pizjuán Stadium has been FC Sevilla's home since 1954. It has over 42,000 seats, though there was a time when its capacity was over 70,000. Over time, with different renovations, the capacity has been decreased, mostly thanks to FIFA regulations that required all standing areas be converted into seating.
Tha stadium was designed by the same architect that designed Real Madrid's stadium, the Santiago Bernabéu. Many of the improvements were added for the 1982 FIFA World Cup that was held here.
The stadium has to be some kind of magic, since Spain's National Team has never lost a game there. And they've played at Ramón Sánchez Pizjuán Stadium 26 times!
Tip: Sevilla offers so many things to see, like a spectacular palace and the impressive Plaza de España. Why not book a hotel in Sevilla and see for yourself?
Real Betis
Real Betis Balompié

Sevilla's city rival is Real Betis Balompié, known as Real Betis. It is currently in La Liga in 6th place, but its history is more than tumultuous. A master of relegations for the first half of its 100 year+ history, Betis' motto had become "Viva el Betis manque (aunque) pierda!" ("Long live Betis even when they lose!"). I find that funny.
That said, they've pretty much stayed in La Liga since the 70s, so they aren't complete klutzes.
Real Betis also has a much bigger stadium than FC Sevilla—Benito Villamarín Stadium has 60,000 seats and is the largest stadium in Andalusia. Not bad for Sevilla's no. 2 team.
Both stadiums in Sevilla offer tours of the facilities and take you out to the pitch.
4. Bilbao: one of the best football clubs in Spain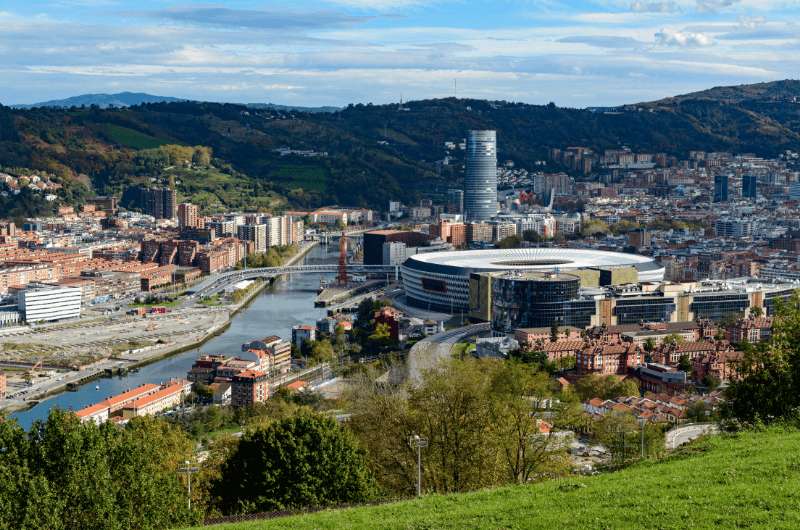 Athletic Bilbao

Bilbao is home to Athletic Bilbao, one of Spain's most successful football clubs of all time. It is one of only three clubs, along with Real Madrid and FC Barcelona, to never have been booted from the first division.
It is also one of only four La Liga teams that aren't owned by a single rich man not knowing what to do with his money. Athletic Bilbao is owned and manages by its members.
The women's football team is one of the best in the country.
Interestingly, the club only signs with players that were born or have gained their football skills in the greater Basque Country (which stretches across the border into France—you know you wanted to be a smarty pants and point out the French players!). This policy was first instilled in 1912 and has earned Bilbao both admiration and criticism. Also interestingly, the policy doesn't extend to coaches, who have come from all over Spain and abroad.
Overall, Athletic Bilbao is 5th in La Liga (with 8 wins) and has had the second-highest number of Copa del Rey wins in history (only Barcelona has had more). In the 1929/30 La Liga season, Bilbao won all of their games, and then in 1931, they secured the title of biggest win in La Liga history when they massacred Barcelona 12 to 1.
Tip: Read our Bilbao guide and head over to Basque country! You can book the top hotels in Bilbao here.
Bilbao's home turf is San Mamés stadium. Replacing the old San Mamés that was first nicknamed "The Cathedral" due to its importance in the soccer world, the new stadium, also nicknamed The Cathedral, is now one of Bilbao's architectural highlights. It even won in the sports category at the 2015 World Architecture Festival.
After an emotional goodbye in 2013, the old stadium was demolished.
With over 50,000 seats and the highest level of facilities, it is much larger than the original 7,000-seat stadium. It has a sophisticated light and sound system, including hundreds of panels on the façade that can light up for a pretty awesome light show (it even changes color when a goal is scored!).
You can take a guided tour of the stadium or see the Athletic Club museum if you are so inclined. Stroll by in the evening to see the exterior lit up. Especially on special occasions it can be pretty darn impressive.
5. Valencia's football club
Valencia Club de Fútbol

Valencia Club de Fútbol, more commonly called Valencia CF or just Valencia, is one of the better Spanish football clubs. They've won 6 La Liga titles, but after years of debt, selling their most valuable players, and mismanagement, they finished 13th in the 2020/21 La Liga season. Not great.
But, this year, with a new coach from Alicante, they've already managed to get themselves into the final of Copa del Rey, so a brighter future might be ahead.
The club has a world-renowned youth academy that churns out some of the best talents in Spain.
The team was founded in 1919 and is the 3rd most supported team in all of Spain, right after Barcelona and Real Madrid. Thanks to the incredible number of paying supporters, Valencia's football club is one of the biggest in the entire world. They have 50,000 season ticket holders with almost half that amount on a waiting list.
The reason they are on the waiting list is that the capacity of Valencia's Mestalla stadium is "just" 50,000. The stadium's North Stand is known for being extremely steep, and it tops some "best stadiums" lists because of it.
A fun little random fact is that for 25 years, the stadium was named Estadio Luis Casanova, after then club president Luis Casanova Giner. Turns out that Casanova was so overwhelmed by such an honor that he ended up requesting they change the name back to Mestalla. So they did.
Anyway, those 20,000 fans on the waiting list hoping to get season tickets were probably extra excited by plans of building the Nou Mestalla. The capacity was supposed to cover exactly that many more football spectators. And in 2009, when the basic construction was finished, it all looked dandy... until money ran out, and the poor concrete skeleton stands there unfinished to this day.
Finally, after many changes in the design, a new plan was approved at the end of 2021. There will be a Nou Mestalla afterall! With barely 50,000 seats. Bummer.
You can tour the old (but still functional) stadium, visit the museum and run out to the pitch, too, if you want.
Tip: Valencia is home to the famous Las Fallas Festival. Book your hotel way in advance if you want to visit during the March event.
6. Zaragoza's almost awesome football team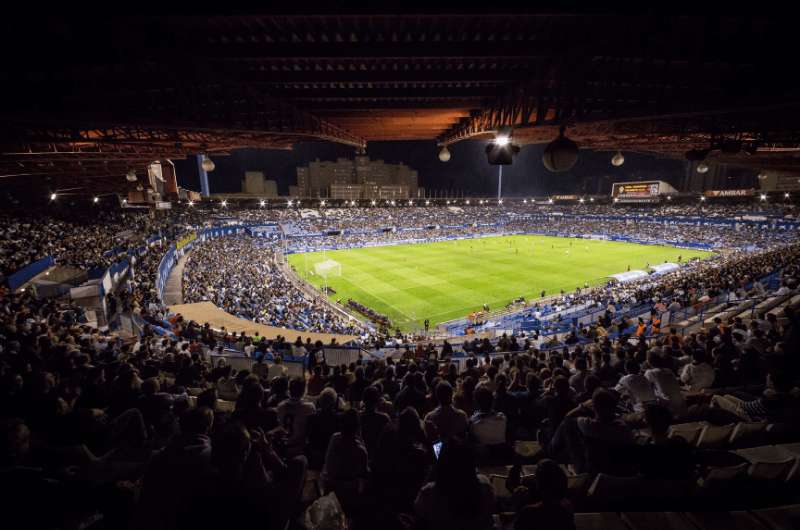 Image source: Real Zaragoza

Real Zaragoza, founded in 1932, is another 2nd division football club in Spain.
They have had better days, spending a vast majority of their years in La Liga, and only falling into 2nd division this past last decade. That said, they are all over the place in that division: going from 3rd position to 15th and back again twice now. It's quite the thriller watching this team try to get back in with the top dogs!
Zaragoza holds home games at La Romareda. It has gone through several upgrades during its 70-year history, and even hosted the quarterfinals of the 1992 Summer Olympics. It was even proposed as the Olympic Stadium for the 2014 Winter Olympics, but Sochi won that bid and Romareda didn't get its next Olympic upgrade. Boo.
Strange fact: The goal nets at La Romareda are supposedly the deepest in Europe: 4 meters (13 feet).
La Romareda has a capacity of 33,000, though when Michael Jackson and Gloria Estefan performed in 1996 (on two separate occasions, not together), 45,000 fans squeezed in.
Plans for a new stadium for Zaragoza's football club have been abandoned. La Romareda forever!
Tip: Which city has a cool basilica, a tiny Virgin Mary, and a very random but impressive Origami Museum? Zaragoza! Read our Zaragoza guide to find out more, and book a hotel if you decide it's worth staying for a night.
7. Football in Granada
Granada Club de Fútbol

Granada Club de Fútbol was founded in 1931 and is currently a La Liga football team.
It has been going back and forth between 1st and 2nd division for ages, though it has been mostly back and they aren't strangers to 3rd and 4th tier.
In 2016, after 6 straight La Liga seasons a Chinese company bought the team, and Granada shot straight back down to 2nd division. Anyone else think it's bizarre for a Chinese company to buy a pretty random Spanish football club? I mean if they at least made them better, but sheesh, breaking a La Liga streak like that?
It took a young new manager in 2018 (the youngest of the season), Diego Martínez, to get the team back in with the big boys. He not only did that from the very first season he managed the team, but Granada started placing in the top ten and earned their very first UEFA Europa League qualification!
Martínez has chosen to not extend his contract for the current 2022 season, so Granada might be doomed once again.
Granada plays at the Nuevo Estadio de Los Cármenes, which is a multipurpose stadium with about 20,000 seats. It was built in 1995 as the football club's home turf, and was renovated after the team's return to La Liga in 2019. I don't think they thanked Diego Martínez enough.
Tip: Book a hotel in Granada. Visit Granada. Eat free tapas and go to a football game. Good plan?
8. The football club in Malaga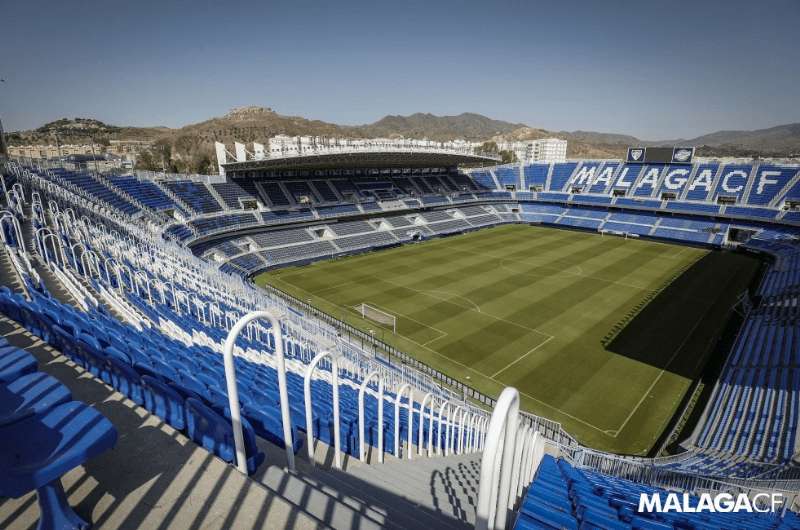 Malaga Club de Fútbol

Málaga Club de Fútbol is a 2nd division football club. It was established in 1904 by a group of locals. They have been working their way up the ranks over the decades, and have spent the better part of the 2000s in La Liga. Unfortunely, there has also been a steady decline recently, and Malaga has now been sitting in 2nd division for a few years.
In 2010, Malaga was bought by a member of the royal family of Qatar, which gave hope to the team and spectators that La Liga's top spots might be penetrated by someone other than Barcelona or Real Madrid. But nope, not even a sheikh could work his money magic. Malaga got into so much debt that it was banned by UEFA from the 2013/14 Europa league.
Malaga's stadium is La Rosaleda and has been since 1941. It has a capacity of 30,000 seats, though George Michael and Shakira concerts have brought in twice that number. You can tour the stadium or even have a birthday party there. I don't want to, but you might.
Tip: Malaga is a great destination not just for foodies. Check out our guide to Malaga, which includes restaurant recommendations. Book a Malaga hotel here.
9. Cordoba's football club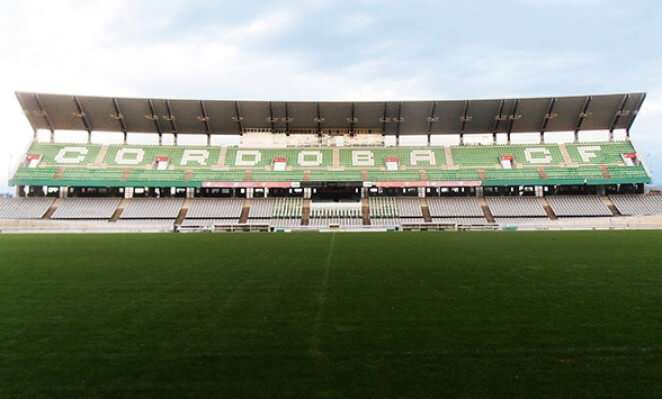 Cordoba Club de Fútbol

Cordoba Club de Fútbol is one of the younger Spanish clubs, founded in 1954. It's not the best of teams, having lived in 2nd division since forever, only popping up to La Liga for one season in 2014. They had a strong streak in the 60s when they even finished 5th one season, but nothing exciting is going on in recent history. At all.
El Arcángel has been Cordoba's home stadium since 1954, though the current one, Estadio Nuevo Arcángel was built in the 90s not by remodeling the old Arcángel, but 500 m away from the old one, further from the Guadalquivar River that was causing problems with flooding. It was built as a multipurpose stadium and the fans hated it.
So far this century, the stadium has been revamped and reimagined as a purely football-focused stadium. The athletics track was removed, the stands were demolished or moved, and everything looks pretty awesome now. The 21,000 seats of the current reincarnation of El Arcángel are probably it for the foreseeable future.
Tip: You can go check out the current state of the stadium and some sub-par footy for yourself if you take a trip to Cordoba. Book a hotel and see the sights (of which there aren't many, so plan carefully)!

This post may contain affiliate links. We earn a small commission if you make bookings through my links, at no additional cost to you. This helps us keep this blog free, thank you!