An industrial city turned technology center, Linz now has not only a generally charming, colorful historical center, but is also made just a bit cooler with its media center and futuristic gallery space. UNESCO didn't make it one of its Cities of Media Arts for nothing! It is also the capital and main commerce center of Upper Austria and the third largest city in the country (after Vienna and Graz).
Now would I travel halfway around the world to see it? No. But if you're already in Austria, you could add it to the other 11 places in Austria that I think are absolutely worth making an effort for. Unless you aren't at all into art, media or technology, because in that case I honestly don't think it warrants a special visit.
Here is all the information you will need to visit Linz for 2–3 days.
You might also be interested in reading:
Get a discount card. Or not
First things first, as I mention in my list of 13 tips for traveling to Austria, I'm a sucker for city passes. They can save you a nice chunk of change and it just makes life in the cities easier since you then just need one card in most places you might be interested in visiting. Linz has the Linz-Card. But is it any good?
How many museums/galleries do you plan on visiting? At EUR 16, EUR 27.50 and EUR 35 for the 1-, 2- and 3-day cards, respectively, it is not cheap. It gives you free public transportation and free admission to places like the ARS Technology Center and the Lentos Gallery. The 2- and 3-day variant also let you go for free on the Pöstlingberg tram. If you are planning on fitting in a lot of these spots on your trip, get the card. If not, it's just not worth it. Check out prices for the best attractions below and do the math for yourself.
You can buy the Linz-Card online and then just print it or get the app on your phone, or get it in person at the Tourist Information Center at the Old Town Hall in the main square or at the ticket desks of the main museums in the city.
A quick orientation in Linz
The old town is on one side of the Danube River, centered around the Hauptplatz, or Main Square, and giving it a nice promenade on the river bank. Everything is on this side of the river except for the ARS Electronica Center. A bridge across from the new town takes you to one end of the Main Square, while the main shopping street, Landstraße, leads you out the other side. Everything you might want to see is within walking distance of these main areas.
The Main Square is also where you will find the tourist office.
The Lentos Kunstmuseum

2 tips for hotels in Linz
I really suggest you stay in or as near to the Old Town as possible. It just makes life easier.
We stayed at a hotel steps away from the Mariendom, Hotel Schwarzer Bär, and it ticked all the boxes. Nothing too fancy but with all the amenities you might need since you are walking around Linz all day anyway. Great breakfast. Prices start around EUR 100 per night.
For a little more style, a super sleek hotel literally within a stone's throw of Mariendom is Hotel Am Domplatz. It is priced at about EUR 130 per night and we didn't stay there only because it was full when we tried to book. This is an adult only hotel.
Both of these hotels have parking for guests (paid separately).
To drive or not to drive?
Most of Linz city center is divided into short-term parking areas, which are indicated by signs and blue ground markings. It is not that hard to find a spot, but keep in mind the maximum parking time is 180 minutes.
I personally like driving over public transport in general, but I make an exception in cities. It's mostly just a hassle if I'm planning on exploring a relatively compact area like the historical center, have a hotel in the center, and can walk everywhere anyway.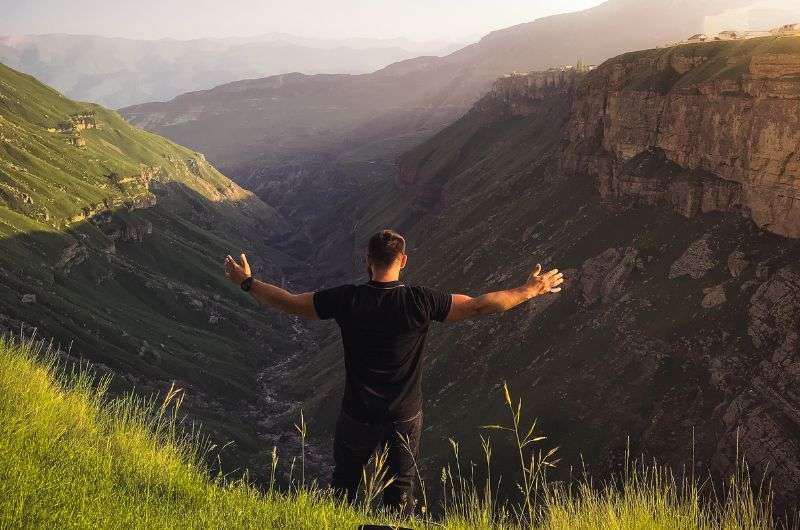 How you will feel if you walk all day compared to driving everywhere

If you do use public transportation, it is useful to have a map of tram lines on you. Ticket prices are EUR 1.30 for max. 4 stops, EUR 2.50 for a 1-hour ticket and EUR 5 for a 24-hour ticket. Tickets can be bought at newsstands or ticket machines at tram stops. Tram drivers DO NOT sell tickets. Don't forget to validate your ticket once you get on board the tram in one of the little machines.
Don't be surprised by "Sunday rest day"
In Linz, they do this typically Austrian thing (though not exclusive to Austria) where everything is closed on Sundays. I understand the reasons for this, but when you visit a city for the weekend, you might be a little annoyed that during half of your stay, every door of every shop and café is locked. Ok, there are exceptions, see below recommendations with opening times. Museums and galleries are generally open. Though in this case, still be sure to check opening times and watch out for Mondays especially!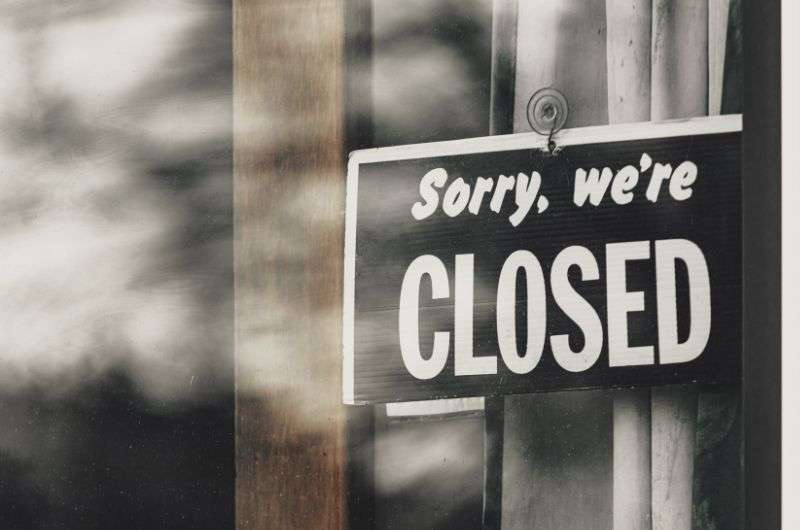 Sunday is a rest day!

9 things to do in Linz
As I mentioned, Linz is a mix of art, technology and history. What are some artsy, technological and historical things to do in Linz?
1. ARS Electronica Center
The ARS Electronica Center is every futuristic nerd's dream. If you are even a little bit interested in artificial intelligence, robots, digital art or engineering, you will not be disappointed. It is, after all, dubbed the "museum of the future".
In one room, there is the Deep Space 8k exhibition which is apparently not found anywhere else in the world. The entire 16x9 m (53x30 feet) wall and floor of the same size are covered in projection, laser tracking and 3D animations. It's mesmerizing! And there are games, and yes, I played. Among others, there is also a future lab, a music studio, and kids will enjoy the exhibits as well.
The center is across the Danube River from the historical center, you will notice it especially at night thanks to its bright illumination. They also have a restaurant, Cubus, on site. It is fine, but don't go out of your way to eat there. It is a little pretentious and service is hit and miss, though the food is good (prices are on the higher side). This being a glass building, you do get nice views over the river, and if your brain is really tired and hungry from all the AI and VR and lasers from the center downstairs, you can pop in for a meal or coffee.
Ars-Electronica-Straße 1
Tickets are EUR 11.50 per adult, free with the Linz-Card. They are valid for 24 hours.
You can park at the ARS Center for EUR 11.50 and be reimbursed the price when you buy a ticket to the exhibitions.
Closed on Mondays. Tuesday, Wednesday, Friday 9am-5 pm. Thursday 9 am-7 pm. Saturday, Sunday, holidays (except for Mondays) 10 am-6 pm.
Deep Space 8k exhibition ARS Electronica Center. Image source: http://ars.electronica.art

2. Lentos Kunstmuseum
Back on the old town side of the river, as if it were having a glow in the dark competition with ARS Electronica every night, is the glass and steel building of the Lentos Kunstmuseum, Linz's museum of modern art. If you are all electronica'd out, head over and take in one of Austria's finest modern-art collections, though honestly, it doesn't compare to some of the museums in Vienna for instance. But if you do enjoy art, Andy Warhol and Gustav Klimt are just a couple of the famous artists whose work you can stare at in this gallery.
There is a café on site which you can miss and nothing will happen.
Ernst-Koref-Promenade 1
Tickets cost EUR 8 per adult, free with the Linz-Card.
Closed on Mondays. Tuesday-Sunday 10am-6 pm. Thursday 10am-8pm.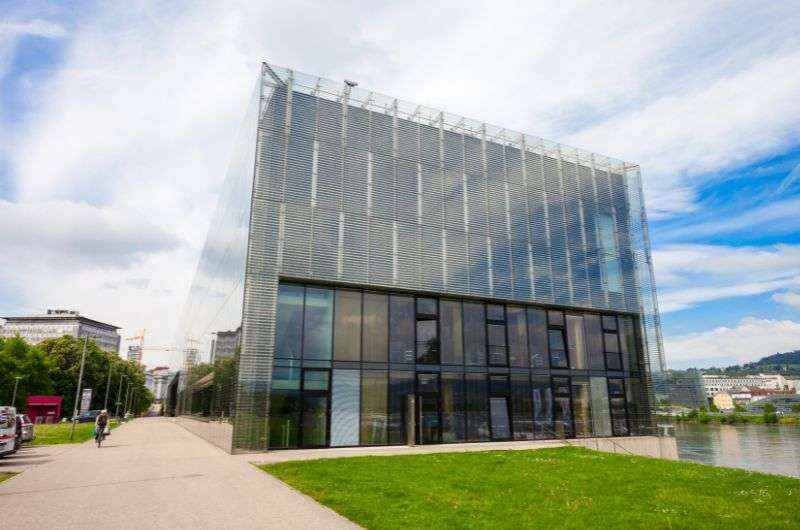 Lentos Kunstmuseum

3. Höhenrausch
Höhenrausch (literally "height rush") is a strange way to see art and city views. Basically, you climb up structures (a ship in the sky, anyone?) and walk across rooftops and it's... an experience!
Of course, art is subjective, but honestly sometimes we weren't sure if what we were looking at was actually completed or still being cleaned up from the last installation. Mostly though, if you have an open mind, it is enjoyable and fun in a quirky way. If quirky makes you want to vomit, this might not be for you, but if all else fails and you are dragged onto this tour anyway, you can at least enjoy the views of Linz. Those are very nice, honestly.
OÖ Kulturquartier, OK Platz 1
Tickets are EUR 12 per adult, a small discount with the Linz-Card.
Only open May-October. When in session they are open daily 10am-8:30pm.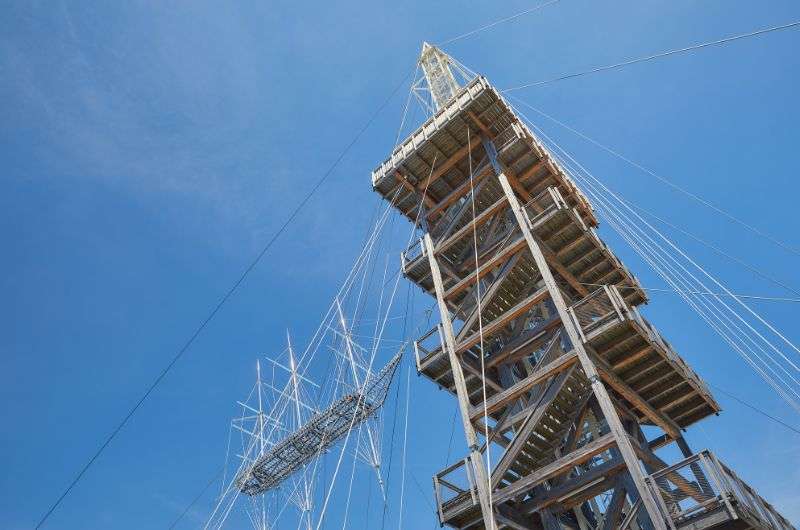 This is part of the tour. Yeah.

4. Hidden boutiques and concept stores
There is art on every corner in Linz. There is always a small gallery to tuck into, or an outdoor art installation in the park. Keep an eye out for little examples of connecting the old with the new. It's pretty cool really. If you walk through some of the side alleys, there are tons of hidden little boutiques and Concept Stores that will also entice you if you are a design fanatic.
Linz really IS an art city

5. The New Cathedral
Walking around in the Old Town, the building that you will catch glimpses of from many spots is the Mariendom, or St. Mary's Cathedral, or New Cathedral. Whatever you want to call it, it is huge, the largest in Austria in fact (though several feet lower than its Viennese counterpart), with a capacity of 20,000 people!
Herrenstraße 26
Monday-Saturday 7:30am-7pm, Sundays and holidays 8am-7:15pm.
The Mariendom Cathedral

6. Landhaus
Moving back towards the river from the New Cathedral you can stop and take a look at the Landhaus. This is currently the seat of the provincial government, though when it was built in the 16th century, it served as a monastery. This being a government office building, you probably won't go strolling around the inside, but do take a peek at the courtyard. There you'll find the Fountain of Planets, which is dedicated to Johannes Kepler. He taught at one of the schools in Linz for over a decade.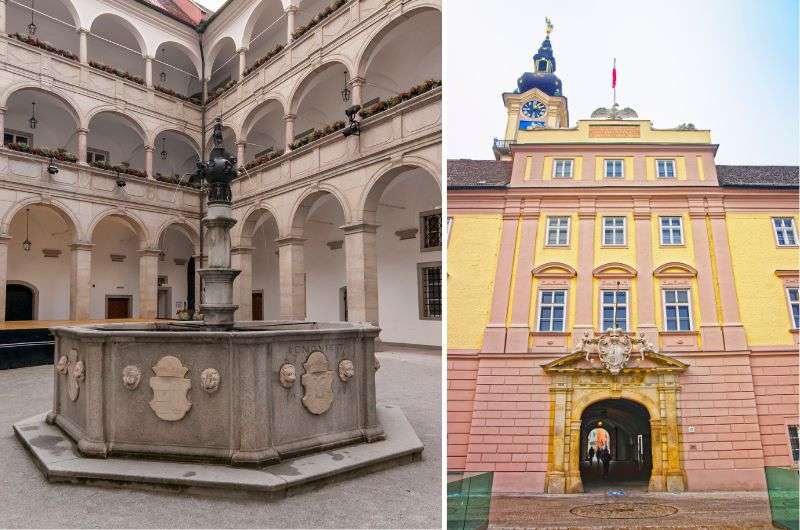 Landhaus and the Kepler fountain

7. Linz Castle
And standing tall right by the river is the Linz Castle. It houses a large general museum, so everything from natural history to old instruments and folklore items, but they also add on special exhibitions of all sorts (fashion, performance arts, etc.), so it isn't just the old boring stuff. If that all sounds boring, just walk around and check out the exterior. They've done a great job taking this historical building into the new age by adding some modern architecture like an unexpected glass tunnel bridge connecting the buildings.
Schlossberg 1
Tickets to the museum are EUR 6.50 per adult, free with the Linz-Card
Closed on Mondays. Tuesday-Sunday 10am-6pm
The Linz Castle

8. Donaupark
If you continue by the river past the Main Square, you will find Donaupark, a nice park area by the river. It is sprinkled with art installations, has the Lentos Kunstmuseum at the beginning and the Brucknerhaus concert hall roughly in the middle. It's just a nice calm place to chill out if you need to.
9. Pöstlingberg (with the steepest adhesion railway in Europe)
One tourist spot that is not in the historical center is Pöstlingberg, a hill above Linz. You can take a tram from the Main Square, it takes about 20 minutes. There are historical trams that provide the service only in the summer, and modern trams that can handle any weather. This is not the Alps, mind you, but the tram route, Pöstlingbergbahn, is the steepest adhesion railway in Europe.
Pöstlingbergbahn old and new. Image source: www.linzag.at

On top of the hill, you can take a stroll, ogle the basilica, take a weird little dragon train called the Grottobahn to look at dwarves and fairies (perhaps take some kids with you so you don't stand so much). Also, this being the city of art, there is an outdoor photo installation in place from April to November.
Or, if you're like me, you will want another coffee to go with the view of Linz. There are several restaurants on Pöstlingberg, we chose Cafe Jindrak (Am Pöstlingberg 12) because there was a prime spot available at a table right by the glass railing (and because the castle restaurant next to it was a little too fancy pants for our taste), and it was nice. If you go in with low expectations, you might even be surprised by it!
Tram departs from Hauptplatz
Round trip tickets are EUR 7 per adult or free with the Linz-Card. You can buy them at ticket machines at the stop or the Tourist Information Center on Hauptlatz.
Monday-Saturday 6am-10:30pm, Sundays and holidays 7:30am-10:30pm.
Hungry yet? These are the best restaurants in Linz
Austria's food is not something that makes headlines, though if you aren't from the region, you might be salivating at the thought of schnitzel (thin pork slice breaded and fried), tafelspitz (boiled pork with broth, Austria's national dish) or sausages.
I, on the other hand, just want good food, period. Doesn't have to be Austrian even though I am in Austria. These are my tips:
ÄNGUS Downtown
If you are a meat lover, don't miss ÄNGUS Downtown. The bull skull on the golden tiled wall says it all. Burgers, but mainly steaks from the best Argentinian and US beef. This is a fancier place where you will feel like a king. The staff is amazing and you might just have the best steak in your life. There, I said it.
Pfarrplatz 13
Closed on Mondays. Tuesday-Friday 11am-2pm and 5pm-11pm. Saturday-Sunday 11am-11pm.
Muto
For a completely unexpected, creative meal in a cozy atmosphere, head to muto. I mean I don't even know what else to say. Their food is art! Weird? Yes! Classy? Yes! Meat? Yes! Meatless? Yes! The interior is simple, not too big, smack in the middle of the city center, halfway between the Landhaus and the castle. I dare you to not take a picture of whatever dish you decide to order. Make sure to make a reservation beforehand. Foodie heaven.
Altstadt 7
Closed Sunday-Tuesday. Wednesday-Saturday open from 6pm. They do not state a closing time. I told you this place is unique!
Bangkok Smile
When in doubt, Thai food! Am I right? Bangkok Smile is a smallish restaurant with really good Thai food. This place is cheaper than the other two that I recommend, but it is definitely good quality food. I mean nothing in Austria is cheap, but this is on the cheaper end of what you can get. If you've ever been to Thailand, this gem of a restaurant will take you back memory lane.
Waltherstraße 11
Monday-Friday 11:30am-2:30pm and 5pm-8pm. Saturday 5pm-9pm. Closed on Sunday.
Plus, many of Linz's cafés serve brunch or all-day breakfast, so if you ever feel just a small hunger coming on, you can pop in and indulge any time you feel the growl coming on.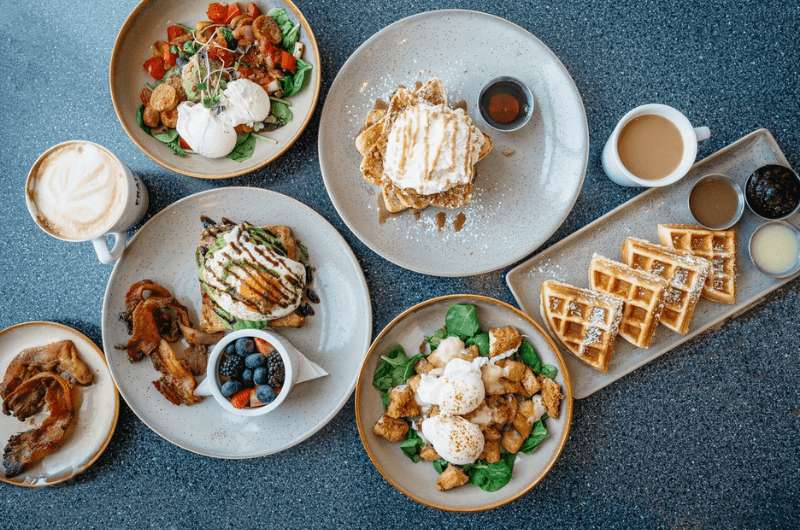 Brunch time!

Who needs coffee and Linzer Tart?
If you're like me (and most everybody else on this planet), you like dessert. Since Austria's favorite Apfelstrudel is a classic even in my country, I went for the famous Linzer Tart ("Linzer Torte"). This tart is a single-layer shortbread topped with redcurrant jam and thin slices of almonds or other nuts, and it is delicious. The Linzer Tart is considered to be one of the oldest cake recipes in the world. The oldest recipe, discovered in 2005, is from 1653.
Linzer Tart was delicious!

k.u.k. Hofbäckerei
You cannot come to Linz without trying (and re-trying) Linzer Tart. And if you're trying the oldest cake in the world, you might as well do it in the oldest bakery in Linz, the k.u.k. Hofbäckerei. Sound touristy? It is. Should you let that deter you? Absolutely not. This place, or at least the original of the two branches in Linz, breathes history, and the owners make sure that the quality of everything they make is top notch, just as it was way back when the family supplied baked goods to the Archduke Peter Ferdinand. The Linzer Torte recipe they use today has been handed down through generations, as has the bakery.
Pfarrgasse 17 is the historical one, plus they have a more modern sister restaurant at Hofgasse 3
Monday-Friday 6:30am - 6:30pm. Saturday 8am - 1:30 pm. Closed on Sunday.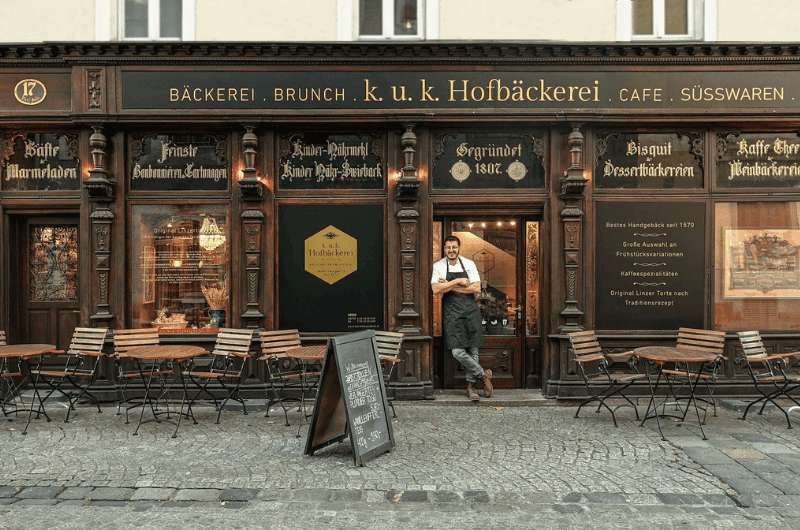 k.u.k. Hofbäckerei. Image source: https://www.kuk-hofbaeckerei.at/

There are cafés on every corner, so you will not have trouble getting your caffeine fix for the day. Some other cafes I can recommend are:
Schadzi Cafe
Schadzi Cafe. Right around the corner from the old k.u.k. Hofbäckerei is this little gem. It's a vegan and vegetarian cafe with Persian and international dishes and a bunch of nice desserts on offer, but you really don't need to be a herbivore to enjoy it here. The coffee isn't bad (which is saying a lot since I honestly did not have any great coffee anywhere in Austria!) and the staff is lovely and it is just a nice cozy place.
Domgasse 10
Closed on Monday and Sunday. Tuesday-Friday 9am-4pm. Saturday 9am-1pm.
Cup of Soul
Cup of Soul. The ambience, the staff, the almost great coffee (haha, sorry, I'm just really picky with my coffee!), the design and even the food is instagrammable. But not in a weird, hipster kind of way. I loved it here. It is down a quieter lane, so you won't be able to do much people watching from the seating outside, but it is better inside anyway. They are open till a bit later than most cafes and also serve alcohol of all sorts if you want to enjoy yourself a little into the evening.
Fun fact: one of the toppings for your coffee that they offer is cbd oil, and if you are hungry, you can have hemp flammkuchen (a savory tart)! (They have a shop with all kinds of cbd creams and other products as well.)
Magazingasse 6
Closed on Monday and Sunday. Tuesday-Friday 10am-8pm. Saturday 11am-7pm.
tiktak cafe
tiktak cafe. Have you noticed a trend with lowercase names at these hip places? I can't decide if it is still cool or not. Anyway, moving on… This one is a little further out, but don't look away just yet. It's not too far, just at the end of Landstraße, which is the main shopping street that juts out of the historical center. The interior is a nice clean design of wood/brick black/white. They are famous amongst those in the know for their all-day breakfast. tiktak is the type of place you can spend hours at just because it feels good to be there.
It's right by Volksgarten Park, so you can even take a little stroll after your 4-hour "breakfast". Or, if you are visiting in the summer and plan ahead a little, you can order one of their amazing-looking brunch boxes to go (you need to order the day before) and have a picnic at the park! I didn't do this, but look at the photos of those boxes. You need to try this if you have the time and feel like eating on the ground.
Also, if you are visiting during Christmas season, one of the best Christmas markets actually takes place right in Volksgarten, so you could drop by tiktak to warm up afterwards.
Landstraße 119
Closed on Tuesday. Monday, Wednesday-Saturday 7am-6pm.Sunday 8am-3pm.
Christmas festivities in Linz
As I mentioned, Linz is home to some nice Christmas markets, the main ones being on the Main Square and in Volksgarten Park. There are ice kingdoms and concerts, the works. The specialty, however, is the Linz Perchten, a night where seriously freaky looking devils come out, make noise and scare children and adults alike. A strange holiday tradition, but hey, it's traditional! But more that another time:
Freaky Linz Perchten

This post contains affiliate links. I earn a small commission if you make bookings through my links, at no additional cost to you. This helps keep this blog free, thank you!