Austria has wonderful nature, but some of the cities are also worth visiting. More or less. Here is an overview of the best cities in Austria with my personal tips. You might be surprised what you can find sometimes... a waterfall in the middle of the city, an alien bug next to the cathedral, technology center, or Formula 1. Fasten your seatbelts, here we go.
You might also be interested in reading:
7. Vienna: The only reason to visit are the giant pandas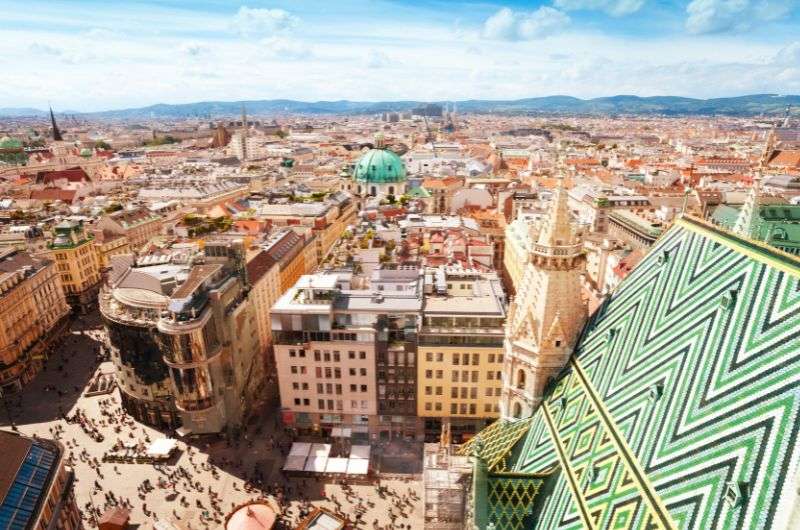 Vienna—not my favourite

You should already know I have no filter; I just like to be honest. And hopefully, that's one of the reasons you visit my blog, because you get the raw truth of what I think about the destinations. That said, I must tell you–Vienna sucks, big time. If I were an Austrian Emperor, I would rather stay in Budapest. Unlike Vienna, it's interesting, fun, and beautiful. No, honestly...if you're after history and architecture, go to Prague or Budapest instead. They have more to offer.
Now, I understand, it's the Austrian capital. It's the first thing most tourists see when they land in Austria (poor souls). And because I'm kind-hearted and I wish only the best for you, I put together a very few places you should visit in Vienna if that's what your heart desires.
Schönbrunn Zoo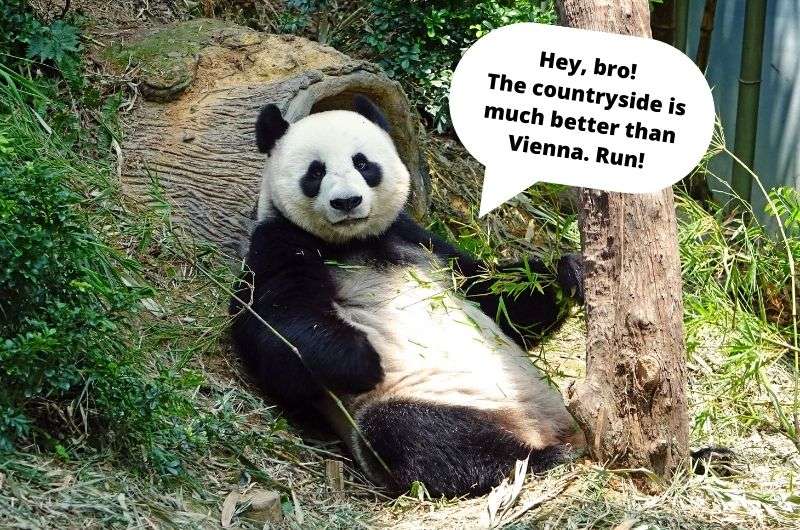 This panda's got a point

If you're in Vienna only for one day, this is the only must-see stop on your way. Compared to other European Zoos, it's rather small, but on the other hand, there are giant pandas. What more one could ask for? Apart from these cute fluffy bears, there are the obligatory elephants, giraffes, tigers, polar bears, and other popular animals.
The Zoo is located in the Schönbrunn palace gardens. Schönbrunn Palace is an imperial summer residence in Baroque style. Something like the Austrian version of Versailles. Personally, I'm fed up with Baroque architecture, but if you can't help yourself, you can do it all in one trip.
Tip: To save your time and money, I recommend a quick stop at Gloriette Viewing Terrace (Gloriette Schloss). The entrance is free, and you can steal the perfect photos of the palace with the gardens in front and the city in the background. The Gloriette is open daily from 9.30 am to 5 pm (6 pm in July and August).
Opening times:
Daily from 9 am to 4.30 pm (6.30 pm from April to September).
Tickets:
Adults: 24 EUR (27 USD)
Children 6–18: 14 EUR (16 USD)
Children under 6: Free
Address: Seckendorff-Gudent-Weg, 1130 Wien (use the Hietzinger Tor for entrance).
For detailed info about opening times, tickets and Covid restrictions visit the official websites of the Zoo.
The Old Town Highlights
As much as I detest writing about these, I guess it's a must when visiting Vienna. My tip though? Take a photo and move on. Trust me, it looks all the same and you won't remember a thing from the tour the next day. This way, you'll be able to wrap it up in a few hours and maybe have a peaceful coffee and Sacher cake instead. What are the photo spots to visit?
St. Stephens Cathedral (medieval landmark of the city with accessible tower)
Hofburg (the imperial residence of Habsburg dynasty)
Kunsthistorisches Museum (old paintings and junk, impressive interiors)
Rathaus (grandiose city hall from 1883)
Here's a modest overview of Vienna's Old Town route. Taking some spare time to take pictures, walk around, and get lost into consideration, it wouldn't take more than 2-3 hours.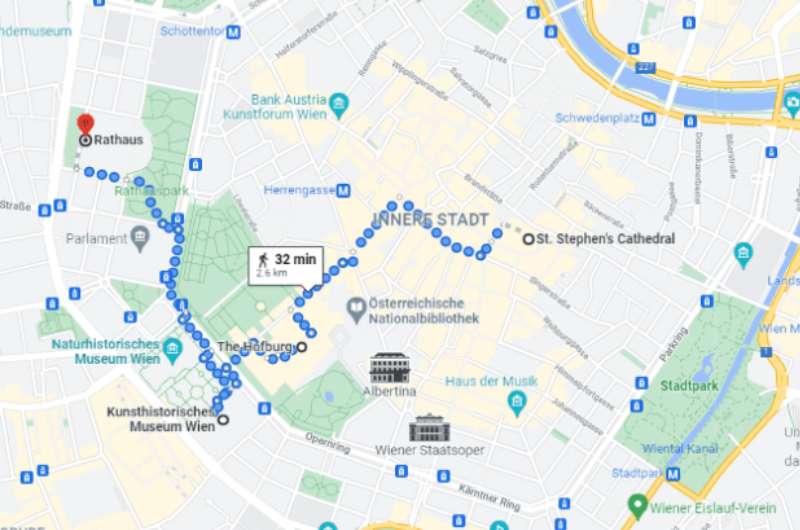 This way!

Where to stay in Vienna
The advantage of big cities is the high-end-hotels competition, ensuring top quality of service and wide range of options. And thankfully it's possible to avoid the omnipresent tacky interiors of smaller Austrian Hotels. Here is the top selection:
6. Bad Gastein: The city in the hills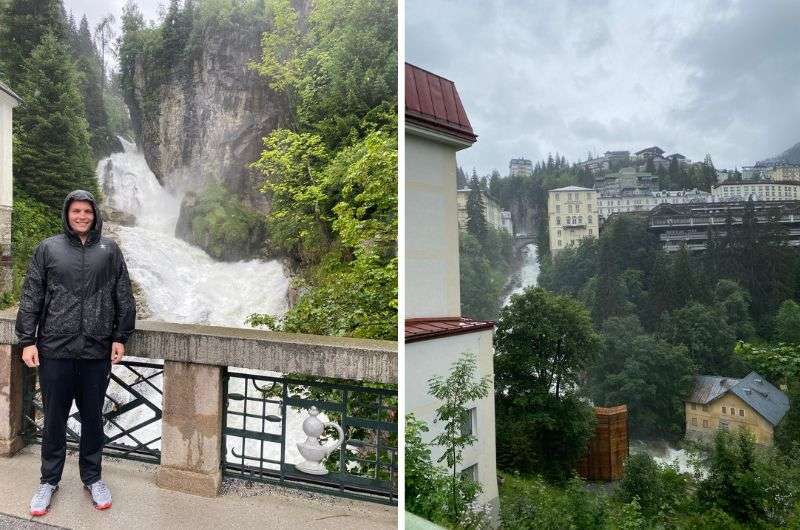 The Bad Gastein Waterfall is the best this city has to offer

The city built in the hills. Honestly, the city itself is a "meh", but despite that, it still attracts tourists, how so? Well, there are thermal spas and it's a famous ski resort. I always say that the best of Austria is outside the big cities, so why did we include Bad Gastein in our itinerary? Because that's where countryside merges with the city. There's a gorge that cuts the city in half and the river making its way through forms huge, magnificent waterfalls. And that's something I had to see.
The city looks like it's stuck in time. There's basically nothing worth visiting, except for the Bad Gastein Waterfall, but that's definitely worth the detour. According to locals, that's because it's financially challenging to keep the business running there. Young people moved to Salzburg or other bigger cities for work and other owners sold their businesses to new owners who have no interest in improving.
All in all, there's what to do in Bad Gastein:
visit the spa after a long hike in rain (it's always raining in Austrian Alps in summer)
go see the Bad Gastein Waterfall and make some amazing photos
have a good lunch in one of the restaurants and carry on
Bad Gastein is a 4 hour stop at a top. If you find yourself stuck in Bad Gastein longer for whatever reason, I suggest hiking the valley. There is a loop trail that sums up the best viewing points in the surroundings:
Gasteiner Höhenweg Loop Trail
Difficulty: Moderate
Distance: 15.5 km (9.7 mi)
Elevation gain: 282 m (925 ft)
Estimated time: 4.5 hours
​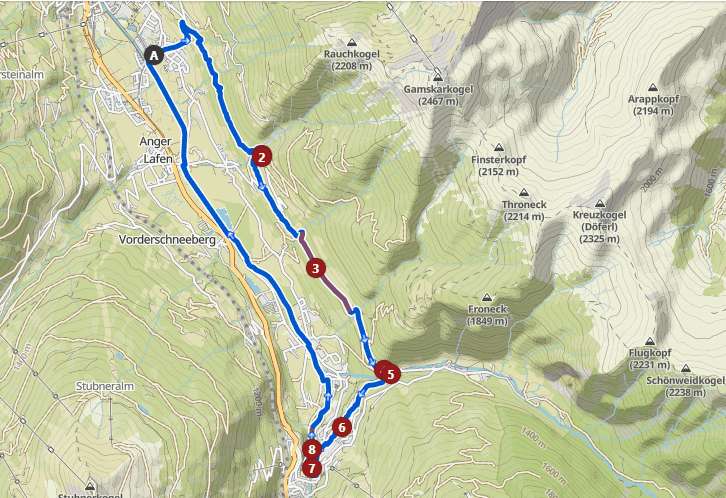 Here you can see the route

The trail starts at a bus station in Bad Hofgastein. It takes you through 68 m (223 ft) long Katharinastollen (cave passage), along the Gadauner gorge and several viewpoints of the valley, to Bad Gastein Waterfall. It's relatively easy, but some parts lead you through narrow wooden walkways and rocky paths, so steady footwear is necessary. Don't forget, in Austria komoot.com works much better than alltrails.com. Here's the link to the Gasteiner Höhenweg Loop Trail.
Where to stay: To avoid the crazy Alpine interior fetish, check Villa Excelsior Hotel or Residenz Kaiser Franz Josef. Both with a spacious terrace and magnificent views.
5. Linz: Where history meets technology
I love Linz!

The third largest city in Austria rewarded a UNESCO City of Media Arts status. Linz is worth visiting. I like originality and Linz is original alright. Linz is a mix of art, technology and history and you can feel it at every corner. Do you want a proof? Go and check the medieval Linz Castle sensitively sculptured into a mix of old and new with glass and steel.
After a walk along the Danube River and the Old Town, cross the bridge and let yourself be taken away by the ARS Electronica Center, a futuristic museum with interactive exhibition...yes, interactive means I spent a lot of time playing there. And whole in Linz, you can't miss out on a huge boat in the sky, where you can enjoy the most splendid views of the city.
For more must-see places in Linz, including the tips for the best restaurants and cafés, dive into my article 9 Things to do in Linz.
Our Top Tips for Austrian Cities:
4. Graz: The city of art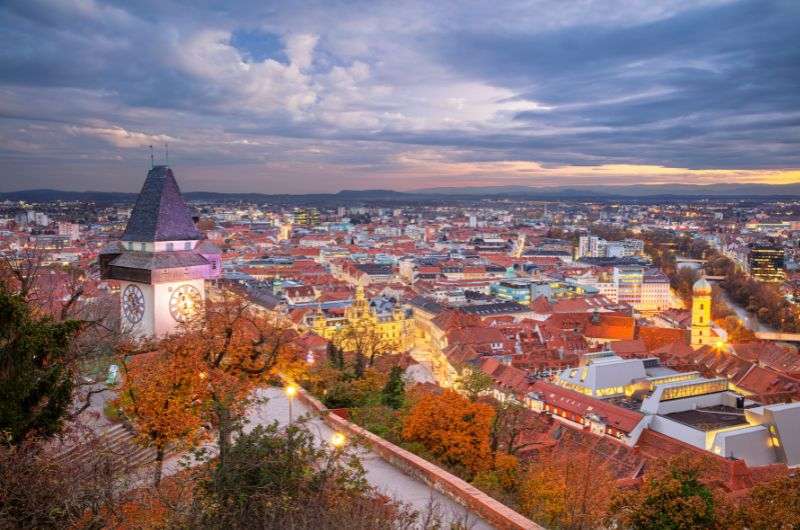 Graz is the city of art

Graz is the second largest city in Austria lying in the middle between Vienna and Zagreb (the Capital of Croatia for those, who are confused about European capitals). It was chosen as a European Capital of Culture in 2003 and City of Design in 2009.
I don't usually give a damn about that crap, but Graz is truly unique. It has one of the largest best-preserved historical city centers in Europe. That's a reason, why it was also designated a UNESCO World Heritage site. In the Old Town stand countless Baroque, Renaissance, or even Gothic buildings. Hand in hand with avant-garde (or some would say bizarre) modern structures. Some people hate it, I like the contrast. Take 2 or 3 hours to stroll the Old Town and visit the most interesting highlights.
Must-see in Old Town
Here are all the must-sees

Hauptplatz (Main Square)
Rathaus (Town Hall)
Luegghäuser: 17th-century arcade house with rich facade decoration
Gemaltes Haus: historical house with full-painted fresco facade from 1742
Schlossberg with Clock Tower
Landeszeughaus (Styrian Armory)
Graz Cathedral and Mausoleum
Grazer Burg (Graz Castle) with a double spiral stairs
If you would visit just one place in Graz, it should be the Clock Tower on Schlossberg. It's the most famous landmark in Graz enriched by the breathtaking views of the whole city. That's about it concerning the typical historical highlights. Here's a Google map with all the sights marked.
Kunsthaus Graz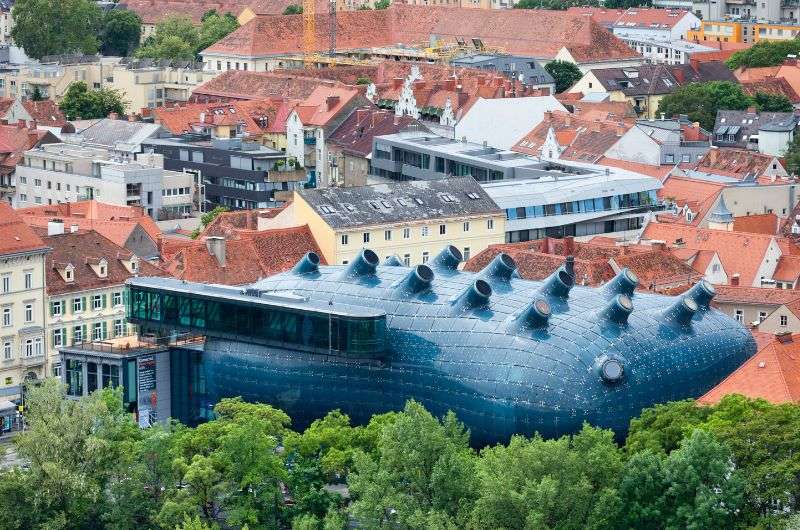 The Friendly Alien

Let's now move on to the less stale highlights. Kunsthaus Graz was built in 2003, relatively a toddler amongst the hundreds-years-old buildings around the Old Town. The "Friendly Alien" as the locals call it, houses contemporary art and temporary exhibition. Not that I'm a fan of modern art or futuristic amorphic buildings, but I like to see something breaking the stereotype. Like...the medieval buildings and crooked alleys are charming, but let's throw a huge alien bug into it for a change!
Opening Times:
Tuesday to Sunday: 10 am to 5 pm
Closed on Mondays
Tickets:
Adults: 9.50 EUR (10.80 USD)
Students: 3.50 EUR (4 USD)
Address: Lendkai 1, 8020 Graz, Austria
Accommodation Tip: Talking about die Kunst (art), enjoy your Graz vacation in Schlossberg Hotel at the foot of the Schlossberg hill. Central location, a garden with an outdoor pool, and modern design are just the main virtues of this Kunsthotel.
Murinsel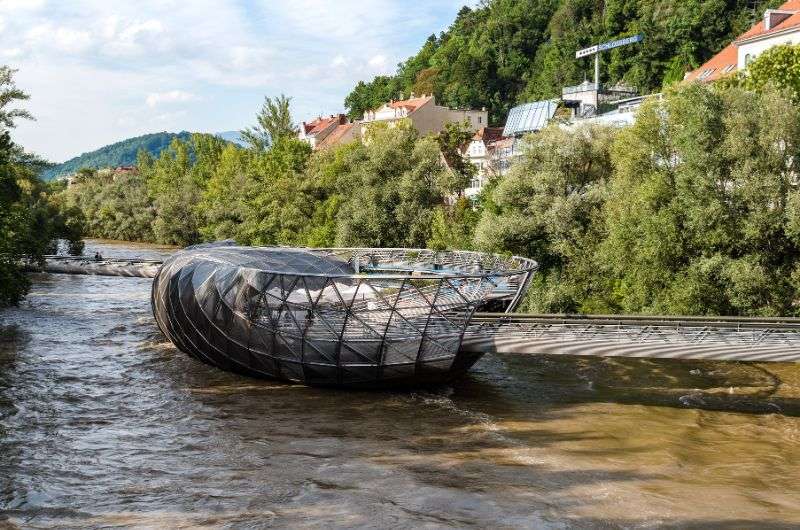 Have a coffee at Murinsel!

And last but not least, Murinsel, a steel man-made island on the river Mur. It was built in 2003 to mark the European Capital of Culture designation. It was designed by New York artist Vito Acconci, who thought about it as a floating shell, linked to the banks with footbridges. No visit to Graz would be wholesome without having a coffee at Murinsel. Apart from the café, there's also a kids´ playground and if you're lucky, you will catch a live concert in the amphitheater. Now that's what a call a spacious shell.
Fun fact: Graz is the birthplace of Arnold Schwarzenegger. If you're a big fan, you can visit a small museum in his childhood house.
3. Salzburg: Mozart's birthplace which hasn't changed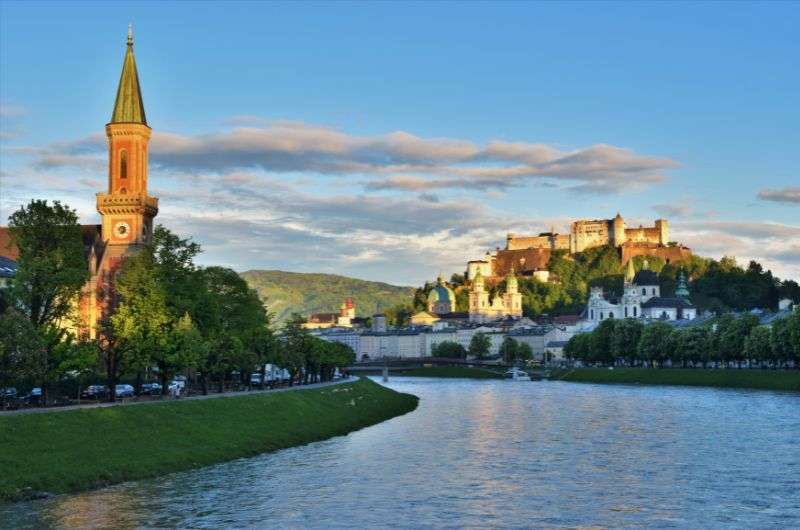 This is the place where Mozart was born

Well, Salzburg is not one of my favorite cities in the world, but I think it's worth visiting, when you're traveling to Austria. It's the birthplace of Wolfgang Amadeus Mozart and honestly, I think he would still recognize the city, should he come back in the 21st century. Nothing has changed in there. The Old Town consists of several Baroque palaces and residents and a huge Baroque cathedral. Not that it wasn't impressive, but after you see a few hundred Baroque buildings and mansions, it loses its charm.
Nevertheless, a mighty medieval fortress guards the city from the hill on one end and a modern museum of contemporary art on the other. And there's also something for boys—Hangar 7 filled with airplanes, motorbikes, and even Formula 1 racing car.
Interested? Check the extra article concerning Salzburg with itinerary, maps, tips and more information.
2. Innsbruck: The Alpine capital
Innsbruck is a beautiful city surrounded by the Alps

Innsbruck is one of the top Austrian cities I've visited. It's the capital of the Tirol state, completely surrounded by the Austrian Alps. And you know what that means...a perfect base for hiking. You can head off to Mordor, which is just around the corner for instance. Nah, there are no plains of Gorgoroth, but the Seefelder Joch landscape is close enough. But back to the city.
Innsbruck managed to preserve a charming medieval old town and combined with the setting amidst the mighty mountain peaks, it represents a fairytale city to stay in. One of the absolute highlights is Ambras Castle just a few minutes from the city center. It houses the oldest museum in the world, the Chamber of Arts and Wonders, and also an extensive armory with intriguing pieces I haven't seen anywhere else around the Austrian castles.
I've been simply thrilled by Innsbruck and another of its perks is, there are plenty of amazing places to see in the surroundings. Such as the Museum of James Bond, the oldest silver mines, the museum of Swarovski crystals, and even the legendary Disney castle Neuschwanstein. I wouldn't do it justice to fit it all in here, so I wrote down a separate article with all the places you must see in Innsbruck.
1. Hallstatt: A pivot point of history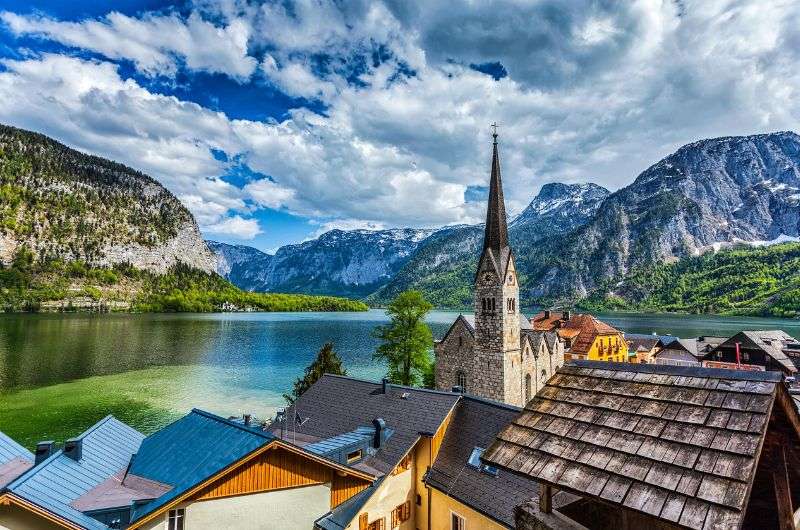 My absolutely favourite...

And finally... the one and only Hallstatt. It's more of a village than a city, but still the best. A major part in my perception might play the fact that I was there during pandemic, so there were practically empty streets— which is a similar miracle as seeing Trump in a gay pride parade— but still. I strongly recommend visiting Hallstatt despite the insane crowds you will meet there.
Heck, the whole historical period was named after this small jewel! Set in a charming landscape on the shore of Halsttätter See and surrounded by mountains, it offers myriads of stunning views. Moreover, people were mining salt in there when Indians still ran freely in America. The Salt mine is an obligatory stop in Hallstatt. Not only the exhibition is informative, but it's also fun! Who can say he rode down the wooden slide in 7 000 years old mine?
Everything you need to know about Hallstatt is included in the article What to Do in Hallstatt: 5 Places to See (Including Itinerary, Maps, and Prices).
This post contains affiliate links. I earn a small commission if you make bookings through my links, at no additional cost to you. This helps keep this blog free, thank you!