Though it's known for its thriving art scene, opera houses, museums, and palaces, the magnificent city of Vienna can be a bit of a bore. I mean go ahead and look at the Stephansdom and some of the other stately buildings in the city center. If you're from another continent, you will probably ooh and aah a couple of times. But after a while, you might start wondering "Now what?".
Since Vienna isn't very exciting at first glance—unless you're a history and art buff, in which case, enjoy the museums—we've decided to spice it up with some unusual sites for you to visit and squeeze some life into the ol' gal.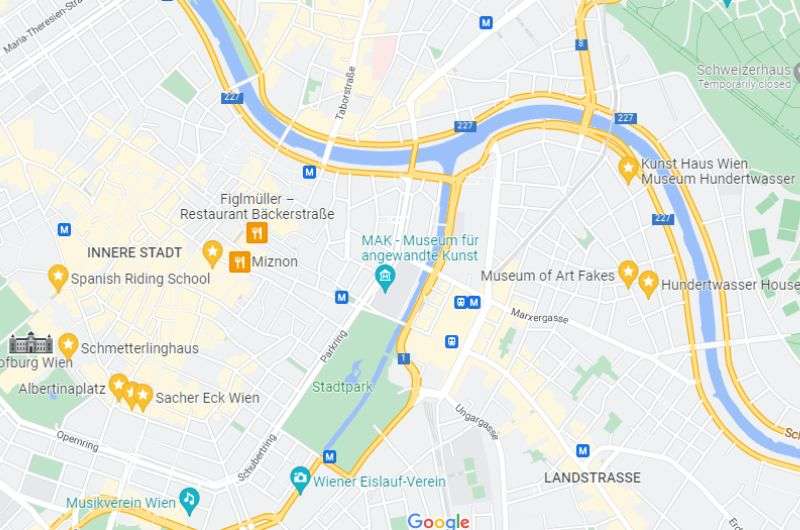 This is where the top unusual sites from this list are located. When booking your hotel, pick one that is close to everything, like Boutiquehotel Das Tyrol and Steigenberger Hotel Herrenhof
You might also be interested in reading:
Is Vienna Worth Visiting?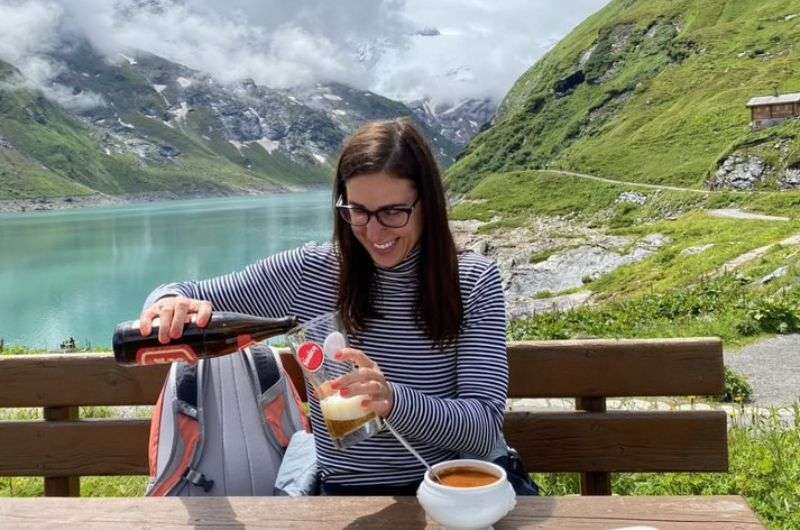 Karin, thinking about how happy she is not to be in Vienna, enjoying the Austrian mountains instead
I didn't hold back in my intro, so this won't come as a surprise. I'm not a huge fan of the city. It's a snoozefest. Update: I've decided to give Vienna yet another try, and she may be starting to grow on me. It's still a boring city compared to many others in Europe, but it's not horrible and I'm not going to try to stop you from visiting. If you want to see what I did on my last visit, you can follow my 3-day Vienna itinerary.
Vienna has history, museums, and stories waiting to be told. Just like any other European city. It's Amsterdam without the canals and charm. It's Prague with a big ego and no cute alleyways. It's Berlin without its edge and Paris without the dirt... ok, maybe it's not all bad. It is clean.
There are, however, many other places in Austria that I do recommend you visit, like the gorgeous area around Zell am See. I've written a whole post summarizing the 11 best places to visit in Austria, or another one just on the top Austrian cities for those of you who hate nature. Here's my full 10-day Austria itinerary if you don't care to do any research and just want somebody to plan your trip for you.
If you want to check Vienna out for yourself, go ahead and book a hotel. For your next stay in Vienna, I can recommend these two hotels: Boutiquehotel Das Tyrol and Steigenberger Hotel Herrenhof for their fantastic locations and good value.
Here are some unusual things to do in Vienna that we think will make your stay a tad more interesting:
1. Indulge in the best Sachertorte
Yummy!
We haven't even started yet and it's already time for dessert? Sure, why not?! Sachertorte is a Viennese classic dessert—a decadent chocolate cake with apricot jam in the middle. The home of Sachertorte is Café Sacher, part of Hotel Sacher Wien, which offers delicious cake from an original 1832 recipe. Go and try the famous Sacher cake at its original home. It sits across from the State Opera, so you can get a glimpse of that on the way, too.
Making reservations is strongly suggested and can be done online. They do keep plenty of tables open for casual visitors. Unfortunately, given the famous location, a very large number of casual visitors want to get in at all times of the day.
If you can't find a table at Café Sacher, all is not lost—head just a few steps down to the corner of the hotel to the Café Bel Étage. This two-story café is lavish and belongs to the Sacher Hotel too, so no need to compromise on quality. Different chairs, same sacher. Once you get in, you'll be seated on red velvet sofas under massive chandeliers that will make you feel as decadent as a sachertorte. Grab a coffee and a sacher and enjoy!
2. The hidden parts of the Stephansdom
The roof of the Stephen's Cathedral
St. Stephen's Cathedral, or Stephansdom, lies at the heart of Vienna and forms a central landmark. It's the church you see in all the photos when you google Vienna.
Parts of a 12th-century Romanesque church remain on the site. Inside, you'll find many Gothic ornaments. Interesting to say the least. Look for crying cherubs clutching skulls, giant sarcophagi, or statues of tortured saints.
Rooftop mosaics
But the roof is where the real party's at! Not your regular boring church roof, the Stephansdom is topped by a fantastic display of colorful tiled art! The massive eagles made out of mosaics represent the Austrian Empire on the south side, and on the north side, more eagles! This time they represent the coat or arms of the City of Vienna and of the Republic of Austria.
Interestingly, the Stephansdom roof is sloped much more steeply than other churches, and thanks to this, it is rarely covered in snow. It stays vibrant all year round while other buildings are covered in a white blanket.
You can take a glance at the ornate roof from one of the towers. The views of the roof are better from the south tower, but there are only stairs leading up there. If you would rather not break a sweat, the north tower has an elevator and better views of the city, plus the largest bell in Austria, the famous Pummerin.
Catacombs
Beneath the cathedral lie the catacombs, home to the bones of over 11,000 people. The older half is a series of connected crypts below the cathedral. In catacombs, you can see for yourself what's true about the royals having blue blood. The Ducal Crypt contains over 60 jars of royal organs. The rest of the royal bodies lie in the Imperial Crypt, part of the Capuchin Church. Meanwhile, the hearts went to the Augustinian Church at the Hofburg Palace.
The newer part of the catacombs extends under the cathedral square. Many skeletons date to the closure of the church's cemetery in 1732. During an outbreak of the Black Death, the authorities emptied the cemetery. They deposited the bodies and bones into pits in the catacombs.
Unlucky prisoners got the job of removing any flesh from the corpses. They stacked the bones when they finished. Emperor Joseph II banned catacomb burials in 1783.
Stephansdom, Stephansplatz
Open for visits Monday to Saturday from 9 am–11:30 am and 1 pm–4:30 pm, Sundays 1 pm–4:30 pm
Tickets cost €6 for the north tower and €5.50 for the south tower. You get a little discount for using your own leg power, how about that! The catacomb tour costs €6. General admission is free for a peek until the barrier, after which you have to pay €6 to get in for a proper look around. Or pay €20 for an all-inclusive ticket.
3. Take a walk with the Historical Hitler Walking Tour
Adolf Hitler taking it's walking tour of historic Vienna
Now for a look at the darker times of Vienna. It's the part of history that should not be forgotten. Discover the streets on which a young Hitler walked during this walking tour of historic Vienna. As you explore Vienna's ornate Old Town, learn about Adolf Hitler's early life and visit Jewish architecture that survived the Holocaust. You will see the only synagogue that survived WWII, war memorials, and more. See the devastation caused by more than 100,000 WWII bombs and pay your respects to monuments dedicated to lives lost.
The tour is around 2 and a half hours and teaches you about Hitler and his upbringing and the impact he had on Vienna and the Jewish community. Embarking on this unusual yet powerful tour is perfect for history lovers and those wanting to delve deeper into Vienna's past.
Hitler Walking Tour, Albertinaplatz 1, next to Albertina Museum, behind the opera and opposite the tourist information.
Tours are available every Monday, Thursday, and Saturday at 2:30 pm
Tickets cost €28
4. Fake Art at the Fälschermuseum
Museum of Art Fakes
The Fälschermuseum, or Museum of Art Fakes, is directly across from the Hundertwasserhaus. This "criminal" art museum is unique in Europe and probably worldwide. It is filled with faked paintings and mystery stories. Thieves always have interesting stories up their sleeves.
For example, one English master forger hid "time-bombs" in his paintings. Eric Hebborn found eternal peace in a very, very suspicious way right after his book "The Art Forger's Handbook" was published. They found him lying in the street with head trauma. Dutch artist Han van Meegeren cheated German Hermann Göring into buying fake paintings during World War II, an act that made him a national hero.
Even "faked" fake paintings exist! This isn't just for art lovers; this is for lovers of compelling stories and amazing plot twists.
Museum of Art Fakes, Löwengasse 28 (via the Hundertwasserhaus)
Open Tuesday to Thursday 10 am–4 pm, Friday to Sunday 10 am–5 pm, closed on Mondays
Tickets cost €7.50 (cash only!)
My top tips for Vienna:
5. The colorful architecture of Hundertwasser
The colorful Hundertwasserhaus
It looks like you let kindergarten kids paint the façade, but in fact, it's an architectural highlight, built in 1983–1985. Hundertwasserhaus is an apartment building designed by Friedensreich Hundertwasser, a famed Austrian painter. He was given complete free reign in the design of the house, and his style is loud and clear. You will see bold colors, swirling designs, and grass and trees everywhere.
The building is still used as a residence, so you can only look at it from the outside, but it's still worth it.
Hundertwasser House, Kegelgasse 37–39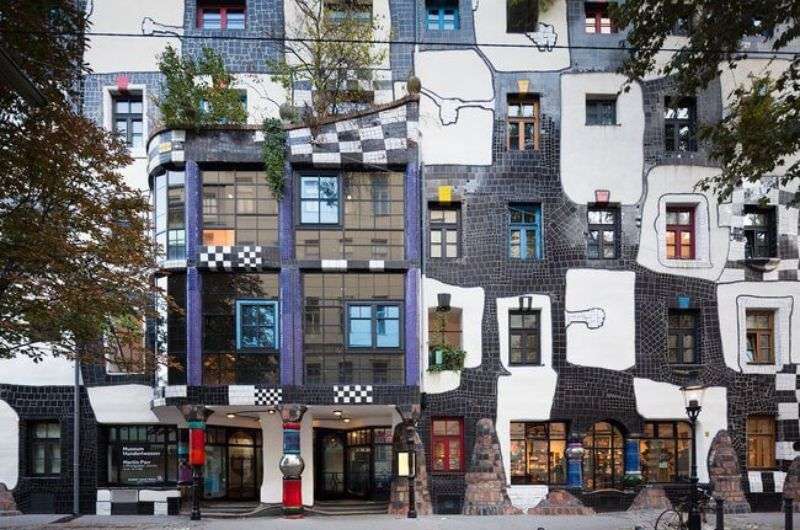 Kunst Haus Wien
Kunst Haus Wien is currently closed until early 2024
For a deeper dive into Friedensreich Hundertwasser's psyche, you can visit the awesome and similarly quirky Kunst Haus Wien. This building was also designed by the famed Austrian artist and has a colorful, irregular, tiled façade.
Inside, you can not only admire some top international exhibitions with a focus on photography. It also serves as the Hundertwasser Museum which houses a comprehensive permanent exhibition of the artist's works.
But don't forget to look at the building itself, you can see touches of Hunderwasser's ideas on ecology, nature, and sustainability everywhere. Stick around at the café downstairs for more artsy vibes.
Kunst Haus Wien, Untere Weissgerberstrasse 13
Kunst Haus Wien is currently closed until early 2024

Tip: If you like weird, organic architecture, take a trip to Barcelona and see Gaudí's best work!
6. Spanish Riding School
Spanish Riding School is the oldest classical horse-riding school in the world
Spanish Riding School is home to the Lipizzaner stallions, a uniquely beautiful and docile European horse breed. Forming part of the UNESCO Ranking of Immaterial Cultural Heritage, the Spanische Hofreitschule ranks in Austria's List of National Cultural Assets. Since it is the oldest classical horse-riding school in the world the place is packed with history—in fact, the school was first mentioned in writing in 1565, during the reign of Archduke Maximilian II.
At the Riding School's almost daily morning exercises the public can observe the white baroque horses practice to beautiful classical music. They take place in the 18th-century baroque winter riding hall. Living in the Stallburg right in the city center the 72 Lipizzaner stallions train next to the winter riding hall where they perform.
There are events that the public can visit, like Lipizzaner performances, and a guided tour of the school, too. Check the website for dates and times.
Spanische Hofreitschule, Michaelerplatz 1, entrance is through Josefsplatz
Open daily 9 am–4 pm, dates and times of performances vary
Tickets start at €16 for morning exercises and €21 for the guided tour

Tip: If you are a horse fan, check out the riding school in Ronda, Spain. The Real Maestranza de Caballería in Ronda is one of the oldest and most prestigious in the world. We have a guide for Ronda for you too, of course.
7. Butterflies at Das Schmetterlingshaus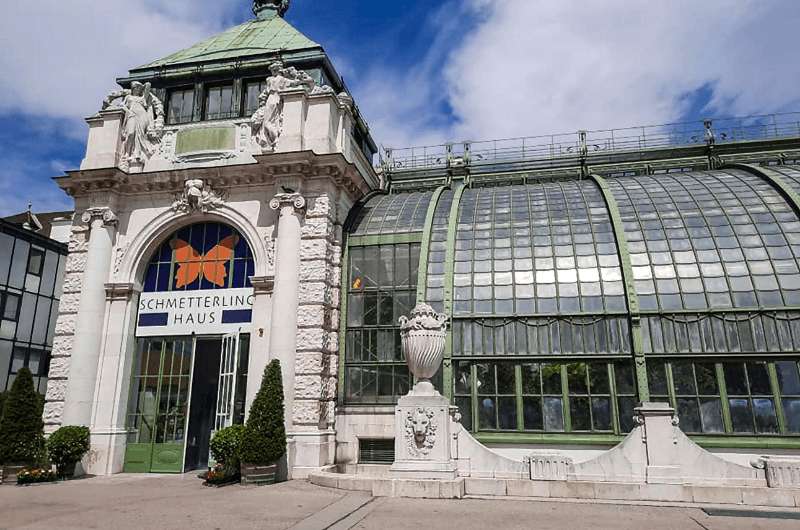 Das Schmetterlingshaus is a house of butterflies!
Welcome to the jungle! They say it's more like a tropical oasis, but I'd say it's closer to a damn jungle. You will walk through a small park, and then enter the beautiful Art Noveau building. Prepare to be amazed.
The temperature and humidity will almost knock you down. After you come back to your senses, you are free to walk around and admire around 400 big, free-flying butterflies. Even for someone who's not a huge fan of these insects, the experience is still spectacular.
You can watch hundreds of butterflies flying around in an artificially created rainforest atmosphere and simply enjoy the peace and beauty of this experience. Surrounded by waterfalls, small ponds, and bridges, you will find a great sight, where you can also find information about the butterflies on the display boards. A special highlight is definitely the huge Atlas Butterfly, with its enchanting coloring and a maximum wingspan of up to 30 cm!
Das Schmetterlingshaus, Hofburg Royal Palace, situated in the Burggarten, a couple of minutes from the Opera House (the nearest parking areas are Am Museumsquartier or Operngarage)
Open daily April to October 10 am–5 pm (until 6:30 pm Fridays to Sundays), November to March daily 10 am to 4 pm
Tickets cost €9
8. Anatomical wax models at the Josephinum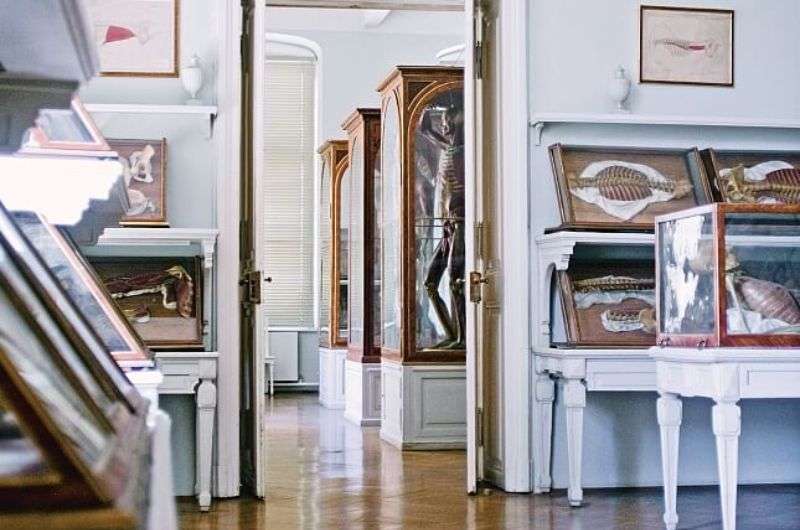 Check some anatomical wax models in Josephinum
Do you want one more tip for dark tourism? Many of these places have death associations. But in their own strange way, they embody the 'beautiful death' the Viennese aimed for. The others showcase the science, literature, and engineering of the Habsburg Empire.
One of them is Josephinum—the recently renovated Medical Museum with anatomical wax models. The highlight is its large collection of 200-year-old anatomical and obstetric models made of wax: while designed as visual aids for teaching, they were also intended for public viewing and to this day are exhibited in their original display cases, made of rosewood and Venetian glass.
Three rooms of this earnest gore can occasionally make you feel like you've wandered onto the set of a horror movie or some hitherto unexplored part of your psyche. If you are confident and can hold down your breakfast, don't forget to save enough time to also see the large collection of medical instruments— "everything from tourniquets to cystoscopes", the website promises—death masks and an oddly compelling collection of oil paintings, watercolors and photographs depicting operations and medical conditions.
Josephinum, Währinger Straße 25
Open Thursdays 10 am–8 pm, Wednesdays+Friday and Saturday 10 am–6 pm
Tickets cost €12
9. A former psychiatric asylum: The Narrenturm
The Narrenturm aka Fool's Tower
The Pathological-anatomical collection in the Narrenturm, known simply as The Narrenturm (or Fool's Tower), is an old psychiatric hospital that closed in 1869. It was one of the first insane asylums ever built. Today the Narrenturm no longer holds mentally imbalanced Viennese, but it does contain something else of interest.
In 1971 it reopened as an anatomical museum and has one of the world's largest pathological collections. The museum has over 50,000 objects on display from skeletons, to furniture, to preserved species. Just be warned, some of the things displayed are quite shocking. Syphilitic skulls that resemble Swiss cheese, jars of disfigured fetuses, and graphic wax displays of untreated STDs all peer out at you from the old cells.
It also contains a recreated wonder cabinet, complete with a narwhal tusk and taxidermized monkeys. Have fun!
The Narrenturm, Spitalgasse 2
Open Wednesdays 10 am–6 pm, Thursdays and Fridays 10 am–3 pm, Saturdays 12 pm–6 pm, closed Monday to Tuesday
Tickets cost €8, guided tour is €4
This post may contain affiliate links. We earn a small commission if you make bookings through my links, at no additional cost to you. This helps us keep this blog free, thank you!