Forget about Vienna! Zell am See-Kaprun is the must-visit location in Austria. Lovely region ideal for summer vacation as well as winter hideaway. My personal tops? The Grossglockner Hochalpenstrasse twisting among mountain peaks, elvish waterfalls like Krimmler Waterfalls, and the technical jewel hidden in the mountain valley Hohenwerfen Castle. Here are my top 10 things to do in Zell am See!
You might also be interested in reading:
Zell am See: the perfect base for your vacation
Zell am See is now a small town of 10.000 and represents the best starting point for adventures in the surrounding. Its greatest advantage is its setting on the shores of turquoise Zeller See with plenty of tourist attractions nearby. And in winter it turns to ski-hub.
However, it was a village not so long ago (some hundred years) and it wasn't too interesting. So, what was the secret card Zell am See played? Well, the railway road from Salzburg to Tyrol opened in 1875. After that, it was much easier to travel to the backcountry and as a result, Salzburgers found fun in outdoor activities and tourism. That's when Zell am Zee discovered its marketing plan. The tourists are going to need a good place to stay in and a decent dining option...luxury holiday in countryside anyone?
Tip: Heading to Salzburg? This article might come in handy... Top 7 Sights of Salzburg + Itinerary, Maps, and Tips
How to get there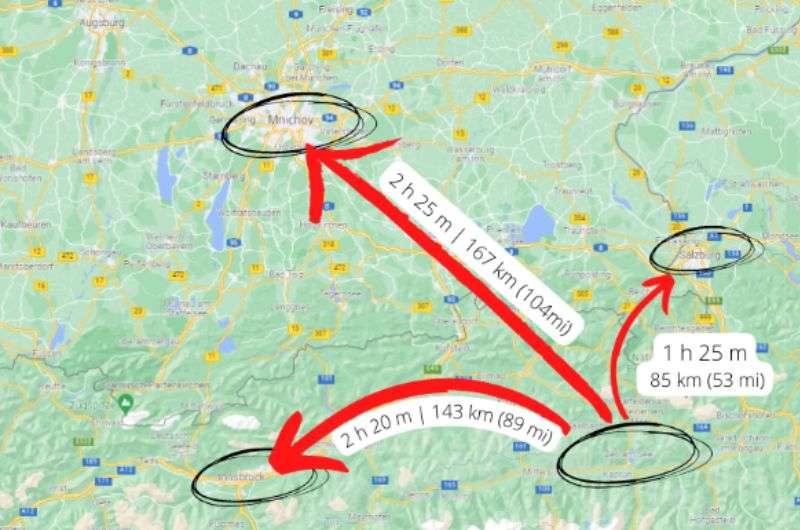 3 possible starting points for your travel to Zell am See!
Zell am See lies in between Salzburg (an hour and a half drive) and Innsbruck (two and a half hours drive). Also, pretty close to Munich (80 minutes' drive).
My personal tip for those traveling by plane: fly to Munich (Germany) and cross the borders to Austria by car. Luckily, nowadays it's much safer than hundred years ago and also much more comfortable than flying to Vienna (which sucks anyway).
Read also: Best 10 Places to See in Innsbruck: Medieval, Morbid and Modern
Our Tips for Zell am See:
Save money with Zell am See-Kaprun Summer Card.
Do you want to eat seated? Make a reservation in advance!
If you're planning to hike, pack a rain jacket and thermal underwear even in summer.
10. Town hall located in the castle (Stadtgemeindeamt Zell am See)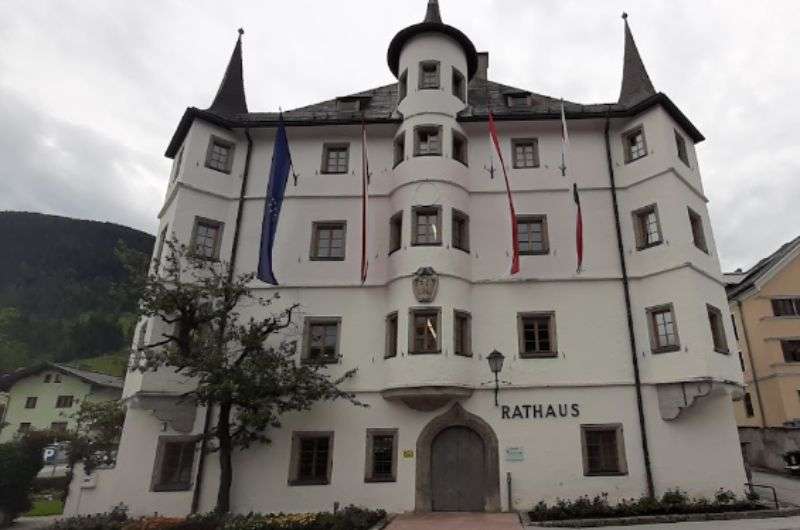 The former Rosenberg Castle and the current Town Hall of Zell Am See
Cool huh? In the heart of the old town stands a cute Disney-like town hall named Stadtgemeindeamt Zell am See (mouthfull, right?) How is that possible? Everything is possible in Austria, if you don't believe me, read the 7 Things About Austria You Should Know Before You Go. Anyhow, the town hall resides in a former Rosenberg Castle, built in 1583 by the Rosenberg brothers. Nothing much to see inside, as it serves as a seat of the city council, but definitely worth checking.
9. Church of St. Hippolytus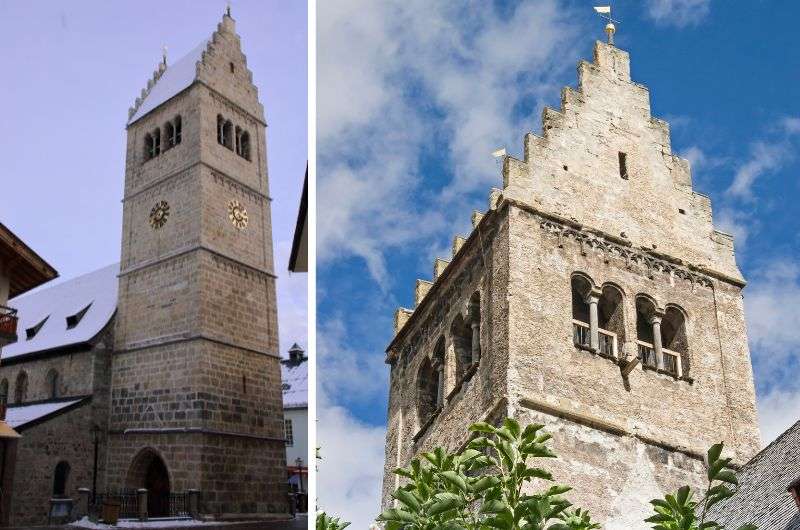 The very medieval Church of St. Hippolytus
After the town hall, we strolled the old town and got to Stadtplatz (main square). The first thing that strikes our attention was a 13th-century parish church of St. Hippolitus, richly decorated with original medieval frescoes. 
8. Vogtturm Stadtmuseum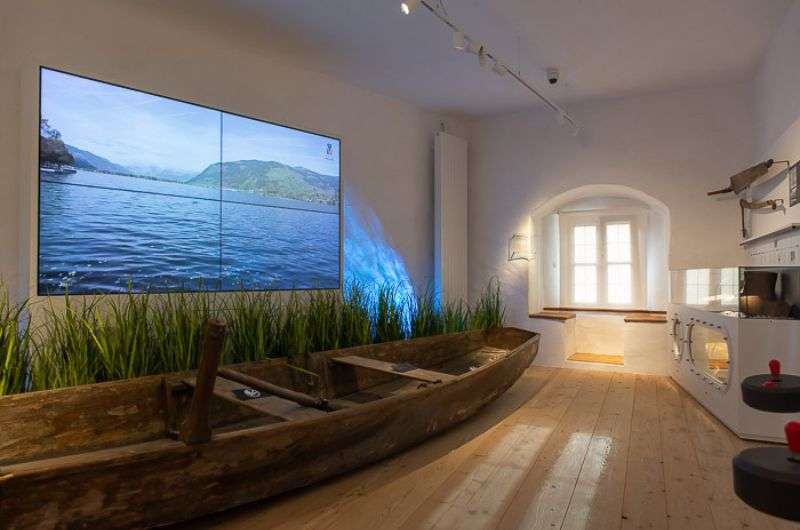 Vogtturm museum was a really nice surprise for me!
More than 1 000-year-old tower guards the city at Stadtplatz. We also explored the local museum with historical artifacts inside (there's nothing else to visit in the city anyway). And I must say I was surprised...in a good way. Interactive exhibition in Vogtturm provides information in English and an exciting video game for children.
Opening hours:
Wednesday to Sunday: 2 pm to 6 pm
Prices:
Adults: 9 EUR
Teenagers (10–18): 4.50 EUR
Children (under 10): Free
Family Ticket: 19 EUR
7. Take the dip in the Zell am See
This lake turns in a magical light show when the sun goes down
The cool thing, which we missed because I didn't know about it at the time, is the Magic Lake Show taking place at Elisabeth Park. As soon as the sun dips down, the laser show takes place right on the lake. The enchanting performance includes water and sound effects and it's truly impressive.
Showtime:
15 May to 16 October: every Tuesday, Thursday, and Sunday at 9.30 pm
free entrance
In summer, it's obviously tempting to take a dip in Zell am See. And why not? There are several public beaches around the lake, where you can spend a relaxing afternoon swimming in the crystal-clear water with beautiful mountain views on top of that. Of course, you can rent various sports equipment and boats on-site or hop on the steamboat ride. And if you're brave enough, come here at night and try skinny dipping in the most romantic setting. If you're lucky, it won't be raining all the time, like it was during our vacation in July.
The Zeller Lake beaches:
Fun fact: Zeller See is in fact very warm compared to other lakes in the Alps thanks to the hot underwater springs... in my opinion, still damn cold though.
Accommodation tip: If you really want to pamper yourself, book your stay at the Elements Resort. This hotel has got it all, a perfect location, outdoor pool, great restaurant, friendly staff, and stylish comfy rooms.
6. See the See from Schmittenhöhe Mountain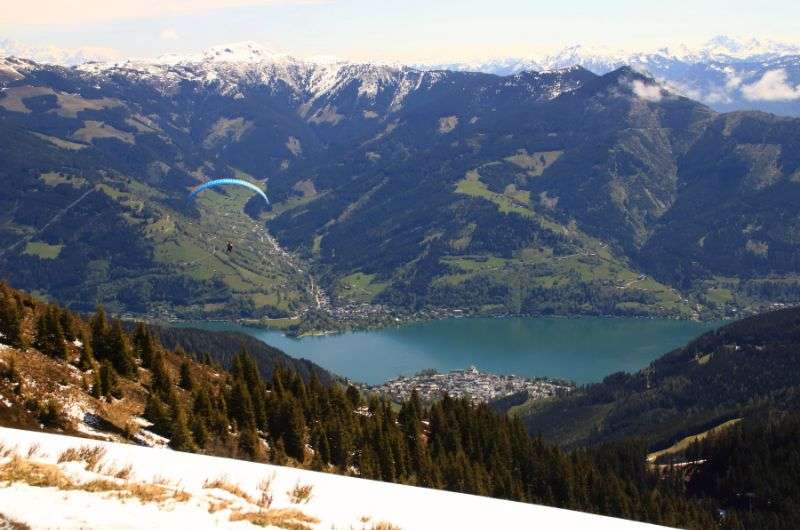 Walk up and then look down and ejoy the view
See what I did there? The nearest mountain from Zell am See is Schmittenhöhe. The resort up in almost 2 000 m (6 562 ft) runs year-round and it's the most favorite Zell am See tourist attraction. I will tell you why...the mountains open up in front of you and give you a view of the whole Zeller Lake and the town.
Schmittenhöhe Panorama Route
Difficulty: Moderate
Distance: 8 km (4.8 mi)
Elevation Gain: 1 143 m (3 750 ft)
Time: Approximately 4 hours (including photo stops)
The Panorama Route will take you up to the Schmittenhöhe Peak around the water reservoirs and along the viewing points of the valley. It's a bit demanding, but the views are extraordinary. It took us almost 4 hours, but we stopped every now and then to savor the atmosphere. There is a restaurant at the end of the way, where we recharged and then took the cable car down to the valley.
Fun fact: There's a small wooden chapel up there dedicated to the Empress Sissi who loved this place.
Practical info: The cable car tickets cost 12-31 EUR depending on how high you want to go, prices also differ by descent, ascend or round trip. Check the Schmitten official websites for details.
5. Visit the Hohenwerfen Castle
Castle like from a fairytale…
Hohenwerfen is one of the must-see places in Austria for people who love Middle-Ages architecture. This mighty fortress sits on top of the hill about an hour's drive northeast of Zell am See and you don't need to worry about getting lost as you can see it from afar.
Archbishop Gebhard ordered the construction of Hohenwerfen Castle in 1077 along with other fortification elements in that area to secure his position in the investiture conflict. In the following years, it took turns in being the archbishop's hunting residence, a military fortress, a feared prison, a ruin, and a training center.
Nowadays, the castle Hohenwerfen hosts throngs of tourists every year. I must admit, it's an impressive structure in a beautiful location. On the other hand, don't get your hopes up for the tour. There's literally nothing inside the castle. The only interior thing we could admire was a wooden floor and maybe some frescoes. It's not even furnished. Whether or not to participate in the tour is up to your judgment, but I warned you.
What Karin and I truly enjoyed, was the "Mythos Jackl" exhibition dedicated to witches' and wizards' history in Austria. It's an interactive presentation with 3D holographic prisoners and many other intriguing artifacts of this gruesome era in Austrian history. Apart from the real witch cases, we enjoyed the display dedicated to Germanic/Central-European myths and mythical creatures. You know, the Witcher kind of stuff.
There is free parking under the hill right at the funicular station and at the beginning of the forest route leading to the castle. So, you need to choose, whether you want to hop on the funicular (which is a kind of exciting experience) or hike the hill yourself. The elevation gain is only about 150 meters (495 ft), and the combined ticket is only 4 EUR (3.40 GBP / 4.70 USD) more expensive. Either way, I strongly advise you to arrive early in the morning, as the parking lot gets filled up, mainly in the summer months.
Opening times:
The opening times may vary according to the actual Covid-19 restrictions.
Check the official websites of the castle for the opening times before your planned stay, times for tours of the castle, and the falconry demonstrations.
Prices:
Adults: 10. 40 EUR (8.80 GBP / 12 USD)
Children: 6.20 EUR (5.20 GBP / 7.20 USD)
Family: 26.40 EUR (22.30 GBP / 31 USD)
Adults + funicular: 14.40 EUR (12 GBP / 16.70 USD)
Children + funicular: 8.70 EUR (7.30 GBP / 10 USD)
Family + funicular: 35.90 EUR (30.30 GBP / 41.70 USD)
The ticket always includes the castle exhibition, Austrian falconry museum and demonstrations, and the interactive exhibitions of "Mythos Jackl". If bought online, there are further discounts.
4. Austria most impressive Krimmler waterfalls and friends
One of the many perks of the area around Zell am See is the number of natural miracles. What do you get when you cross massive rocks and raging rivers? Correct, an epic tourist attraction. Here are three must-see waterfalls in the surrounding.
The Sigmund Thun Gorge Waterfall
Are you also thinking about the barrel scene in Hobbit?
The first thing we need to get straight: Klamm means gorge in English. So, don't expect a sea world. You can expect a lot though. It's a wonderful narrow zig-zag route through the cliffs where you can admire the crystal-clear waterfalls and moss-covered stones. The place itself is magical, it reminded me of our Czech fairytales. Take at least two hours to walk the route.
Just outside the Kaprun town, the river decided to cut its way through the rocks, showing off its power. And I must admit, it truly is impressive. The roaring river forces its way through the valley meandering and offering a magnificent view from the narrow and slippery boardwalks and bridges (proper footwear essential!). It kind of reminded me of the Hobbit barrel scene, where the dwarves escape from the elves. Do you think Tolkien draws his inspiration from Sigmund Thun Klamm? Let me know.
Opening times:
8.30 am to 5 pm (during June and July to 7 pm)
10 am to 3 pm (in October)
Closed from November to May 15.
Prices:
Adult: 6 EUR
Children (6–15): 3.90 EUR
Where to stay: I can recommend Avenida Panorama Suites at Kaprun. It's an epic location with good parking spots, nice and clean modern rooms, and a good breakfast. However, the rooms are so tiny, it taught me to check the size in square meters as well from now on.
The Krimmler Waterfalls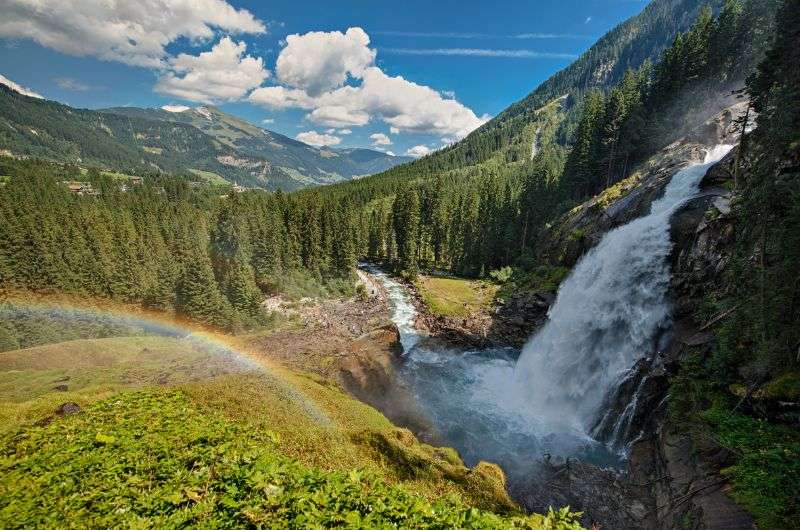 Krimmler Waterfalls—the largest waterfalls in Europe
Located in the west part of Hohe Tauern National Park, the Krimmler Waterfalls are the largest in the whole of Europe. Try a 4 km (2.5 mi) long trail, that offers many viewpoints and platforms leading you up to the top through the Krimml Ache Valley along the numerous waterfalls.
Linguistic Session: The Ache is a common word for a mountain river in the Alpine region. It's not related to English "ache" as in pain. Although, it can be quite painful to test these rivers in winter.
The overall altitude gain is 431 m (1 414 ft), and the trail takes circa two hours up and down (if you're as ripped as I am). Just don't forget to look up and enjoy the scenery while taking all the pics for your feed.
Opening times:
9 am to 4 pm daily (from April to October)
Prices:
Adults: 5 EUR (4.20 GBP / 5.80 USD)
Children (6–15): 2 EUR (1.70 GBP / 2.30 USD
Bad Gastein
The Good Bad Gastein Waterfall!
On your waterfall quest, you can't miss Bas Gastein, the city in the hills. It's only 45 minutes' drive from Zell am See and there's basically nothing worth visiting, except for the Bad Gastein Waterfall, but that's definitely worth the detour.
What else to do in Bad Gastein? I got it covered in the 7 Top Tourist Cities in Austria. Take a look.
3. Kaprun Dam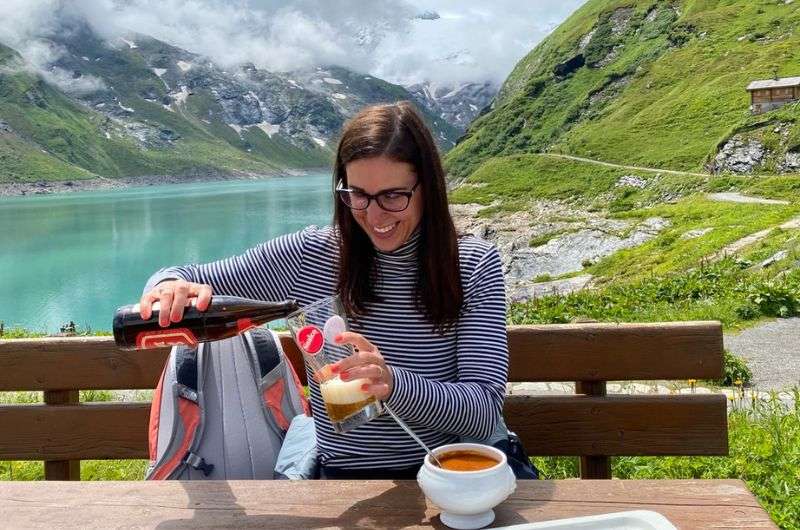 Karin loves Austrian goulash and as you can see, she was really excited about the Austrian beer as well
Speaking about Kaprun, 13 km (8.20 mi) further south from the Sigmund Thun Klamm lies the Kaprun Dam. The technical marvel is at an altitude of around 2 000 m and provides electricity for the whole Zell am See-Kaprun region. The bonus is it also looks fantastic! There are two mountain reservoirs, a restaurant, and plenty of hiking options. Just be mindful of the rapid elevation gain (around 1 500 m) which may cause trouble with breathing or dizziness.
Tip: Karin claims the best meal to have in the Alps is their goulash (strong meat stew). It usually comes at a reasonable price and always tastes great. Other useful tips to be found in 13 Tips and Tricks for Your Vacation in Austria.
How to get there:
It's necessary to book the bus up to the dam. And brace yourself, it's an adrenaline experience. Like...I don't know how about you, but I don't fancy strangers breathing down my neck... and the buses are always crowded. Here are a few tips:
Get to Kaprun Stauseen Parkahus where you can leave your car in a free parking house. Lifehack: park in the highest parking store, it's closer to the bus station.
The ticket office is above the parking lot, there you can buy the tickets which include two bus rides and a journey with the inclined elevator (interesting experience by itself). You can also book a tour of the power plant there.
The first bus leaves at 8.10 am and the last at 3.30 pm, there's no exact timetable, but the buses leave continuously every 15 minutes or so.
Opening times:
June to October: daily from 8.10 am to 4.45 pm
Prices:
Adults: 13.50 EUR (one way) | 26 EUR (round trip)
Children (5–14): 7 EUR (one way) | 14 EUR (round trip)
Children under 4: Free
There it is!
2. Kitzsteinerhorn and the Gipfelwelt 3000
We conquered the Kitzsteinerhorn!
Around a 20-minutes ride from Zell am See is another place we simply couldn't miss. Kitzsteinerhorn is at the altitude of 3 203 m (10 508 ft) landmark of the Hohe Tauern National Park. The absolute top of the glacier is reserved for professional climbers, but there's a Gipfelwelt 3 000 center in 3 000 m (9 842 ft) with a restaurant, cinema, Ice Arena, ski site, and of course the panorama platform where you can take the coolest photos for Instagram.
A few tips for Kitzsteinerhorn based on my experience: 
There are multiple hiking routes up to the peak, but it's rather demanding and you need to take into consideration that there is around 2 500 m (8 200 ft) elevation gain. Therefore, it's freezing up there, even in summer. Make sure you have some warm clothes in your suitcase for that trip. On the other hand, if you're not a wuss, it's a really beautiful and exciting hike. There are epic views from the top, and to get there, you need to walk through a large tunnel with a very well-structured Glacier exhibition.
My personal tip is to hike up and enjoy the scenery, reward yourself with some delicious meal in the restaurant, and then catch the cable car down. When enjoying the view and taking an unreasonable number of photos, don't forget that the last cable down leaves at 4.30 pm. 
Practical information:
There are 7 kinds of lifts to the top and you should prepare your wallet that this is usually the most expensive item on the budget list. The return ticket costs 40–50 EUR per adult (34–42 GBP / 46–58 USD) based on how high you want to go.  
Open daily from 8 am to 4.30 pm (the last cable car descent).
There is a large parking lot next to the cable car station under the mountain. It's free of charge and mostly designed for the surge of skiers in winter, so it's usually half-empty in summer. 
Check all the details at the Kitzsteinhorn official websites.
1. Grossglockner Hochalpenstrasse
Passing the Grossglockner in the Alps is a dream come true
Totally the best place to visit in Austria. I would say also the most beautiful place in Europe. The Grossglockner is the highest mountain in Austria with 3 798 m (12 461 ft). The High Alpine Road leads you through the mountain range in around 2 500 m (8 215 ft).
Tip: Check out the rest of the 11 Top Tourist Attractions & Best Places to See in Austria
For us, it was a whole-day trip. But it depends on how much you want to explore the surroundings. The 48 km (30 mi) route starts in Bruck an der Grossglocknerstrasse and leads to Heiligenblut.
Opening times:
Open from late April to early November (the access depends on the weather and amount of snow).
For up-to-date information check the official websites.
Price:
Day ticket per car: 37.50 EUR
Day ticket per motorcycle: 27.50 EUR
Grossglockner Loop Hike
Difficulty: Hard
Distance: 8 km (4.8 mi)
Elevation Gain: 396 m (1 300 ft)
Time: Approximately 3 hours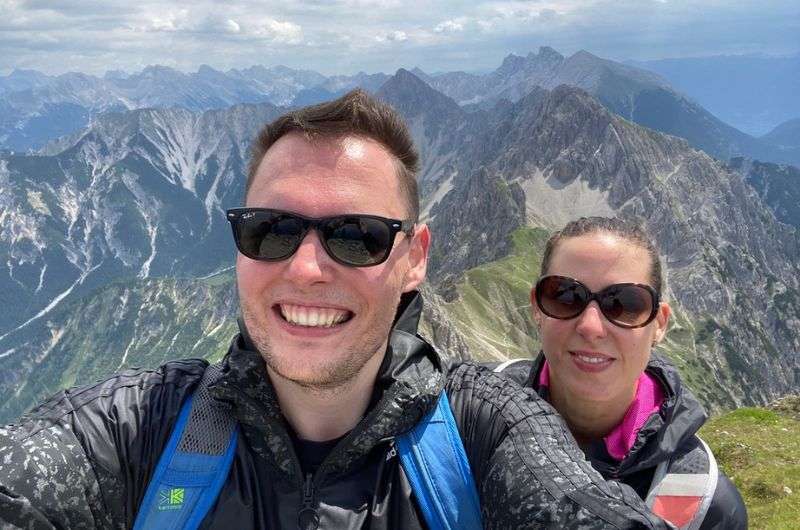 The climax feeling on the top is priceless
On the way, there are numerous parking lots with hiking trails leading to the most popular lakes and peaks. We decided to take the Grossglockner hike (as it's obviously the most badass one). Not that you would hike the actual Grossglockner. It's a trek in its surroundings through the Hohe Tauern National Park. It was a tough hike, but worth it. The views are absolutely spectacular.
Tip: For the best hiking options I recommend komoot.com, which is much more suitable in Austria than alltrails.com.
In conclusion: Is Zell am See worth visiting?
Yes, yes, and yes! As I said, it's in a beautiful setting and there's plenty to see and do in less than 2 hours driving distance. And although it can get a bit crowdy during the high season, you can always run to the hills. The countryside and nature are the best Austria has to offer.
Where to stay? The best Zell am See Hotels:
I'm going to point out a couple of accommodation tips from my own experience along the way. Let's now look at the 3 best places to stay in Zell am See.
Schloss Prielau 4*: Fairytale gone real
The landscape in Zell am See is breathtaking by itself, but to really top off the fairytale vibes, stay at Schloss Prielau. It's a former medieval castle located on the north side of the lake turned into a luxury hotel with a private beach and spa. And you can even bring your pets!
Prices: from 230 EUR, breakfast included
Sportshotel Alpin 4*: The winter haven
If you come to Zell am See for a skiing vacation, this is your dream destination. Located just next to the slopes, 3 minutes from the old town, and 7 minutes from Zeller Lake, the Alpin Hotel is a perfect base to enjoy the most of your stay. Providing free parking lot, spa, swimming pool and... rooms with a lake view.
Prices: from 245 EUR, breakfast included
Senses Violett Suites 4*: Peaceful mountain oasis
The Senses Violett Suites are located on the slopes above the city, which means one thing: splendid views. It's adult-only, so it means another thing: peace. And finally, the suites are stylish and modern, yet very cozy. From mid-May to mid-October (high season), you also get a complimentary Zell am See-Kaprun Summercard, and I think that's sweet.
Prices: from 300 EUR, breakfast included
This post may contain affiliate links. We earn a small commission if you make bookings through my links, at no additional cost to you. This helps us keep this blog free, thank you!