Discover the fascinating Hallstatt and Dachstein region, one of my favorite destinations in Austria, and a UNESCO-designated Cultural Landscape. This 3-day itinerary will take you through its history and breathtaking scenery. A charming town, epic glacier viewpoints, incredible hikes, and tacky restaurants! What's not to love?
As I'm not a big fan of winter, I recommend visiting this area in warmer months. I mean, who likes to walk around, freezing to death, while wearing 5 layers of clothing anyway, am I right? On top of that, this area has ice caves and high altitudes, so you'll feel cold even in the summer. To put it shortly, if you are a summer or winter enthusiast, this region has a lot to offer to both.
You might also be interested in reading:
Day 1 of Dachstein and Hallstatt Itinerary: Hallstatt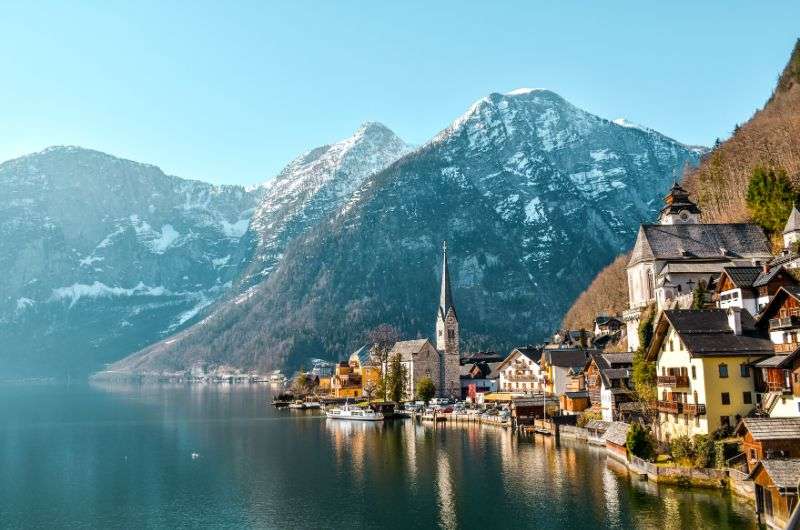 Let's start in beautiful Hallstatt!

Main sites visited on day 1: Hallstatt, Hallstatt Museum & Excavations, Hallstatt Charnel House, Hallstatt Salt Mine, Hallstatt Skywalk and a boat ride on Hallstätter See
Restaurant tips: Rudolfsturm Restaurant
Hotel recommendations: COOEE Alpin Hotel in Gosau. It's a 20-minute drive to Hallstatt.
Parking in Hallstatt: Driving or parking your car within Hallstatt is not permitted. Even if you're staying at a hotel, you'll need to park your car outside the town limits. Park at car park P1 or car park P2.
If you are wondering how many days you should spend in Hallstatt, then I would recommend a one-day stay. There is a lot of things to do in Hallstatt but for us one day was enough (but it's still my favorite town in Austria!).
Tip: We felt like we hit the jackpot when we booked our hotel, COOEE Alpin Hotel Dachstein, so I can wholeheartedly recommend it to you for this itinerary, too. It's very Austrian still but manages to keep its décor modern and not tacky (and that breakfast with a view... !).
You're spending one day in Hallstatt, so park your car at car park P1 or car park P2 and enjoy this pedestrian-friendly village. Let's start slow with an early stroll through Hallstatt's picturesque little alleys. We were lucky enough that we visited Hallstatt during the Covid pandemic when it was considerably less crowded than it usually is. However, the probability of this happening again is quite low if not impossible at all, so I really do recommend starting as early as possible to avoid crowds of people visiting the popular picture-taking spots.
Talking about the viewpoints, make sure to make your way out to this viewpoint north of town for the best pictures of Hallstatt. If you don't have to stop at every corner to take millions of pictures, the whole walk through the town won't take you more than 20 minutes.
Day 1, stop 1: Hallstatt Museum & Excavations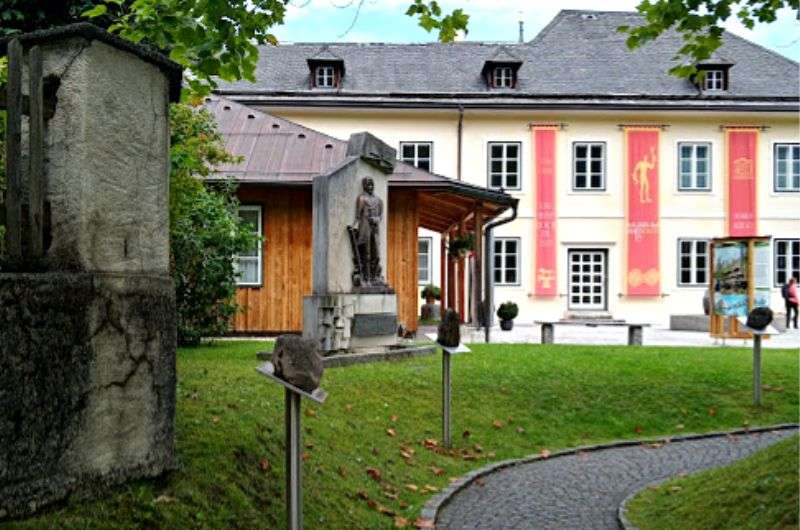 The Hallstatt Museum—30 minutes is enough!

Distance from parking: 1.2 km/0.7 mi, 15 minutes
Time spent here: 1 hour
This little museum stands as a testament to Hallstatt's rich heritage, starting with the ancient tribes who inhabited this area 7,000 years ago, when the whole salt mining history of this area began spanning all the way to the more recent times.
The museum isn't one of the newest in terms of décor but you will find a lot of artefacts from Bronze Age, Celts and Roman settlement periods and if you are really interested in a history lesson, you will probably spend at least an hour here. Since I'm more into outdoor explorations, I saw everything I needed in about 30 minutes. The museum is, however, a great way to kill some time on a rainy day or when the temperatures outside get scorching hot.
Were you planning on getting your tickets in advance? Ha! Good one! You might as well forget about that. The official website of the museum is probably of the same age as its artefacts and also exclusively only in German. Don't worry though, Hallstatt's official website has your back so see the important information below.
Pro Tip: Archeological Excavations
If you haven't got your historic fix while visiting the museum yet, head over to the sports equipment store across the little square and no, I'm not telling you to shop for athletic gear. Beneath this very store lies an archaeological excavation site that was unexpectedly discovered when the homeowner wanted to build a boiler room under the store. Thanks to the archeologists and university students from Vienna, you can now explore the excavation pieces and ancient walls from Hallstatt's rich history.
Open daily from 9 am to 6 pm, admission is free of charge
Most of the displays are in German so the Google Translate app comes in handy

Day 1, stop 2: Hallstatt Charnel House (Ossuary)
Skulls everywhere...

Distance from previous stop: 270 m/885 ft, 4 minutes
Time spent here: 1 hour
Alright, enough with the history class, let's move on to some bone-chilling business. Do we have fans of macabre here? Good, because you're about to step into a realm of eeriness like no other.
Our next stop is the Hallstatt Charnel House—where skulls get an artsy makeover and ancient stories resurface. It's like Halloween all year round, minus the candy.
How did it all start, you ask? Well, on your way to the chapel you will see that the cemetery right next to it is pretty small so when the people back in the day ran out of space to let their beloved ones rest for eternity, they decided to make an ossuary in St. Michael's Chapel. Now you will find more than 1,200 skulls from which 600 of them got painted. It's a one-of-a-kind fusion of creativity and chilling reverence.
Day 1, stop 3: Hallstatt Salt Mine (Salzwelten)
The salt mines in Hallstatt

Distance from previous stop: 1km/0.6 mi, 13 minutes
Time spent here: 2 hours
This next stop tops my Hallstatt must-see list—the legendary Salzwelten, also known as the salt mines. This place isn't just any mine, it's the very first salt mine ever established, with a history that stretches back to 7,000 years ago. Back then, salt was the real deal, and the whole Salzkammergut region was named after what they call the "white gold" and overall, this spot held significance across history, playing a role in enriching the entire region's wealth.
To reach the mine, you can either take a leisurely hike or save your energy by taking the funicular. Once you're there, brace yourself for an unforgettable adventure. The journey starts with a train ride deep into the cave that I found to be a great experience. We put on helmets and raincoats, and travelled through incredibly narrow passages, descending almost a kilometer (0.60 miles) into the heart of the mine. Along the way, we passed the oldest wooden staircase, used by miners nearly 3,000 years ago. The tour continued with a 2 km (1.3 mi) long exhibition showcasing captivating archeological excavations.
What I found to be super fun were the lengthy slides connecting different levels of the mine. The slides added some surprising entertainment to the whole tour. Feeling like a dwarf in a learning quest, this mine tour is an absolute blast and a lesson in history. Hands down, one of Austria's finest.
Pro tip: Wear warm gear and sturdy shoes—it's a brisk 8 °C (46 °F) inside and the tour takes about 90 minutes.
Note: Children under 4 are not allowed on the tour.
Day 1, stop 4: Hallstatt Skywalk (Welterbeblick)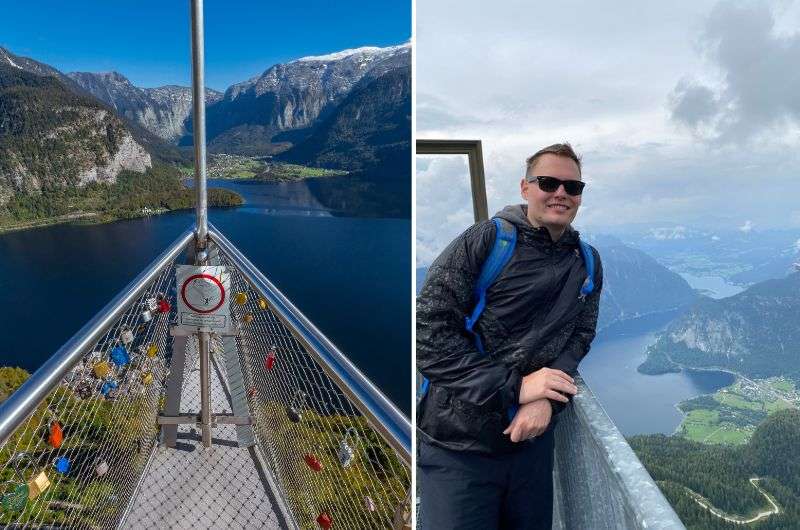 The view...

Distance from previous stop: 15 minutes
Time spent here: 1.5 hour with the lunch
On your way back to the funicular, make sure to visit the Hallstatt Skywalk (not to be confused with the Dachstein Skywalk!). Walk over the suspension bridge, past the Rudolf's tower and you will find the viewing platform reaching out 12 meters into thin air. Yep, Austria sure has a knack for crafting platforms that hang over valleys, giving you a taste of that airborne feeling. But let's be honest—the views are stunning. Brace yourself with patience to wait in a line to take pictures of the impressive scenery, but it's worth it.
Once you're done taking in the panoramic view, head over to the Rudolfsturm Restaurant, where you're in for a treat in the form of dining with a spectacular lookout over the Hallstatt valley. Once again, patience is a must here. The restaurant doesn't have nearly enough servers for the volume of people trying to grab a bite, so just relax and enjoy the view while you're waiting for your food to be ready.
Day 1, stop 5: Boat trip on the Lake Hallstatt (Hallstätter See)
The Lake Hallstatt—an integral part of the city

Distance from previous stop: 550 m/0.3 mi, 7 minutes
Time spent here: 1 hour
Now you can either take the funicular down or walk down the trail back to Hallstatt and see some more historical sites with informative displays on the way.
Did you think I wouldn't mention the Lake Hallstatt at all? Come on now, let's not miss out on the icing on the cake of this charming town!
First and foremost, do not go for the tourist boats. The rental agencies were a nightmare, so be your own captain and rent yourself a small electric boat. Driving the boat is easy enough, and you won't be crowded with gazillions of other tourists. I'm sure you have had enough of that while visiting the previous sites. I highly recommend this place, the boats are super quiet so you can enjoy the ride and they can fit 4 people. The only downside is that they don't accept card payment, so make sure to bring cash.
Prices:
1/2 hour: EUR 22
1 hour: EUR 30
Day 2 of Dachstein and Hallstatt Itinerary: Dachstein Krippenstein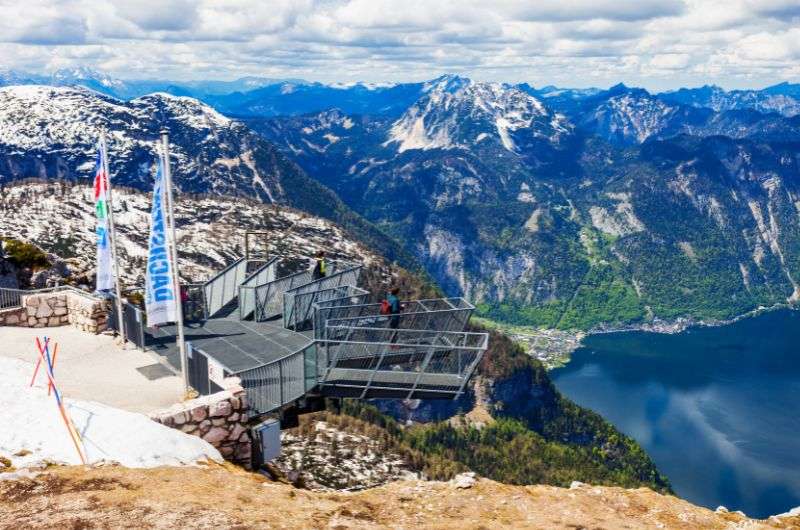 Get ready for some mountains! 5FIngers Viewpoint

Main sites visited on day 2: Dachstein Ice Caves, 5Fingers Viewpoint, Heilbronner Circular Trail
Restaurant tips: Gjaid Alm
Hotel recommendations: COOEE Alpin Hotel in Gosau
Parking at Dachstein Krippenstein: park at the cable car station
Wake up early to get on the 30-minute-long drive from your hotel COOEE Alpin Hotel in Gosau to Dachstein Krippenstein Mountains. Pack yourself some warm clothes, you will need them!
Day 2, stop 1: Dachstein Caves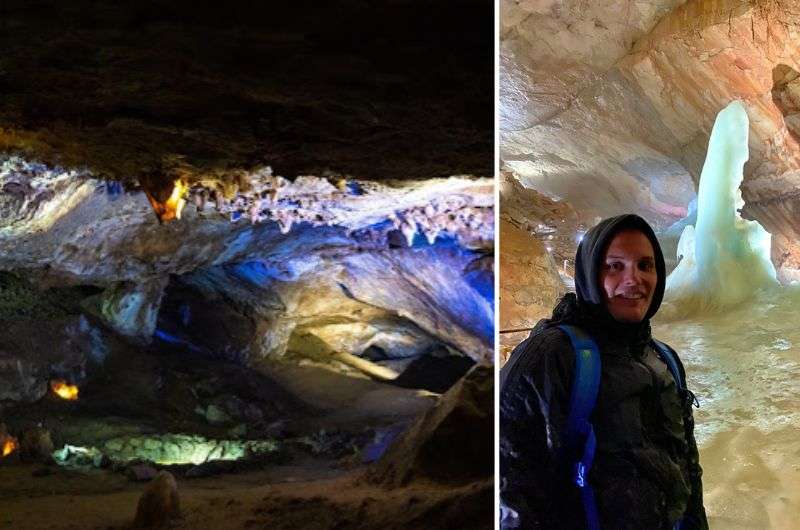 Me, freezing in the Giant Ice Cave

Time spent here: 50 minutes to 2.5 hours depending on how many caves you visit
Drive around the Hallstätter See and you'll arrive at the Obertraun village, nestled against the Dachstein Krippenstein mountains. Within the mountains, you'll find an extensive cave complex, a majestic realm beneath the surface, if you will. There are plenty of caves to visit—there is the Mammut cave which is one of the largest karst caves in the world, the Koppenbrüller cave, the youngest of the caves with its hidden lake, and my personal favorite—the Giant Ice Cave, where an otherworldly atmosphere reigns.
So how do you get to the caves, you ask? Take the Dachstein Cable car. The first one heads up to the mountains at 8:40 am and it runs every 15 minutes. The caves' opening hours are bound to the cable car's operational hours. Parking at the valley station of the Dachstein Krippenstein cable car is free of charge and counts on a lot of visitors. Like almost everything in this region, even this location gets a lot of tourists, so an early start is a must.
1. Giant Ice Cave
The Giant Ice Cave was my favorite out of the three caves this complex has to offer. The ice forms are beautifully lighted, and it's accompanied by music that fits the place. The tour takes about 50 minutes and is approximately 800 m (0.5 mi) long.
2. Mammut Cave
Were you expecting to see some mammoth remains in this cave? Well, you were wrong. The cave got its name only because of its vastness. Other than that, it doesn't have much to offer, so if you are on a tight schedule don't be afraid to skip this one.
3. Koppenbrüller Cave
This cave is located in the valley, and it will take you about 15 minutes to reach it. The official website states that when the snow is melting, or it rains heavily, you can experience a unique natural spectacle which wasn't our case. I mean, if you are into caves, you will be thrilled either way, but for those who feel like it's enough to visit one cave in a day, this might be a waste of time.
Day 2, stop 2: Dachstein 5fingers Viewpoint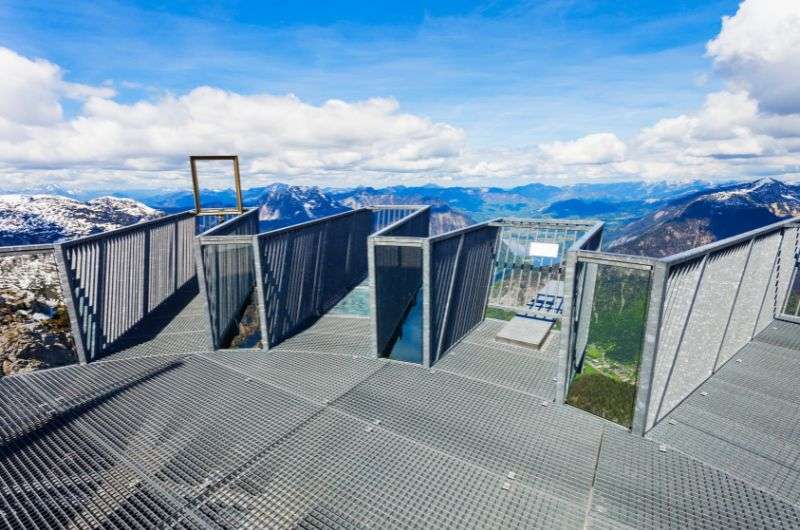 The views from 5fingers were amazing

Time spent here: 30 minutes
To get to the 5fingers viewpoint, you can either take another ride in the cable car or go on a 30-minute hike. We used the cable car to save ourselves some time for more adventures; you still have to take a short 20-minute hike to the viewpoint.
Once you get to the viewing platform you will see why it's called 5fingers—it has five individual platforms from which you can see Dachstein Glacier and the Hallstatt valley. Even though the skies were a bit cloudy when we visited 5fingers, the views were stunning!
And if you hike just a little further up the top, you can even get a 360° view of the Salzkammergut region from the World Heritage Spiral (Welterbespirale). You are now 2,100 m (6,890 ft) above sea level, so you are definitely up there!
Day 2, stop 3: Heilbronner Circular Trail
The slightly out-of-place shark in Heilbronner Circular Trail

Time spent here: 2.5 hours
Length of the trail: 7.9 km (4.9 mi)
After taking in the spectacular view from the 5fingers, head back to the cable car station where you will find the beginning of the Heilbronner Circular Trail to do a bit of Dachstein hiking.
The circular hike takes you along a gravel path that winds through the rocky terrain near the Hallstätter Glacier. The trail is moderate and suitable for all, as long as you're wearing proper walking or hiking shoes.
Around half an hour into the hike, you'll encounter the first stop for tourists—the Dachstein Shark, a large metal sculpture that you can climb into and take pictures. I consider myself to be a kid at heart, but this just wasn't my cup of tea, so let's move on and continue the trail as the scenery is worth looking at. On the way back to the cable car station, you'll pass the Heilbronner Cross and Hirzkarkogel.
If you're feeling hungry after the hike, you can head over to the Gjaid Alm hut where animals roam free and you get the whole Austrian experience with ringing cow bells all around. However, don't expect a culinary experience, the food is okay and the service—not so friendly. On top of that, if you have read some of my previous articles, you should know by now that I'm not into Austria's tacky wooden interior design. And well… this hut was no different. But hey, whatever tickles your fancy, Austria.
Day 3 of Dachstein and Hallstatt Itinerary: Dachstein Glacier (the other side)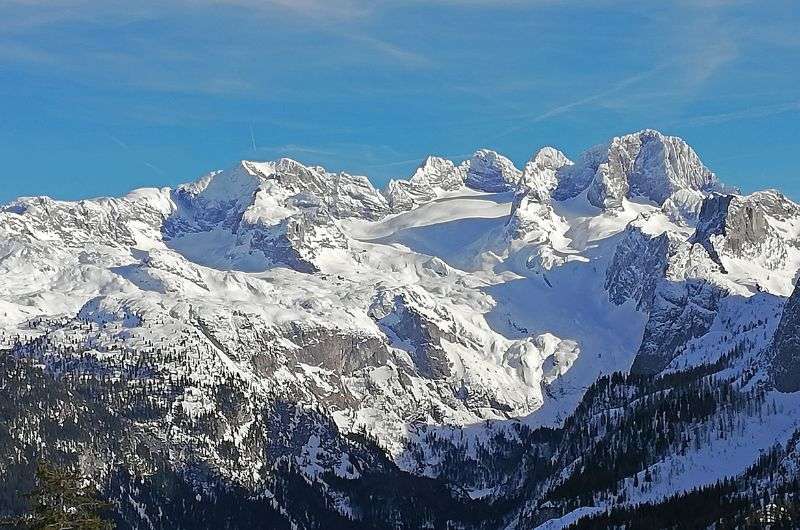 Who's ready for more glacier?

Main sites visited on day 3: Dachstein Glacier, Dachstein Skywalk, Stairway to Nothingness, Suspension Bridge, Ice Palace, Ramsau am Dachstein Panorama Trail
Restaurant tips: Dachstein Glacier Restaurant, Walcheralm
Hotel recommendations: COOEE Alpin Hotel in Gosau
Parking at Dachstein Glacier: park at the cable car station
Today is the last day of our trip (if you don't like the sound of that, check out my full Austria itinerary and add on more days), so let's explore the other side of the Dachstein Mountain. Yes, you heard correctly, we're spending the day up in the air again so wear something warm even in the summer months. Good shoes are also highly recommended.
The ride from your hotel takes about an hour and 15 minutes. There is a toll of EUR 20 almost at the end of road, but you will be able to validate your ticket in a machine at the Dachstein mountain station or at the box office of the Dachstein valley station before leaving and the toll will be waived. Once you arrive at the cable car station, park your car in the large parking lot, which is free for visitors using the cable car (they call it gondola here).
Day 3, stop 1: Dachstein cable car
I recommend getting your gondola tickets online while also making a reservation, as the line can get annoyingly long (as everywhere in this area). The gondola opening hours are from 7:50 am to 5:30 pm in the summer months. However, you better check the opening times before going because there is a lot of renovation work planned for 2023/2024.
The ride up offers beautiful views but it won't prepare you for what's about to come next. When you reach the summit, the sights are just breathtaking! It's like being in an amusement park without all the flashing lights!
After a 10-minute gondola ride, you'll reach the altitude of 2 700 m (8 858 ft) and it IS freezing—I warned you.
All of the following stops are within a short walking distance from each other so once you get to the top of the glacier you will be able to visit them all. Allow 2 hours for all the attractions.
Day 3, stop 2: Dachstein Skywalk
After a short walk, we're arriving at the Dachstein Skywalk, which is a viewing platform with a little glass square at the end so you can see what is under your feet. This might not be for the faint of heart but don't worry, even you can enjoy the amazing view from the edge—just skip the see-through stairs and the glass floor!
As you stand on the viewing platform, you're surrounded by a majestic mountain panorama. The platform creates the sensation of hovering in the sky above the landscape—something that is very popular in Austria. No wonder though their landscape deserves all the attention. Do not linger for way too long though, as the Suspension Bridge gets overcrowded very fast.
Day 3, stop 3: Dachstein Suspension Bridge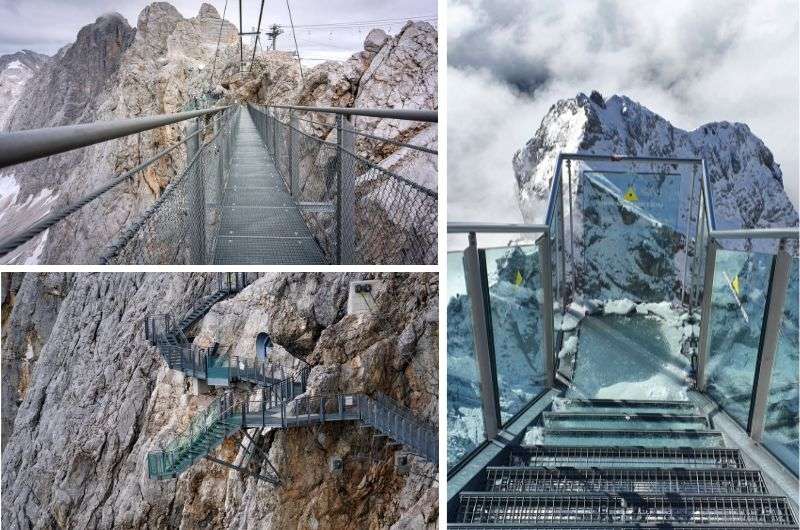 Dachstein suspension bridge, Skywalk and the Stairway to Nothingness

Did the Skywalk make you nervous just a couple of minutes ago? Well, just wait for this next stop on this Dachstein itinerary!
The suspension bridge hangs high above the rugged mountains, giving you a heart-pounding experience you won't forget. This thing is no joke - it stretches across a massive gap between two peaks and since it is quite windy and crowded, you can feel its every movement. I don't feel seasick so I don't have a problem with that but there for sure could be fewer people for me to enjoy it more! The view below is insane - but trust me, it's worth it for the rush!
Day 3, stop 4: Dachstein Stairway to Nothingness
Did you think we were done with the adrenaline for the day? Nope, you were wrong.
Stairway to Nothingness is a glass platform formed of stairs—duh—that hangs over a 40 m (1,300 ft) drop. I don't know what Austrians have with these mid-air hanging platforms, but I have to admit, when you're up there, it's really cool. Take your pictures and move on to the last attraction that the Dachstein Glacier has to offer.
Day 3, stop 5: Dachstein Ice Palace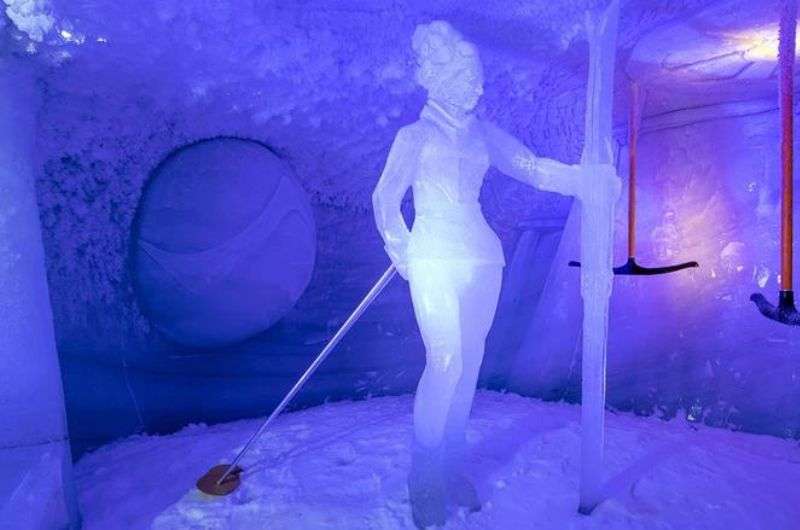 One of the statues in Dachstein Ice Palace

Leave the Ice Palace for the end of your visit as it is near the gondola station. The sculptures were kind of cool, again lighted up like in the Giant Ice Cave yesterday. BUT…this place gets insanely overcrowded, and the floor is very slippery, so for those who have some mobility issues, it might not be the best way to end your trip. Though, I have to confess that it was entertaining to watch people struggle.
There is a glacier restaurant on the top of the mountain in case you get hungry and want to spend some more time here, but since the food was again mediocre and the service worse than yesterday, save yourself a headache and enjoy your lunch elsewhere on your next stop - the Ramsau am Dachstein Panorama Trail. What's up with the slow and unwelcoming service, Austria?
Day 3, stop 6: Ramsau am Dachstein Panorama Trail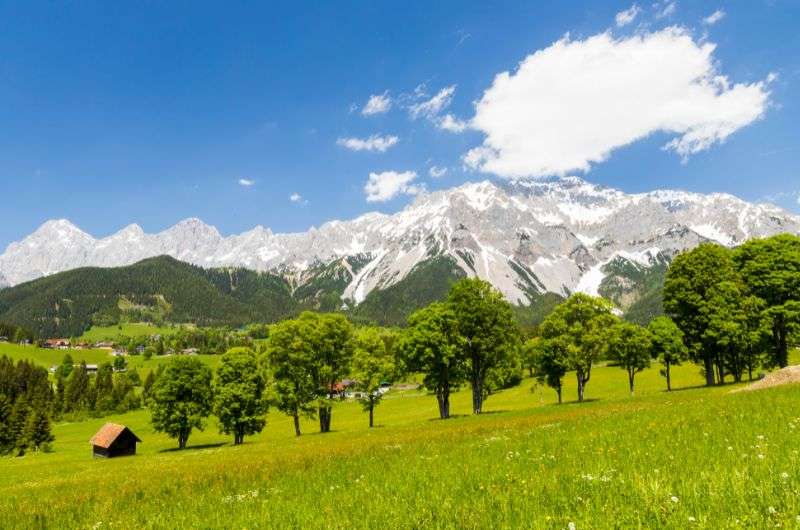 The last day of our itinerary belongs to lovely Ramsau am Dachstein

Distance from last location: 9 km/5.6 mi, 16 minutes
Time spent here: 4 hours
Length: 10.5 km (6.2 mi)
We're heading to Ramsau am Dachstein after spending the morning on the glacier. Ramsau is a small village that offers plenty of things to do during a one-day visit, but it is mainly known for its hikes.
The Panorama Trail hike ranges between moderate to challenging at times. You start with a walk through a forest and continue to the alpine meadows. There are plenty of panoramic viewpoints worth a picture on the way. If you begin the loop in the northwest direction, you can stop at Walcheralm alpine hut for lunch and hopefully get a better experience than we did at the top of the Glacier.
I'm sure that you will be happy to head to your hotel after hiking the Dachstein Panorama trail and enjoy some well-deserved rest after the 3 days spent on your feet.
The views in Austria just never stop

This post contains affiliate links. I earn a small commission if you make bookings through my links, at no additional cost to you. This helps keep this blog free, thank you!