If you are not on this blog for the first time, you know I love to hike. Every vacation I try to be as active as possible—no lazy lying on the beach! I love to explore the local nature and view as many memorable sceneries as I can.
As I believe that I'm not the only fella who loves to spend their time actively and not sitting on their butts, I decided to summarize the best hikes I discovered during our time in Crete. And let me tell you straight away—it was not easy!
The truth is I loved almost all of them. I didn't trek a single one I would consider bad or not worth it. So that explains why this list contains all the 11 gorges I hiked. See my full Crete itinerary if you want to plan your own trip to the island.
No more beating around the bush, here are the best gorges of Crete!
You might also be interested in reading:
1. Samaria Gorge hike
My favorite—Samaria Gorge

This trip, Samaria Gorge hike included, will take you the whole day. The hike is long but totally worth it. I rank it high, it's probably one of the 10 best hikes I have ever trekked, and certainly THE top place to visit on Crete. The views were absolutely stunning—it is 11/10. The sceneries, nature everything works perfectly together and makes it undeniably the greatest experience I had on this trip.
If you are in Crete sometime between May and October, which is the time when this hike is opened, you simply have to visit this breathtaking place in Samaria National Park. (I have an entire article on Samaria Gorge, so check that out for details!).
The hike is a one way, leads you for 14.5 km (9 miles) along the gorge in National Park and then another 3 km (1.2 miles) outside the park. Around 4th km the hike starts to descend a lot so get your knees ready for this adventure!
If you want to avoid the crowds, get there in the morning, the hike is very popular and it shows! We got there around 10 am and it was already full of hyped tourists waiting to hit the road with their trekking poles. Before you enter you pay €5 entrance fee which is basically nothing based on what you will experience.
Samaria Gorge hike and happy me

The first kilometer of the hike you get some spectacular views and I guarantee you'll just walk with your mouth wide open. Then you enter a forest for another 5 kilometers with no views. But don't worry there you can enjoy more than 450 types of flora with 70 endemic species—that means they only occur there and you won't see them anywhere else in the wild the whole world! But unless you are botanist or plant enthusiast, it's pretty boring.
And then again, breathtaking views of mountains covered in cypresses and pine trees. Oh my God just imagine the air scented by the trees. It simply drives all your worries away. Of course, only until the point you stumble across slow walkers on your way. Yeah, we get it, you're enjoying the views. But would it kill you to let faster people pass in front of you? It surely can kill us when we try to pass around you. Please be responsible guys!
Tip: If you always travel with your loved ones—as I do—try visiting some romantic spots on your vacation and make the most of it. And maybe try mine 13 best places to visit in Scotland for couples. We sure enjoyed them.
2. Zakros Gorge—Gorge of the Dead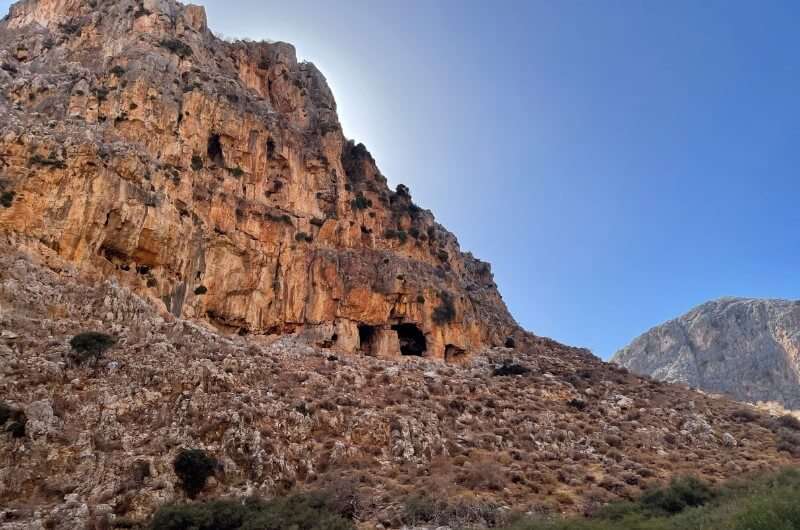 Gorge of the Dead

On the other side of the island is something people call a hidden gem. Well, I'm not a fan of these cliches but to be honest Zakros Gorge truly felt like we found one. However, I must admit its name doesn't sound tempting at all.
But you don't have to worry they don't call it Gorge of the Dead because the hike would be super dangerous or something. Actually, it got its name because of its use in ancient times. The Minoans used the caves on the steep walls of the gorge to bury their dead.
The place itself reminded me Zion National Park in Utah, so if you've been there and liked it, you might enjoy this place as well. The gorge has dramatically steep walls which are truly breathtaking.
The hike we took is out and back type and is around 11 km (6.1 miles) with elevation gain almost 350 meters (1148 feet). On your way, you meet a nice viewpoint on an unpaved road, many herbs and unique geological structures. And of course—goats wherever you look!
More details about the hike on Alltrails (no affiliation, I just think they are awesome).
Do you know the E4 European walking path? It starts in Tarifa Spain and ends right here at Kato Zakros! In Crete it is a 320 km (198 miles) long path leading though Zakros Gorge with some picturesque views and wonderful nature.
You can leave your car in free parking close to the start of the trail. It's a 3-hour drive from Heraklion so be ready to make it a whole day trip or you can sleep somewhere in eastern Crete.
Amazing views @ Terra Minioka Boutique Resort

Hotel tip: We stayed in Terra Minioka Boutique Resort which was only 300 meters from the beach and the views were just amazing. The host prepares you trays with fresh pastries and fruits for breakfast. In this area there are no hotels per se, but mainly apartments. This one was very clean with super comfy beds that we appreciated after the hike!
The prices start around €130 per night for two people.
Our tips for hiking in Crete:
What shouldn't I forget when going hiking? Enough water. In Crete the weather is flaming hot not only in summer but also in other seasons, so don't forget to have enough of it.
What hikes should I try? Try the most you can from my list, but always consider their level of difficulty and if you are skilled enough for it.
When is the best time to go hiking? The earlier you start, the better. The weather is not that hot yet and not that many people will be on the path if you start in the morning.
3. Imbros Gorge
Imbros Gorge

Imbros Gorge is moderate difficulty but it's still one of the easiest hikes you can take in Crete. So, if you aren't hiking enthusiasts, put it on your to-do list! Or if you are on a family vacation and want to take your restless little angels and channel their energy into something else than constant fighting for your attention, this should wear them out.
Even though the hike is rather easy, it doesn't mean you should cross it off your list. On the contrary! Even if you are more into challenging hikes, you shouldn't miss this one. I also like to be more challenged and if I'm not on the edge of dying after the hike, I don't consider it worth trekking—theoretically speaking. But I'm glad we hiked this one because I really liked the rocky cliffs and especially the scenery.
The hike is about 8 km (4.1 miles)—not 6 km (3.1 miles) as AllTrails states—long of the out and back type and it probably won't take you more than 2 hours. But be careful, the road is covered with small rocks and can be very slippery.
You can find the start of the hike in Imbros village right next to the parking lot. There is a big sign guiding you to the trail so you can't miss it, the entrance fee is €2.50. And as I almost always say, get there as soon as you can otherwise there will be many tourists even in October.
The end of the hike is in Komidates village where you can take a bus or a taxi back to Imbros.
Overall, I rank the hike positively, some parts are worth seeing, especially the narrowest point not even 1.5 meters (4.9 feet) wide. So, if you are wider than the gorge, maybe it won't be the right fit for you—pun intended.
4. Preveli Beach and Gorge
View of the beach from Preveli Monastery

Preveli Beach is also being referred to as Palm Beach thanks to its—you guessed right—many palm trees! The tree line grows all the way from the beach into the gorge and it is truly stunning.
The weather at this second most famous beach in Crete is pleasant as the river flows into the sea there. Therefore, the temperature of the sea is regulated by the cold river, so it has this semi hot and semi cold feel. That was an extraordinary and new feeling for me. I found it very nice after the hike!
You can get there from a parking lot close by in about 10 to 15 minutes. The way down is steep with descending about 150 meters (492 feet) so be careful and don't roll all the way down straight to the sea. In the burning sun we almost felt like pigs on a spit being grilled. Well, some people on the beach even looked like ones... Sorry, I'll be more politically correct—I felt like true grilled Greek gyros spinning around next to flaming hot grill. And the people looked like they are enjoying gyros probably way more often than they should!
If you are not sunbathing type of a guy like me, take a walk from the beach around the river through the palm forest. I didn't expect much from this place but once we got to Preveli Gorge I was truly amazed. One of the most beautiful places on Crete!
If you want to know other great beaches in Crete, check out my article!
5. Mili Gorge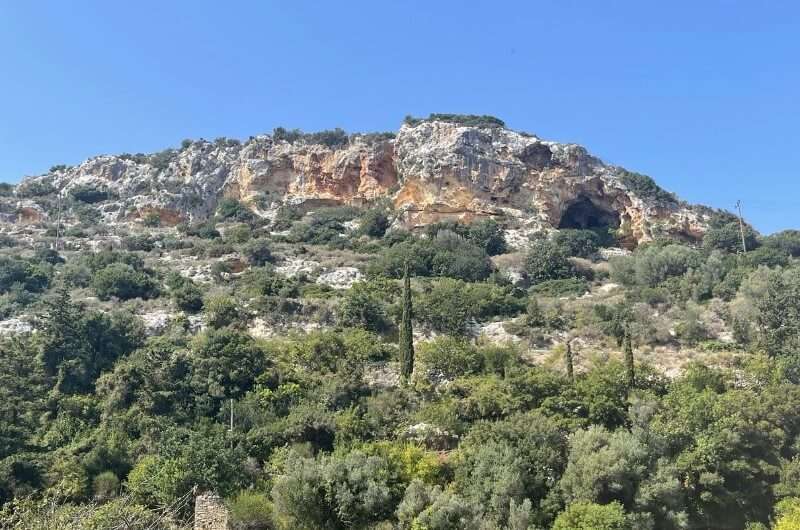 Mili Gorge

Mili gorge is an easy 1.5-hour long trail close to Rethymno city—only a 15-minute car ride—near the city of Mili. No, I'm not an illiterate dummy, it can also be Myli you can find both versions and both are right.
There is a tourist bus stop close to it but as always, I recommend going by car. If you do so, put in your GPS "Mili Gorge Trailhead" than only "Mili Gorge", otherwise it will lead you somewhere else. Unfortunately, there is no dedicated parking lot or anything even remotely close. Therefore, we left our car along the road. I felt like a true Greek, they park literally everywhere.
The hike itself is quite short but full of scenic views. It's only 5km (3.1 miles) with an elevation of 200 meters (656 feet) and if you start at the south entrance, you mostly walk down.
The path is very green and so fairytale-like! Pretty unusual for Cretan hikes but that is probably why we liked it so much—it was just something else! We even saw some rare species of flora. You walk past breathtaking flowers or tree arches. And look out for ruins on your way. I saw one that reminded me of Angkor Wat in Cambodia. I know, didn't expect that either! In one word—beautiful!
Tip: For a gazzilion more fairytale-like hikes, you need to head over to Scotland. Some of the places there are truly out of this world. Except for Fairy Glen... Read about them in the best and worst hikes in Scotland article.
Entrance to Mili Gorge is free and with its easy access I don't see a reason why you shouldn't visit it. You can also walk through the small Mili city. Wondering how it got its name? You guessed right, thanks to its many mills. Greeks are so imaginative!
The interior of Mossa Hotel is so modern and nice!

Hotel tip: The night after visiting Mili Gorge we stayed in Mossa Well Being Hotel and we had a great time there. It surely lives up to its name.
The staff was friendly and gave us many useful tips about the city. Our room was very spacious and clean but oh my god the beds—I had the sleep of my life! Maybe it was also thanks to the high ceiling of the room, ergo it was full of fresh air.
The breakfast was continental and à la carte style with many delicious options so I think even picky eaters can find something nice to start their day with there. Personally, I really enjoyed the breakfast options that Mossa offers.
The prices are from €140 per night, excellent breakfast included.
6. Richtis Gorge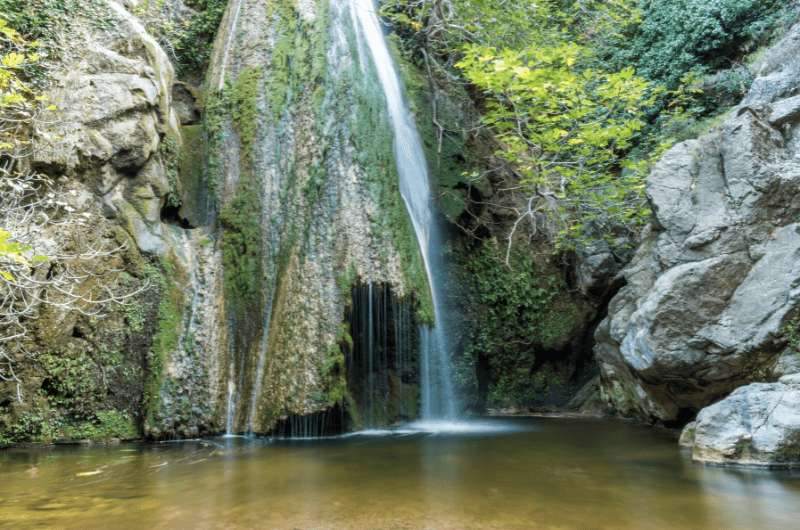 The Richtis Waterfall

Another rather moderate and beautiful hike is along Richtis Gorge. But let me tell you one thing. I was truly impressed how well marked the hike was. Sometimes it can be a bit challenging to get oriented on your hike in Crete, but not on this one. To be honest, you have to be a total dummy to get lost there.
The hike is out and back style and is about 9 km (5.1 mile) long. You don't have to walk all the way, many people stop at the waterfall that is like 3 km from the start and go back. The Richtis Waterfall is picturesque and tempting to dip in during the flaming hot Cretan days. So maybe stop there for a while and don't forget to pack your swimsuits. Will come in handy!
The elevation gain is 380 meters (1246.7 feet) starting with the descent one way and going up the hill on the way back. It can be a bit challenging for people who are not as fit as they should be, but as I know you my fellow readers, that won't be a problem.
There is a small parking lot probably a mile from the beginning of the hike. You can park there for free, if you get a spot of course. If you don't want to depend just on luck and pray to the gods you don't even believe in, get there in the morning.
The entrance fee is €3 and you pay it at the beginning of the hike.
Tip: Another promised land for hikers is Chile. I experienced some of the most wonderful views on the challenging peaks of the mountains there. Read more about the hikes we trekked there!
7. Rouvas Gorge
The Rouvas Gorge hike and the lake of Zaros

Rouvas Gorge hike starts at this wonderful Zaros lake and continues up the hill through Rouvas woods. The scenery is absolutely stunning as you combine walking through a forest with the view of mountains once you get out. Lake, forest, nature, mountain view. This hike just has it all!
I would rank this hike a bit more challenging than for example the Richtis Gorge. The path is very steep in many parts of it, so be careful and wear proper shoes. As you should always, when going hiking. Nothing makes me more furious than seeing tourists wearing insufficient shoes. Nobody cares about your new flipflops buddy, you are a danger not only to yourself but also to others!
While we're talking about equipment, for this hike don't forget to bring enough water. On the way up I felt like I was boiling alive. Even though we were there deep in October, the weather didn't seem to notice.
The whole hike is 9.7 km (6.4 miles) with elevation gain 633 meters (2076.7 feet) and will take you about 4 hours. The first half of the hike you go up the hill, so don't worry and take your time, the journey back is way faster then.
You can leave your car in the parking lot nearby about 10 minutes' walk from the gorge entrance.
8. Kritsa Gorge
Kritsa Gorge

Walking Kritsa Gorge was super fun until the moment the sun got to us. We started early in the morning, so we would manage this 2-hour hike before the heat would burn us. But the Cretan sun is ruthless and when we walked out of the gorge, where its walls protected us from its rays, I was as red as a beet. We hiked Kritsa on the hottest day of our stay and thank God it's not longer.
The terrain in general is quite difficult, there are few parts where you need to scramble a bit. Mostly the walls have metal grips in those parts, so that helps. In one narrow passage you even need to pull yourself up with a rope—so fun. The rocks on the way are very uneven and can be slippery, so again—wear proper shoes!
The hike is a 6.9 km (4.5 miles) long loop with mild elevation about 250 meters (820 feet) and not that difficult. Anyways, I'm going to repeat myself for the millionth time—even though the hike doesn't seem hard, wear proper shoes, bring enough water with you and don't try to hike without breakes if you are not fit enough. I appreciate you want to exercise and not get fat, but you are just slowing down the other walkers, if you won't hike responsibly. Thank you in advance!
9. Mylonas Gorge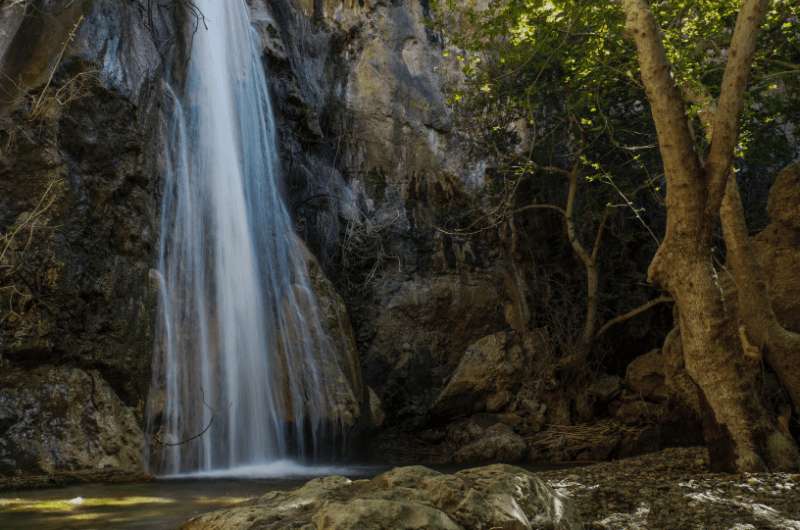 The reward at the end of the hike is this beautiful Mylonas Waterfall

Now, let me show you one of the easiest hikes we trekked in Crete. But don't be fooled. When I say it is easy, it doesn't mean it is not worth hiking. On the contrary, its level does not take anything away from the beauty of it—as some people might think.
The biggest attraction of this hike is not only the gorge itself, but also the Mylonas Waterfall the hike leads you to. I won't agree with what TLC sing here, because when you are in Crete it is always "Do go chasing waterfalls"! Every time we've seen one, we were amazed. And Mylonas Waterfall was no exception.
The waterfall is 40 meters high and at its base lies a small lake. The water there is nice and clean, a perfect match after 2.5 kilometers of walking in a gorge with no shade. Some people even drank the water, so if you are brave enough, have a taste! I would rather pass, being sick from some bug in there—not my idea of a nice vacation!
The hike won't take you more than 1.5 hour thanks to its easy terrain—in most parts. It is 5.3 km (3.5 miles), out and back style with very mild elevation gain—238 meters (780 feet). Don't hesitate to take your kids to this one with you. It is easy with a nice lake for swimming at the end, they will love it. And you will have a nice calm evening as they will fall asleep in second from exhaustion.
10. Agia Irini Gorge
Agia Irini Gorge hike

This hike will probably take you a bigger part of the day. The start of Agia Irini Gorge is an hour's drive from Chania, that we recommend as a trip base. And with the hike taking you about 5 to 6 hours, you most likely won't be able to manage another trip that day.
I would define this hike as mostly moderate and challenging in some parts. It is one of the harder hikes we trekked in Crete. It has a lot of steep descents, so be careful. I know it is hard with those picturesque views on the way but watch the path too!
Alltrails say the hike is 13.5 km long and out and back style, but I think it is way longer! We recorded around 17 kilometers (10.9 miles), and I trust myself more. You should consider the option of the trail being a bit longer and be prepared with an appropriate amount of water with you.
I must warn you—the mobile signal coverage is very poor. Most of the path you won't be able to use online maps or internet in general. Download the maps so you can use them offline and won't get lost.
At the end of the one way, you can stop at Oasis Tavern and get some beer or any other refreshments. You can also order some food for a reasonable price. We had a pint of Greek beer—which I didn't fall in love with to be honest—and vegetable salad with Greek cheese. It was okay, nothing special, but it came in handy after the first half of the hike.
From the tavern you can get back on the way and walk towards the entrance, where you started, or you can continue to Sougia and take a taxi from there.
Church of Agia Irini

Tip: The taxi company in Sougia is called Meletis and will take you back to Agia Irini town. Our driver was very nice and spoke English and you would be surprised how rare is that in Crete. I'm not saying that nobody will understand you there unless you speak Greek but get ready to explain a bit more with your body language.
The drive with taxi was smooth which can be a bit challenging in the mountains, but our driver was a pro!
11. Aradena Gorge
Aradena Gorge

And at the end of a list, I bring you one truly challenging hike! And you know me, I love to challenge myself with some hard hikes that exhaust me. The feeling after conquering a hike like that is just indescribable. So don't be lazy and just lie on the beaches the whole day, you have a hike to trek!
First off, I start by saying—this hike is not for unfit or faint-hearted people. Don't try to be a hero under all conditions, you can hurt yourselves pretty badly! Yeah sure, the views on the way are incredible and totally worth the sweat. But if your legs turn off on the steep way down you can get seriously injured.
But enough about that, you should get it by now. Let me tell you more about the hike itself:
It is about 10.9 km (6.1 miles) long. But the length is not what is challenging about this hike—obviously! It is the elevation gain 1.115 meters (3658.1 feet) that will give you a hard time. The style of the hike is out and back.
The first half of the hike is descending—it is steep, rocky and slippery so watch out. It leads you to a lovely pebble Marmara Beach where you can dip your toes in the crystal-clear water.
Marmara Beach

The way back is uphill so get mentally prepared at the beach for that. Sometimes you need to help yourselves with hands during the climb on your way up. But if you are in good shape, it shouldn't be a major problem for you.
In general, I don't recommend trekking this hike alone as it gets dangerous sometimes. Anyways, it is totally worth it and I guarantee you will enjoy it too. It totally exhausted me and I had only one thing on my mind as we finished it: Food! I'm a huge foodie, so when it comes to tasting new meals abroad, that's my jam—check out my article about the Cretan food I tried!
Restaurant tip: When we got back to Chania we went to The Five Restaurant. It is a trendy restaurant with modern Greek cuisine. Every course is about €10 and you need to order like 4 or 5 of them. We had pasta with capers, tabouleh, ceviche and lamb balls—and everything was amazing.
On top of that the views from the restaurant are stunning, so I recommend booking a table for the evening to enjoy the sunset. And do so in advance, the restaurant was full. No wonder I had one of the best dishes ever there.
This post contains affiliate links. I earn a small commission if you make bookings through my links, at no additional cost to you. This helps keep this blog free, thank you!