Let me start by saying that you have no idea how I had to suffer to bring you this ultimate guide to the best beaches in Crete. A beach holiday is a total nightmare for me. It is basically the worst possible way to spend my time abroad. If you want to do nothing you can stay at home glued to your couch.
But what I wouldn't do for you guys. On the other hand, some of the beaches I've been to were some of the most beautiful places I've visited. So, it wasn't that cruel, I guess.
Cretan beaches in general are very nice and you can fit most of them into 1–2 days. But man, it is hot out there! The temperatures rise to 35°C in the shade in October within a blink of an eye.
And we were not ready for that. I mean, coming from Scotland (where we got snow in the middle of summer) and my home country, Czech Republic, how could I know how useless a hat, sweater, and light jacket would be? Fall probably took a vacation too!
However, I will get back to what you're here for. Let's talk beaches!
You might also be interested in reading:
Google Maps of the best beaches in Crete
Best beaches in Chania
1. Balos beach
The Balos lagoon

Crete is full of wonderful beaches. And one of them totally worth visiting is Balos Beach and the lagoon with its turquoise water and white sand. This beach looks literally like an advertisement for beaches by travel agencies.
A mild hike leads there and it is more a way to the beach from parking than a hike per se. It is not even 2 km (1.4 miles) long with only about 100 meters (328 feet) descent to the sea. But judging from the red faces of some people coming up like they're reaching one of the eight-thousanders it can be quite the achievement.
Anyways, the lagoon is even prettier from the view up the hill. So don't forget to take some pictures on your way down.
On one side of the beach, the lagoon is very shallow, so it is perfect for kids to play in. The other side is exactly the opposite—rocky, wavy, and deep. The connection of tiny Cape Tigani to the mainland Crete creates an isthmus that gives the whole scenery a real tropical vibe.
I 100% recommend visiting Balos Beach. The only minor inconvenience is the hell of a road leading there. The drive from Chania takes you about an hour and this unpaved road is about a half of it. It sure sounds a bit annoying, but it was one of the prettiest beaches I've ever encountered.
2. Elafonisi Beach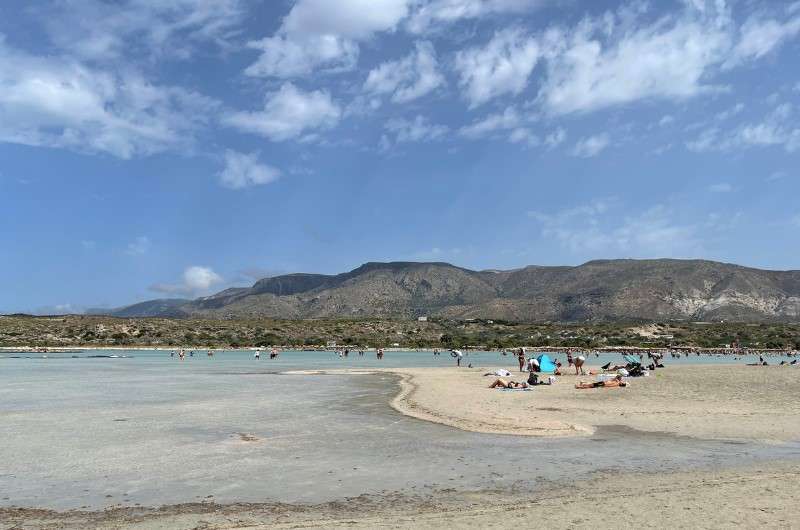 Elaonisi Beach—not as pink as you might hope

Clear see-through turquoise water, exotic pink sand beach. That's what you expect from a visit to Elafonisi Beach. But that's definitely not what you get.
When we got there, we had those pictures of the almost impossibly pink beach in our heads but what we saw was a bit of red dust and that's it! So, thank you Instagram for deceiving me once again. I will never trust you again (you also lied about the colors on Rainbow Mountain in Peru!)
Otherwise, when you get over the disappointment, it is actually a really nice beach. Just not as pink as you thought.
The sea has a nice light blue color and is not that deep, so your children can play in it and won't drown (probably). But keep an eye on them, just to be sure.
The biggest bummer about this place is the location. It is far from anywhere, it takes at least 1.5 hours to get there from Chania. Well, there is a huge parking lot for free so you can drive there. You can visit many beaches that are closer than Elafonsi, but in the end, it's just up to you.
3. Preveli Palm Beach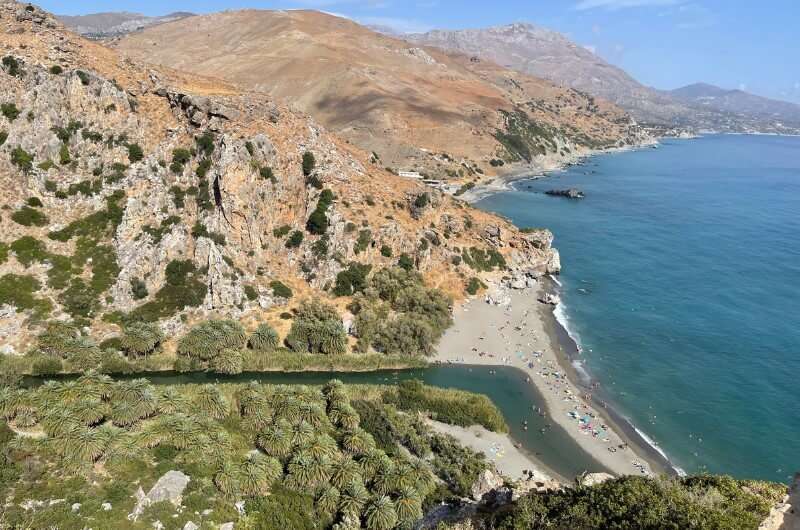 The view of Preveli Beach, Greece

Preveli Beach is also being referred to as Palm Beach thanks to its—you guessed right—many palm trees! The tree line grows all the way from the beach into the gorge and it is truly stunning.
The weather at this second most famous beach in Crete is pleasant as the river flows into the sea there. Therefore, the temperature of the sea is regulated by the cold river, so it has this semi-hot and semi-cold feel.
You can get there from a parking lot close by in about 10 to 15 minutes. The way down is steep with descending about 150 meters (492 feet) so be careful and don't roll all the way down straight to the sea.
If you are not a sunbathing type of person (like me), take a walk from the beach around the river through the palm forest. I didn't expect much from this place but once we got to Preveli Gorge I was utterly amazed. One of the most beautiful places on Crete!
Crete is full of breathtaking gorges, so if you want to see more of them, I wrote a whole article just about gorges.
4. Falasarna Beach
Falasarna Beach

One hour's drive from Chania you can find Falasarna Beach that I really enjoyed visiting—one of the best beaches near Chania for sure! After a long time we were at the beach that was not packed with people. It is spacious and people tend to visit Balos Beach nearby more.
This beach is wonderful, especially in the evenings during the sunset. As it faces the west you get some really picturesque views of the colorful sky.
If you don't want to lie on your towel the whole damn day, you can do some exciting activities there. It gets windy, so windsurfing is a popular choice of water sport at Falasarna Beach.
In the past, Falasarna used to be a harbor city with a developed trading market. Some debris of the historical city lies a few meters from the beach so get up and go to see something exciting. Too much sunbathing is bad for your skin anyway and you know it.
The interior of Mossa Well Being Hotel is so modern and nice!

Hotel tip: The night before visiting Knossos we stayed in Mossa Well Being Hotel and we had a great time there! It surely lives up to its name.
The staff was so friendly and gave us many useful tips about the city. Our room was very spacious and clean but oh my god the beds. I had the sleep of my life. Maybe it was also thanks to the high ceiling of the room, ergo it was full of fresh air.
The breakfast was continental and à la carte style with many delicious options so I think even picky eaters can find something nice to start their day with there. Personally, I really enjoyed the breakfast options that Mossa offers.
5. Agia Roumeli Beach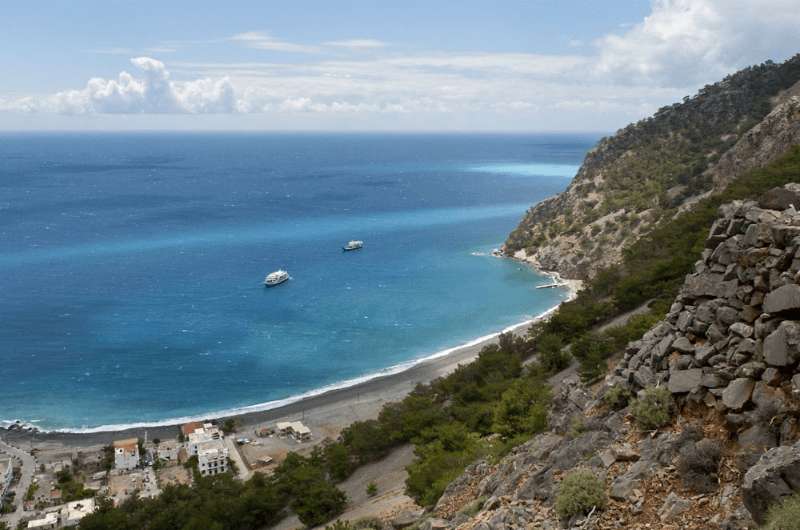 In Agia Roumeli there is a stunning black beach where you can dip your feet after a long hike at Samaria Gorge, which is what you must do once you're in Crete. And that's exactly what we did. You can't imagine how rewarding it is to relax at a nice clean beach after a bit more challenging hike!
Have you ever heard about black beaches? It seems to be black thanks to the small dark grey puddles covering the ground. The beach stretches for 3 kilometers (1.1 miles) and is very spacious so you won't be packed like sardines with sweaty, hairy tourists.
If you don't want to just lie around, you can walk around a bit and enjoy nice views of the cliffs. Agia Roumeli is quite a small town but there are a few local taverns and bars that you can explore.
6. Lake Kournas Beaches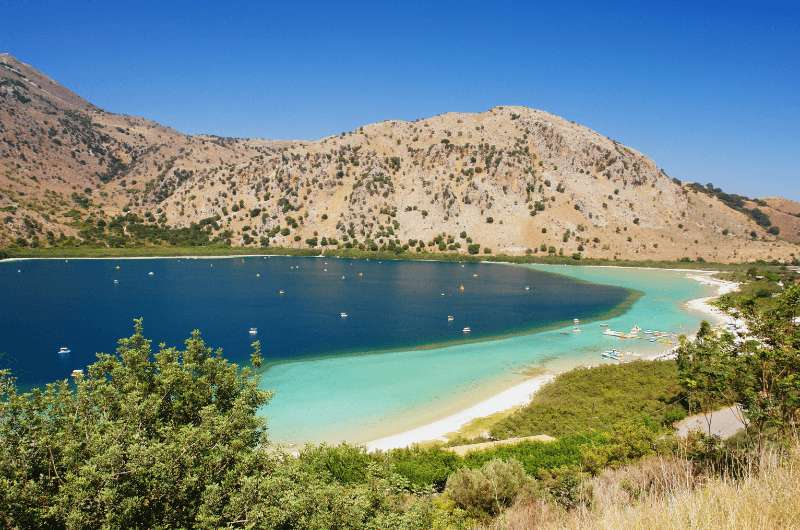 Lake Kournas

Lake Kournas is the biggest freshwater lake on the island of Crete—well to be fair, it is the only one. I wouldn't say it's not worth visiting but if it's on your way to somewhere else, maybe stop by. But you don't have to spend your whole day here unless you're having a long vacation. We spent there about three hours and it was just enough for us.
The lake is rather small with tiny stony beaches but offers some water sports activities. You can rent paddle boats there! But that's pretty much it.
We expected Cretan Zell am See but that's not what we got at all. I don't want to be unfair, the views of the scenery around are beautiful, but nothing mind-blowing.
I would put this on the list of optional beaches to visit.
Best beaches in Heraklion
1. Matala Beach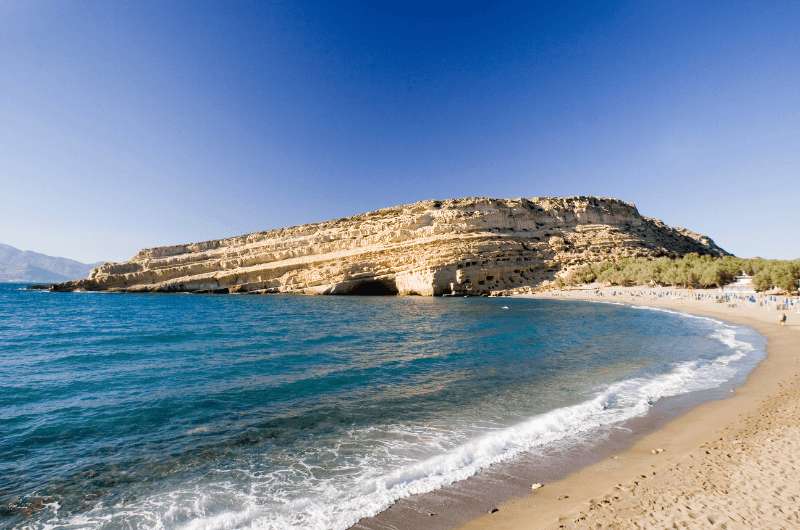 Matala Beach

Probably one of the most famous Cretan beaches is Matala. And not only because of its clean sand but also thanks to its history. And you know me, I can't waste an opportunity not to tell you a bit about its past.
In the cliff running along the coastline, there are many caves that were used all the way by the Romans as tombs. But what made it famous more recently is that during the wild years of the 70s hippies inhabited the caves. Good for them but thank God they are gone now. Wouldn't like to run into some of them there!
Matala Beach is covered in soft sand and truly makes a wonderful vacation spot. The water is see-through and quite warm but it's too famous for you to feel relaxed there. It's this typical picture of a tourist beach with those annoying plastic chairs in the ocean of towels with screaming and crying kids in the background. Nah, not for me, thank you.
I would rather visit old Minoan monuments and places nearby. The area around is full of rich history and in one hour's drive you can visit so many—the one and only Knossos Palace for example.
To sum it up, if you're a group of young people who want to enjoy a rich nightlife and then lie on the beach, be my guest and visit Matala Beach. But if you want to experience a calmer vacation, don't stay for more than a day.
2. Agia Pelagia Beach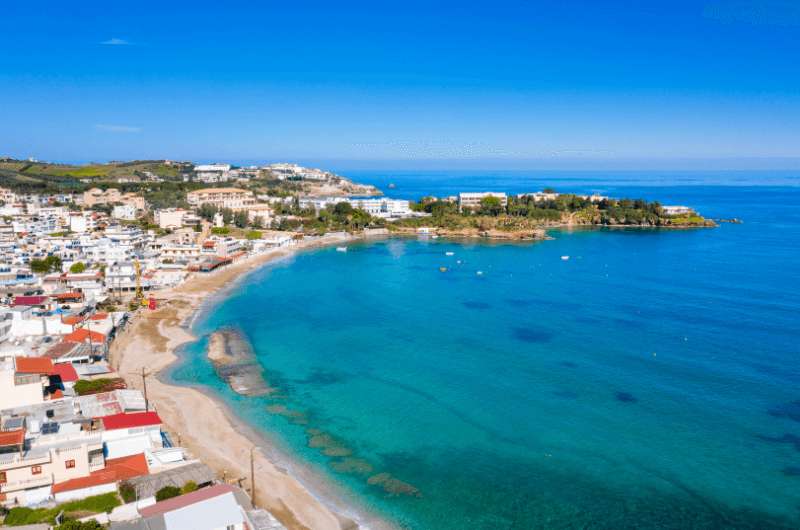 Agia Pelagia Beach

Agia Pelagia is one of the best beaches near Heraklion—it's only half an hour's drive from the city. The beach is public and also one of the more famous in the area, but it's way more peaceful and quieter than Matala Beach.
Near the small village of Agia Pelagia you can find a few picturesque beaches with sand and small pebbles. But we found this one to be the most appealing compared to the others.
The gulf in which the beach is situated protects it from winds from most sides and the sea is very calm. With that being said and how shallow the water is, the kids would enjoy playing there and will be safe. I really liked how the water was very clear. No wonder diving is so popular there.
3. Chelidoni Beach
The Chelidoni Beach is very close to the Chelidóni House (prices start from USD 213)

Now I will talk a bit about this secret little beach 15 minutes from Heraklion. What is secret about it, you say? I don't know, you tell me why nobody was there except us and a few locals. Because Chelidoni Beach is topping my list!
From the nearby parking lot, the beach is accessible with steep wooden stairs. So be careful there guys, nobody wants to get hurt in Crete—not a joke about their health care, in that case, you want to get hurt in Crete. Once you survive the way you end up on a tiny pebbled beach away from crowds. What a nice change!
I recommend snorkeling here, the water is crystal clear and you will spot lots of fish there. To sum it up, we really enjoyed staying at this beach for a few hours. But if you have a whole day and need to relax for a bit, this place is perfect for just lazing around endlessly. This beach you simply must visit.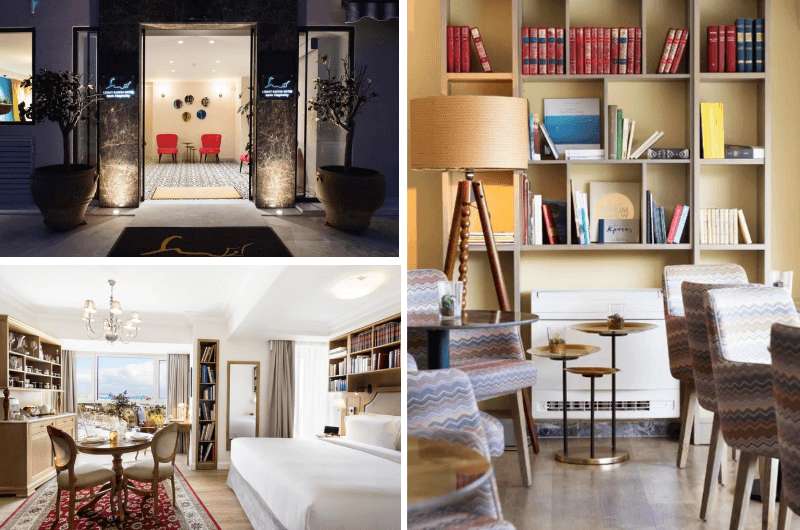 Lovely, nice and modern—that's Legacy Gastro Suites.

Hotel tip: If you are looking for a place to stay in Heraklion, I just may have the perfect fit for you. We stayed one night in Legacy Gastro Suites and it was a wonderful experience for us.
The interior is very modern and clean with super comfortable beds. And another important factor for me is the breakfast. You know me, can't start a day without a proper meal! It is served à la carte and you can choose from plenty of delicious—and nutritious!—options.
Best beaches in east Crete
1. Vai Beach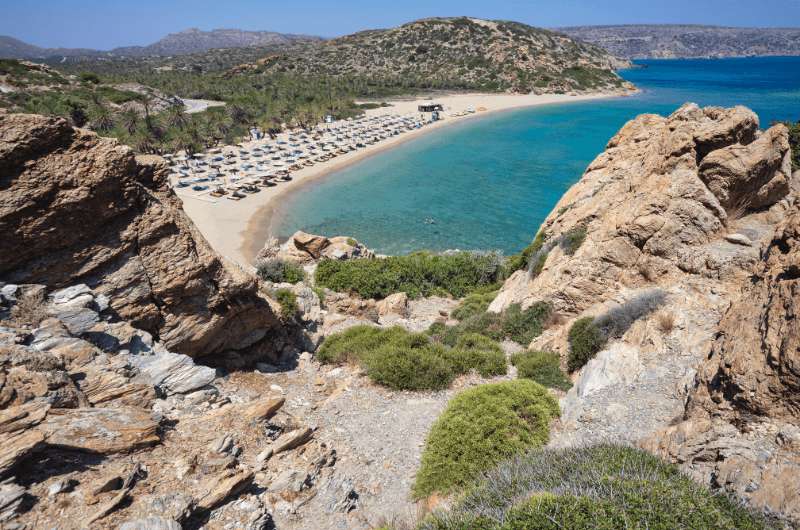 Vai Beach—my favorite!

If you are looking for the best beaches in the east of Crete, don't forget to visit Vai Beach, which I consider one of the most beautiful beaches in Crete. And you know that there's competition!
The line of palm trees along the sandy beach with clear sea is probably the reason that it is packed with tourists in the main season! And it is probably also why I liked it so much there! So if you try to avoid crowds of almost naked people sandbathing and children screaming, maybe you should visit this place in the shoulder season.
But one thing is for sure, you can't miss this place because it's just too beautiful not to visit! It was awarded with a Blue flag by the Foundation for Enviromental Education. You know I don't care about this hippie stuff, but it basically means that the beach is nice and clean. And that I care about a lot!
Next to the beach, there is Palm Beach Vai Restaurant with local food that I really enjoyed. It was fresh and a total bargain.
2. Kato Zakros Beach
Kato Zakros Beach

When we got to Kato Zakros Beach after the hike in Zakros Gorge, we so appreciated this nice away from tourist places. It was not full of sunbathing tourists with alarms set to know when to turn around. These people...
The beach is pebbled with some bigger rocks now and then which can be a bit uncomfortable, but this doesn't have to bother us. We are active people, don't lie on your backs the whole day!
Kato Zakros Beach is facing east so if you are staying the night somewhere nearby, wake up a bit earlier and go watch a picturesque sunrise.
3. Voulisma Beach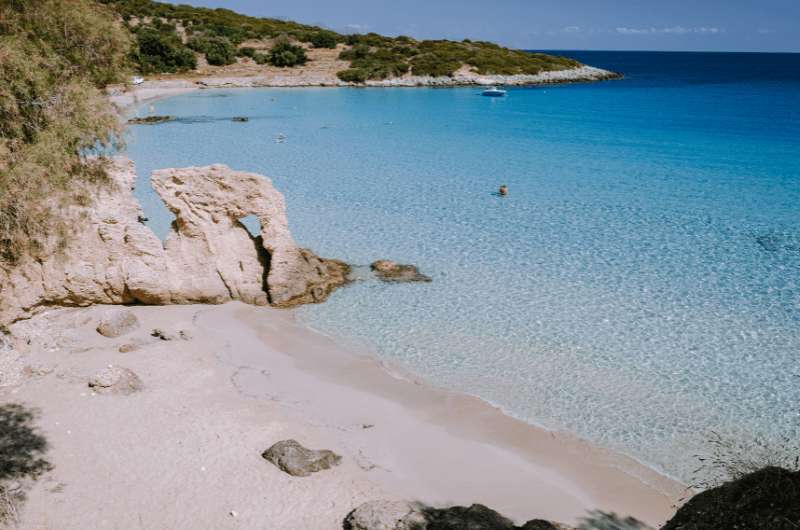 Voulisma Beach

On the northeastern coast of Crete is located one of the most famous beaches of the whole island. If you plan your visit there, probably try to avoid the main season, then it is as busy as Grand Central Station.
Once again, this beach is super clean and the sea is enjoyable to swim in, as are all the ones I brought you in this guide. The sand is perfectly white with turquoise waters; it makes you feel like you are at some exotic location on the other side of the world.
If you have had enough of the lazy lying around—as you should—you can walk to a nearby lovely little village called Istro. There are a few restaurants and taverns you can visit after a long day and also a parking lot where you can leave your car.
4. Itanos Beach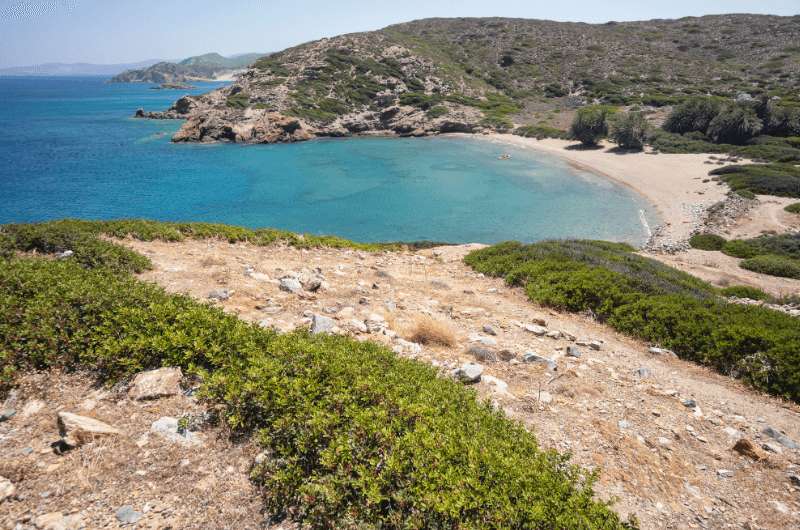 Itanos Beach

And to finish with I have another well-hidden beach away from the crowds. Even though Itanos Beach is easily accessible, you're not going to be surrounded by hordes of tourists.
Just a few minutes away from Vai Beach you will feel like you have entered a different world. Almost no people, no facilities, and free parking. That's Itanos Beach. The beach is so clean and beautiful you just wonder how people do not know about it. But you're not complaining—you have the whole beach for yourselves!
If you are already well-rested and feel almost anxious just to lie down on this lovely beach, you can wander around a bit and visit ancient ruins close by.
FAQs about the beaches on Crete
When is the best time to visit Crete for the beaches?
If you're looking for a beach holiday, the best time to visit Crete is in the fall. Not that many tourists are there and man, it is still way too hot!
Is the water warm enough in Crete in the spring/fall?
Well, we visited Crete in October, so I can't speak about spring there, but even though we spent our time here in the middle of fall, the water was still warm enough for us.

This post contains affiliate links. I earn a small commission if you make bookings through my links, at no additional cost to you. This helps keep this blog free, thank you!