Chania is a beautiful city, where you can spend wonderful days on your vacation, no doubt. But it has another huge benefit, and that's its location. It is just perfect for making it your trip base.
So, if you don't know what to do in Chania anymore, maybe it's time to get out of the city and broaden your horizon!
Is that your case? Perfect! That's why I've put together a list of the 10 best day trips from Chania, that are worth visiting. Enjoy!
You might also be interested in reading:
Check the places and how to get there on this map.

1. Samaria Gorge hike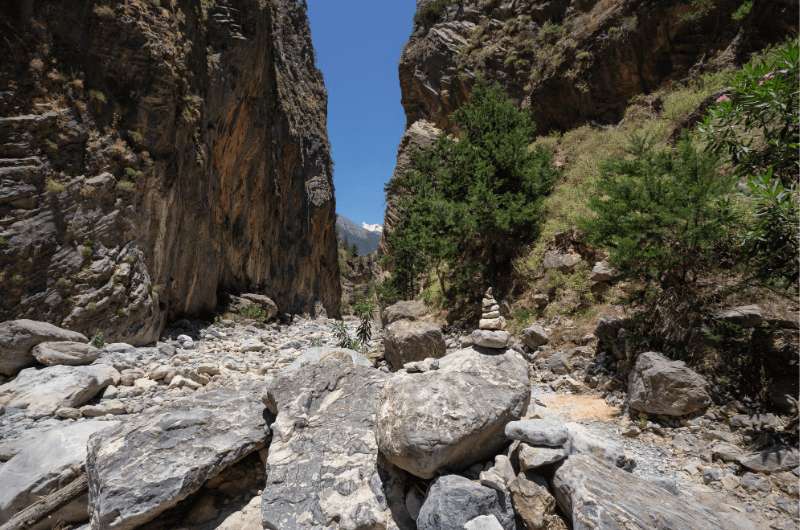 Samaria Gorge

Driving distance from Chania: 42 km (26 miles)
Driving time: 1 hour
Parking: Samaria Gorge Parking
This trip, Samaria Gorge hike included, will take you the whole day, just because of the logistics of getting there and back.
The hike is long but totally worth it. I rank it high, it's probably one of the 10 best hikes I have ever trekked, and certainly THE top place to visit on Crete. The views were absolutely stunning—it's 11/10. The scenery, nature, everything works perfectly together and makes it undeniably the greatest experience I had on this trip.
If you are in Crete sometime between May and October, which is the time when this hike is opened, you simply have to visit this breathtaking place in Samaria National Park. (I have an entire article on Samaria Gorge, so check that out for details!).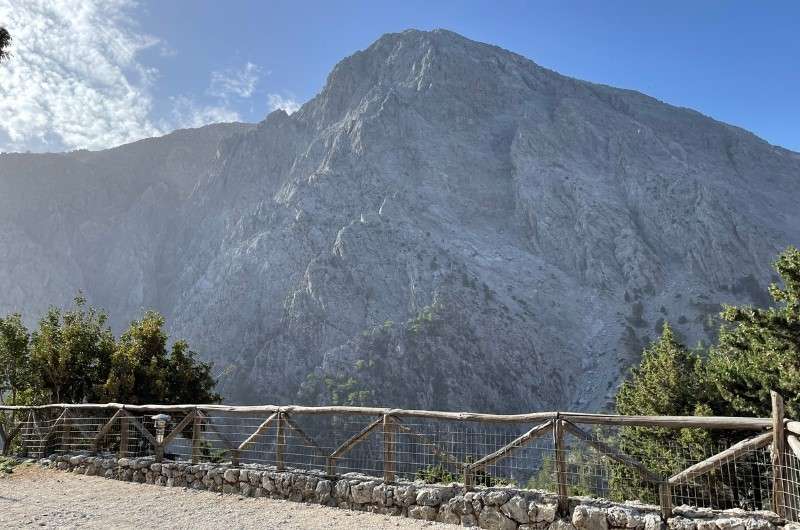 The Samaria Gorge views are just...amazing!

The hike is a one way, leads you for 14.5 km (9 miles) along the gorge in National Park and then another 3 km (1.2 miles) outside the park. Around 4th km the hike starts to descend a lot so get your knees ready for this adventure!
If you want to avoid the crowds, get there in the morning, the hike is very popular and it shows! We got there around 10 am and it was already full of hyped tourists waiting to hit the road with their trekking poles. Before you enter you pay €5 entrance fee which is basically nothing compared to what you will experience.
The first kilometer of the hike you get some spectacular views and I guarantee you'll just walk with your mouth wide open. Then you enter a forest for another 5 kilometers with no views. But don't worry there you can enjoy more than 450 types of flora with 70 endemic species—that means they only occur there, and you won't see them anywhere else in the wild the whole world! But unless you are botanist or plant enthusiast, it's pretty boring.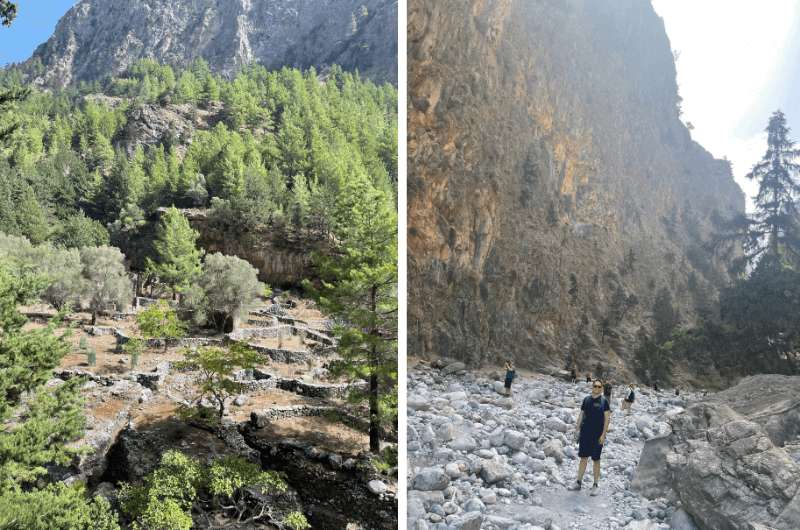 Views during the Samaria Gorge hike

And then again, breathtaking views of mountains covered in cypresses and pine trees. Oh my God just imagine the air scented by the trees. It simply drives all your worries away. Of course, only until the point you stumble across slow walkers on your way. Yeah, we get it, you're enjoying the views. But would it kill you to let faster people pass in front of you? It surely can kill us when we try to pass around you. Please be responsible guys!
Tip: If you always travel with your loved ones—as I do—try visiting some romantic spots on your vacation and make the most of it. And maybe try mine 13 best places to visit in Scotland for couples. We sure enjoyed them.
2. Santorini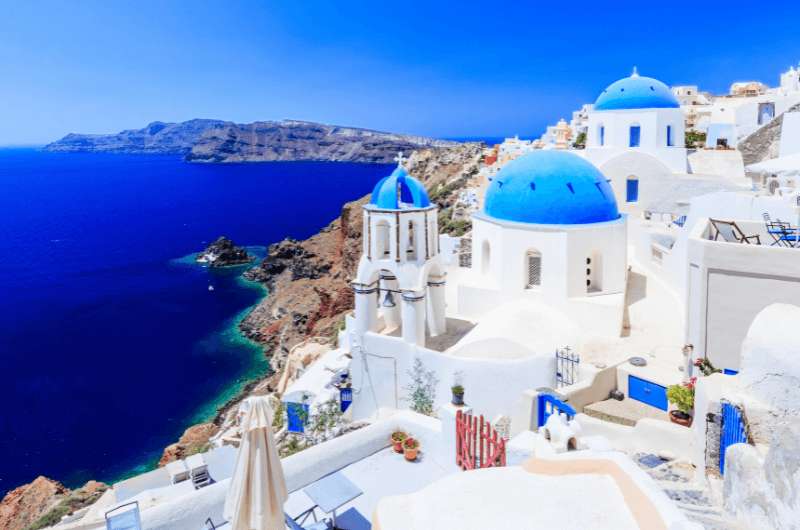 Santorini!

Driving distance from Chania: 142 km (88 miles) to Heraklion and then by ferry
Driving time: 2-hour drive + 2 hours by ferry
This Chania to Santorini day trip will take you a little more time to get there than the others. However, every minute on the way is totally worth it.
You know the typical picture of Greece with the white façade buildings and blue rooftops? That's exactly Santorini. Can't get more Greek than that. So, it probably won't surprise you, it's probably on every traveler's bucket list and it shows. Even though I don't like touristy places filled with people constantly taking selfies with every little nonsense, and lately even doing TikTok dances in front of monuments—don't let me even start about those—I couldn't miss out on Santorini. And neither should you.
Gorgeous blue and white streets, great beaches and beautiful sunsets—this is Santorini

If you want to see the iconic colorful beaches, dramatic cliffs, and white-and-blue buildings, visit the west coast of the island. It's filled with those famous, blue-roofed churches, but still, you won't have enough of them after a whole day of seeing them everywhere. For me, it was something you simply can't be overfed with!
The main tourist area is the capital of the island, Fira, with the well-known three bells of Fira. But it was the city atmosphere that appealed to us. The narrow picturesque streets with shops, delicious Greek food you just can't get enough of, and romantic sunsets. It'll charm you to the core—even a tough guy like me fell in love with it!
How to get to Santorini
Well, there is no direct ferry from Chania to Santorini. The easiest way to get to Santorini is to drive to Heraklion. From there you can hop on a ferry that takes you straight to the shores of Santorini. The journey to the island will take you about 4 hours, depending on how well you manage to catch a ferry. Considering that, if you want to spend more than a few hours walking around Santorini, you could stay the night on the island as well.
Obviously, I have a hotel recommendation for you:
Stay in Milos Villas Hotel in Santorini's capital Fira was a great experience for us!

Hotel tip: So, if you just can't get enough of Santorini in one day—totally understandable—you can spend a night in Milos Villas Hotel. It has a perfect location just a few minutes from the city center. It offers you a wonderful view of the city, so I recommend booking a room with a balcony!
The staff were very friendly and helpful, they made our stay even more pleasant. And of course, the pool is perfect for a nice evening swim, truly relaxing after the whole day of walking.
The prices start at €140 per night for two with breakfast.
My top tips:
Rent a car and travel comfortably around the island. Nothing beats the comfort of your own timing and plans.
If you are looking for a place to spend a night in Chania, Mossa Well Being Hotel should be your obvious choice.
Try the local cuisine every chance you get, it's just so delicious!

3. Melidoni Cave
Melidoni Cave—the ossuary

Driving distance from Chania: 94 km (58 miles)
Driving time: 1.5 hour
Parking: Free parking at the spot
When we put Melidoni Cave on our list of places to see in Crete, I wasn't expecting much. I'm not exactly a geologically based person, rocks and stones don't excite me at all. But Crete obviously loves to prove me wrong and once again it did. Maybe I enjoyed the visit also because of the fact that it's probably the only place on the island where you're not being constantly grilled by the sun. A cool place to cool down.
Before we get to the actual visit of the cave, I can't miss telling you something about its history. This one is quite sad and tragic, similar to the one I learned about Arkadi Monastery that's about 30 minutes away—so you can visit it after the cave as well.
In 1823, 340 women and children with 30 men hid from the Turkish army in the cave. They escaped from their village close by that was occupied be the Turks. Once their shelter was discovered, the army surrounded the cave and demanded the Cretans surrender. But the brave men and women refused to give themselves into the hands of Turks and were defending their hideaway.
Unfortunately, the Turkish army blocked the entrance of the cave with branches and other objects and set it on fire. All Cretan men, women and children that were hiding in there suffocated of smoke. This tragic history of Melidoni massacre is immortalized in the cave by an ossuary with their bones and small chapel outside.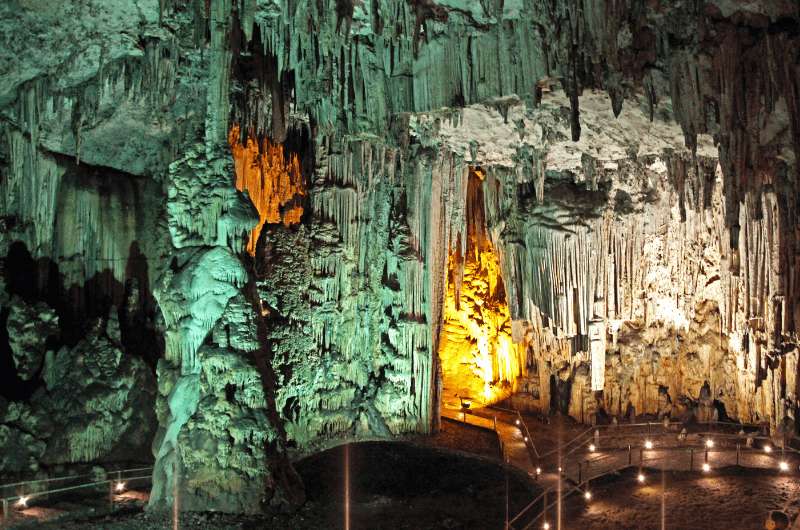 The stalagmites and stalacites in Melodini Cave

Also, the first chamber after the entrance is called Room of Heroes. Its rock formation of stalagmites is incredible! Once you continue the walk in the cave, you also continue to be amazed more and more. The breathtaking complex of stalagmites and stalactites is enormous—it all feels so magnificent!
Tip: Another island + cave combo comes to mind right about now—the Drach Caves in Mallorca include a tacky little boat tour, but the caves and the lake are fantastic.
The visit will take you about 1–3 hours, depending on how deeply you want to absorb the beauty of it. The visiting hours differ throughout the year, so check the official website before going. And for the €4 entrance it's a catch! You don't have to book the tickets in advance, they are available on the spot.
4. Balos Lagoon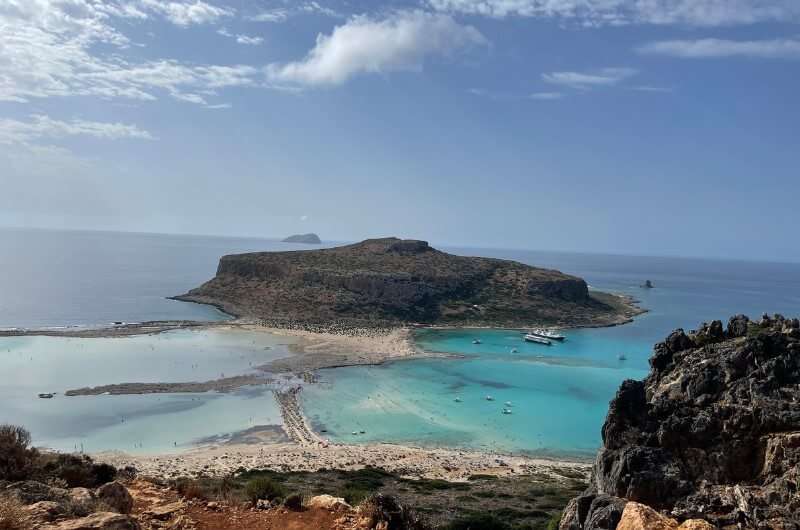 Balos Lagoon

Driving distance from Chania: 52 km (32 miles)
Driving time: 1 hour 15 mins
Parking: Google maps link
Crete is full of wonderful beaches. And one of them totally worth visiting is Balos Beach and the lagoon with its turquoise water and white sand. This beach looks literally like an advertisement for beaches by travel agencies.
This day trip from Chania to Balos can be very easily combine with a visit of Elafonisi or Falasarna Beach. Or if you're exhausted after some of the long and challenging hikes Crete has to offer, you deserve a one-day rest. But don't get too lazy! With the combination of the delicious Greek cuisine, you may need another plane seat back. And we surely don't want that, do we?
A mild hike leads there and it's more a way to the beach from the parking area than a hike per se. It's not even 2 km (1.4 miles) long with only about 100 meters (328 feet) descent to the sea. But judging from the red faces of some people coming up like they're reaching one of the eight-thousanders it can be quite the achievement.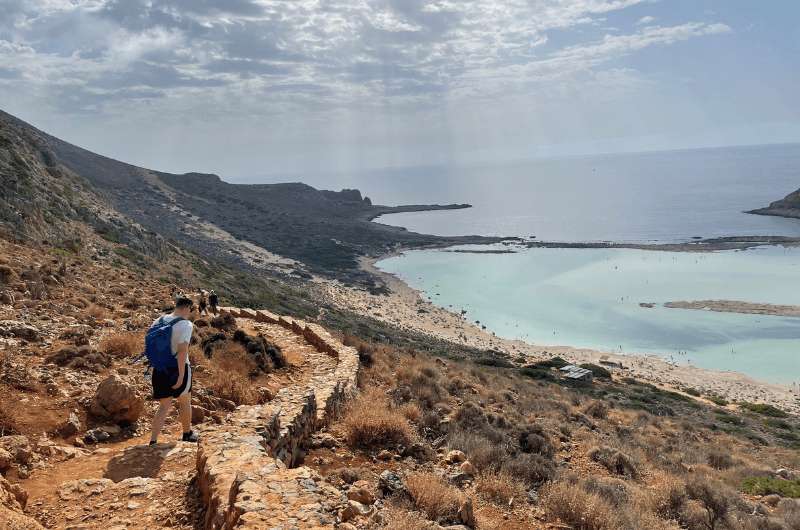 Balos Lagoon is a must visit in Crete!

Anyways, the lagoon is even prettier from the view up the hill. So, don't forget to take some pictures on your way down.
On one side of the beach the lagoon is very shallow, so it's perfect for kids to play in. The other side is exactly the opposite—rocky, wavy and deep. The connection of tiny Cape Tigani to mainland Crete creates an isthmus that gives the whole scenery a real tropical vibe.
I 100% recommend visiting Balos Beach. The only minor inconvenience is the hell of a road leading there. The drive from Chania takes you about an hour and this unpaved road is about half of it. It sure sounds a bit annoying, but it was one of the prettiest beaches I've ever encountered.
5. Lyrarakis Winery
Lyrarakis Winery

Driving distance from Chania: 165 km (102 miles)
Driving time: 2.5 hours
Parking: Free Parking available on site
Greece is probably most famous for its production of an olive oil. Did you know that Greece is first in the consumption of olive oil per person? It is unbelievable 20 liters a year! Compared to 1.8 liters in France or only 1.1 liters by the average American. People even sweat olive oil, I suppose!
But olives are not the only delicious commodity that groves there and is processed. Let's talk wine!
Wine has a long history in Crete—you can date the wine production all way back up to when Minoan civilization inhabited the island.
To Cretan wine it is sometimes being referred to as cheap or not top-class quality. Now, I strongly disagree with this prejudice. It is as wrong as the one that says the Greeks are lazy—they proved me wrong in both! Not that I'm strongly opinionated, you know me, but I learned these hardworking guys and gals make some topnotch wine!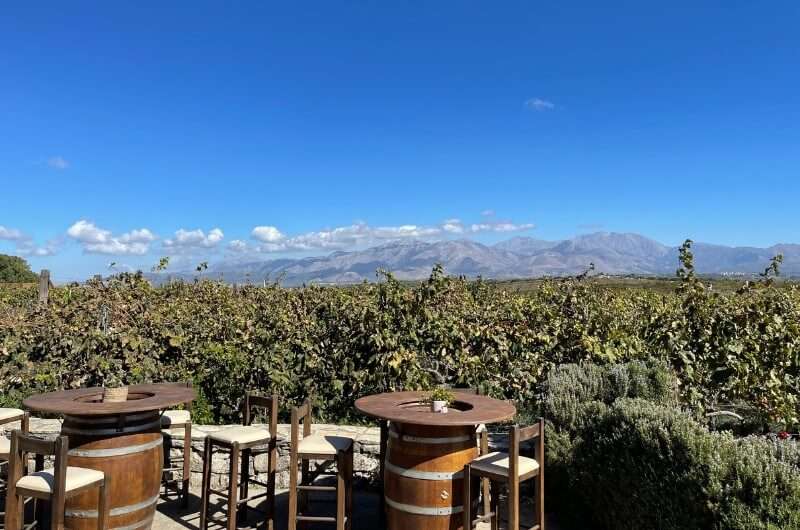 You're looking at a really big wine stock right now

We visited the family wine estate Lyrarakis Winery located south of Heraklion, and I have to tell you more about it. It was founded in 1966 by brothers Sotiris and Manolis and these days it produces 400,000 bottles a year. That's what I call a family business.
If you imagine a small vineyard with a kind of a traditional feel when I say it's family-owned, you couldn't be more wrong. The whole estate has a luxury vibe, and you can see plenty of investments coming in as they are very passionate about the wine culture. No wonder, imagine Ancient Greece without wine! Its rich history in this area is one of the oldest in the world.
You can take a free tour through the vineyard with paid degustation. We obviously did both. The tour itself was not only about the wine but also its extremely pretty panoramas on the way. As the knowledgeable guide explained to us, the production of the wine is fully organic. Not because of some crazy hippie shit but because the wines are simply that. That's some higher efficiency skill I can respect!
Wine, cheese and views—that's what I call a vacation

We ended up spending the whole afternoon there tasting wines and loading our mouths with cheese. The unusual thing is that you actually go through the vineyard outside. That's different than other tours we took around the world where they took us inside and explained the winemaking process to us. This was something else and we enjoyed it way more.
Tip: Learning about local alcohol production around the world has somehow become my thing. There was that incredible whisky distillery in Scotland, my two favorite places in Belgium's Bruges were beer tours, and in Peru, I learned what else you can make from grapes in the Ica vineyards!
6. Fortezza Rethymno
Fortezza Rethymno

Driving distance from Chania: 65 km (40 miles)
Driving time: 1 hour
Parking: Big parking lot €10 for the whole day
Rethymno is an interesting Cretan city that you can spend the whole day in. It's full of spectacular churches, mosques and other monumental buildings, that you can admire on your walk through the city.
Sometimes, it reminded some places we visited in Italy probably because of the Venetian influence not only on architecture, that you feel in Rethymno. On the other hand, I couldn't unsee the Turkish influence as well. History explains it pretty well. Venetians ruled the city for more than 400 years, and as they passed it to Ottomans—you know these Turkish "passings" right— the Turks kind of changed the city to their idea.
The most famous place there you shouldn't forget to visit is Fortezza of Rethymno. You can find it in the old town in the western part of the city and get there via narrow historical streets or walk along the coast from the harbor. Its location on a hill gives you a nice view of the city, once you get there. But not only the scenery is the main attraction. The fortress itself is stunning and you could wander around for hours.
The tickets are €4 and you don't have to book them in advance. It's open daily, visiting hours can differ throughout the year, in summer 8 am–7 pm and October to May 10 am–5 pm.
The best beaches in Rethymno are situated on the outskirts of the town. However, their beauty or even cleanness is far from the other beaches we had the chance to visit in Crete.
7. Preveli Beach and Monastery
Preveli Beach

Driving distance from Chania: 93 km (57 miles)
Driving time: 1.5 hour
Parking: Parking lot
Preveli Beach is also being referred to as Palm Beach thanks to its—you guessed right—many palm trees! The tree line grows all the way from the beach into the gorge and it's truly stunning.
The weather at this second most famous beach in Crete is pleasant as the river flows into the sea there. Therefore, the temperature of the sea is regulated by the cold river, so it has this semi hot and semi cold feel. That was an extraordinary and new feeling for me. I found it very nice after the hike!
You can get there from a parking lot close by in about 10 to 15 minutes. The way down is steep with descending about 150 meters (492 feet) so be careful and don't roll all the way down straight to the sea. In the burning sun we almost felt like pigs on a spit being grilled. Well, some people on the beach even looked like them... Sorry, I'll be more politically correct—I felt like true grilled Greek gyros spinning around next to flaming hot grill. And the people looked like they enjoy gyros way more often than they should!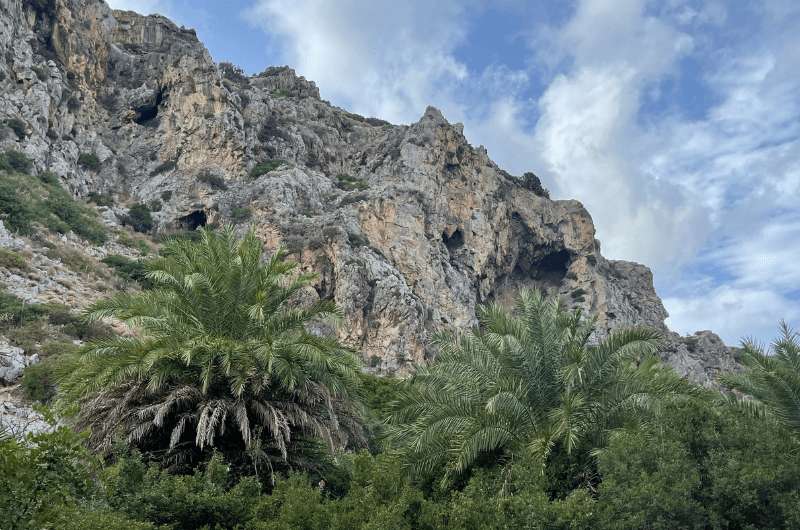 The palm forest

If you are not sunbathing type of a guy like me, take a walk from the beach around the river through the palm forest. I didn't expect much from this place but once we got to Preveli Gorge I was truly amazed. We can call it a short very easy hike, that takes you a few minutes, but will surprise you, how nice it's. One of the most beautiful places on Crete!
If you want to know other great beaches in Crete, check out my article!
8. Knossos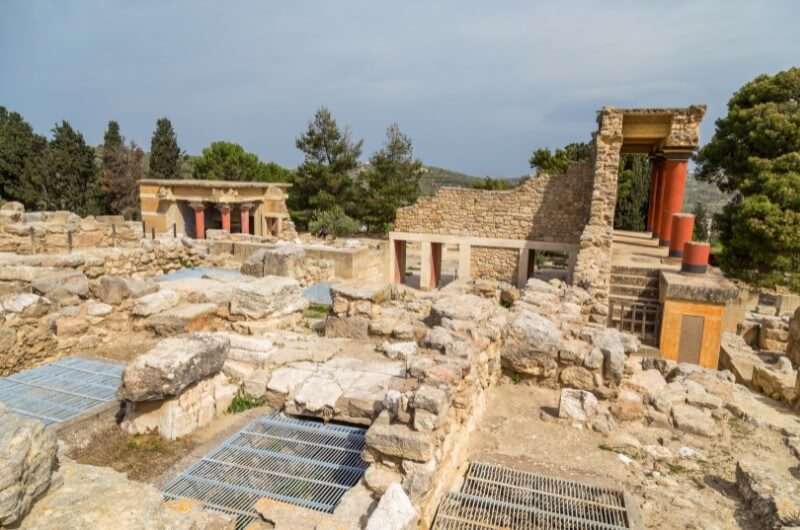 The Knossos palace

Driving distance from Chania: 143 km (89 miles)
Driving time: 2 hours
Parking: Free parking close to the palace
Tickets: Buy in advance on an official website
Even if you've lived under a rock and never attended elementary school history class, you've probably heard at least once about the famous Knossos Palace, the heart of Minoan civilization. And if not here's everything you need to know about it before your visit.
Knossos is the number one historical place in Crete and the most important archeological site on the island. The place is connected to many myths and legends including the most famous ones, about Minotaur or Ikarus.
The brief history of Knossos starts 7000 BC when the first people inhabited the place and ends in 1350 BC with the end of Minoan civilization. During its peak around 2000 BC Knossos Palace represented the center of culture and religion.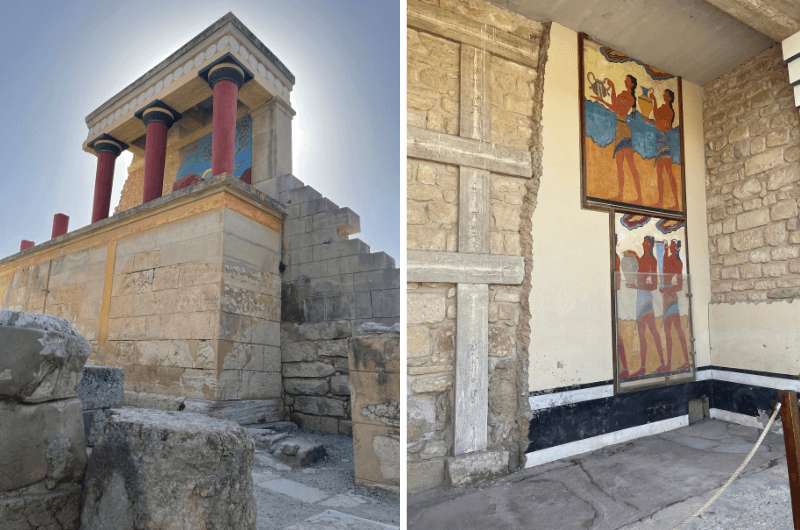 Knossos Palace

Fun fact: The first excavations and discoveries of the wonders this place hid for centuries began in 1878 by a businessman called Minos. Just imagine making such a huge discovery the whole civilization and an important part of history is being named after you. Pretty cool, huh?
At the beginning of the 20th century Arthur Evans bought the place and started to uncover the mysteries of the archeological sites. His methods were heavily criticized and very controversial. He was accused of misinterpretation of important archeological evidence and even ruining some. But it is easy to be wise after the event. Thanks to him we know the history of Europe's oldest city, so you know where you can shove your political correctness. I appreciate his efforts and I like what he and his crew did to this place!
During the main tourist season the place can be crowded with people and with never-ending lines for buying the tickets. We recommend doing so online in advance at their official website. Knossos is 15 minutes car ride away from Heraklion and a huge parking lot is on the spot.
After getting back to Chania we stayed in Mossa Well Being Hotel and we had a great time there! It surely lives up to its name. Our room was very spacious and clean but oh my god the beds. I had the sleep of my life. Maybe it was also thanks to the high ceiling of the room, ergo it was full of fresh air.
The breakfast was continental and à la carte style with many delicious options so I think even picky eaters can find something nice to start their day with there. Personally, I really enjoyed the breakfast options that Mossa offers.
The prices are from €140 per night, excellent breakfast included.
9. Imbros Gorge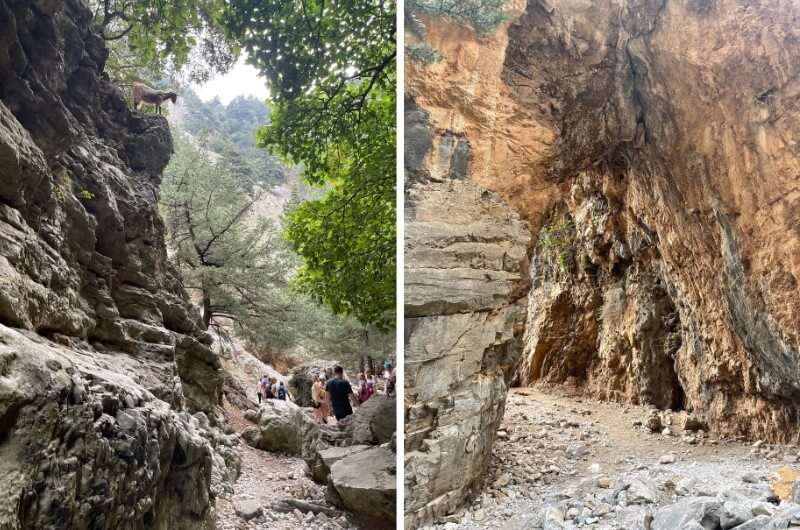 Imbros Gorge

Driving distance from Chania: 60 km (37 miles)
Driving time: 1 hour
Parking: Parking lot at the start of the hike
Imbros Gorge is moderate difficulty but it's still one of the easiest hikes you can take in Crete. So, if you aren't hiking enthusiasts, put it on your to-do list! Or if you are on a family vacation and want to take your restless little angels and channel their energy into something else than constant fighting for your attention, this should wear them out.
Even though the hike is rather easy, it doesn't mean you should cross it off your list. On the contrary! Even if you are more into challenging hikes, you shouldn't miss this one. I also like to be more challenged and if I'm not on the edge of dying after the hike, I don't consider it worth trekking—theoretically speaking. But I'm glad we hiked this one because I really liked the rocky cliffs and especially the scenery.
The hike is about 8 km (4.1 miles)—not 6 km (3.1 miles) as AllTrails states—long of the out and back type and it probably won't take you more than 2 hours. But be careful, the road is covered with small rocks and can be very slippery.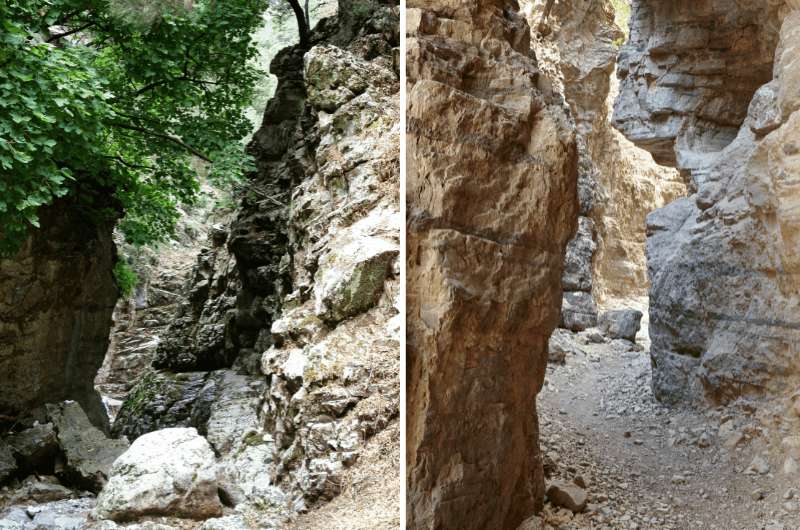 This hike is quite challenging but very fun!

You can find the start of the hike in Imbros village right next to the parking lot. There is a big sign guiding you to the trail so you can't miss it, the entrance fee is €2.50. And as I almost always say, get there as soon as you can otherwise there will be many tourists even in October.
The end of the hike is in Komidates village where you can take a bus or a taxi back to Imbros.
Overall, I rank the hike positively, some parts are worth seeing, especially the narrowest point not even 1.5 meters (4.9 feet) wide. So, if you are wider than the gorge, maybe it won't be the right fit for you—pun intended.
10. Elafonisi
Elafonisi Beach with just slightly pink sand

Driving distance from Chania: 73 km (45 miles)
Driving time: 1.5 hour
Parking: Free parking at the beach
One of the best beaches near Chania, that's what people consider Elafonisi is. Well, I'm here to disagree once again.
Clear see-through turquoise water, exotic pink sand beach. That's what you expect from a visit of Elafonisi Beach. But that's definitely not what you get.
When we got there, we had those pictures of the almost impossibly pink beach in our heads but what we saw was a bit of red dust and that's it! So, thank you Instagram for deceiving me once again. I will never trust you again (you also lied about the colors on Rainbow Mountain in Peru!)
Otherwise, when you get over the disappointment, it's actually a really nice beach. Just not as pink as you thought. The sea has a nice light blue color and is not that deep, so your children can play in it and won't drown (probably). But keep an eye on them, just to be sure.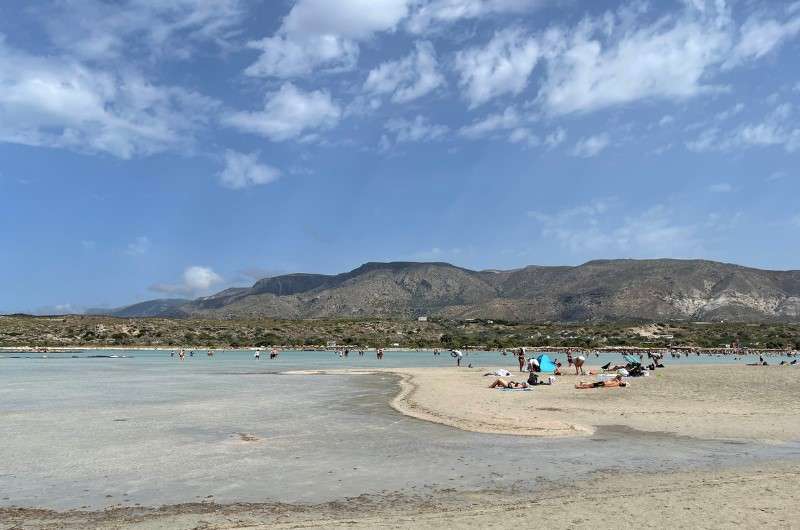 Elafonisi Beach

To make your trip to Elafonasi from Chania even more pleasant—and you have some spare time—I have some activity for you, and you already know, what I'm about to say. Hike! It's this short and easy hike, that won't take you more than an hour. Lying in the sun for a long time is unhealthy anyways!

This post contains affiliate links. I earn a small commission if you make bookings through my links, at no additional cost to you. This helps keep this blog free, thank you!