I've put together a dedicated guide for finding the best animals in Kruger National Park—you'll be checking those suckers off your checklist in a jiffy! Don't you just love checklists? So welcome, fellow wildlife enthusiasts, to the ultimate guide for getting up close and personal with the incredible animals of Kruger National Park.
If you're here, you're probably gearing up for a Kruger self-driving safari adventure like no other, and you've come to the right place. Actually, I have a whole guide on planning your Kruger trip that has all the details and every FAQ that might pop into your head. But here, we're focusing solely on the animals.
Before you rev up your safari vehicle and dash off in search of the big game, remember this golden rule: slow down. FOMO won't be your friend in Kruger. If you read up on all my tips and tricks beforehand, you'll have the best chance to see those lions, elephants, and whatever other creature you consider to be the most amazing to see in their natural habitat.
Now, let's dive into my top 8 tips for spotting the best animals in Kruger, followed by the top 10 FAQs regarding animals spotting in Kruger. This park was so amazing that even I had to adjust my stay from the 2 days I booked beforehand to the 4 we ended up staying. It is THAT GOOD.
Start your car, we're heading to see some serious wildlife!

So, grab your binoculars and your sense of adventure, and let's go!
My top 8 tips on how to spot the best animals in Kruger:
Stay in a smaller area. Kruger National Park is massive, and covers all different kinds of environments, each a favorite stomping ground for different species. If you're after a lot more than just birds (those love the north, btw), there's a reason the southern section of Kruger is the most tourist-heavy. You will be driving long distances very slowly, so choose your area and stick to it. Tip: I recommend staying at Ndhula Luxury Tented Lodge near the southern gates of Kruger. We extended our trip from 2 to 4 days and Ndhula was the best place to get our rest after long days of driving.
Take your time. Don't try to cover the whole area in a day. The slower you move, the more chances of animal encounters you get. It's not like they're lined up by the side of the road waiting for you, so give yourself time to find them—you'll need to concentrate. It's an animal treasure hunt, so be patient, look into the distance and even behind you to see if anything's happening there. And if you do spot some animals, stop and enjoy the moment. See what's going to happen next. Let them move around and do their thing. That's when the magic happens.
Be quiet. I don't know who needs to hear this, but the animals don't need to hear you. It's not cool to turn on your radio and feel like you have your own personal safari soundtrack. If you've found a cool group of elephants you want to spend some time observing, turn off your engine. No yelling, honking, or loud laughter (or squealing with excitement).
Take binoculars. Again, the animals in Kruger could care less if you see them or not, so you may need to turn your regular eyeballs into super-eyeballs with some binoculars. They can help spot an approaching animals, or an animals resting under the trees.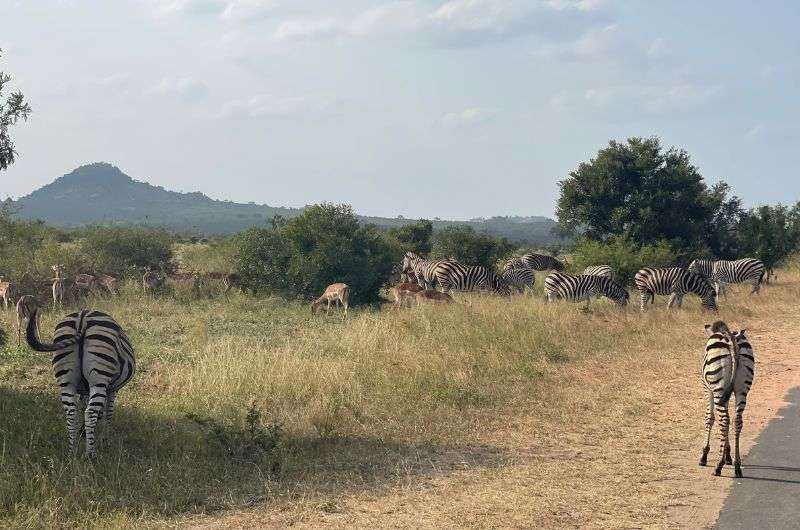 With some patience and quietness, you'll get to see many animals in Kruger National Park

Read a book. Or the internet... basically, read up on the natural behavior of the animals you're trying to find. Get to know what they do or don't do during the day, if they are active in the evenings, where they like to spend their time (bushes? grasslands? trees?), if they sleep or roam during the day, etc. It's helpful to not be looking for a group of leopards when they're solitary animals.
Talk to people. When you pass other self-driving safari-goers, it's like you're in a secret club together. And if one car has just came from seeing a cackle of hyenas, they'll be happy to tell you about it. Drive-by sharing is a thing, so don't be shy to ask. And don't keep the lions to yourself, either!
Check the camps. There are many camps in Kruger and a lot of times, there's a "animal sighting board" at the camp entrance where you can see where some of the best animals in Kruger have been spotted that day. Of course, there's no guarantee that those giraffe's are still hanging out in the same spot they were that morning, but it's worth at least noting down so you can keep your eyes on your toes when you're in those parts.
Try different times of day. We had the best luck in the early mornings, spotting animals like lions and hyenas. Even though sunsets are supposed to be when the animals start partying, I guess we weren't that lucky this time around. That's not to say that we didn't see anything—far from it! But it is a huge bonus if you are able to go out on multiple days at different times of the day. Mix it up, the animals like to keep humans on their toes.

FAQ 1.What animals can you see in Kruger National Park?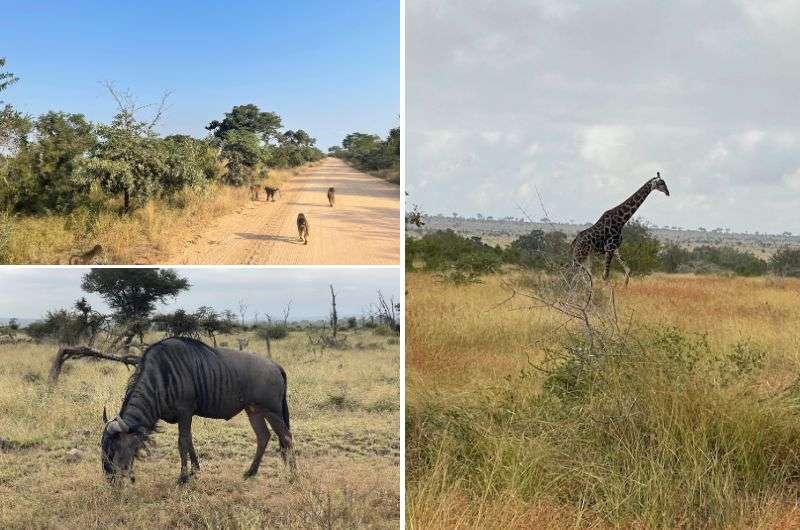 You'll always get to see animals in Kruger National Park

In total, Kruger is home to about 150 species of mammals, including giraffes, hippos, hyenas, cheetahs, wild dogs, honey badgers, baboons, and more. And let's not forget the hundreds of reptiles, amphibians, and bird species that call this place home. You'll also see an overwhelming number of impalas, zebras, and antelopes of all shapes and sizes. After a while, you barely even slow down if you see any member of the hoofed family—there's so many of them!
If you've never been on a safari, it might be hard to imagine how much you'll see. So, to give you a better idea, here's what I logged on my last Kruger visit (over about 3.5 days):
2x2 lions
2x2 cheetahs
3x10 hyenas
2 honey badgers
1 wild dog
10 ostriches
30+ giraffes
200+ elephants
100+ buffalos
20+ hippos
0 rhinos
100+ blue wildebeest
20+ crocodiles
200+ baboons
50+ vervet monkeys
And about a billion zebras and all types of antelopes and birds.
Even if you are extremely unlucky you will see them all except for the big cats and maybe the hyenas. You do need to be at the right place at the right time for those. But if you read my tips, you'll know to the secret to seeing them is patience!
FAQ 2.Can you see the Big 5 in Kruger National Park?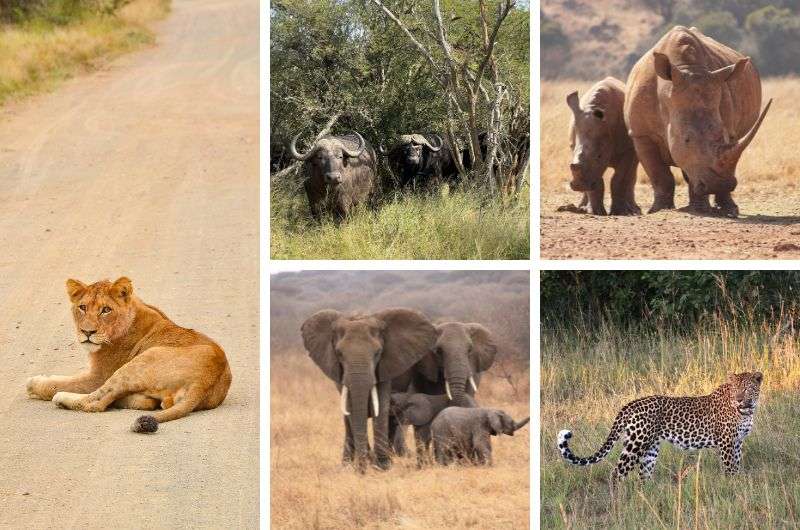 Here's the Big 5 in Kruger!

Absolutely, you can see the Big 5 in Kruger National Park, and it's like the Holy Grail of African wildlife sightings! The Big 5 consists of elephants, buffalos, rhinos, leopards, and lions. However, let me give you a little reality check.
Seeing all five of them isn't as easy as spotting a squirrel in your backyard. Some members of this prestigious club, like buffalos and elephants, might make a grand entrance, strutting around like they own the place. Others, such as leopards and lions, are a bit more elusive and camera-shy. On my last Kruger visit, I had a bit of bad luck with rhinos and ended up with a grand total of 0 sightings. Zero. Zilch.
So yes, you can absolutely see the Big 5 in Kruger, but remember, it's not about the quantity; it's about the thrill of the chase and the awe of experiencing these majestic animals in their natural habitat.
FAQ 3.Where do you see the most animals in Kruger National Park?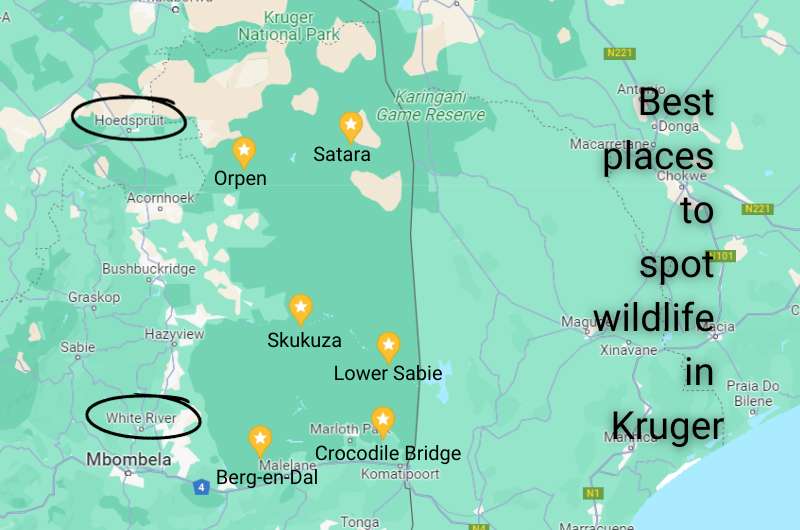 The southern section of Kruger is where you'll have the best luck with spotting cool wildlife. Base yourself in White Water (Ndhula Luxury Tented Lodge is epic!) or Hoedspruit for best access points

Kruger National Park is roughly the size of Israel or Wales, so unless you're spending a week in the park, you won't get around to every corner. And honestly, you don't need to, because there is one specific section of Kruger where all the cool animals hang out.
If you're all about wildlife sightings (and who isn't in Kruger?), let me drop some knowledge bombs on you. The southern region is the area where the animal action is at. It stretches down from Skukuza and still covers a significant portion of the park. Station yourself in that area, which is a lot or woodlands and savannahs, and you'll be checking off your checklist in no time.
Tip: Booking good accommodation is key for a great Kruger trip. We stayed in the Ndhula Luxury Tented Lodge near the southern gates of Kruger (also near the airport), and has a fabulous time. Seriously, there's not one bad thing I can say about our "tent" (really, it's a hotel room with less walls).
Focus on the area between Orpen, Satara, and Lower Sabie, and don't forget to cruise around Skukuza, Berg-en-Dal, and Crocodile Bridge. These are the places where I've had some seriously jaw-dropping encounters with the wild residents of Kruger—lions, hyenas, cheetahs, giraffes, zebras, and more. It was like an animal parade (ok, that's a slight exaggeration, but it's where I had the best sightings of my trip)!
Check out the watering holes, which are always favorite animal hangouts, but it really depends on what you're hoping to see. It's a good idea to read up a little bit about the animals you're after so you know their natural behavior and aren't trying to spot a cheetah on a tree or something.
Here's another pro tip: Get your hands on a park map and the brilliant guide available at the gates. They're like gold. The map has colored zones that indicate the type of vegetation you'll find in each area. The pink and dark green areas on the map were my hotspots, so give those a whirl and see if luck favors you there, too. You can even check off your sightings in the guide—you know I did!
FAQ 4.What time of day will I see the most animals in Kruger?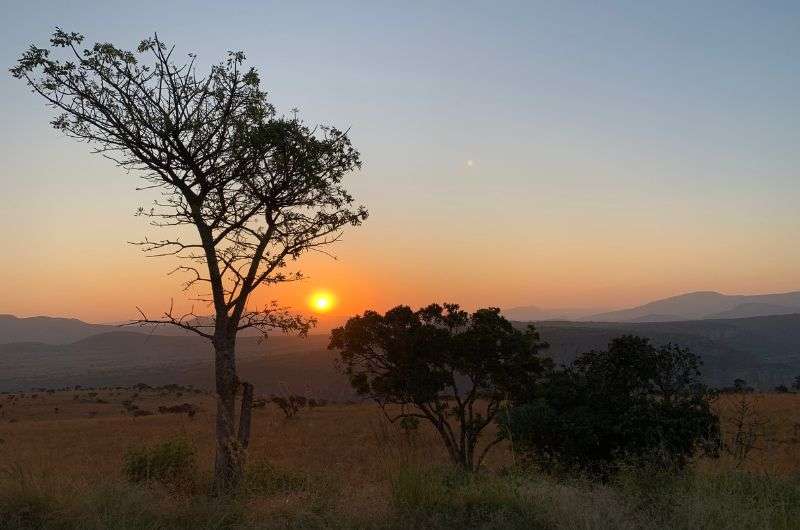 You can see animals during different parts of the day. But in the evening, you'll get this beautiful sunset as a bonus (though we saw more animals in the mornings)

My top tip is that if you really want to get the most wildlife sightings, you'll need to put the work in and experience Kruger during different parts of the day. On my last visit, we did a mix of evenings, early mornings, and a full day, and each time brought new animal encounters. Trust me; I take my animal checklists very seriously, so I know this is the best plan.
If I were to pick a personal favorite, I'd go for the mornings. Sunrises and sunsets are when the wildlife is most active. But your mileage may vary, so you'll need to test your luck at different times, ideally more than once, to truly squeeze the most animals out of Kruger.
For us, one unforgettable morning turned into pure magic. We came face to face with a pride of lions, so close that we could almost hear them breathing. We watched in awe as they strolled right in front of our car for a good 10 minutes.
For more insights on planning your Kruger trip, see my full Kruger National Park Guide.
FAQ 5.What is the best month to see animals at Kruger National Park?
Welcome to the wild!

Arguably, the best time to visit Kruger for wildlife enthusiasts is during the dry season, which runs from May to October. But, and this is a big but, unless you're planning to just hunker down in Kruger and ignore the rest of South Africa (which I wouldn't recommend), there are some other factors to consider. You see, the dry season in Kruger coincides with the end of fall through the beginning of spring, and that's when other parts of South Africa, like Cape Town and the Garden Route, are at their finest. So, it's a bit of a scheduling juggle.
Now, here's the deal with the dry season. On the upside, it means less greenery, which translates to easier wildlife spotting since critters have fewer bushes and leaves to play hide and seek behind. They also get thirsty, so you'll find them hanging out around the watering holes, where they're served up like on a golden platter for us tourists. But on the downside, it's prime tourist time, so you might encounter traffic jams on the self-drive roads.
You can see various species of wildlife in Kruger in every season!

I've personally experienced Kruger in both the wet and dry seasons, and honestly, it didn't make a massive difference to me. There's always plenty of animals. If you choose a wetter month, you'll be treated to lush vegetation and even some adorable baby animals. And where there are cute, fluffy babies, there are predators on the prowl... cruel but true!
My last Kruger adventure was in April, right at the end of the wet season, and let me tell you, it was epic. I really don't think there's a bad time to visit Kruger.
FAQ 6.How do you spot leopards in Kruger?
Meow!

The most leopards in Kurger National Park are between Skukuza and Lower Sabie. There's supposed to be a higher density of them here than anywhere else in South Africa, so if you can't find a leopard here, well, I can't help you. Of course, these elusive cats are designed to stay out of sight, so they're not going to make it easy for you.
FAQ 7.Where can I see cheetahs in Kruger?
Remember, cheetahs don't growl!

Once you're close to Lower Sabie Camp, try to see some spotted beauties near the thorn bushes there. Those chirps and barks you hear? Yeah, those are cheetahs. Did you know they don't growl? The noises they make are very unexpected, so keep your eyes and ears peeled.
FAQ 8.Where can I see hippos in Kruger?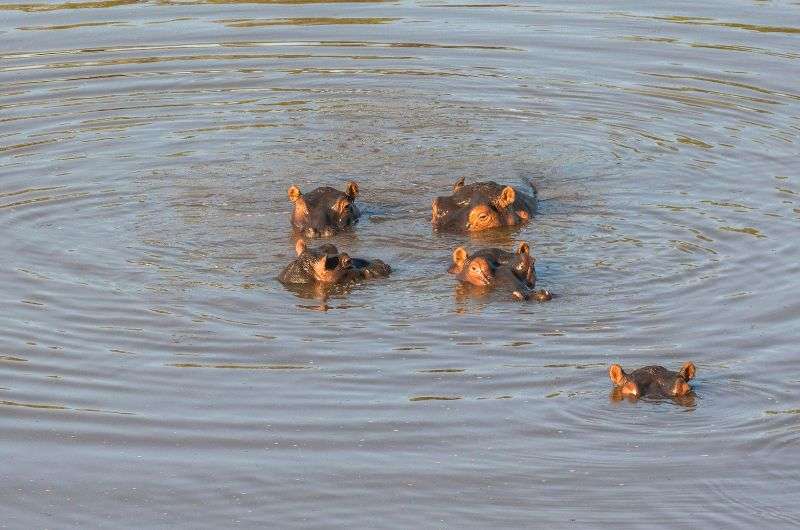 Hippos!

About halfway between Skukuza and Lower Sabie, by the Sabie River, is the Nkuhlu Picnic Site. It has views over the river from the terrace viewpoint, and that's where you could have luck seeing some hippos and even crocodiles.
FAQ 9.Where can I see lions in Kruger?
Another big meow!

We were able to spend 10 minutes trailing a family of lions in Kruger on the road between Orpen and Satara (hyenas, too!), but apparently they like to mingle and be their majestic selves all the way down to Skukuza, too. Tshokwane, a little north up from Skukuza, is a known hotspot as well.
FAQ 10.Where can I see rhinos in Kruger?
The rhinos managed to stay hidden from me on my last Kruger visit, so I'm really not the expert here, obviously. But the general tips on where to see rhinos in Kruger are: around Lower Sabie Camp (cheetahs like it there, too), Malalene, and near Ship Mountain.

This post contains affiliate links. I earn a small commission if you make bookings through my links, at no additional cost to you. This helps keep this blog free, thank you!