You know how South Africa is a mix of scenic coastline, epic mountains, enchanted forests, and general natural beauty? If you sprinkle in some waterfalls and a suspension bridge or two and shrink it all down to a 300 km (187 mi) coastal area, you get the Garden Route! Pretty neat, huh?
I'm not sure why I was sure it wouldn't be all that, thinking people need to revise their South African bucket lists, but hey! It turns out I can be wrong. Who knew?
While you definitely don't need 14 days for the Garden Route like some wannabe bloggers will lead you to believe, I'd say 4–7 days of Garden Route exploration will keep you happy and sufficiently on your toes. More than that is for the super slow travelers out there, i.e. not me.
See my Perfect Garden Route Itinerary
Where does the Garden Route start and finish?
The adventure can start!

Depending on who you believe, The Garden Route starts in Witsand in the west and ends in Storms River. But who knows, the information varies depending on where the western end is, and, honestly, if you go by this list of the best stops along the Garden Route, is might as well start in George.
Along the way, you'll get your nature fix, scenic drives, perfect weather, and the best beaches in South Africa. Heck, I'd consider it the perfect retirement spot! I can see it now, old Jan chilling in Knysna or Plettenberg Bay, sipping on some Castle Lager, swapping adventure stories with fellow retirees, and still trying to perfect that braai technique.
Garden Route activities map
The best stops on the Garden Route, as curated by me:
Storms River Mouth
Otter Trail
Robberg Nature Reserve hike
Big Tree trail
Canoeing in Wilderness NP
Half Collared Kingfisher Trail
Monkeyland Primate Sanctuary
Knysna Forest Elephant Walks
The bridges and gorges of Tsitsikamma NP
Bonus #1: 7 Passes Scenic Drive
Bonus #2: Cango Caves
Bonus # 3: Addo Elephant Park

You can save my Google Maps list of Garden Route stops and activities by clicking on this link

What can you see on the Garden Route?
Besides the simply stunning coastal highway drive that gives you view after view of Mother Nature's work, you can spend you days on the Garden route actively exploring, too. Anything from kayaking the rivers and going on amazing hikes, to the unusual activities in Knysna (ziplines? whale watching? the most biodiverse lagoon in the world?!). The ziplines on the Garden Route are pretty spectacular—I recommend Knysna Ziplines, but I mention other below as well.
My future may hold wrinkly skin and BBQing in South Africa, but right now, I'm always up for some Garden Route adventure activities! Who's with me?!
These are the top things to do on the Garden Route (and a few bonus stops just beyond):
1. Storms River Mouth (Tsitsikamma National Park)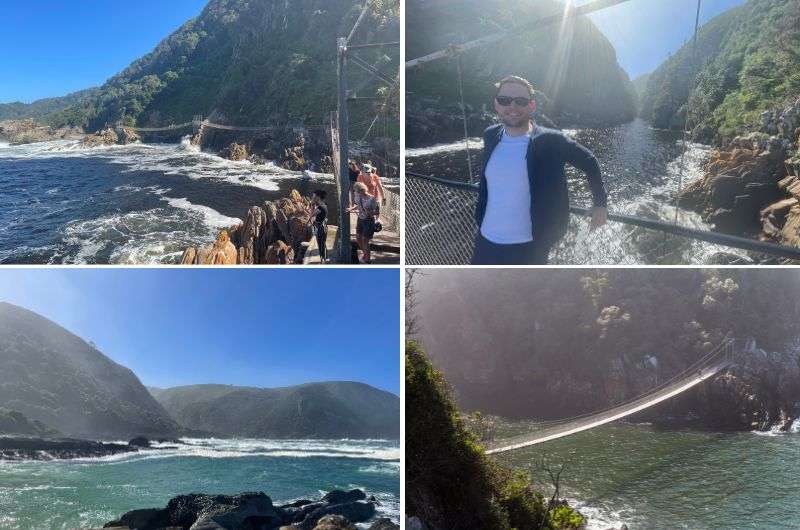 Storm River mouth was stunning!

This is the first of no less than four mentions of Tsitsikamma National Park on this list. Yeah, it's that good. When you see the monstrous waves and beautiful coast while the whole scene is straight-up wrapped in lush forest awesomeness, you'll understand. No kidding, it's like two worlds colliding in the coolest way possible.
You can't miss the suspension bridges. Start at the parking lot near Untouched Adventures (the people that do the kayaking trips) and make your way about 15 minutes to the bridges. You'll walk through the forest, on wooden paths, and need to manage some steep stairs. The bridges are good fun, and they take you straight across the wild waters of Storms River mouth below.
I don't camp, but if I did, this is the one place where I would consider doing it. It's just stunningly beautiful.
And let me tell you, the rainforest situation? It's like we're suddenly in Australia, mate! I've never even been to Australia, but apparently this is what it looks like in my mind. It is so pretty. Plus, we got to see plenty of baboons and vervet monkeys, too (no kangaroos though).
Bridge over wild waters of Storm River mouth

Another way you could see the river mouth is on a kayaking outing. The Untouched Adventures office if right by the parking lot, and they take groups out under the suspension bridge and into the gorge (changing to lilos at one point). The trip is a short one, but you can cliff jump in one spot if watching the hilarious guides isn't enough entertainment for you.
Overall, the river's name is on point. This river means business, and it's a show you won't wanna miss. Plan for about two hours to soak it all in. Now, fair warning, rainy days here can be a bit intense, so pack your adventure spirit. Also, if the ocean gets a little too rowdy, kayaing is a no no.
2. Otter Trail with the best and most brutal beach (Tsitsikamma National Park)
As a reward for this challenging hike, you will get this beautiful waterfall

The Day 1 Otter Trail hike, another Tsitsikamma NP stunner, is a solid 2 hours of rugged adventure. It delivers views that'll slap you awake. I mean, seriously, those waves? They're like skyscrapers made of water, towering at a good 3–4 m. This trek, the first part of the legendary 5-day Otter Trail, had me grinning like a kid on a sugar rush—and it's been ages since a hike left me this jaw-dropped.
Prepare for a serious green overload, with scenery that feels like it's out of a fantasy novel. We hit about one-third of the way and suddenly, it's coastal Mordor vibes all around, sharp cliffs making the scene look like a movie set. Every step feels like a leap into adventure, especially when the path turns rocky. And hey, rocky's my kind of terrain.
This hike definitely plays in the moderate league, thanks to those rocks. Not only do you have to scramble, but they can be slippery, too. Oh, and the humidity? It cranked up the temperature like a sauna on overdrive.
Overall, you'll need at least 2 hours plus time to get back to the parking lot, and you could spend many moments taking photos or splashing around in the pools by the waterfall.
The grand finale is a waterfall that dives into the sea—a scene straight out of Scotland. We had to time our moves right, because when the tide decides to come in, you better have a boat.
On the adventure scale, this one's got "technically advanced" stamped all over it. Heights make you woozy? Bring your trusty diapers. And don't blink—you'll pass guano caves too.
3. Robberg Nature Reserve hiking trail
Pacific Ocean vibes

Briefly (very briefly) stepping away from Tsitsikamma, another place that deserves a spot in the top 3 activities on the Garden Route is Robberg Nature Reserve hiking trail. It's a 8.5 km (5.3 mi) route that feels like multiple hikes in one—it keeps changing and stays interesting the whole time (a little too interesting in the sandy part).
This slice of peninsula has been on my radar for a while, and let me tell you, it's one of the A-listers on the Garden Route. You roll up to a "cozy" parking lot, meaning the early bird catches the worm. If you get there late, well, I'm not sure how to help you.
First stop, Nelson Bay Cave. It's like a mini history lesson, and you know how I love timelines. They lay out the story of the local San and Khoi people, their lives spanning a cool 120k years. They practically owned the place when the sea decided to take a vacation elsewhere. Their hunting game changed as the sea levels did, all tied to those ice age shenanigans. Very interesting stuff!
This looks very romantic but I'm actually quite annoyed and going to wash my shoes full of sand...

Now, onto the Robberg Trail. Brace yourself for some jaw-dropping coastal goodness. For some wild reason, it threw Pacific Ocean vibes at me, the kind you find in California. Sandy isthmus and those tidal pools? I was sold. But I'd maybe cut the trail in half, because the other part turns into a sandy shuffle. Think full shoes of sand and annoying stinging insects feasting on you.
Now, we gotta chat about the 6000+ seal colony. Yeah, they're a hoot, living their best lives with that perpetual grin. But they come with a scent, a delightful mix of sea breeze and decaying carcasses. I have a love-hate relationship with seal colonies ever since I couldn't wash the stench out of my hair for a week after visiting the Cape Cross seals in Namibia.
4. Big Tree trail (Tsitsikamma National Park)
Big Tree Trail—hike through the jungle

Phew, we're back in Tsitsikamma National Park. I missed you there for a moment, buddy!
This one's like a mini adventure you can squeeze in after some of the longer hikes in the area. Think less than 30 minutes of strolling, just a little over 1 km (0.6 mi) round-trip for the Big Tree trail. You can stretch it if you're feeling ambitious, and clock in around 3.5 km (2.2 mi).
It's all about getting cozy with the OG forest. The star of the show is a tree that casually stands at 38 m (125 ft) and is 800 years old. I was all prepared for some regular trees, you know, the ones you see back home. But whoa, this tree was something else! It's a Outeniqua Yellowwood. The entire forest surprised me by how jungle-y it was—I wasn't expecting that much green goodness!
Here's the deal: you saunter along a boardwalk from the reception area, a mere 500 m (0.3 mi) or so. Simple stuff, a few steps here and there, no sweat. If you're game for a bit more walking, there are a couple of longer trails that sprout from the Big Tree. Those trails lead to two more colossal tree giants.
Amazing Kambaku at Sea hotel!

I was absolutely smitten with Kambaku at Sea. So no, this isn't just a plug for my affiliate code, I genuinly fell in love with this place!
Kambaku impressed me time after time, but if I had to pinpoint one thing, it's the mornings on the terrace overlooking the sea. I almost didn't notice how delicious the breakfast was, and that's saying something in my world. I mean, I've witnessed some gorgeous mornings in my time, but Kambaku takes the cake. Picture-perfect doesn't even begin to cover it.
Everything at Kambaku at Sea is perfect. My only remorse is that our Garden Route itinerary was so full that we couldn't spend enough time at this hotel. It's easily one of, if not the best hotels I've ever stayed at.
Other notable things at Kambaku at Sea:
extremely good food
hotel staff was very friendly and went out of their way to make us feel welcome
the room was nothing short of epic—my girlfriend mistook our room's lobby for some sort of communal bath area!
multiple terraces
great attention to detail
incredible swimming pool
the flooring reminded me of Art Deco style, one of my personal favorites
Last but not least, and probably not a plus for everyone, but there are snakes on the premises! Spiders, too. It was like Christmas for me!
Now that I think of it, we stayed at a lot of extremely good hotels in South Africa. I put them all into a separate article for you, because they deserve it! Further reading: The top hotels in South Africa
6. Canoeing in Wilderness National Park
Enjoy canoeing in a croc-free river!

Even though the garden seems to stretch all the way down to Cape Town, Wilderness National Park is where I say the Garden Route really starts. And we decided to check it out... from the water.
Besides some awesome hiking routes (see item 7 on this list), you can also try out canoeing on the river. And so we did.
My partner turned our canoe into a wobbly seesaw, learning her paddling skills on the spot. This led to an unforgettable, hour-long adventure that felt like a survival showdown against the gentle river's slow current. When she started wondering "How many people die in a crocodile's jaw here each year?" I couldn't help but laugh. Good news, folks—it's zilch in a croc-free river!
There are many birds along the river to keep you busy (if you have time between all the strained balancing you might be doing!). We even saw one that was a real avian submarine, disappearing underwater and holding its breath for way longer than seemed possible. We would've clapped for it, but letting go of the paddle would've been life-threatening for us.
7. Half Collared Kingfisher Trail (Wilderness National Park)
Easy two-hour hike on the Half Collared Kingfisher Trail

Alright, get ready for the famous Half Collared Kingfisher Trail. This one's a beauty! A shaded hike alongside the river leading to a waterfall that's like a natural pool—perfect for a refreshing swim. We did the hike in about 2 hours, and I'd call it easy-peasy.
You'll be strolling mostly on a wooden deck under a canopy of trees—shady perfection. Whoever built this deserves a high-five. There are some stairs and a river crossing, but they add to the fun. This hike really can be done by almost anyone.
And guess what? We hit the Vervet monkey jackpot—those cheeky little devils almost swiped our phones! They are an elusive species, so even though they tried to rob us, we were still elated to see them. Apparently, they are used to all the humas on the Kingfisher trail, so you can see them pretty often.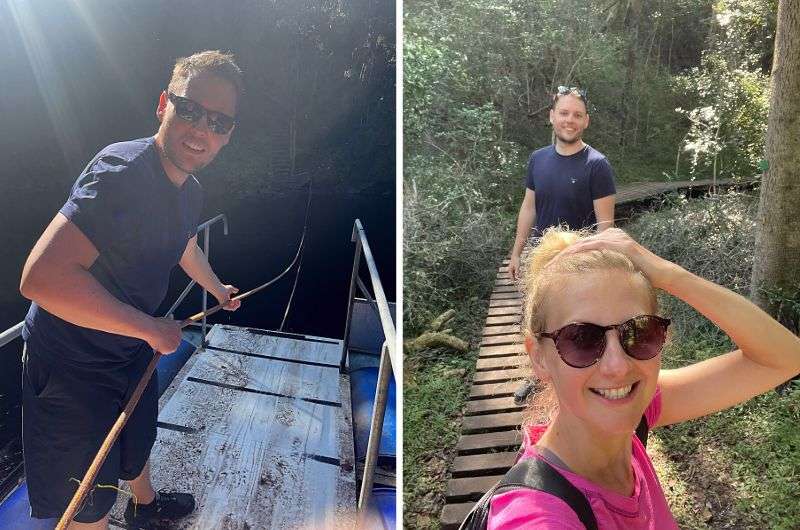 You don't need a gym when you're hiking in South Africa!

The waterfall at the end is nice, but don't think of it as the highlight. The setting that the waterfall is in is much more spectacular than that bit of water falling.
And there's the pontoon bridge that's basically the essence of my childhood dreams. It's just a short way, but it's good fun. And hold onto your machete—the jungle is, well, totally junglicious.
8. Monkeyland Primate Sanctuary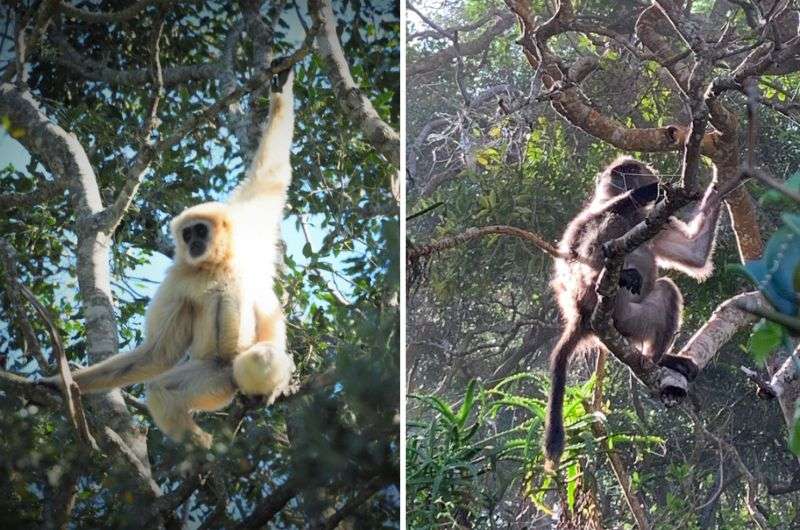 Meeting the monkeys in Monkeyland

With a name like Monkeyland, it sounds like you'll be getting a run-of-the-mill zoo-type attraction, but boy, was I in for a treat! This place is a true monkey sanctuary, and it's sprawled over acres of pure monkey paradise. Pay your way in, and bam, you're guided through this massive enclosure that's like stepping into their jungle homeland. If you're looking for a more adventurous Garden Route activity where you'll be in close contact with some cool animals, this is your spot.
Monkeys are everywhere! But remember, you can look, but don't touch! These furry fellas aren't exactly BFFs with humans, and that's what makes it awesome. They are left, as much as it's possible, to be wild animals as they should be (some have been saved from being pets, could you believe it?).
Stroll through the woods, and you'll witness them swinging through treetops, munching away on whatever snack they've found, and chatting up a storm. Oh, and that thing I said about not touching? It doesn't have to be true the other way around—if a monkey gets curious, they are known to sometimes come up and try to cop a feel. Like if you have particularly interesting hair.
On the one-hour guided tour, you're walking above the trees, across the suspension bridge, soaking in a bird's eye view of the cheeky monkeys. Guides are excellent and full of monkey facts. When our guide wrapped things up, I felt like I'd just come back from a mini safari.
It's also possible to combine a visit to Monkeyland with the bird sanctuary next door (apparently the largest free-flight bird aviary in the world), and with Jukani and Jukani Wildlife Sanctaury just a 10-minute drive away. We didn't, so I can't say anything relevant about them. When you're getting your tickets to Monkeyland, they'll ask if you're up for just one or all three attractions.
9. Knysna Forest trails from Diepwalle Camp
Elephant Walk in beautiful Knysna Forest

Everybody seems to be asking about things to do in Knysna, so here is one: walk in the ancient forest in the hills above Knysna. You'll feel like you're world's away from the coastal Garden Route area, but you're not. Time sure does seem to slow down here though.
There are 3 "Elephant Walks" that start at the Diepwalle Forestry Station and Camp. The word "Diepwalle" literally means "deep walls", and you'll see why when you get there. This forest is so deep and so dense that it really does look like giant walls flanking the narrow walkways. You'll feel tiny.
All of the 3 hikes are of similar length, ranging from 7 km to 9 km (4.3 to 5.6 mi), all easy. The red one apparently has a bit of hills, but nothing major. We did the black and it was as flat as a pancake. Very luscious, always shaded, pretty well maintained (though I heard of missing signs on the red and white routes, which made some people take unnecessary detours). The wooden planks on the walkway get slippery. It feels enchanted.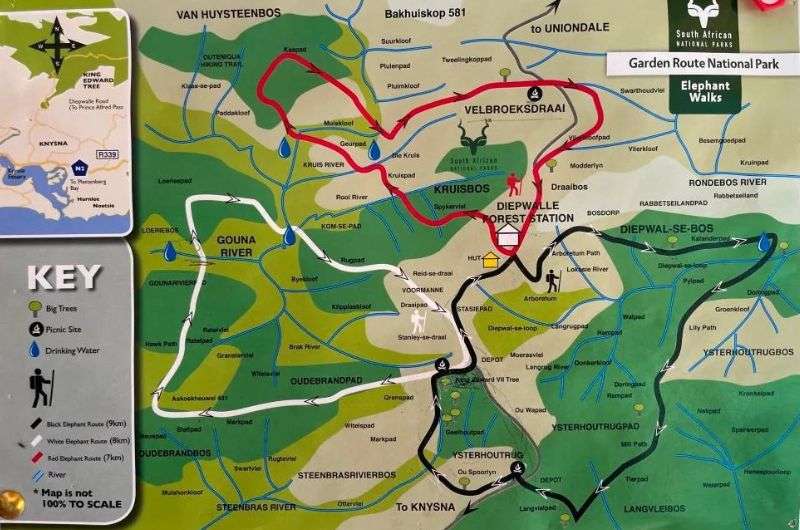 A map showing the three Elephant Walks in Diepwalle, Knysna Forest

There used to be a small population of elephants living in the area, but that's no longer true. So don't expect to see any aside from the pictures on the hike signs.
10. Knysna Heads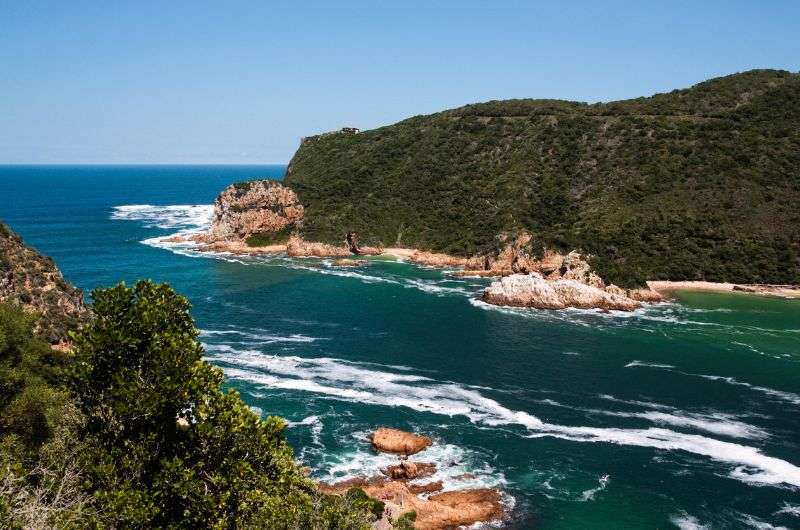 Knysna Lagoon

Alright, let's talk about the Knysna Heads—those sandstone bad boys that play gatekeeper between the serene Knysna Lagoon and the mighty open sea. We're talking a 300-m-wide watery gap, and most of all the viewpoints on the East Head where you can take it all in.
These heads aren't just any old cliffs; they're the big bosses of two peninsulas that wrap around the Knysna River Estuary like a cozy hug. Ok, this river mouth is not my favorite river mouth on this list (Storms River stole my heart), but that doesn't mean it's not awesome.
Visit the Eastern Head, it's easy to do. If you manage to park (good luck!), you'll be treated to insane vistas of the channel, the mighty Indian Ocean, Knysna Lagoon, and even the Outeniqua Mountains in the background.
For a full understanding, the river divided and conquered the land as follows: the Eastern Head is a posh party with homes, a golf course, and a sprinkle of farmland. Meanwhile, Western Head rocks the iconic arch-shaped cliff and hosts the Featherbed Nature Reserve.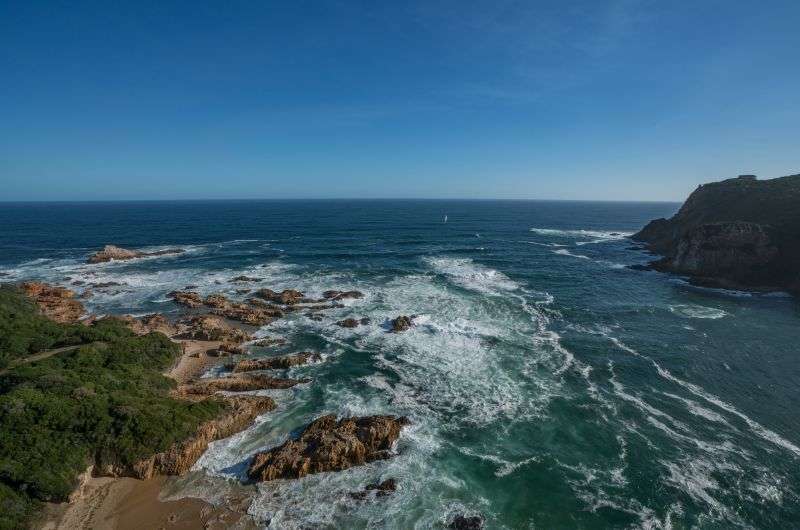 Crystal clear blue water in Knysna Heads

History alert—this place wasn't just stumbled upon recently. People settled here possibly around 1.5 million years ago, and lived in the caves down below. Later, ships tried their luck, often ending up as wrecks—there's only a 60 m wide strip where passage is safe.
We parked ourselves at East Head. This isn't a stop that'll take you too long, but it delivers coastal views galore. Crystal-blue waters as far as the eye can see on viewing platforms on the cliffs edge! Oh, and don't skip the wooden footpath from the main viewpoint leading you to lower viewpoints. It's like a secret stash of beauty, and it's not that far a walk, really.
Parking is another story. Super limited and a bit of a tango during the peak season. But hey, those views are worth it.
11. All the gorges and bridges of Tsitsikamma NP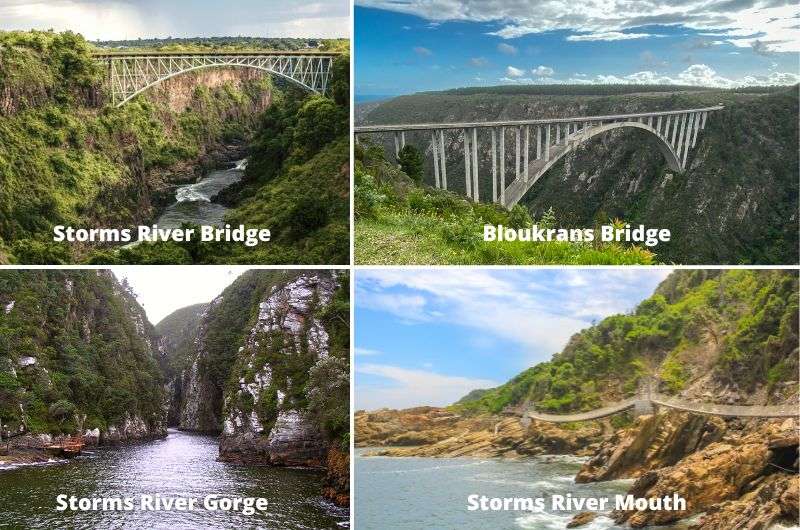 Tsitsikamma highlights

Tsitsikamma NP, you magnificent marvel! Your beauty is so vast that I couldn't resist adding yet another item to the list. It's not even one specific spot in Tsitsikamma, but more like a "actually, everything in Tsitsikamma is worth visiting" type of thing.
Amidst the grandeur of this natural wonderland, two more bridges steal the spotlight (you're obviously already planning to stop at Storms River Mouth with the suspension bridges, right?). And there's one place you daredevils will get your Garden Route adrenaline fill, too.
First up, the Storms River Bridge, aka the Paul Sauer Bridge. It's not just a bridge; it's a gateway to jaw-dropping vistas (and a perfect rest stop). Multiple decks offer panoramic views of the canyon. And guess what? You can stock up on drinks for yourself and your car at the nearby shop and gas station, making it the perfect pit-stop. With a picnic area and Tsitsikamma info center, it's an all-in-one stop.
Then, there's the Bloukrans Bridge, a famous spot for bungee jumping. It stradles the border of the Eastern and Western Capes. While I chose to pass on this adrenaline-pumping adventure, you can soar above the Storms River and marvel at the surroundings while also screaming your lungs out at the same time. The bridge itself is a marvel of engineering, and even if bungee jumping isn't your thing, standing on this iconic structure is an experience in itself (as is the staring down into the canyon below).
It's a shame that Storms River Gorge isn't accessible without a guide, but Untouched Adventures (the ones that do the canoeing under the Storms River suspension bridges) have found a way to take groups in. I, unfortunately, didn't get to participate due to time restrictions, but if you have 4 extra hours, it sounds fantastic to be able to half-float, half-swim inside the deep gorge.
12. Garden route add-on #1: 7 Passes Scenic Drive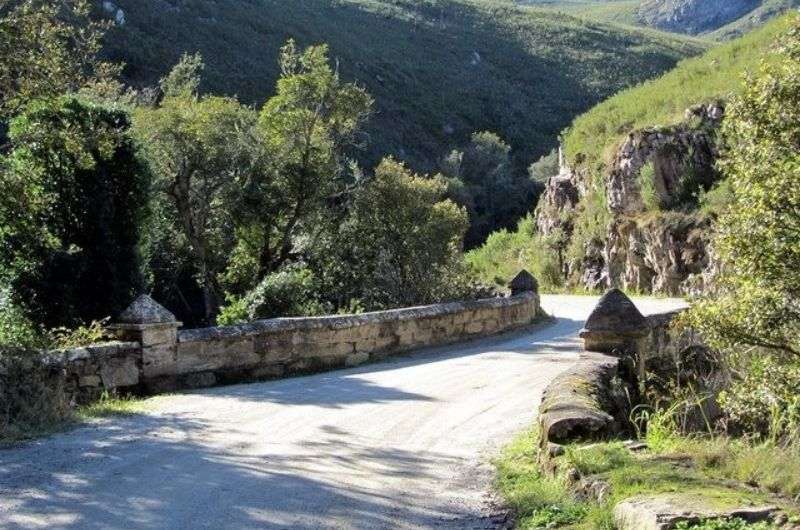 Retracing history on the OG Garden Route (Seven Passes Road)

This ain't your typical highway: the 7 Passes Road is the OG Garden Route route. Starting in the east, you're in for a thrill with the Phantom, Homtini, Karatara, Hoogekraal, Touw River, Silver River, and Kaaimansgat passes. Yeah, that's a mouthful, but trust me, it's a glorious one.
The 7 Passes Scenic Drive takes you on a drive between George and Knysna—a 75km ride where history meets adventure. It gets a little more adventurous once you realize that all the roads are either tarred or dirt, and they can be a bit rough. Expect a bumpy and dusty ride (or a bumpy and muddy ride after it rains—not to be attempted with anything but a 4x4 when the roads are wet!).
The journey is all about winding through dense forests, hopping over streams like a pro, and cruising over farm patches that look straight out of a painting. It's not exactly jaw-droppingly amazing, more like really nice and peaceful. The dirt road vibe takes you back in time, making you wonder how many tales these bends have heard.
There's an eighth bonus pass—the Swartrivier Pass—serving up a spicy connection to the N2 national road aka the pass before the 7 Passes.
13. Garden route add-on #2: Cango Caves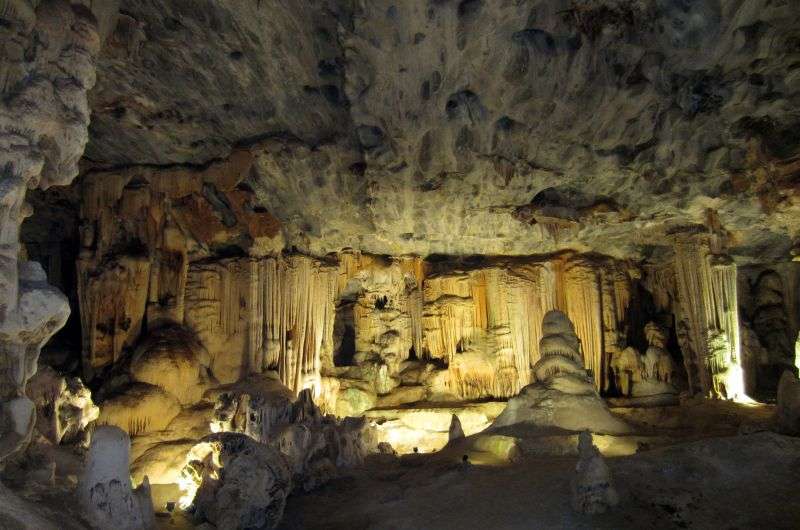 Beautiful stalactites in Cango Caves

Venture into the depths of the Cango Caves, a subterranean wonder that left us in awe. They're not one of the Seven Wonders of Southern Africa for nothing!
Our hearts were set on the Adventure Tour, a path not for the faint-hearted. Picture sliding through narrow passages, embracing the very essence of caving itself.
Our guide, a fountain of knowledge and kindness, made our underground escapade a thrilling experience. If you've got nerves of steel and an adventurous spirit, this is your calling—highly recommended! You'll crawl, squat, and squeeze, all part of the fun. Our guide was like an encyclopedia with a sense of humor, spicing up the history of those rock chambers.
If you have claustrophobia or are of a more hippo-esque stature, you'll be happier on the regular tour. A calmer (and wider) route, the regular tour includes four sections adorned with gigantic stalagmites and stalactites. The lighting makes these underground rooms even more amazing.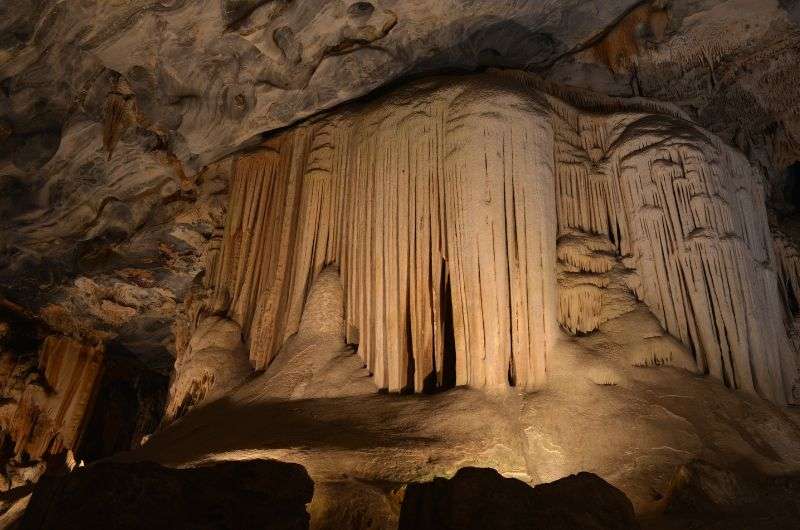 Great experience!

You can visit Cango Caves from George, it's about a 1.5-hour drive.
Additionally, there's a zipline closeby that can further up the adrenaline. We didn't try this, as I used up all my ziplining energy on the Panorama Route at Graskop Gorge. If you are a zipline-o-phile, there are also the spectacular Knysna Ziplines that you can visit without leaving the Garden Route right by Knysna.
14. Garden route add-on #3: Addo Elephant Park
Experience a very close-up encounter with elephants in Addo Elephant Park!

This last stop that you can add on to your Garden Route itinerary is the Addo Elephant Park. Granted, it's a bit of a stretch at 220 km (136 mi) away from Storms River, but I think it's worth it if you can work it into your South Africa itinerary.
Ok, so the name doesn't lie. Elephant Park is the place to be if you're into these massive, tusked beauties. I mean, we rolled up to a waterhole and boom, more than a hundred elephants having their own pool party! Seriously, where else do you witness an elephant extravaganza like that? (Ok, this is Africa, so a few places come to mind... Kruger National Park first and foremost—but even there the number of elephants in one spot wasn't ever as high.)
For the full safari experience, go for the guided tour. It's like getting VIP access to the wild kingdom, because they'll take you to places you can't otherwise go.
Now, let's talk wildlife. Yes, elephants are the kings and queens, but we also bumped into ostriches strutting their stuff, kudus giving us the "sup" nod, herds of wildebeest doing their thing, and guess what? My first-ever buffalo sighting. My personal Big Five checklist: four out of five check! Just that elusive leopard still playing hide and seek.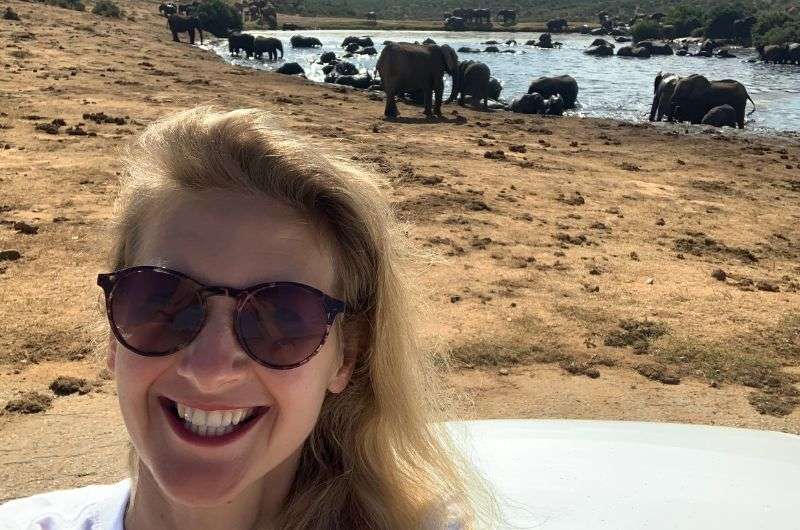 Selfie with the elephants having a pool party!

Addo Elephant Park's got its own wild origin story. It's like a blockbuster movie, but with elephants as the stars. It all started in 1931 with a measly 11 remaining elephants in the area after excessive hunting and habitat destruction. Today, Addo Elephant Park stands as a testament to successful conservation efforts, but it wasn't an easy road to get here.
Here's a tip: enter through the southern gate. It's all about that N2 highway convenience, plus a bit of safety concerns—the northern gate has a bit of a shady reputation because you'd be driving through townships. And yes, I know regular people live in those, too, but it's also where the not-so-nice guys live, too.
Note that when you arrive, they're going to check your trunk. Not sure what I'd be smuggling in, my pet cheetah? But the check-in process is otherwise smooth sailing. Nothing like the sloth-speed workers we met at Etosha NP in Namibia.
This post contains affiliate links. I earn a small commission if you make bookings through my links, at no additional cost to you. This helps keep this blog free, thank you!