Join me on an expedition of luxury, comfort, and hospitality in South Africa! In a land renowned for its spectacular landscapes, captivating wildlife, and diverse cultures, finding the right place to rest your weary yet adventurous spirit is key.
You can find top quality accommodations that cater to all tastes, from those craving the luxury of a 5-star retreat to the travelers searching for boutique charm (and probably for those looking for a budget stay, but I can't help you in that department, sorry).
So, I hereby present you with a carefully curated list of the best hotels South Africa has to offer. These are not just random places I googled and thought "sure, why not?"; they are places I've either personally stayed at or have otherwise vetted. You'll find what you're looking for if you want high quality, cleanliness, style, and great service. You won't find the overpriced or the pretentious here.
From the bustling streets of Cape Town to the serene winelands of Stellenbosch, and from the wilds of Kruger National Park to the tranquil vistas of the Garden Route, here are the top hotels in South Africa:
Best boutique hotels near Cape Town's waterfront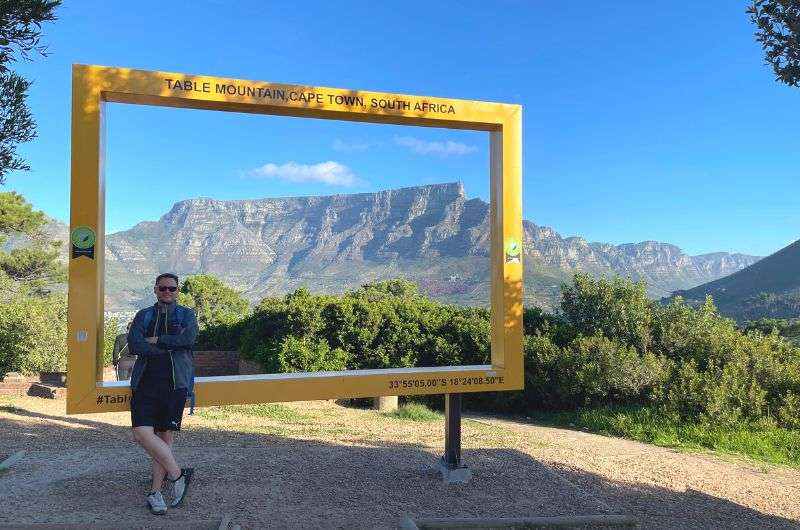 Me and this Table Mountain view

Cape Town is a city like no other! Spread out at the foot of Table Mountain, it's one of the most incredible cities in the world, and I'm not exaggerating. Not only is it a thriving metropolis with a rich history, but it's also surrounded by such extreme natural beauty that it's almost too good to be true. You could easily base your entire vacation right here—with the stunning Table Mountain National Park, the majestic Cape of Good Hope, and the wine regions just a stone's throw away, who could resist exploring all these epic day trips?
Discover why Cape Town is the perfect blend of urban vibrancy and natural wonder as we discover these remarkable places to call home during your stay:
Personal favorite: DysArt Boutique Hotel
The service of DysArt Boutique Hotel staff was 10/10!

Booking.com rating: 9.4
Prices and photos of DysArt Boutique Hotel
DysArt Boutique Hotel should be on your radar if you're looking for the best hotels in Cape Town's city center. It's located in the Green Point neighborhood, very strategic for exploring the city's iconic attractions, including Sea Point, Camps Bay, and the V&A Waterfront. It's a quieter area that still has an array of restaurants, bars, and coffee shops just around the corner.
One of the standout features of DysArt is its impeccable service. From the moment I stepped foot into the hotel, I was greeted with warm smiles and a level of hospitality that's hard to match.
With only 10 rooms, DysArt Boutique Hotel exudes a sense of serenity and exclusivity that's often missing in larger hotels. One thing I have to say is that though DysArt is officially a 5-star hotel, it probably won't impress you with an abundance of amenities. Luckily it compensates with its personalized touch and thoughtful details.
Oh, and did I mention the strangely high number of dog and rabbit statues?
The Glen Boutique Hotel
The atmosphere of the rooms of the Glen Boutique Hotel was amazing. I slept like a baby!

Booking.com rating: 9.4
Prices and photos of The Glen Boutique Hotel
The Glen Boutique Hotel, one of the best hotels in Cape Town's seafront area (literally in the heart of Sea Point), is the type of place that makes you believe in hotel fairy tales. It's like someone took a pinch of luxury and sprinkled it all over this 5-star haven.
The rooms are a work of art, with an airy, light-filled atmosphere and design elements that are the very definition of 'wow' (sometimes an impressed 'wow', sometimes a head-scratching 'wow'). Like in a contemporary gallery, where if you don't quite get it, you just try to look all artsy and pretend.
Being a 5-star pad, The Glen Boutique Hotel spares no expense in ensuring everything is tip-top. The staff? Oh, they're like your vacation's best friends, always ready to make your stay a breeze.
I like the fact that the terrace and pool area are alive during the day and evenings, as you can have your lunch or dinner served in the outdoor seating space close to the pool (dinners can be had in the restaurant, too).
And what's more, at the Glen's spa you can melt your stress away with a variety of massages, hang out in a steam room or a traditional Swedish sauna, and soak away your cares in a bubbling hot tub.
Breakfast is a real treat, as you'd expect in a luxury hotel. It's not a case of same-old, same-old. The menu is as diverse as the Cape Town landscapes. I mean, who wants to eat the same thing every day, right? Not me, that's for sure.
The location is tranquil and safe, not far from the seafront and just perfect for exploring the beauty of Cape Town.
Home Suite Hotels Station House
In Home Suite Hotels Station House you can chill on the terrace with the Lion's Head view

Booking.com rating: 9.2
Prices and photos of Home Suite Hotels Station House
How about a swim in the rooftop pool with views of Lion's Head on one side and the ocean on the other? Plus, Home Suite Hotels Station House is minutes from Cape Town's seafront, several beaches, and close enough to Cape Town's city center and the V&A Waterfront (it's in the Sea Point neighborhood). Not to mention tons of restaurants and shopping just outside the door.
The entire property has an understated, cool and contemporary design that I am so very fond of. They also have a restaurant with great food, though breakfast isn't buffet—you get a ticket with a credit limit with which you can use to order whatever you desire at the restaurant. It more than covers a good meal and drink, so I'm not mad about it.
There's private parking, a gym, everyone gets a balcony, and, if you're so inclined, you can get a room with a kitchenette or even a "pooch pad"!
Station House is perfect for those that are looking for more homey vibes, but cool homey vibes, you know?
Top hotels in Constantia, Cape Town
Vineyards and mountains scenery in Constantia

Besides staying at the Atlantic Seaboard, another great and green area to consider staying in in Cape Town is Constantia. Known for its vineyards, Constantia offers a serene and lavish retreat for those seeking a more countryside vibe without sacrificing the convenience of being close to Cape Town's vibrant city life.
This place oozes sophistication, history, and natural beauty, so it makes sense to base yourself here if you want to relax in some amazing (and sometimes opulent) boutique hotels, roam through rolling vineyards, and dine at high-end restaurants.
Here are some Constantia 5-star boutique hotels that are worth a look:
Nova Constantia Boutique Residence (9.2 rating)
Last Word Constantia (9.5 rating)
Luxury hotels on the Garden Route
I had to document the bridge crossing over the wild Storms River Mouth

The Garden Route, a stretch of South Africa's southern coast, is a condensed package of natural wonders. Imagine mixing breathtaking coastlines, enchanting forests, cascading waterfalls, and epic mountains. Now, shrink this mix into a mere 300 km (180 mi) of coastal beauty. Yes, that's the Garden Route for you, and it's nothing short of spectacular! I had my doubts before going there, but I ate my words big time.
Now, don't get me wrong; you don't need a full 14 days to conquer this route, unless, of course, you're taking a tortoise's approach to traveling. Give it a solid 5 days (here's my 5-day Garden Route itinerary), and you'll have your hands full with adventure and discovery. Or, if you're in the mood for the full Cape Town to Port Elizabeth road trip, stretching it to 10 days will ensure you don't miss an inch of Garden Route wonder.
So, you'll need the best Garden Route hotel to go with all that natural wonder, yes? Here are my recommendations:
Personal favorite: Kambaku at Sea
Perfect start of the day at Kambaku at Sea!

Booking.com rating: 9.7 (!)
Prices and photos of Kambaku at Sea
Kambaku at Sea impressed me time after time, but if I had to pinpoint one thing, it's the mornings on the terrace overlooking the scenery. I almost didn't notice how delicious the breakfast was, and that's saying something in my world. Picture-perfect doesn't even begin to cover it.
Even though the name of the hotel would have you believe that this is beachfront accommodation on the Garden Route, it's not; it's even better! You're up on a hill with a view not only over the meandering river, but also the mountains, bringing together (almost) everything the Garden Route is famous for. And when that morning fog gently covers the scene, it's magical!
Everything at Kambaku at Sea is perfect. My only remorse is that our Garden Route itinerary was so full that we couldn't spend enough time at this hotel. It's not only one of the best hotels on the Garden Route, it may even be the best hotel I've ever stayed at.
You'll love the swimming pool (again with a view), the multiple terraces, huge rooms that are nothing short of epic, and the hotel staff that goes out of their way to make you feel welcome.
Kanonkop House
The amazing design of Kanonkop House took my heart

Booking.com rating: 9.5
Prices and photos of Kanonkop House
The Garden Route is just teeming with great luxury accommodation! My next tip is nestled on a gentle slope with gardens that could make a botanist blush: Kanonkop House in Knysna is pure luxury. Now, when I say luxury, I mean it. The moment you set foot in this place, you'll understand exactly what I'm talking about. This is a house, so it feels very intimate and boutique-y, and I'm sure you'll take note of a design element or two to put on your own "to do at home" bucket list.
This is the next best thing to beachfront accommodation, with lagoon views that'll steal your heart. Unless you're absolutely dead set on sticking your toes in the ocean, this is where you want to be.
The rooms, oh, the rooms. They're not just rooms; they're like your own private haven. They're spacious, cozy, and as bright as the South African sun.
And you know what sets this place apart? The owner's hands-on, and that shows in every nook and cranny. The attention to detail is top-notch. The breakfast, absolutely delicious, I can't think of anything that was missing from the spread. And if you're rolling deep with a group, they even have a 4-bedroom villa.
THEBLOEM Guest Suites
5-star luxury guesthouse THEBLOEM Guest Suites Hotel

Booking.com rating: 9.9
Prices and photos of THEBLOEM Guest Suites
With a rating of 9.9, THEBLOEM deserves a serious consideration from you on your search for the top hotels on the Garden Route. It's a 5-star luxury guesthouse, so if you're looking for something intimate, phenomenally clean and prefer a modern, minimalist style, this is the accommodation for you.
It seems everyone wants to get some sort of sea view from their Garden Route hotel, so let me quench your expectations right away—THEBLOEM has views of Knysna Lagoon. You'll get the best sunsets right from the terrace (or your room), and even though the property is small, it's beautiful and even comes with an outdoor pool.
The breakfast has to get a special mention, because you can make your personalized selection from the huge variety the night before and get it served on your terrace at a specific time (and it's no problem if you wake up suddenly craving extra pancakes, they'll magically appear a few minutes after you express your wish).
One small warning: there isn't a restaurant in the guest house or within walking distance of it, so you'll need to drive a few minutes to town in order to get your dinner.
Views Boutique Hotel & Spa
Wake up to the views at Views Boutique Hotel & Spa!

Booking.com rating: 9.3
Prices and photos of Views Boutique Hotel & Spa
At Views Boutique Hotel & Spa, the name says it all. If you're after luxury beachfront accommodation on the Garden Route, you've found it. Five-star elegance meets unparalleled ocean vistas in the coastal haven of Wilderness National Park. Sold!
Upon entering, you'll be greeted by an interior that screams 'beachy' without ever crossing into kitsch territory. It's pure sophistication. If your wallet can handle it, treat yourself to a suite—they have wall to ceiling windows (or even full glass walls in the studio) that erase the line between you and the endless ocean. It's like you own the Garden Route.
What's more, the restaurant isn't just a pretty face. The food here is so good that you might find yourself glued to that deck for hours, soaking in more breathtaking Garden Route views.
Don't take my word for it; the photos alone speak volumes. Views Boutique Hotel & Spa is a promise of perfection fulfilled.
Personal favorite: Nova Boutique Hotel
So much space in the Nova Boutique Hotel's rooms!

Booking.com rating: 9.4
Prices and photos of Nova Boutique Hotel
Nova Boutique Hotel is a 5-star hotel in Port Elizabeth, so it's not on the Garden Route per se, but I loved it so much I couldn't keep it to myself. You're very likely to pass through Port Elizabeth on your Garden Route itinerary anyway (like this 5-day one I put together for you)—either in the beginning, the end, or both, so you'll want to pay attention.
Nova Boutique hotel is so cool it reminded me of my own apartment at home. So, if you've ever wondered what Jan's place looks like (hasn't everybody?!), here you go. It was also the South African hotel that I've deemed to have the most incredible hosts in the country. Once you arrive at Nova Boutique Hotel, you'll be welcomed by the owners who will instantly become your favorite people in South Africa.
The rooms at Nova Boutique Hotel are spacious, super clean, and I must say, their thoughtful inclusion of star constellations was a charming touch. The breakfast spread includes homemade delicacies that are a great way to start your day. To add icing to this vacation cake, we indulged in the spa and pool, which you'll need to check out for yourself, because it was heaven.
As for the location, it is tucked away in an upscale neighborhood, very close to the airport (not that you'd even notice the pint-sized airstrip, so don't worry about noise). It's the perfect spot if you're traveling, which I'm guessing you are.
Pro tip: Before you leave, check out Addo Elephant Park. It's a spectacular game park with not only elephants, but yeah, a lot of elephants.
Luxury accommodation in Kruger National Park
After a visit to Kruger National Park, you will be filled with impressions of wildlife encounters. That's why you'll appreciate a good hotel where you can absorb the experience peacefully.

Kruger National Park is no ordinary safari destination. Its staggering diversity is like a siren call for even the most particular of travelers—yours truly included. I rolled into Kruger with plans for a simple, modest two-day visit. Well, spoiler alert, those two days somehow stretched into a thrilling, action-packed 4-day affair. Check out my article on planning your own Kruger trip where I answer all your FAQs and give you tips from my own experience.
As for the best hotels in Kruger National Park, I'm recommending you stay outside of Kruger. Why not crash inside the park itself? The truth is, the accommodation in Kruger (or any other safari I've been to) can be overpriced and a tad underwhelming for that price. The secret sauce is this: just outside the park gates, you'll find the best luxury lodges and hotels that'll make your Kruger stay just that much more special.
Since the best areas in Kruger for wildlife spotting are in the southern section of the park, you'll want to base yourself either around Hoedspruit or in White River. In my article specifically on how and where to see the best animals in Kruger, I describe in more detail the exact areas where I had the best wildlife encounters.
Personal favorite: Ndhula Luxury Tented Lodge
Ndhula Luxury Tented Lodge—a "tent" but very cool and comfortable!

Booking.com rating: 8.7
Prices and photos of Ndhula Luxury Tented Lodge
Ndhula Luxury Tented Lodge is where we stayed on our last Kruger visit and I've never enjoyed staying in a "tent" more than here. Heck, I hate tents! But this place doesn't have the word "luxury" in its name for nothing, it's literally a 5-star hotel room in the middle of a private nature reserve (you can see animals from your terrace), just without proper walls.
I can't recommend this lodge enough for somebody searching for luxury accommodation in Kruger National Park. Ok, ok, not in, but very close by (in White River). Because at Ndhula, you get the full package and then some—a spacious, clean luxury tent with private bathroom, wonderful food at the restaurant, a staff that takes care of your every whim, AND you're immersed in nature in a way that is impossible in a regular hotel.
Imagine lying in your bed at night, listening to the wildlife—it's hard to describe, but it adds so much to your Kruger safari adventure. I especially enjoyed the evening bonfires for their tranquil safari vibe... yes, I talked to strangers and I liked it!
Personal favorite: Little Kubu Lodge
I couldn't get enough of the amazing rooms in Little Kubu Lodge

Booking.com rating: 8.7
Prices and photos of Little Kubu Lodge
Little Kubu Lodge, located in Hoedspruit, isn't just your ordinary base for exploring the wonders of Kruger National Park. Nope, it's a double delight. You're right in the heart of Panorama Route action too. Seriously, I can't gush about this place enough.
I'm sitting here reminiscing about that outdoor shower, rooms so nice that felt so cool and cozy (I don't even want to admit how many photos I took of the bedroom), and a breakfast that deserves a place in a journal of hotel history, seriously. I'm practically shedding a melancholic tear right now.
My only regret? Not staying longer! You see, we stayed at Little Kubu Lodge as our Panorama Route accommodation, and then moved further south, to Ndhula Luxury Tented Lodge, once we were ready for Kruger. Not sad about that whatsoever, but if you'd rather not move around too much, I can wholeheartedly vouch for Little Kubu Lodge as a base for both.
If you might think I'm just spouting my personal feelings here, rest assured. Little Kubu Lodge isn't just about my opinion. With an exceptional 9.7 rating on Booking.com, you know you're in for something amazing.
The setting is a symphony of natural beauty (you can see that it brings out the poet even in me!). That pool is another little slice of paradise. And those common areas? Spacious, inviting, and topped off with a well-stocked honesty bar. Speaking of which, don't you just love an honesty bar? To me, it's like a trust badge for a good hotel. When the guests can be trusted with their own drinks, you know you've stumbled onto something special.
Safari Moon Luxury Bush Lodge
Safari Moon Luxury Bush Lodge is just the perfect balance of modernity and African essence. Loved it!

Booking.com rating: 9.7
Prices and photos of Safari Moon Luxury Bush Lodge
Another gorgeous property in Hoedspruit, Safari Moon Luxury Bush Lodge is luxury accommodation near Kruger National Park that lives up to its 5 stars. It offers the perfect balance of modernity and African essence, which you will notice in the interior design, creating a classy and light atmosphere. And they have Tom Cruise in their hotel photos, which I guess has to mean something (not sure what).
The rooms at Safari Moon are not just rooms; they are spacious, luxurious retreats! You will really feel at home there. Some rooms even boast both indoor and outdoor baths, because, let's be honest, it's tough to leave the beauty of the outdoors. In fact, you might find that some of the bathrooms here are larger than your neighbor's entire bedroom! For those feeling extra fancy, you can book a suite complete with a private (albeit small) pool.
One quirky feature of Safari Moon is the local monkeys that play around on the rooftops. It can either be a delightful way to start your day or a minor irritation, but remember, you chose to come see the animals, they didn't choose you. Just take it as a unique alarm clock (the best animals in Kruger can be seen bright and early in the morning, anyway!). If you're lucky, you may also spot the wildlife that has been known to hang out right by the balconies.
Safari Moon Luxury Bush Lodge is a fantastic choice for your adventure in the Kruger area and, since it's located in Hoedspruit, can also be your Panorama Route accommodation.
Blue Jay Lodge
Blue Jay Lodge—intimate with tremendous service

Booking.com rating: 9.4
Prices and photos of Blue Jay Lodge
It's not monkeys that'll be waking you up at 4-star Blue Jay Lodge, it's the sound of 80 bird species! Talk about a bird symphony!
In typical African rondavel style, the rooms at Blue Jay Lodge are round with a visible thatched roof, which is a fun addition to the otherwise slightly basic decor. Think earthy tones and functional furniture, which, on the other hand, is better than crazy over-the-topness in my book. I hate it when the sheer number of patterns on every lamp and vase in the room can keep me up at night.
The Blue Jay's location in Hazyview makes it another great place to stay when visiting Kruger National Park and Panorama Route. The hosts are amazing people, very friendly and helpful, and will be able to give you many tips on trips that you want to take.
There are only 5 rooms in the lodge, making it a private and personal experience (and it's also why the hosts can pay so much attention to each and every guest). Breakfast is exceptional—you gotta love it when your eggs come out just the way you like them! Top it all off with a pool and you know you'll have a very hard time picking which lodge near Kruger is the one for you.
Other luxury accommodation for Kruger National Park
I'm telling you guys, there are tons of luxury lodges near Kruger National Park, it's all a matter of picking the right one for you. If you're the type of person who likes a wider selection, here are my runners up:
Tanamera Lodge (Hazyview, 9.2 rating)
Nyaleti Lodge (inside Hoedspruit Wildlife Estate, 9.6 rating)
Boutique hotels in Stellenbosch wine region
Cheers!

Nestled about an hour away from central Cape Town, Stellenbosch and its charming neighbor Franschhoek form a dynamic duo of wine indulgence. Surrounded by some of South Africa's finest vineyards, this region is an oenophile's dream come true.
You can easily spend a day or two sipping on world-class South African wines, savoring delicious cheeses, and sipping more wine, all while being cradled by breathtaking landscapes. You're picturing yourself with a glass of wine right now, aren't you?
Even for a self-professed beer aficionado like me, the Stellenbosch wine region was delightful. It's got an array of fantastic wineries and manors where you can wine, dine, and even catch some quality shut-eye. While some, like the opulent Delaire Graff Estate, may be a tad too luxe for my liking (private pools, anyone?), I highly recommend the culinary experience there to anyone.
As for luxury hotels in Stellenbosch that won't break the bank, here are my top contenders:
Personal favorite: Southern Sun de Wagen
Classy and vintege Southern Sun de Wagen

Booking.com rating: 9.1
Prices and photos of Southern Sun de Wagen
Prepare to be transported to a bygone era at Southern Sun de Wagen, a Stellenbosch boutique hotel that's like a delightful journey back in time. This place is a collection of vintage farmstead buildings, restored to create a one-of-a-kind retreat.
Its classic Cape Dutch heritage, with those iconic white walls, create perfect harmony with the elegant interiors spanning three charming country houses, altogether with 22 bedrooms. Imagine cozy beds under rustic exposed wooden beams, with tons of space and locally crafted furniture.
The Southern Sun de Wagen boasts a warm and inviting atmosphere, with earthy tones, chandeliers, and cool black-and-white design tiles in the bathroom—they're quite the showstopper. A peaceful courtyard pool adds to the charm. Whether you opt for a luxury suite or a quainter room, they all combine heritage features with a modern design twist.
It's not overly expensive, and what's more, I absolutely adored the lounge area—a perfect spot to relax and soak in the unique atmosphere.
Stellenbosch Manor
One of the rooms in Stellenbosch Manor

Booking.com rating: 9.2
Prices and photos of Stellenbosch Manor
Tucked right into the heart of the Stellenbosch wine region, you'll find the charming Stellenbosch Manor. It's got itself a well-earned 4-star rating. As soon as you set foot on this place, you'll feel that old-world charm. And outside, there's a small but inviting pool, just waiting for you to take a dip between sips of wine on your tasting journey.
The rooms? Oh, they are generously spacious, offering a retreat of comfort and tranquility. And when the morning sun graces your day, a delectable breakfast awaits. It's in the form of a small buffet brimming with fresh fruits and baked goods, complemented by mouthwatering made-to-order dishes.
But what makes Stellenbosch Manor extra special is the fantastic staff. They welcome you warmly and are always ready with tips for things to do and great places to eat. Need a ride late at night? No problem, they've got you covered. Want a relaxing drink after a day of exploring? They'll bring it to you with a smile.
The manor itself is a beautifully restored old house with a cozy yet elegant vibe. Sure, there are a couple of tiny things—like the occasional creaky floor (just book an upstairs room if you're a light sleeper), and maybe a few more plugs in the living area for all your gadgets would be nice. But honestly, I'm just nitpicking here.
Being a single-house manor, it's the perfect boutique hotel in Stellenbosch, just a leisurely 10-minute walk from numerous points of interest (by "interest," I mean wine, of course).
Baruch Guesthouse
Elegant Baruch Guesthouse

Booking.com rating: 8.9
Prices and photos of Baruch Guesthouse
At Baruch Guesthouses, they set the bar high when it comes to hospitality. This luxury boutique guesthouse aims for that "timeless elegance" vibe. But, you know what, it gives off more of a charming countryside feel than some of the other spots on my list. Picture wicker chairs, colorful wallpaper—it's a tad more quaint than my usual taste, I must admit, so it won't be up everyone's alley, design-wise (because I'm the standard, apparently!).
The unique thing here is that every room has its own distinct personality. So, when you book your stay, choose wisely. You wouldn't want to find yourself in a room that gives you the heebie-jeebies (some of them are a bit out there, trust me).
But, let's give credit where it's due. The attention to detail is evident, and the staff goes the extra mile to make you feel right at home. They've got you covered even during South Africa's infamous load shedding—a generator keeps the Wi-Fi humming and the entrance gates functioning.
Cleanliness? Top-notch. The staff? Generally nice and friendly. And there's a pretty little garden area with a dainty pool, just in case you need to take a dip (literally a dip, not really a swim). So, while Baruch might not be my usual cup of rooibos tea, it's still a cozy spot to unwind during your Stellenbosch adventures.
Van der Stel Manor
The view from the garden of Van der Stel Manor

Booking.com rating: 9.5
Prices and photos of Van der Stel Manor
Just look at that impressive rating—a solid 9.5! Clearly, Van Der Stel Manor knows how to make guests feel right at home.
Welcome to the charming Van Der Stel Manor, a piece of history lovingly restored to its former Cape Dutch glory and then some!. This historic homestead, born in 1910, enjoys a convenient location within walking distance of Stellenbosch's center, but is located on a quiet residential street.
What sets this place apart are the stylish luxury suites and rooms, each with its own unique décor with elegant fabrics and contemporary touches. Step out onto your private patio or balcony, and you're greeted by the pretty garden and pool, right at your fingertips (I prefer the patio rooms so you can just wander into the garden freely).
At breakfast, you'll feel like you're visiting close friends that want to spoil you. Picture freshly baked croissants, made-to-order hot breakfasts, all enjoyed beneath the old trees in the garden.
Not only do you get a lovely garden to admire from every room, but there's also a pool that's almost big enough for a swim. And let's not forget the majestic mountains that provide a scenic backdrop—it's the complete package!
I chose Van der Stel Manor based on their fantastic reviews, and let me tell you, the people don't lie! The house itself exudes beauty and coziness. From the warm welcome with coffee and cake by the crackling fireplace to the spacious, tastefully decorated rooms, and the beds? Unbelievably comfortable. Honestly, it felt like we were in a five-star boutique hotel (but they only have four).
Hotels in the Drakensberg
I loved the nature of Drakensberg!

I was genuinely blown away by the natural beauty of this region. In fact, I'd recommend dedicating a good 5 to 7 days here to explore.
The rugged Drakensberg, including Cathedral Peak and Royal Natal NP, is a place that has long beckoned to me in South Africa. Visiting during April on my last trip turned out to be a stroke of genius, since it's the prime time for hiking. The experience was nothing short of breathtaking, offering vistas that blend the charm of Scotland with the grandeur of U.S. parks. Drakensberg boasts a personality entirely its own, making it absolutely epic!
For more insights on the best hikes, dive into my detailed Drakensberg Hiking Guide.
Here are the best hotels I've found in Drakensberg Mountains:
Cathedral Peak Hotel
The Cathedral Peak Hotel residence

Booking.com rating: 8.8
Prices and photos of Cathedral Peak Hotel
Cathedral Peak Hotel is more than just a hotel; it's the epicenter of some of the finest hiking adventures in the Drakensberg. Don't be surprised if you bump into the cheeky local players on the golf course! Hint: they call it the Baboon Rock hike for a reason, and it's a must-try that starts right at the hotel.
If you choose to stay at Cathedral Peak Hotel, you might not even want to venture beyond its stunning grounds for the first couple of days. The scenery here is nothing short of spectacular—being surrounded by the Drakensberg peaks is a special treat.
There's a refreshing swimming pool, a golf course with panoramic views (and baboons), a tennis court, a wellness center, and even horseback tours for those without horse allergies (unlike me).
What's more, the staff is top-notch, and the food? Superb! If you're looking for an unforgettable hotel in the Drakensberg, Cathedral Peak Hotel is where you should be. It's a mountain paradise.
Personal favorite: Dalmore Guest Farm
I can't praise Dalmore Guest Farm enough

Booking.com rating: 9.1
Prices and photos of Dalmore Guest Farm
As you arrive at Dalmore Guest Farm, nature unfolds in all its glory, with towering trees standing over this serene haven. But that's just the beginning of this South African retreat.
The road leading to Dalmore might have you wondering, "Are we there yet?" But trust me, every kilometer is worth it. The moment you arrive, you'll understand why.
You have choices here: You can opt for a cozy room or your very own cottage, complete with country chic vibes all around. Don't worry, that doesn't mean grandma style (but it does mean less than great wifi and the fun of loadshedding).
Now, let's talk about the manager—an absolute gem who made sure our stay was nothing short of pampering perfection. Dalmore doesn't disappoint in the amenities realm either. There's a kid's play area, a nice pool to cool off in, and those fireside braais (barbecues for my international friends) that make for unforgettable evenings under the starry Drakensberg sky.
If you know anything about me, you know I give food a high priority. At Dalmore, brace your taste buds, because they are about to do a happy dance. I'm talking about a three-course extravaganza that's nothing short of finger-licking goodness. I still remember that steak—it's been a while since a meal left such a lasting impression on me. And I can't lie, the evening fireplace sets the mood for pure romance.
Dalmore Guest Farm isn't just a place to stay; it's an experience, a retreat, and a memory-maker.
Sasi Bush Lodge Luxury Tented Camp
Sasi Busch Lodge Luxury Tented Camp is my kind of camp

Booking.com rating: 9.2
Prices and photos of Sasi Bush Lodge Luxury Tented Camp
I'm a nature guy, but roughing it during the night isn't my scene, so luxury camps get me all excited. Sasi Bush Lodge Luxury Tented Camp is a camping redefined! This is the kind of 5-star Drakensberg glamping experience that turns camping skeptics into enthusiasts. They proudly call themselves a luxury camp, and they're not kidding around. All the positives of camping without any of the negatives, and you feel like you're in a hotel?! Yes, please!
The spacious tents that are not just comfortable; they're downright indulgent. And those enormous windows, including the entire front that opens up to nature's wonders, are a godsend. Don't worry; they've made sure your privacy is top-notch. Nobody needs an audience while taking a soak in their free-standing bathtub, right? You get views over a lake and a pool to pretend you're swimming in a lake in the South Africa's bush without all the natural inconveniences.
But the luxury doesn't stop with the accommodations. At Sasi Bush Lodge, you're treated like royalty with special personal touches that make you feel like a VIP, and their cook isn't half bad, either. And let's not forget about the massages—guests can't stop raving about them.
However, I have one piece of advice: It gets very tempting to stay put and never leave your comfy tent. Remember the Drakensberg has some incredible hikes waiting to be explored, and you'll feel extra pampered when you enjoy the amenities at Sasi Bush Lodge after you've broken a sweat.

This post contains affiliate links. I earn a small commission if you make bookings through my links, at no additional cost to you. This helps keep this blog free, thank you!