Welcome to the Western Cape, a place that has so many attractions that you'll have a hard time leaving to other parts of South Africa. Cape Town itself has a special place in my heart, but when you add the incredible places you can visit outside of the city as day trips, you might not even have a reason to leave at all. It's where the untamed wilderness collides with the rhythms of city life. It's a province like no other in South Africa, known for its progressive thinking, diverse cultures, and jaw-dropping landscapes.
If you're thinking of a vacation but time's your nemesis, Cape Town has got you covered. Base yourself in the city and just focus on exploring the attractions that lie in it and just beyond its borders (all within a couple of hours' drive tops). You'll need more than one visit to South Africa to see it all anyway, it's huge! Here are my full South Africa itineraries, in case you do have more time.
In this article, we're going to uncover the must-visit gems outside of Cape Town and steer you clear of one controversial 'skip-it' spot. So, fasten your seatbelt as we dive into an adventure-packed whirlwind that's Western Cape!
The best base for your day trips from Cape Town: DysArt Boutique Hotel
Since you're looking for places to visit outside of Cape Town that make great day trips, I'm going to go out on a limb and guess you'll need to book yourself into one of Cape Town's hotels. Naturally I'll want to give you my two cents worth. You can see our full list of hotel recommendations, or, let me choose for you:
DysArt Boutique Hotel should be on your radar. It's located in the Green Point neighborhood, very strategic not only for day trips from Cape Town, but also great to explore Cape Town's iconic attractions, including Sea Point, Camps Bay, the V&A Waterfront. It's a quieter area that still has an array of restaurants, bars, and coffee shops just around the corner. A huge benefit of DysArt's location is that it's past the city center in the direction of most of the day trips from the city, so you won't get in traffic every single time you try to head out.
One of the standout features of DysArt is its impeccable service. From the moment I stepped foot into the hotel, I was greeted with warm smiles and a level of hospitality that's hard to match.
With only 10 rooms, DysArt Boutique Hotel exudes a sense of serenity and exclusivity that's often missing in larger hotels. BUT though DysArt is officially a 5-star hotel, it probably won't impress you with an abundance of amenities. Luckily it compensates with its personalized touch and thoughtful details.
See photos and prices for DysArt Boutique Hotel.
And now, get your notes app ready, here are the best places to visit outside of Cape Town (and some inside, too):
1. Table Mountain: A day trip to Cape Town's crown jewel
Cape Town's no. 1 day trip: Table Mountain

Distance from central Cape Town: 6 km/3.8 mi
Driving time: 15 minutes
Cape Town without Table Mountain? Unthinkable! And if you're contemplating just staring at it from a distance, you'll be missing out on the best place in Western Cape! This ancient wonder—it's 6x times older than the Himalayas and 4x older than the Alps—is alive with unique flora and fauna, a true biodiversity hotspot. And those famous 'tablecloth' clouds add a touch of magic. You need to go up there—I prefer the hike, but you can make it up with zero effort on the cable car, too.
But seriously, don't just take the cable car. Hike the Platteklip Gorge for a bit of adventure. It's one of my top South African things to do, and a must on your Cape Town day trip list. Or choose from one of the 200 total hikes on and around Table Mountain—you'd have to be seriously weird if none of those sound good enough for you.
The place is so diverse that there is the same number of plant species on Table Mountain as in the entire United Kingdom! And with all those snakes, lizards, birds, dassies, rock hyrax, and even the rare and endemic Table Mountain ghost frog, it's basically a zoo out there.
The real spectacle, though, is the view from the top. I could stand there, gazing at Cape Town and the vast ocean, for hours (in a world where I could sit still for more than 10 minutes).
There is something for everyone on Table Mountain and if you're not made of sugar, it's always the right time to go. Granted, summers could bring wind and winters almost guarantee rain, but then you also get less crowds, which is always a plus in my book. If you're looking for perfect weather, choose spring or fall.
Get all the details about visiting Table Mountain in a separate article: Table Mountain, South Africa: 9 Facts You Need to Know
2. Cape of Good Hope: Where nature turns up the wow factor
Me and my girlfriend enjoying the coastal views of Cape of Good Hope

Distance from central Cape Town: 65 km/40 mi
Driving time: 1 hour 15 minutes
In a very close second spot is another of my personal favorites, Cape of Good Hope. What's not to love? A fabulous hike, a wild beach, a lighthouse, and coastal scenery that you will never forget!
After two South African adventures filled (and I mean filled to the brim) with hiking and exploration, the Cape of Good Hope remains my all-time favorite hike and the ultimate natural wonder in South Africa. It's simply stunning, and even the most jaded travelers won't be disappointed.
The entire park is a treasure trove of jaw-dropping scenery and fascinating creatures. Here's a hot tip for you: Start your journey at Cape Point and make a beeline for the lighthouse. The view from that cliff? Mind-blowing, easily one of the best I've ever seen. Then, don't forget to take a detour to Diaz Beach—it's an absolute stunner (it earned a spot on my Best beaches in South Africa list). Surprisingly, not many people venture down there (lazy much?). And while you're at it, the shipwrecks are a must-see.
Now, when it comes to Cape of Good Hope, the hiking options are as diverse as the landscape itself. If you want the basics, you can wrap up the trail in about 2 hours. But trust me, you'd be missing out big time. But if you really take your time to explore and wander through all the side trails, or if you're me, this hike can easily devour a good chunk of your day.
As a pro tip, kickstart your Cape of Good Hope day trip early in the morning. This trail is a magnet for day-trippers from Cape Town, but you're better than them! Since you're self-driving, you can beat busloads of tourists hitting the trail around 10 am.
3. Chapman's Peak Drive: A scenic coastal day trip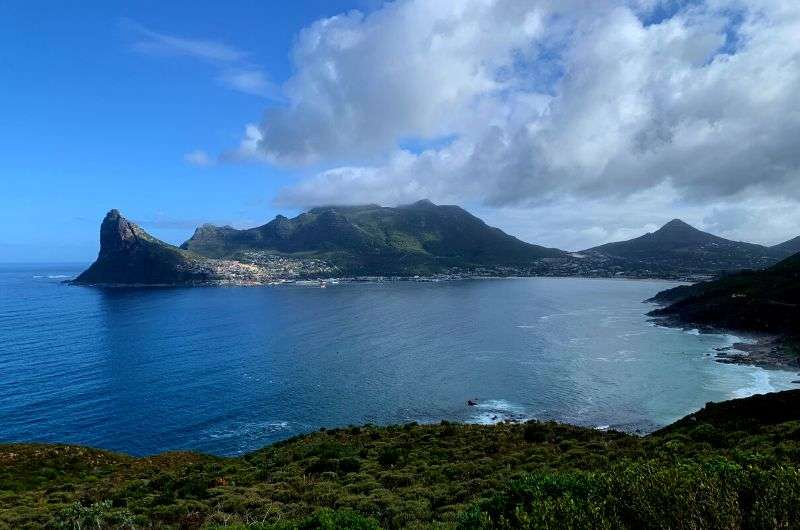 I rate the roadtrip to Chapman's Peak 10/10

Distance from central Cape Town: 65 km/40 mi
Driving time: 1 hour 15 minutes
If you're craving a day trip that combines breathtaking coastal scenery with a fun drive, then Chapman's Peak Drive will make you very happy. This picturesque drive is renowned for winding along the Atlantic Ocean's edge, offering views that will steal your breath away.
Chapman's Peak Drive is often hailed as one of the most beautiful coastal drives in the world, and once you set your eyes on those rugged cliffs and shimmering waters, you'll understand why. It stretches from Noordhoek to Houtbay and is approximately 9 km (5.5 mi) long. Keep at least one eye on the road at all times, because you'll have 114 turns and curves to deal with!
Besides the drive itself, there's a delightful hike to the summit of Chapman's Peak. While it's not for the faint of heart, the panoramic view from the top makes every step worth it. You'll gaze out over the vastness of the Atlantic Ocean on one side and the mountains on the other, truly understanding why this place is often called a dream location (I may want to build myself a house there when I'm old and moldy).
Depending on how much time you want to spend at viewpoints and whether you tackle the hike, a visit to Chapman's Peak could range from an hour to almost full day. I highly recommend taking your time to soak in the scenery and snap photos.
Tip: Other nearby attractions include the charming village of Hout Bay, with a good selection of quality restaurants, or pay a visit to the World of Birds, one of the largest bird parks in Africa.
Chapman's Peak Drive is conveniently located within a short drive from Cape Town's city center. So, if you're envisioning a day trip that combines awe-inspiring coastal beauty, a touch of adventure, and some delightful detours, Chapman's Peak Drive is your ideal destination.
Do you love scenic drives? Try the Panorama Route with possibly my favorite canyon in the world: Blyde River Canyon. And don't miss the Garden Route, because coastal scenery is what South Africa does best!
4. Kirstenbosch National Botanical Garden: A natural paradise day trip
Visiting the Kristenbosch National Botanical Garden is like stepping into the oasis!

Distance from central Cape Town: 12 km/7.5 mi
Driving time: 15 minutes
Kirstenbosch National Botanical Garden might not be what you typically go for (I don't know many people that put "botanical garden" on their must-see list when traveling), but this one is different, and it's an essential stop on your quest for the best day trips from Cape Town—just trust me on this one.
Every time I step into this green oasis, it's like a breath of fresh air. Seriously, how does Kirstenbosch Botanical Garden manage to keep amping up the wow factor? With each visit, I'm treated to fresh perspectives of Table Mountain that looms in the background and a variety of routes that keep my interest alive.
Now, being the nature enthusiast I am, I'm always on the lookout for the local wildlife, from fascinating snakes (like the Cape Cobra, with the comical Latin name Nivea) to the vibrant Cape floral kingdom. Even for non-botany buffs like me, seeing all these indigenous species in the garden is seriously impressive.
And let's not forget the views from the Boomslang—the super cool bridge that snakes its way through the treetops!
As for time spent, well, I can hang out anywhere from 1 to 5 hours here, depending on whether I decide to explore every nook and cranny or just take a leisurely stroll. Kirstenbosch really knows how to welcome eager explorers of all types. So, on your Cape Town day trip list, don't miss this slice of natural paradise!
5. Wine tasting in Stellenbosch and Franschhoek: A "grape" day trip
The vineyard and scenery in Stellenbosch

Distance from central Cape Town: 55 km/34 mi
Driving time: 1 hour
If you've never tried a glass of Pinotage, you know South African wines are nothing short of spectacular. So, when planning your Cape Town day trip, why not indulge in a little wine adventure?
Stellenbosch and Franschhoek, two wine towns just an hour away from central Cape Town, are surrounded by some of the finest vineyards in the country. Your day can be filled with sipping wine, nibbling on cheese, sipping some more wine, and soaking in breathtaking scenery.
Here's a fun fact: In the vineyards of Franschhoek, you'll find grapes originally from France that are hundreds of years old. They don't grow anywhere else in the world, all thanks to the grape phylloxera, a pest that wiped out wine populations in the northern hemisphere but spared South Africa.
My personal recommendation in Franschhoek: Le Petit Manoir Franschhoek. This place is on another level, like Michelin-star level. And in Stellenbosch, make sure to stop by Delaire Graff Estate. Even if you can't afford to stay in their luxurious lodge, don't miss the chance to sample their incredible wines. Plus, the views from this place are out of this world.
Now, considering the wine tasting might leave you in a delightful daze, driving back to Cape Town on the same day might not be the wisest idea. Southern Sun de Wagen is another great option that won't break the bank. Wherever you stay, I'd suggest booking a spot for two nights so you can fully explore the region.
When you visit these wine regions as a day trip from Cape Town, you can explore them in various ways. You can hop on wine trams for a convenient hop on, hop off tour of different wineries, take horse tours for a unique perspective, or hire a private driver for a more exclusive experience. Typically, a full-day wine tour includes visits to up to 6 wineries, ensuring you get a comprehensive taste of South African wine culture. Cheers to that!
Daytripping in the beautiful wine regions just outside of Cape Town

My personal recommendation in Franschhoek: Le Petit Manoir Restaurant. One of best restaurants in South Africa, on Michelin level. In Stellenbosch, schedule in a stop at Delaire Graff Estate. You may not be able to afford to stay in the lodge, but you sure as heck shouldn't miss tasting those incredible wines! This place has some of the best views of all the wineries we visited.
  Interesting fact: There are grapes originally from France growing in the Franschhoek vineyards that are hundreds of years old, and they don't grow anywhere else in the world. That's because of the grape phylloxera, a type of pest that decimated the wine population in the northern hemisphere, but luckily not in South Africa.
6. Cederberg Mountains and Wolfberg Arch hike: A day trip on crack(s)
If you want to see the Wolfberg Arch, get ready for a challenging hike full of climbing and scrambling through rocks

Distance from central Cape Town: 160 km/100 mi
Driving time: 2 hours
Okay, folks, listen up because I'm about to spill the beans on one of South Africa's best-kept secrets—the Cederberg Mountains. This is where you come when you're done with the ordinary and ready for some extraordinary adventures.
If you're a hiking enthusiast, you're in for a treat. Head to the mighty Wolfberg Arch. No, it's not a bridge for wolves—that would be a sight! It's a massive rock formation that's been sculpted by the hands of time, and you can spend a day scrambling up to it.
Getting to the arch is an adventure in itself. You'll find yourself traversing through epic rock cracks that are like a natural rock maze. Just a heads up, if you've got an overnight pack, don't assume you'll squeeze through these gaps like a superhero. Some of them are snug, and backpacks have feelings too.
I'd personally skip this next part, but if you're up for a bit of rugged romance, some folks choose to camp overnight at the arch (hence the overnight bag). The Cederberg Mountains are known for their dark nights, and that means one thing—stargazing! I'll sleep in a real room, thankyouverymuch.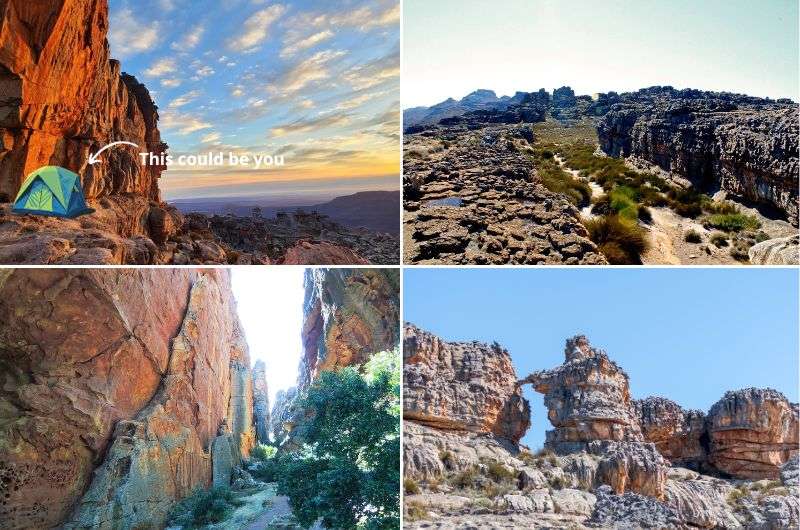 Cederberg Mountains

The hike is about 16 km (that's roughly 10 miles for you non-metric folks). Plan for a solid 4 to 5 hours of adventure (minus the overnighting). Yep, you wanted a good day trip, and this one delivers! Note that Wolfberg Arch is a sight to behold, but, and it's a big but, it doesn't quite compare to the sheer grandeur of those epic cracks. So, if you're looking to keep it shorter, you can skip the arch and still have an unforgettable hiking experience just jumping around like a mountain goat.
Note: You need to get a permit for the Wolfberg Hike. Snag one through CapeNature or at the Sandrif farm's main office nearby.
Oh, and don't forget to try some rooibos tea while you're here. It's the local specialty, and about as South African as it gets.
7. Cage diving with sharks: A thrilling day trip (with free nausea!)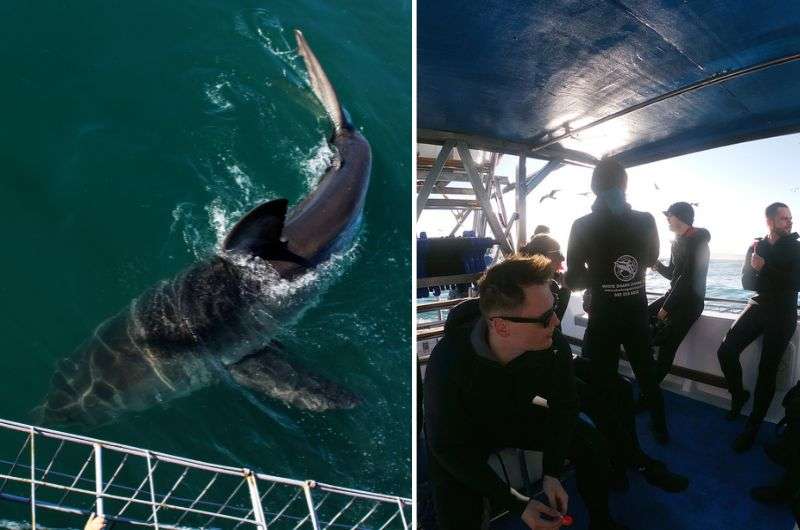 My cage diving experience was, um, memorable! Thank goodness for sea-sickness lollipops

Distance from central Cape Town: 160 km/100 mi
Driving time: 2 hours
One of my fondest memories of South Africa is that time I thought it'd be real cool to go shark cage diving. Cool it was, but not exactly in the way I expected… though the freezing cold waters probably helped to soothe my terrible nausea just a tad!
The mecca for shark cage diving in South Africa is Gansbaai, as you are almost guaranteed to see great whites or at least copper sharks. It's a town that is a 2-hour drive away from Cape Town, which may mean that not only do you need to drive semi-far for this day trip and will possibly feel very sick on a boat, you may end up having to wake up at the crack of dawn to get there in time for your tour. But hey, great white sharks over sleep any day, right?
Hotel tip: Alternatively, if you value your sleep more than the average person, stay over in nearby Romans Villa. With its pool and views out to the ocean, you'll happily turn this day trip into an overnight trip.
The best time to see great whites is in South African winter, when the waters are at their coldest: May to October. Most shark trip organizers take small groups out on a 2-hour boat ride and then, once you find an area with sharks, people take turns in the cages. Don't worry though, sometimes things are just as exciting just watching from the boat—you just need to decide if you're team shark or team human.
Read about my full cage diving experience in another article, or, here's an excerpt from my imaginary diary: "As I sat on the boat after my encounter with 2 of these gorgeous creatures, anti-nausea lollipop in mouth, stomach floating around in my torso, I tried to remember that adventures don't have to be positive, they mainly need to be strong experiences. I was a fool to think that the nausea would be better in water. It isn't. In fact, it's even worse in the cage. I saw the shark several times, however, due to my pitiful, frozen-to-death state and stomach discomfort I couldn't do better than ignore it and focus on my suffering."
If you go and make it out alive, please do share in the comments. Especially if you got your ego bruised by a lollipop.
8. Signal Hill ("Lion's Rump") and Lion's Head: A dynamic duo day trip!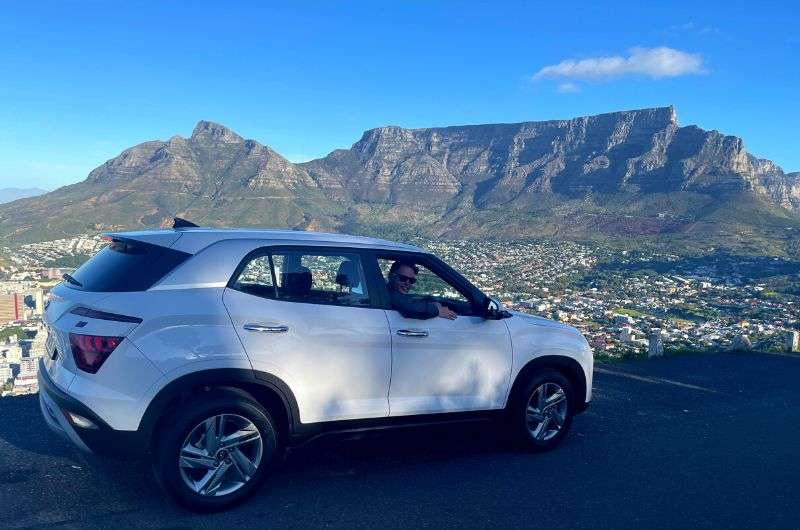 Ready for some day trippin'!

Distance from central Cape Town: 6 km/4 mi
Driving time: 10 minutes
Picture this: you're in Cape Town, eager for epic views, but not exactly in the mood for an expedition up Everest. Well, welcome to Signal Hill, your gateway to breathtaking vistas without the sweat-soaked t-shirt. It's the ideal start to a Cape Town day trip.
Signal Hill isn't your typical lung-busting hike. Heck, you don't even need hiking boots. You can practically drive to the viewpoint! These easy but amazing views attract crowds, so the upper parking lot can resemble a sardine can. So, do yourself a favor, park at the beginning of Table Road, and savor a leisurely stroll to the top.
The walking route is as long as Lion's Head's, but it's about as strenuous as a Sunday picnic: you're only climbing about 70 m/230 ft in elevation. Think of it as a warm-up for the main event. At the summit, you'll even find some creature comforts, a trusty coffee truck, and a giant yellow frame begging for your Instagram stardom.
By the way, they call Signal Hill "Lion's Rump" for a reason: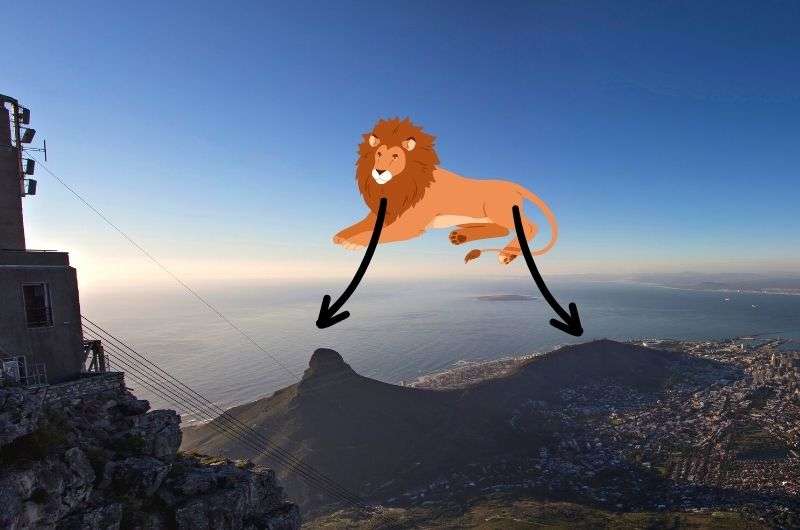 A lion guarding the city of Cape Town (you need a big dose of imagination)

Now, let's shift gears to Lion's Head. Located just across from Table Mountain, it's the go-to spot for those postcard-perfect panoramas of the Mother City.
Starting from the Signal Road parking lot, there are two ways up. The popular route takes you directly to the summit. It's a gravel path that meanders around the mountain, treating you to views that'll make your jaw drop (the views are better en route than they are at the top!). Table Mountain, Camps Bay, the Twelve Apostles—they're all part of the show. As you approach the top, the trail gets a bit rocky. If you are dead set on getting to the tippy top, you'll encounter some ladders and chains. It's a mere 2.5 km (1.5 mi) hike with a 387 m (1,270 ft) elevation gain, so expect about an hour of uphill action.
Now, here's the genius part. You can blend Signal Hill's leisurely charm with Lion's Head's adventurous spirit for the ultimate Cape Town day trip. Start by soaking in the cityscape from Signal Hill, then rev up your hiking boots and tackle Lion's Head. Two remarkable destinations, one epic day trip! Cape Town's calling, and these two are a dynamic duo you don't want to miss.
9. Robben Island: A day trip through South Africa's struggles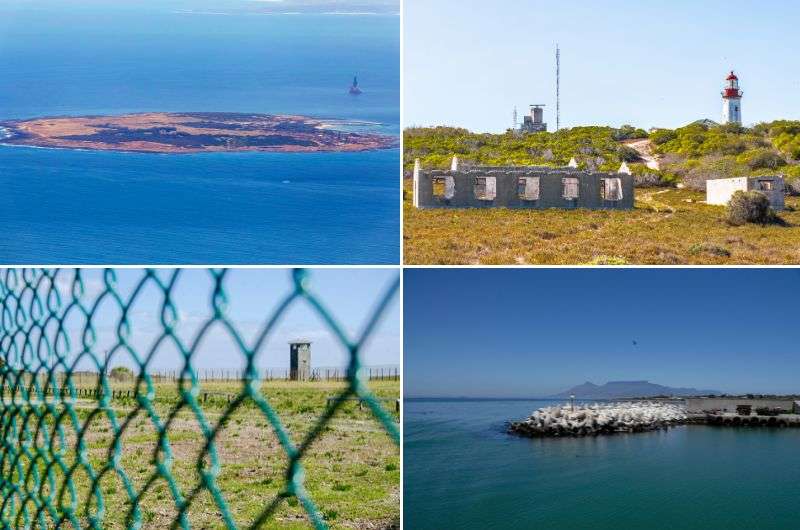 The former prison Island...

Getting there: 40-minutes one way on the ferry from Victoria & Alfred Waterfront
In the heart of the shimmering waters just 9 km (5.5 miles) from the Cape Town shoreline, a world of poignant history unfolds on Robben Island. This former prison, now a UNESCO World Heritage site, stands as a testament to South Africa's struggle for freedom and equality. It was on this very island that Nelson Mandela, along with many others, endured captivity for their beliefs.
A short, 40-minute ferry ride from the Victoria & Alfred Waterfront carries you across the waters to Robben Island. The significance strikes the moment you disembark, as you'll find yourself in the company of guides who were once prisoners here, adding their personal narratives to your tour and making the experience all the more powerful. So, welcome, you've arrived at the living archive of the Apartheid era.
The main attraction, of course, is the former prison itself, where you'll gain deep insights into the conditions that political prisoners endured. But the journey doesn't stop there. A guided tour around the island unveils additional facets of its history. You'll visit the quarry, where prisoners were forced to labor under the harshest conditions, and pay your respects at the prisoner's graveyard, a reminder of the sacrifices made in the name of freedom.
The price of the ferry is conveniently included in your Robben Island ticket. Remember to book your tickets in advance, because this is a very popular destination, and you don't want to be left at shore. Expect the entire experience to take about four hours, including the ferry trips.
10. West Coast National Park: A bloomin' good day trip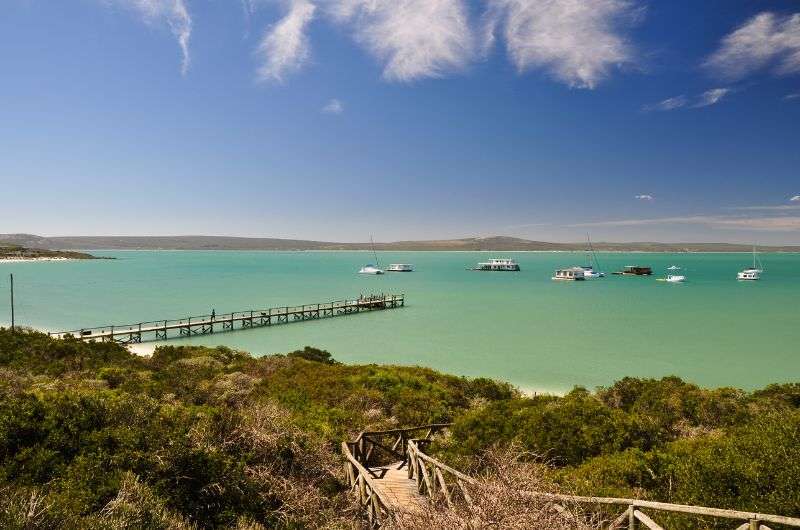 West Coast National Park

Distance from central Cape Town: 90 km/55 mi
Driving time: 1 hour
Located an hour's drive north of Cape Town, the West Coast National Park is a coastal sanctuary that—if you time it right—puts on a beautiful flower show. I mean it's not a show, the flowers just naturally start blooming... you get my point. Lots of flowers, ok?
This day trip has a very specific time restriction: when August and September roll around, BAM! The Postberg Nature Reserve inside the park explodes with more colors than a unicorn's dream. It's so beautiful you'll think you've stumbled into a fairy tale.
Speaking of tales, let's talk about Eve's footprints at Langebaan Lagoon. It's a replica, just so you know. But if you stop by the Geelbok Visitor Center, you can see the 3 footprints that are believed to have been left by a woman in a rainstorm about 117,000 years ago. Since this was about the time that the modern Homo Sapiens emerged, some people like to believe that the poor drenched lady could've been Mitochondrial Eve. Whoever she was, the real deal is stashed away in the South African Museum in Cape Town.
Langebaan Lagoon, where Eve's Footprint hangs out, is also a hotspot for bird nerds. Flamingos and pelicans are regulars here, and they don't mind the paparazzi. As you mosey around the park some more, keep your peepers open for the locals: eland, kudu, ostriches, gemsbok, and even the rare mountain zebra.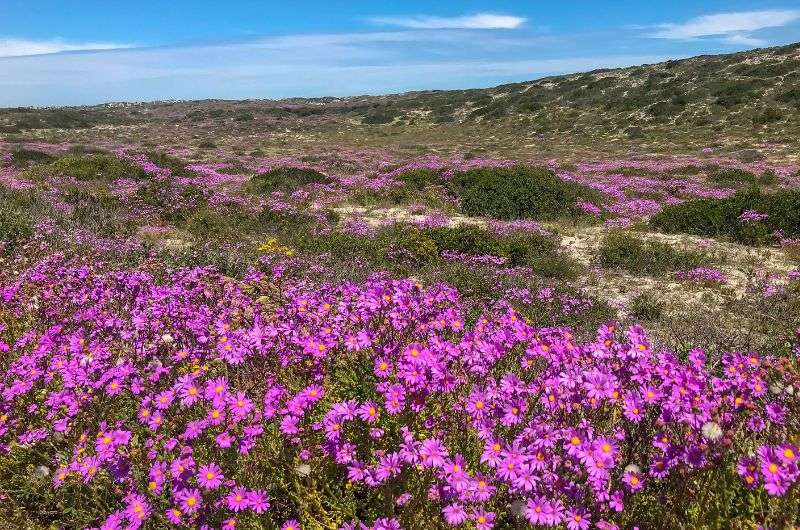 Between August and September, West Coast National Park turns into a fairytale full of flowers!

Take a map at the entrance gate so you know where the walking paths are—there are places where you aren't allowed off the road to protect the flowers. There are also several viewpoints and braai spots, so take a snack and enjoy your time in nature.
But remember, if you're after the ultimate floral extravaganza, plan your visit between August and September (the nature reserve where the flowers grow is closed otherwise). Without the flowers, I'm not sure this day trip is spectacular enough for you to grace it with your presence. You'll still get the lagoon and coastal scenery though.
11. Boulders Beach: A quirky day trip with penguins
Look at those cute penguins!

Distance from central Cape Town: 160 km/100 mi
Driving time: 2 hours
Next up, a day trip from Cape Town where you get to hang out with adorable penguins on a picturesque beach. Sounds like a perfect day, right? Well, that's exactly what you can expect at Boulders Beach in False Bay.
Let's get one thing straight—this place is buzzing with activity, so tranquility is in short supply, despite how visually stunning the beach is. Think white sand and clear waters. Humans flock here to catch a glimpse of the charming African Penguins, so expect crowds.
But the penguins are the true rulers of this land, and you, my friend, are a mere guest in their empire. The wooden boardwalk is your designated path, and stepping onto the sandy kingdom of the penguins is a big no-no. Don't be fooled by some bloggers who make it seem like you can waltz among them—that's just not happening.
If gazing at the cute and playful tuxedo-clad creatures from a wooden walkway isn't your thing, don't fret. There is a way to get closer to the action. Head a bit further down the beach, and if you're up for a bit of boulder-hopping, you'll discover smaller beaches like Foxy Beach and Middle Beach. Here, you can rub flippers with these little guys up close and personal. If you're feeling adventurous (and lucky enough to find some penguins hanging out), you can even go for a swim with them.
They're quite used to the human attention

Tip: Just a stone's throw away from Boulders Beach lies Simon's Town, a coastal gem that's worth a visit during your Cape Town day trip out to Boulders Beach. This quaint town has some serious old-world charm with its historic buildings and scenic harbor views. It might be the perfect place to dine at one of the charming seaside cafes? It's a delightful stopover that adds even more character to your penguin-filled adventure.
13. Whale watching: A splashing good day trip
Whales breach incredibly close to the shores

Distance from central Cape Town: 120 km/75 mi
Driving time: 1.5 hours
South Africa's coastline isn't just about sun-soaked beaches and dramatic cliffs; it's also the stage for some of the ocean's most mesmerizing performances. If you've ever dreamed of witnessing the majesty of whales up close, this is your chance. The best time for whale watching in South Africa is from late June to November when migratory whales make their grand entrance.
Now, when you hear "whale watching," you might picture yourself on a boat, but that's not the only way: in South Africa, you can spot these gentle giants from dry land, too. Simply stroll to a viewpoint, and behold, there they are, dancing in the deep.
For southern right whales, Hermanus proudly claims its title as the whale watching capital of South Africa. You can hop on a guided tour or take a leisurely walk along the Hermanus cliff path, where you can stare out into the boundless ocean, anticipating the breach of a whale (they breach very close to shore, so don't miss it by expecting a speck out in the distance). To top it off, every September/October, Hermanus hosts its annual whale festival.
But while Hermanus grabs the limelight, there's an even more spectacular spot to witness some whale action: De Kelders/Gansbaai. It's just across the bay from Hermanus, and rumor has it that it's where all the action is (locals know things). De Kelders gazes over a Marine Protected Whale Sanctuary, so you might want to take their word for it.
Great creatures...

If you can't stand still for longer than 5 minutes, head to the De Hoop Nature Reserve, where a remarkable whale trail unfolds. This path winds through coastal fynbos and dunes, leading you to prime whale watching spots. Nearby St. Sebastian Bay is renowned for hosting the highest concentrations of southern right whale mother and calf pairs, and you can have a front-row seat!
Tip: But hey, don't think for a moment that these are the only whale-watching spots in South Africa. You can find them in other coastal areas as well. Port Elizabeth welcomes humpback whales, southern right whales, Bryde's whales, and minke whales. And up in St. Lucia, you won't be left disappointed either. Even in Cape Town's very own False Bay, you can also catch sight of southern right whales, so choose the trip organizer that suits your style (and respects the whales!). For more South African adventures, check out my article on the perfect South Africa itinerary.
14. Cape Flats: A skip-worthy day trip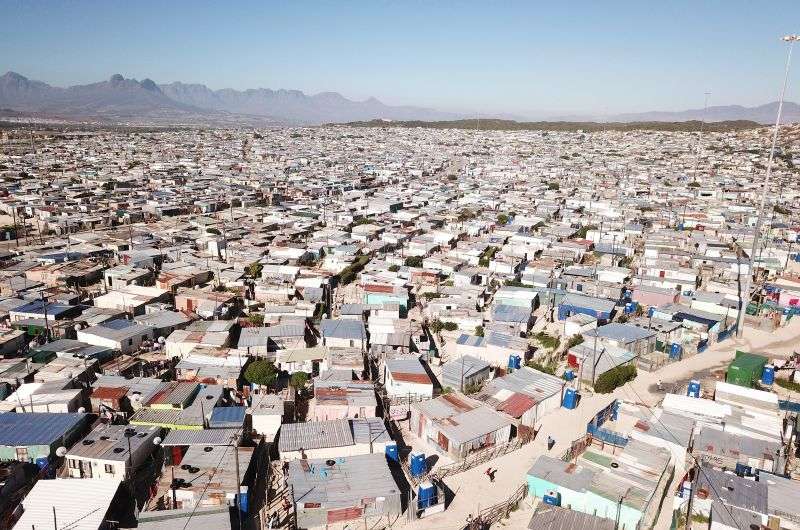 There are better places to visit in South Africa...

And because I care about your travel experiences and am not a "everything is awesome!" type of blogger, let me tell you about a place that I strongly recommend skipping: Cape Flats. These expansive flatlands stretch out to the southeast of Cape Town, and are a poor part of town. You might wonder why some travelers consider visiting Cape Flats, but here's why I think it's better to give this one a pass.
Cape Flats carries heavy historical and socio-economic baggage, and while it can be intriguing from a curiosity perspective, many areas within Cape Flats still grapple with profound challenges, and as a visitor, it may not be the most respectful way to engage with the local community.
The only option I'd say is ok to visit Cape Flats (if you simply cannot help yourself) is with a local guide so that you're getting an honest perspective and not turning the residents into a weird zoo. They can show you the markets, eateries, and tell you stories of how the Apartheid affected their lives without crossing the boundaries of the people that call the Cape Flats home.
While Cape Flats might hold historical significance and sociological interest, I strongly advise you to use your valuable travel time to explore destinations that not only enrich your experience but also respect the local communities.
In my view, it's wiser to center your day trips on the many other captivating destinations scattered around Cape Town. There are at least 13 other day trips from Cape Town that'll knock your traveler socks off. So get out there, there's so much to do and so little time!

This post contains affiliate links. I earn a small commission if you make bookings through my links, at no additional cost to you. This helps keep this blog free, thank you!