For most international travelers, South Africa doesn't stand out as a beach destination, and rightly so. South Africa is the place you head for an adventurous vacation, full of incredibly scenic drives, hikes, and some of the best wildlife safaris… and just happen to have some of the most amazing beaches I've seen in my life as a bonus. Beaches with wildlife, city beaches, beaches with zero other humans, and beaches with waves crashing everywhere around you—South Africa's got it all.
Let me remind you that I'm not your typical beach goer, I can't stay still for more than 20 minutes without getting bored, and you sure as heck won't find me having a "beach day". I do, however, appreciate gorgeous coastal scenery and think that beaches can be pretty darn magical places. This is especially true with South Africa's beaches—they are stunning, and often wild and untamed… kind of like me. So don't be alarmed when I recommend beaches that are cold or are shark- and crocodile-infested.
For example, Garden Route beaches are an inseparable part of some of the epic coastal hikes that make the area so special. I can even imagine getting myself a summer house on the Otter Trail (just maybe with less pesky baboons). Cape Town has it all—city beaches, national park beaches, beaches with penguins…! And don't even get me started on the KwaZulu Natal province. Just how did they get so lucky with their nature?!
Today, I'll spill the beans my personal favorite beaches in South Africa, conveniently split up by province. I'll let you in on why they're so special, and answer some FAQs about the beaches in South Africa in the end of this article.
The most beautiful beaches in Cape Town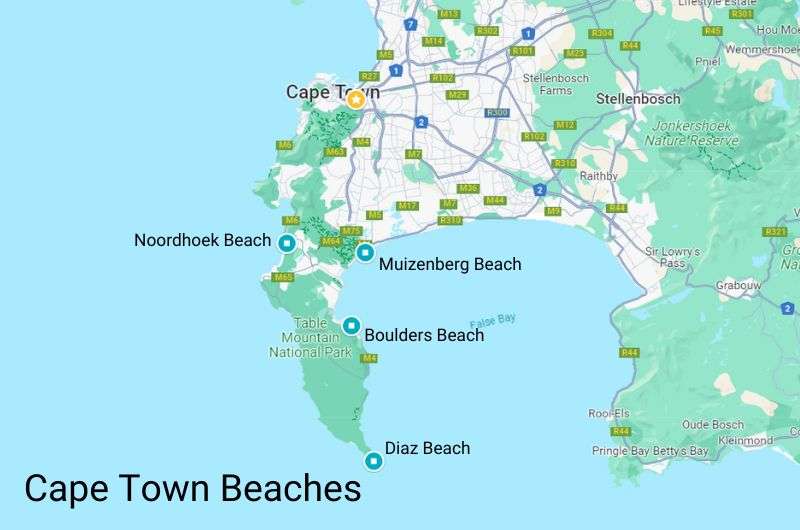 Map of the best beaches in Cape Town: Diaz Beach, Boulders Beach, Muizenberg Beach, and Noordhoek Beach

It's undeniable that Cape Town, with Table Mountain as the frontrunner, has so many scenic places to visit that you'd need a week to cover them all, not to mention all the other cool places to visit—fabulous cafes, one of the best botanical gardens ever, viewpoints, museums… you name it, Cape Town's got it. It's no surprise then that it also has an abundance of unmissable beaches.
Tip: Ready to book your luxury or boutique hotel in Cape Town? I've got an article just for you: 12 Best Hotels in Cape Town
If you're looking for the warm beaches in Cape Town, good luck with that… the waters here are never "warm". You'll have the best luck in False Bay—Muizenberg is a swimming beach… if you can call a place with great white shark warning signs a swimming beach. Mostly the water is still very cold, but in January it peaks at 21°C (70°F). But for warmer water, you'll need to head up to Durban or Santa Lucia (see below).
1. Cape of Good Hope—Diaz Beach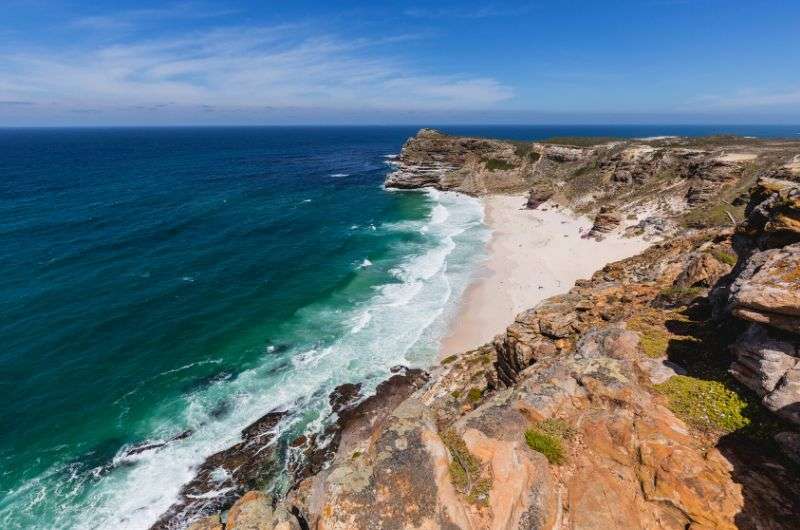 Diaz Beach—a great beach and a hike, what more could you wish for?

One of my favorite places in Cape Town and my favorite one-day hikes in South Africa is the Cape of Good Hope. Let me tell you, this place is where nature turned up the dial to max awesomeness, and there's a beach to top it all off! A lot of people skip Diaz Beach, because it requires some extra physical activity (walking down and then back up the hill). But how someone let's their laziness get in the way of visiting this stunning beach is beyond me.
Diaz Beach is a serene slice of white sand surrounded by cliffs on an otherwise very busy hiking route, so actually, it's great that people skip—more charm for the rest of us! It's definitely one of the nicest beaches near Cape Town, and I'd go as far as saying it's one of the best in the entire Western Cape. It is a wild beach with strong currents, so you'll need to enjoy it from dry land only.
To get to Diaz Beach, just follow the signs on the Cape of Good Hope hike. There's a path and plenty of stairs that'll usher you right down onto the sand. For information on the whole hike, see my Best South African Hikes article.
2. Boulders Beach
Look at all the penguins! Boulders Beach

Boulders Beach in False Bay is a busy place… humans flock here to see the large colony of African Penguins. Of course, the white sand and shallow, clear (cold) waters don't hurt the eyes either. The penguins do hurt the nose, however, as they do come with a scent.
Know that the penguins are kings of this beach, and you, the peasant, are only allowed on the wooden boardwalk and not on the sand in the main area (other bloggers tend to make it seem like you are free to wander among them and that's just not true). You also pay a fee of around ZAR 180 to go onto the boardwalk, usually with another gazillion people at the same time, so don't expect tranquility.
I have to say the penguins are very cute and at times it's almost like they're posing for photos! But they don't let the fame go to their heads, they're still playful—you'll see them in the water, on the sand, on the rocks and even under the trees, trying to find some shade.
If you're not happy looking at Boulders Beach and its penguins from a wooden walkway, don't. You can enter the beach a little further away at the end, and if you climb over some boulders, you'll find other small beaches (Foxy Beach, Middle Beach) where you have a chance to meet some little tuxedo dudes closer up. You can even swim with the penguins if you wish (and are lucky to find penguins there). Overall, the experience at Boulders Beach is a fun one, and I highly recommend it.
3. Muizenberg Beach
The Muizenberg Beach—the slightly smelly colorful huts on the beach (and white sharks in the water)

Are you looking for the best Cape Town city beach that is also life-threatening and over-Instragrammed? I thought you might! Muizenberg Beach isn't just those annoyingly over-photographed colorful huts (they are filthy inside, by the way), it's also where you can have a swim with a great white shark! Not that you'd want to, but there is a possibility to bump into them there. Exciting, right?
Tip: Read about how I swam with great whites in South Africa… in a cage, not accidentally at Muizenberg! I don't think I'd be writing about that encounter.
On a serious note, I really liked Muizenberg—it's just lively enough but not pretentious, impressive in all weather, and the sand is very soft. Being a city beach, it's lined with plenty of cafes and some restaurants, people taking walks or jogging, dozens of surfers in and out of the water, the whole shebang. A very family-friendly beach (if you forget about the sharks) where people actually swim in the summers—or more like wade in and then out again, 21°C (70°F) isn't exactly toasty.
Muizenberg also has beautiful views of the mountains in the background, with people trying to spot sharks from the hill closest to the main part of the beach at Sharkspotter's Lookout Point. But the further you walk, the more natural it gets, so you really can get the best of both worlds at Muizenberg Beach. It ain't Cape Town's most famous beach for nothin'!
4. Nordhoek Beach
Nordhoek Beach is amazing

Nordhoek Beach is best appreciated from Chapman's Peak on the north end. That's when you see the long, wide, perfectly stretch of white sand and unbelievably clear/turquoise waters of the Atlantic from above. It's almost unbelievable that this little slice of natural perfection is so close Cape Town, a metropolitan area of 5 million people. At Nordhoek, backed only by distant residences, you'll believe you've escaped the city by a long run.
Large boulders and pretty mountains on each end of Nordhoek give a great backdrop, and props also go to the Atlantic Ocean that somehow manages to give off just the right amount of mist to add to atmosphere. I didn't meet a lot of people there, but if you do, you'll almost certainly see them riding horses or at least walking dogs.
I should've mentioned that this isn't a swimming beach. This is a walking beach, the type where you can contemplate life (or your next stop on your South Africa itinerary). There are also two huge pools of water in the back of the beach that attract flamingos. I wasn't very sure about the cleanliness of that water, you should've seen me almost Jesus my way across trying to prevent the mysteriously brown water from touching my skin.
Best Western Cape beaches (Garden Route, Knysna beaches)
Map of the best beaches in Western Cape: Garden Route beaches are your best bet

Moving on along the coast to the east of Cape Town and you'll quickly stumble upon another of South Africa's incredible places: the Garden Route. It sounds very green, but there would be no Garden Route without the coastal scenery. Almost every beautiful spot and epic hike is made worthwhile by the beaches, boulders, and cliffs with views out to the Indian Ocean. I had low expectations from this stretch of the country, but boy did I eat my words!
Tip: If you feel like driving the whole way, I suggest taking 10 days for the trip between Cape Town and Port Elizabeth. If you don't care to drive all that distance, fly over to Port Elizabeth first and shorten your Garden Route itinerary to 5 days without missing any of the highlights.
But the east Cape isn't just the Garden Route. First, you'll pass the southernmost point of Africa, Cape Agulhas:
5. Cape Agulhas
Cape Agulhas—the place where the Atlantic and Indian Oceans collide

You may have heard that if you are looking for warm beaches in South Africa, you'll need to head to those on the Indian Ocean. Well, Cape Agulhas is where you'll seriously start dipping your toes in the water without them turning blue! That's because it's not only the southernmost point of the African continent, it's also where the Atlantic and Indian Oceans collide. Does the water become instantly noticeably warmer? No. But there's no stopping you from trying, is there?
There is an almost endless line of soft, powdery beaches past Cape Agulhas, starting with Struisbaai Beach. They are wide, there are unspoiled sand dunes and kilometers of beach that you'll probably have all to yourself (minus the occasional group of horse riders), perfect for long walks and tiring the kids out or having a romantic frolic in the sand with your significant other.
6. Noetzie Beach in Knysna
Noetzie Beach in Knysna is a dream

Knysna is one of the Garden Route's popular bases (though we will forever remember our 3 amazing days at Kambaku at Sea, just 20 minutes away in Sedgefield). The beaches in Knysna, along with the good restaurants and the killer views at Knysna Heads are certainly a large part of it. I can't write this list of the most beautiful beaches in South Africa without mentioning Noetziestrand aka Noetzie Beach.
For the people that live in the large private estate and the "castles" (hotels/residences) on or near the sand, it's almost like they have a private beach. Except it's not private, it's just a cove hidden down under the green hills, and you can go and pretend you live in a castle too when you visit Noetzie Beach. When you're driving there through the township, you may have second thoughts, but stick to your intentions, because once you arrive at the beach—after going down a bunch of stairs—you'll feel like you've found a gem.
The golden sand and the water of the Noetzie River emptying into the ocean from the pristine forest just behind you makes this a lovely little beach to admire for a while. People swim here, too, and there seems to be a lifeguard on duty in the summers.
7. Island Beach on Robberg Peninsula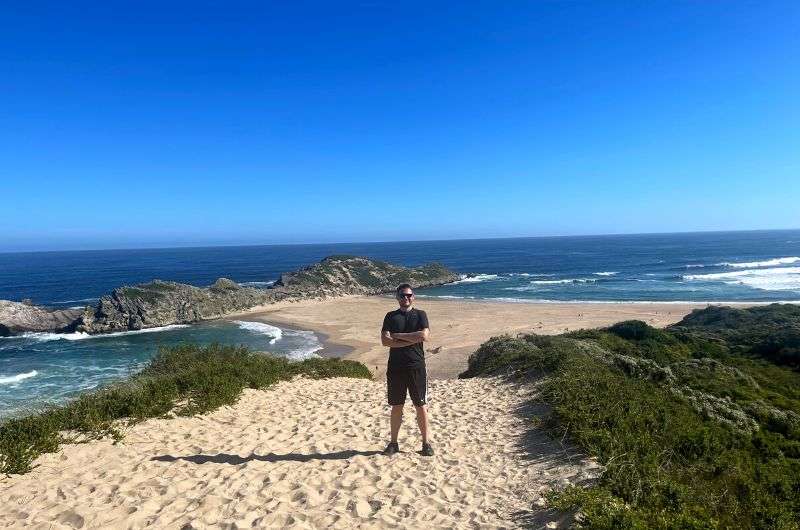 Great hike to a great beach!

This next beach is my favorite because of the brutal waves crashing into the rocks, and the overall scenery, not to mention the fact that it's connected to my 3rd-favorite hike on the Garden Route, the Robberg Nature Reserve Hiking Trail.
You don't even have to do the full 8.7 km (5.4 mi) loop on the Robberg Peninsula to see the very enjoyable and scenic Island Beach. There's an easy way to cut through the middle of the peninsula halfway and be done in half the time.
After you get enough of the incredible views from the top of the hill above Island Beach (look out for whales!), you'll get to scuffle down a sand dune and even dip your toes in the water. This beach is unique in that it's surrounded by water on both sides, so I'd certainly make the effort to see it if you're really after the most beautiful beaches in South Africa. The water is usually very rough, so even though people do occasionally swim there, I'd think twice about it. Sometimes it's just better to look and not touch, you know?
Read more about the Robberg Nature Reserve Hiking Trail.
8. Salt River Mouth: 2 beaches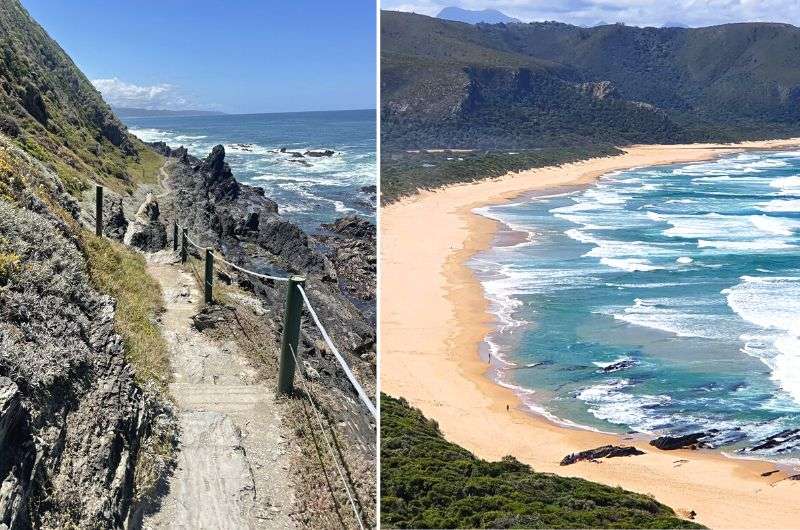 Salt River Mouth hike and view towards Nature's Valley Beach

There's no shortage of Garden Route beaches, so this will be another beach+hike combo. You can actually visit two beaches at Salt River Mouth: one on the ocean, and one river beach. Nature's Valley Beach looks gorgeous from one of the the lookout points on the hike, and then, halfway through the hike, you'll reach the spot where Salt River reaches the ocean, creating a hidden beach area of its own. People like to take a swim there, since the waters are always calm.
It's important to time your hike according to tide times, because part of it is clambering on the rocks right on the water, and you don't want that water to be too high up. Ultimately though, this is the perfect spot for a short, 1-hour long hike that includes a little adventure and fun, with a couple of beautiful beaches thrown into the mix. If you don't like being bored, like yours truly, this place will keep you on your toes and you won't even have to break too much of a sweat. That's what I call balance!
Best Eastern Cape beaches
Map of the best beaches in Eastern Cape. See my Garden Route itinerary, it includes Port Elizabeth aka Gq*&#%#ha (nobody can pronounce the new name, sorry)

Just beyond Nature's Valley, just past Bloukrans Bridge (the famous bungee jumping spot), is where the Western Cape gives way to the Eastern Cape, but the Garden Route keeps going. You could say that this is a "last but not least" situation, since the Tsitsikamma National Park is where I think the Garden Route culminates into an explosion of dramatic coastal scenery, epic hikes, and nature that'll have you oohing and ahing—I can almost guarantee it. It was my favorite place in the Garden Route.
Western Cape then continues on to cover Port Elizabeth, and then a looong stretch of coastline that I didn't take the time to explore (there are so many other places to see in South Africa!), so I'll just focus on what I know and won't go past Port Elizabeth. That is, until we get to KwaZulu-Natal province, which is where you'll finally get those warm beaches you've been wondering about (see next section).
9. Storms River Mouth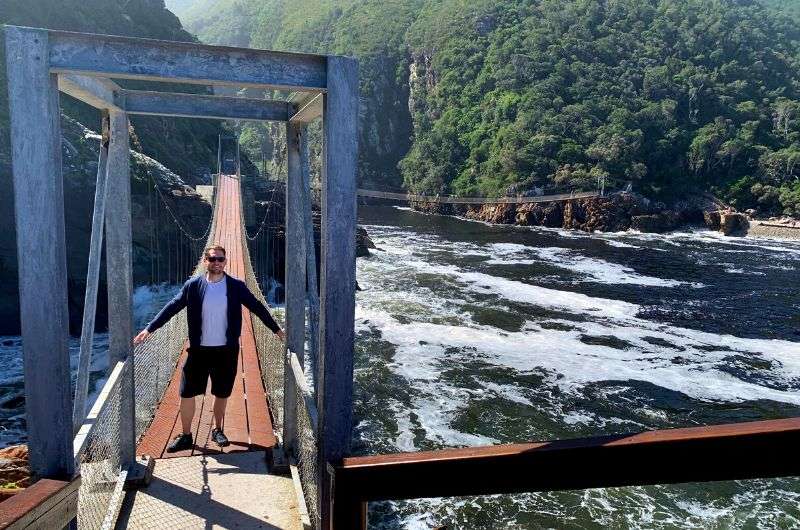 My favorite—Storms River Mouth trail with suspension bridges. You can see the tiny pebble beach on the right side of the photo

Storms River Mouth is a stop on everyone's Garden Route itinerary, and even though it's crowded and developed, I'll be the first one to say that it's worth the hype. You can't not go there. It's so good I'll even include it on this list of best beaches in South Africa without there being a real beach to speak of. That little slice of sand right at the start of the trail to the suspension bridges is really all there is—and you'll be ok with that when you see the epic scenery and feel the mist of the waves that tirelessly crash into the rocks lining the entire shore.
The Storms River Mouth beach is so small and meaningless it doesn't even have a name in Google Maps. But it's there, and it's sandy! AND you can swim there, though most people don't, because they have better things to do—walk through the dense forest (full of wildlife!), across the suspension bridges that are directly over the wild water of the river mouth, and then onto the viewpoints at the end.
If it's the summertime and you do want to get wet, you're in luck! The authorities moor a raft about 50m out from the beach so you can swim to it, and if the water is calm enough, you'll also be able to snorkel.
While you're here trying to read about beaches, I'll also mention that on the other end of the long suspension bridge is a tiny beach, this time with no sand, just pebbles and rocks, that you could use for a little rest on the water, too. It's really small though.
10. Sardinia Bay Beach
Sardinia Bay Beach

Sardinia Bay Beach is a very pretty beach where swimming is made possible by it being in a bay, so the waves don't usually get very strong. There are tide pools and areas hidden behind rocks that can help if the ocean isn't being its usual calm self. There are no amenities at this beach aside from the parking lot and an occasional ice cream stand of coffee vendor. That is enough for it to be a beach popular with families, but it's never too crowded.
You can park right at the edge of the sand, but expect to walk up and over a sand dune, which—for me at least—adds to the fun and is bonus points for Sardinia Bay Beach. The beach continues on for what seems like forever and is part of a nature reserve, so you can bet your flip flops you'll see for miles on end it just nature, nature, and more nature. Plus, if you're here in the evening, you'll have a chance to see a spectacular sunset.
To add some extra physical activity to your visit to Sardinia Bay, consider taking the Sacramento Trail along the coast for 4 km (2.5 miles), providing impeccable, non-stop ocean views.
Tip: Since you're already close to Port Elizabeth, this seems like a good place to mention that the bay on the other side of the city is home to the Addo Elephant National Park Marine Protected Area where you can see (and visit, sometimes in cages, sometimes on boats) great white sharks, right whales, humpback whales, orcas, and bottlenose dolphins. I've included it in my 10-day Garden Route itinerary, so check that out if it's something that tickles your fancy.
Best beaches in KwaZulu Natal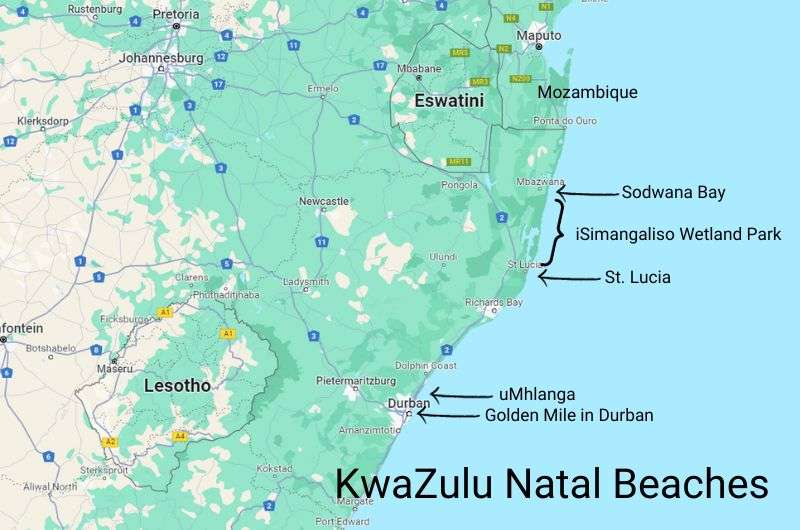 Map of the best beaches in KwaZulu Natal province. If you want wild and unspoiled, this is the place to go

KwaZulu Natal really won the natural wonder lottery, with a wide range of landscapes—coasts with incredible beaches (with warm, swimmable water!), deep forests, and gorgeous mountains, and a rich cultural heritage to boot. I could write all day about the hikes in Drakensberg, but that's not what you're here for. Instead, here are just a few of the best beaches in KwaZulu Natal. In this province, though, it's easy to stumble upon so many more, you don't even need to try hard and you'll find yourself your own little slice of beachy heaven.
Summer water temperatures can reach up to 27°C (80°F), which is way nicer than what you get in Cape Town! Actually, even in the winter the waters around Durban are warmer than Cape Town waters in the summer. If you're looking for a warm beach in South Africa, you know where to focus your attention to.
11. The Golden Mile in Durban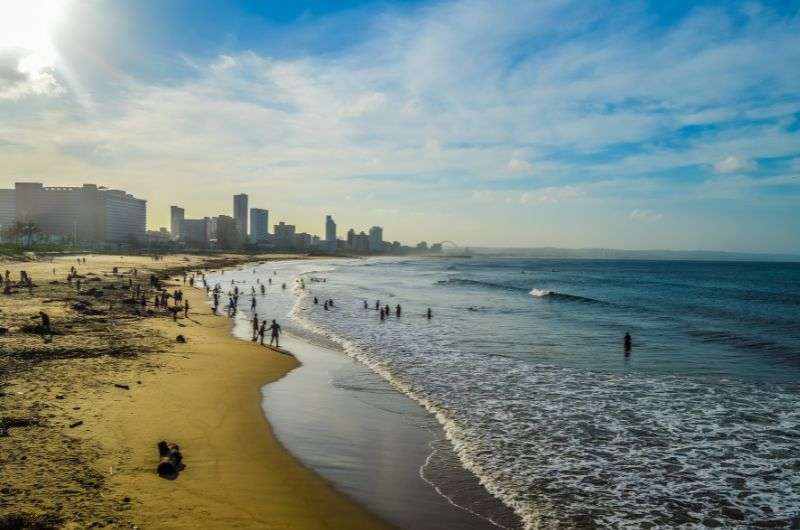 The golden sand on Durban's Golden Mile

You can't talk about beaches in Durban without mentioning the Golden Mile—a 5 km (3 mi) stretch of golden sand in the central part of Durban that's THE place to be. It's certainly a city beach: lined by hotels and restaurants, playgrounds, palm trees, a promenade, and tons of people. Is it my cup of tea? Not really, at least not for hours on end. But is it a good city beach with something happening at all times? Yes.
The sand on the Golden Mile is wide and flat, so even though it's a busy place, you'll never have trouble finding a spot to bask in the sun for a while if you want to. Another plus is that there are shark nets along the entire beach, so you don't need to worry about being eaten and can swim at your leisure. The waters are certainly warmer than they are down in Cape Town!
12. Umhlanga Beach
The Umhlanga lighthouse

If you like to have restaurants and promenades but dread crowds, head up further north from Durban to Umhlanga, a more upscale resort area that'll give you just the right amount of amenities without tripping over noisy families and rowdy groups on the beach.
There always seems to be a good vibe at Umhlanga Beach, and maybe the fact that alcohol is forbidden (they check!) helps keep things mellow. The sand is slightly less flat, but still perfectly fine for a walk or to spread out a blanket.
You can head out to the Umhlanga lighthouse if you need a destination for your beach walk. And the further up north you go, the less built-up the area becomes, eventually turning into a nature reserve where the beach is lined by nothing but forest.
13. Santa Lucia and iSimangaliso Wetland Park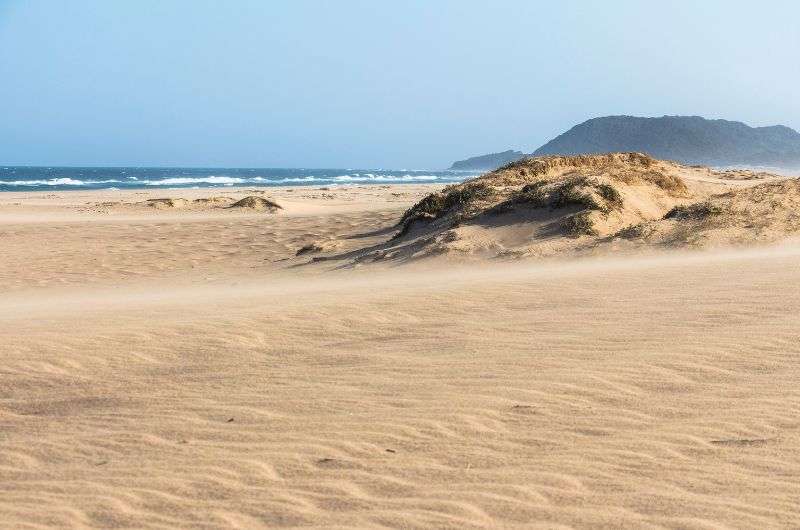 The pristine beaches of Santa Lucia

Santa Lucia is a small town in the iSimangaliso Wetland Park (UNESCO) up in the northern half of Kwazulu Natal province. In Zulu, the name of the park translates to "place of great wonders and miracles", and I can't argue with that in the slightest. If you're looking for a little bit of South African paradise, go to Santa Lucia and its beaches.
Think golden sand, clear waters, and wide, long beaches with no humans in sight—to the north, Santa Lucia's beaches literally go on for dozens and dozens of miles. This is the place to go see what it feels like to be on a deserted island—definitely pack your snacks and water if you're venturing out, because there is no food stand or Wilson to help you survive out there.
Close to the town, you can take a at-your-own-risk type of walk—if the signs at the Estuary boardwalk are to be believed, Santa Lucia is also where you can come into close contact with wildlife—hippos, leopards, and crocodiles like the wetlands here as much as the humans do, so stay aware. That hippo opening its mouth at you isn't smiling! I saw people happily taking their dogs and kids on the boardwalk, and there are picnic tables spread throughout the area, so either the danger isn't that imminent, or people are just ready to use their offspring and pets as live shields.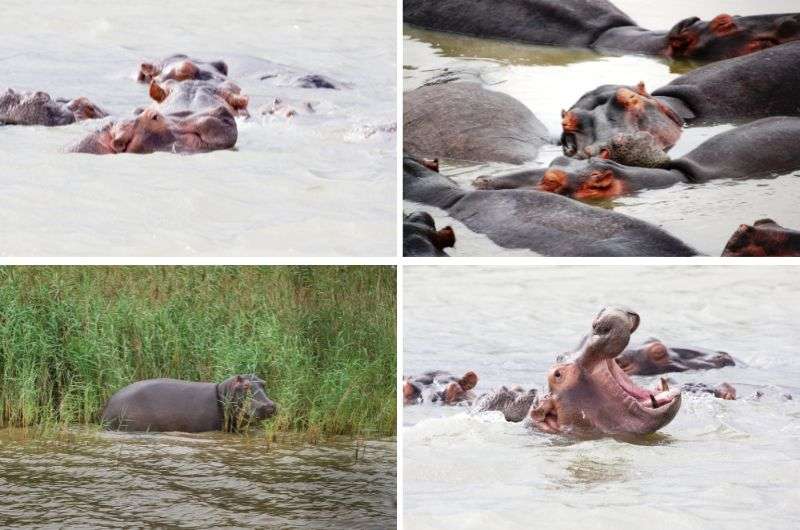 Gorgeous but dangerous hippos in iSimangaliso Wetland Park

At the northern end of iSimangaliso Wetland Park, 150 km (95 mi) from Santa Lucia, is Sodwana Bay—a place of spectacular natural beauty, and one of the most beautiful beaches in South Africa, with 7 Mile Reef attracting divers from around the world. Think whale sharks, great white sharks, hammerhead sharks, manta rays, leatherback turtles, loggerhead sea turtles, and millions of colorful fish that make for an epic beach experience in and out of the water.
FAQ 1: Can you swim at the beaches in South Africa?
You can swim at some of the beaches in South Africa, others might be either too wild (waves, sharks), or too cold to go in the water. In general, the further east you go, the warmer the water is. In Cape Town, you're dealing with the Atlantic, which isn't exactly known for its warm water. Past Cape Agulhas, it's the toastier Indian Ocean, which is much more inviting for a swim. Then again, there are creatures such as great whites, so if you're worried about a close encounter, choose a beach with shark nets and lifeguards on duty (like those in Durban).
FAQ 2: Where to swim in South Africa?
If you're looking for swimming beaches in South Africa, head to KwaZulu Natal Province. The beaches here are known as South Africa's best warm beaches—think around Durban or St. Lucia. The further north you go, the wilder the beaches are, and they'll feel like epic slices of paradise where it's just you, the ocean, soft white sand, and some amazing sea creatures.
FAQ 3: Are South African beaches warm?
South Africa's beaches are a mixed bag, but there's a reason it isn't a typical beach destination. People swim even in Cape Town's False Bay, but with maximum temperatures around 21°C (70°F) in the summer, it's not exactly the Carribean! The Atlantic Ocean turns into the Indian Ocean at Cape Agulhas, and the further east you go, the water you'll be when swimming. Durban's waters reach a maximum temperature of 27°C (80°F) in the summer, and even in the winter you'll be warmer than in Cape Town in the summer.
FAQ 4: What is the best beach in South Africa?
For the adventurous traveler, the beaches on the Garden Route will make your day any day—they're incredibly scenic, often require an awesome hike or scramble to get to, and they're never very full. If you're more of a city beach person, you'll find the best beaches in Cape Town and in Durban. And if you want warm water, wildlife, soft sand, and no human in sight, head up to St. Lucia.
FAQ 5: What is the best time to visit South Africa?
The best time to visit South Africa depends on your itinerary, but in general, you'll want to avoid the winters unless you love your vacation to be rained on excessively. In Kruger National Park, on the other hand, the most popular dry season is in the winter. On my last visit, I went in April, and I thought it was a stroke of genius on my part—end of wet season in Kruger with tons of animals, and still warm and dry enough everywhere else.

This post contains affiliate links. I earn a small commission if you make bookings through my links, at no additional cost to you. This helps keep this blog free, thank you!