For the best, jaw-dropping results, I recommend driving the Mpumalanga Panorama Route over 2 days. That said, I did it in one very long day, so I'll share my tips on how to do that as well. All the attractions of the Panorama Route are in a line one after the other, so you want to make sure you aren't unnecessarily backtracking.

First thing's first: you'll need to rent a car. The best place to do that is in Johannesburg. Depending on your itinerary for the rest of South Africa, you may need to fly in, because the distances in this country are killer! If so, grab your car at the airport and head out for some serious scenery.

Panorama Route, we're coming for you!

My itinerary has you driving the Panorama Route from Hoedspruit, simply because I think that's the best way to do it. Not only will you start and end your little road trip at the Three Rondavels, which are undisputedly the best attraction of the Panorama Route, you'll also get the chance to sleep in one of the most beautiful hotels I've ever been to in my life. I'm not known for my lenient critiques of hotels either, so you can be sure that Little Kubu Lodge will serve up some dreamy nights.
My top tips for the Panorama Route
You pay an entrance fee at all of the stops on the Panorama Route, which is slightly annoying and I wish they'd just put a gate at the beginning of the route where you'd pay for the whole thing at once. Bring cash, because even though they usually are supposed to take cards, they sometimes don't want to or can't (like because of load shedding causing disruptions).
There are almost always two sets of prices: one for locals, one for tourists. Get used to it, it's the norm in South Africa.
All of the stops on the Panorama Route are tourist-friendly, meaning they are ready for you. There's a parking area, usually a gate where you pay the entrance fee, and almost always some sort of facilities like toilets and at least some snack stalls. Lots of times you also get a little market with (the same) souvenirs.
Plan to see the Three Rondavels during the day and then again for sunset. It's totally awesome, and you'll probably be there by yourself.
Don't miss out on the Graskop Gorge forest trail as its easily one of the best educational trail I've ever seen.
Sleep in Hoedspruit (Little Kubu Lodge for the win—seriously, this was the best hotel we stayed at in South Africa!) and drive the Panorama Route from north to south. This way you will always start and end at Three Rondavels, allowing for multiple visits. It's the best part of the trip, so you might as well see it properly. I promise it doesn't get old.
How to see the Panorama Route in one day
A map of the Panorama Route in one day itinerary (open it in Google Maps)

Here's a quick overview of your trip plan for the day:

Stop 1: Blyde River Canyon, Three Rondavels viewpoint
Stop 2: Bourkes Potholes
Stop 3: Lisbon Falls
Stop 4: Berlin Falls
Stop 5: Graskop Forest Trail and zipline
Stop 6: Mac Mac Falls
Stop 7: Pinnacle Rock
Stop 8: God's Window
Stop 9: Sunset at Three Rondavels

You're starting your Panorama Route drive in Hoedspruit, which means you'll be driving the scenic road from north to south and then back up again. A huge bonus of this is that you can not only start at the epic Three Rondavels viewpoint of Blyde River Canyon, but you can also catch the sunset in the canyon before back to your hotel.

Since just the drive one way down the Panorama Route is 3 hours long, you'll want to book 2 nights at a Hoedspruit hotel and be ready for a long day. I'm telling you guys, Little Kubu Lodge, it's exceptional. I am shedding a melancholic tear just thinking about that outdoor shower and the breakfast that put all other breakfasts in hotel history to shame. This is another reason why I'd split the Panorama Route into a 2-day trip if I were to do it again—more time at the hotel!

I've planned this 1-day itinerary so that you are stopping at every second attraction on the Panorama Route in one direction so that you can pick up the rest of them on your way back up. This way, you're not ending your day with just a long drive with nothing to do put stare out the car window.
Stop 1: Blyde River Canyon, Three Rondavels viewpoint

Two travellers and the Three Rondavels

Distance from Hoedspruit: 90 km/55 miles, 1 h 20 mins drive
Time spent here: 1 hour
Entrance fee: ZAR 75/USD 4
Opening hours: 7 am–5 pm

The Three Rondavels viewpoint is where you can get an easy glimpse into Blyde River Canyon, the 3rd largest canyon in the world. It's lush and green, 800 m (2,600 ft) deep, and just so different than other canyons (see Fish River Canyon in Namibia or Colca Canyon in Peru). It's like no other place I've been to before—I was blown away.

Once you park at the roundabout parking area, the viewpoint is just a couple of minutes walking distance. Actually, there are two official viewpoints, and then you can just wander anywhere in between (within reason—nobody's going to go looking for you when you fall off into the abyss taking a selfie). I just suggest you stay on the trails, because the cobras that live in these areas really don't like it when humans step on them.

It took us a full hour to get enough of this view from the various lookout points, with a lot of staring and oohing and aahing.
Stop 2: Bourke's Luck Potholes
Bourke's Potholes—formed by centuries of the water flow

Distance from Three Rondavels: 17 km/10 miles, 20 mins drive
Time spent here: 45 minutes
Entrance fee: ZAR 130/USD 7
Opening hours: 7 am–5 pm

The next stop on your Panorama Route itinerary has you staring down into another part of the Blyde River. You wouldn't know it from the name, but this place will leave you gasping for words, and maybe air if you're too awestruck. It's like Mother Nature decided to create a mind-boggling masterpiece just to show off, sassy lady that she is.

Bourke's Potholes is a series of cylindrical rock formations formed by centuries of the river water swirling away. The relentless force of the water, coupled with abrasive sand and rocks, carved these potholes into the bedrock.

Then man came along and put a bunch of wooden walkways and bridges to stare at the potholes from all angles. Thanks, man, for turning this into suck a fun activity! The full basic trail from the parking lot, with a loop around the river area, is a total of 2 km/1.2 miles long.
Stop 3: Lisbon Falls
Lisbon Falls won't take you long, but I strongly recommend not to skip this stop

Distance from Bourke's Luck Potholes: 30 km/19 miles, 25 mins drive
Time spent here: 15 minutes
Entrance fee: ZAR 15/USD 1
Opening hours: 8 am–6 pm, but there's no real gate, so you can get in whenever

This place has it all–picturesque falls with a dramatic backdrop, a great viewpoint, and a chance to hike down to take a dip. It's also one of the rare places that has the same entrance price for locals and foreigners.

The waterfalls themselves are beautiful, gracefully flowing amidst the dramatic scenery. They are easily accessible, just a few minutes' walk from the parking area, and you only need a few minutes to see them. We appreciated that, because if you're trying to see the Panorama Route in one day, you'll need to keep things moving pretty quickly.

If you want to push your luck, you can take the 20-minutes each way to hike down to the bottom of the falls (it's to the left of the viewing area). It's steep, but fun, and the view from the bottom is absolutely amazing. You can take a dip in the pool there, too.
Stop 4: Berlin Falls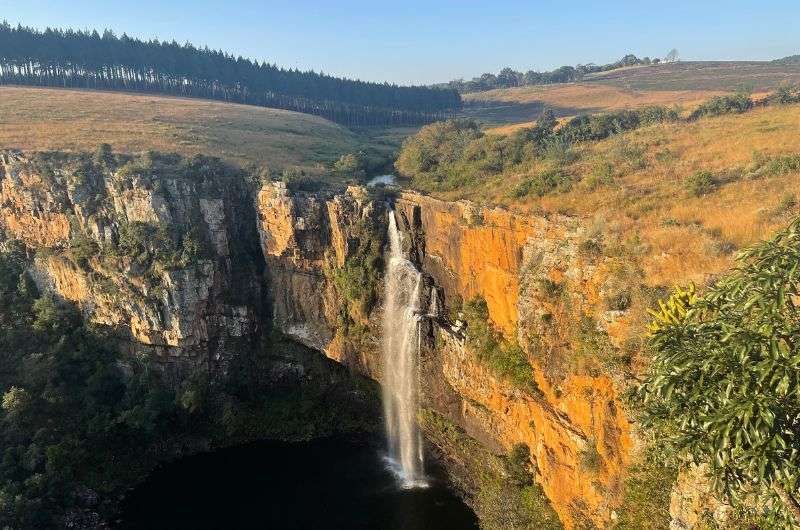 Berlin Falls were... just okay (maybe with more water they'd be better?)

Distance from Lisbon Falls: 3 km/1.8 miles, 8 mins drive
Time spent here: 10 minutes
Entrance fee: ZAR 15/USD 1
Opening hours: 8 am–5 pm

A quick drive through a nearby village from Lisbon Falls has you stopping at another waterfall: Berlin Falls. It's the tallest waterfall in the region, though if you're unlucky like us and you visit on a day where there's less water in the river, you won't be as impressed as you could be.

The road to the parking is a little rough, but the area was clean and safe. You can't really do anything but pop in for a quick view on from the platform, since it didn't look like there's a reasonable way to hike down to the bottom or anything.
Stop 5: Graskop Forest Trail and zipline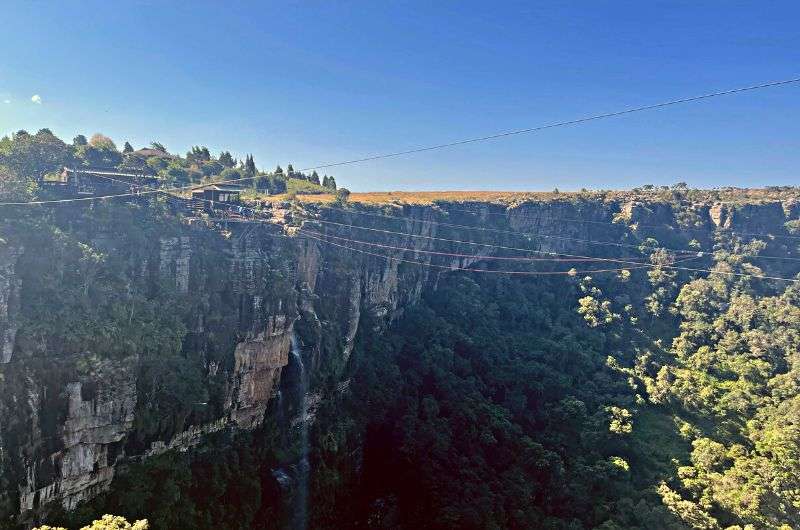 Graskop Canyon zipline

Distance from Berlin Falls: 13 km/8 miles, 15 min drive
Time spent here: 2–3 hours
Entrance fee: Elevator + forest trail is ZAR 240 (USD 13), zipline ZAR 250 (USD 14), big swing ZAR 650 (USD 36). No cash accepted (how's that for an unexpected twist).
Opening hours: 8:30 am–5 pm
Graskop Gorge official website

Ok, it's time to pick up the pace and pack in some adrenaline! Graskop Canyon's attractiveness has been heavily assisted by human hands, building up this natural area into a fantastic tourist attraction that I thoroughly enjoyed. Hey, who says the Panorama Route needs to be just about the nature?!

The place is managed by Graskop Gorge Lift Co., and there are viewing platforms, an elevator that goes down into the gorge, a zipline, big swing, and forest trail, all waiting for you to try out.

Before you get hung up on all the exciting-sounding activities, make sure you put aside enough time for the 1-hour long Afromontane forest walk. For me, this was the actual highlight of Graskop Gorge.

This type of forest is rare in South Africa, and you'll get to learn about it on the information panels. There are also many live specimens all over the place... I hope you like spiders! And—nerds, you can empathize with my excitement here—there were timelines! And as a bonus, there's Motitsi Waterfalls at the end of the walk. OMG, stunning.

The 3 stages of my Graskop zipline experience

I did the Groskop zipline, and whoa! Way higher and more adrenaline-pumping than I expected. The big swing looked like a great way to lose your lunch, so I skipped that. The elevator is ok, I just can't understand the poor design choice of not making the whole thing glass—that glass panel at the front really doesn't cut it.

As far as amenities go, you get everything you might need at Graskop, including two decent quality cafes. This might be the spot where you want to have a proper lunch.
Stop 6: Mac Mac Falls
Mac Mac Falls—the twin waterfalls

Distance from Graskop Gorge: 17 km/10 miles, 15 min drive
Time spent here: 15 minutes
Entrance fee: ZAR 15 (USD 1). Bring cash.
Opening hours: sunrise to sunset

Now that you have your heart pumping (was it the zipline or the spiders at Graskop that did it for you?), zip on over to the next stop on the Panorama Route: Mac Mac Falls.

Why is it even called that? Because the Scottish immigrants that tried to find gold here all had the last name MacSomething. Amused, the president named the falls Mac Mac because that's all he ever heard when he visited.

Mac Mac Falls are twin waterfalls that plunge an impressive 70 m (230 ft). Now, don't expect a grand hike to a hidden waterfall—it's just a 5-minute walk from the parking lot and the place is packed.

The waterfall is one of the tallest I've seen, with a good flow of water, but you'll see all there is to see in about 5 minutes, so this is just a quick stop. You can, in fact, walk down to the bottom of the falls for a dip in the freezing waters, but you have exactly 0 time for that on this Panorama Trail itinerary. Again, consider seeing it in two days instead of one.

Beware that there's this darn iron fence at the (tiny!) viewing area that's pretty annoying. Sure, it's for safety (though it honestly didn't feel like it is very safe), but it's a bit intrusive when you're trying to soak in the scenery and take photos.
Stop 7: The Pinnacle Rock
The Pinnacle Rock viewpoint

Distance from Mac Mac Falls: 5.5 km/3.5 miles, 10 min drive
Time spent here: 20 minutes
Entrance fee: ZAR 20 (USD 1.2)
Opening hours: 7 am–7 pm

You've officially reached the southernmost point on your Panorama Route itinerary, and it's time to start heading up north again. It's a shame you won't get to see Sudwala Caves today, because I thought they were in the top 3 of the best places to see on the Panorama Route, but they're just too far away if you have just 1 day in the area.

So now, you're driving 10 minutes back up the Panorama Route to the Pinnacle Rock. The Pinnacle Rock is a spot that pleasantly surprised me! It had a certain charm that even surpassed the more famous God's Window.

What I loved is that the view is genuinely unique, and you can admire it from various angles. You can wander off the trail safely, there are gates at the edges of the rocks where people venture off to the most.

The main Pinnacle Rock viewing area is just a 10-minute walk from the car parking area, though you can wander around for longer if you please. There's a waterfall there as well, though it's visible only from the top and it won't knock your socks off after all the other falls you've visited today.
Stop 8: God's Window
That's how the view from God's Window looks

Distance from the Pinnacle Rock: 6 km/3.5 miles, 7 min drive
Time spent here: 20 minutes
Entrance fee: ZAR 40 (USD 2)
Opening hours: 7 am–5 pm

First of all, before you stop at God's Window, bring your expectations down a notch. Don't get me wrong, it's pretty, but the competition is steep and it certainly won't be the THE top stop on your Panorama Route itinerary.

Again, parking is easy—they are obviously expecting you. You start at about 1800 m above sea level, and there's a wooden path through a gorgeous tropical forest, it gets steep and there are a lot of stairs, so you'll need to earn those views.

The "God's Window" viewpoint itself was a bit underwhelming, but the higher you climb, the better it gets, just be prepared for a workout!

You can spot Maputo by the Indian Ocean in Mozambique on clear days, but be warned, it's one of the rainiest places around with a staggering 2600 mm of rain per year.
Stop 9: Three Rondavels sunset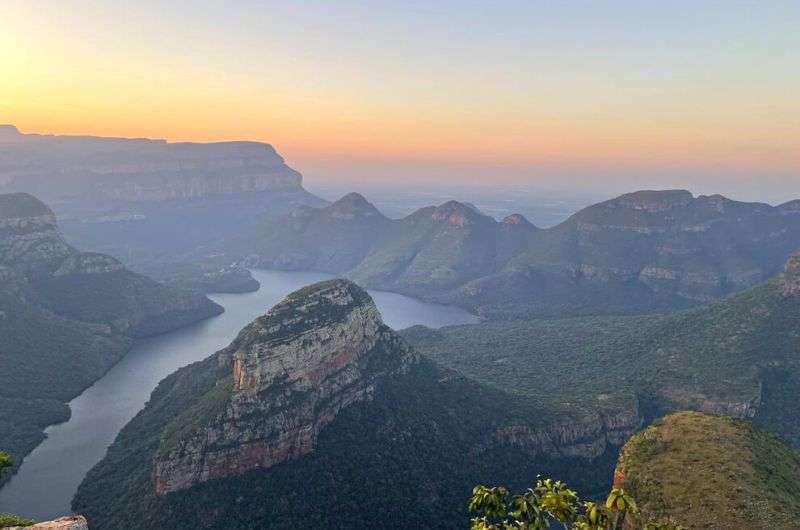 Blyde River Canyon view at sunset, totally worth the negotiations at the gate

Distance from God's Window: 52 km/32 miles, 45 min drive
Time spent here: 30 minutes
Entrance fee: ZAR 75/USD 4
Opening hours: 7 am–5 pm... you'll need to smile at the gate person for this one!

You will need some negotiation skills for this last stop, but oh boy, is it worth it! Sure, you saw Blyde River Canyon at the Three Rondavels this morning, but this time, you'll add sunset to the mix. Are you excited yet?

The thing is, the gate at the Three Rondavels closes at 5 pm, which, depending on the month you're visiting in, is either way too early or slightly too early for sunset. No matter what, you'll need to persuade the guard at the gate to expend their opening hours so that you can witness the orange sky above the Three Rondavels.

Since it's not officially open for sunset, you'll get the place to yourself, which was double epic!

We managed to convince the nice woman at the entrance that she will let us stay until 5:30 pm, only to extend our stay up to 6 pm without her getting upset. You obviously have to pay the entrance fee again, and add a tip to make the overtime hurt a little less.

Just me, the rondavels, and this amazing sunset (and my girlfriend and the patient lady at the gate)

Once you get all your shots for Instagram and enough sunset memories stored into your brain, you can happily head back to your hotel. It'll take you 1 hour and 20 minutes to drive back to Hoedspruit from the Three Rondavels.
Driving the Panorama Route in two days
Your route on day 1 of the 2-day Panorama Route itinerary (open it in Google Maps)

The route for day 2 of the 2-day Panorama Route itinerary (open it in Google Maps)

Not trying to see all the attractions on the Panorama Route in one day has some undeniable advantages. Not only will you not spend sunrise to sunset zooming down and then back up the route like a caffeinated cheetah, you'll also be able to add some seriously epic stops to your itinerary.

After experiencing my own one-day Panorama Route drive, I strongly recommend doing it in two days. You'll be able to take your time and not be struggling to balance your curiosity for more views and the race against the clock.

Aim to see the northern attractions on one day, i.e. down to the Pinnacle Rock and then back up again. The next day, you'll see the stops further south on the Panorama Route, ending your drive at the southernmost stop, Sudwala Caves. Here's what a 2-day Panorama Route itinerary would look like:
Day 1 of 2: Northern Panorama Route

Stop 1: Blyde River boat cruise
Stop 2: Three Rondavels viewpoint @ Blyde River Canyon
Stop 3: God's Window
Stop 4: The Pinnacle Rock
Stop 5: Lisbon Falls
Stop 6: Berlin Falls
Stop 7: Bourke's Luck Potholes
Stop 8: Three Rondavels sunset

Day 2 of 2: Southern Panorama Route

Stop 1: Three Rondavels
Stop 2: Graskop Gorge forest walk and zipline
Stop 3: Mac Mac Falls
Stop 4: Sabie Falls
Stop 5: Sudwala Caves

There are 3 stops on the 2-day Panorama Route itinerary that weren't on the 1-day itinerary: the Blyde River boat cruise, Sabie Falls, and Sudwala Caves. I'll describe those in a minute.

For this extended itinerary, you'll again be driving the Panorama Route from Hoedspruit. No matter if you're based in Little Kubu Lodge or not, I think seeing it from this end is simply better. After the second night at your hotel, you can pack your bags and continue on to your next destination after you see Sudwala Caves.
Stop 1, day 1 on 2-day itinerary: Blyde River boat cruise
One of the well-reviewed cruise companies at Blyde River Dam is Blyde Canyon Safaris

Distance from Hoedspruit: 42 km/26 miles, 45 mins drive
Time spent here: 2 hours
Entrance fee: ZAR 290 (USD 16)
Opening hours: 7 am–3 pm (last departures)

Before you head up to the Three Rondavels viewpoint, you'll take a look at the canyon from the bottom up. You'll even see the Three Rondavels.

The boat trips start near Blyde River Dam and take about 1.5 hours. You're on a boat with a tarp roof, so you shouldn't boil in the sun, but I suggest you bring your own drinking water.

There are hippos and crocodiles in the area and you'll probably see some on your boat tour. That should also be a warning to you if you like walking along the waters... don't, unless you want to be an exotic snack for the wildlife here. There are hiking trails around if you want to extend your time here.

You also have a high chance of spotting birds, baboons, and who knows what else. The guides were fantastic at pointing out animals that we wouldn't have noticed, and they were telling us interesting facts about them as well. For example, that baboons are assholes, and you should definitely keep your distance (more South Africa Safety Tips and Impressions here).

From Blyde River Dam, you'll need to drive 1.5 hours to reach the Three Rondavels viewpoint on the Panorama Route. The next stops are already detailed in the 1-day itinerary above.
Stop 4, day 2 on 2-day itinerary: Sabie Falls
Looking at Sabie Falls

Distance from Mac Mac Falls: 12 km/7.5 miles, 10 mins drive
Time spent here: 15 minutes
Entrance fee: ZAR 15 (USD 1)
Opening hours: 8 am–5 pm

Sabie Falls wasn't my favorite spot on the Mpumalanga Panorama Route, but it's on the way, and you have time, so why not see what's up. And who knows, maybe when you visit, it'll be in better shape than when I visited (let me know in the comments if that's the case!).

Let me give it to you straight: the waterfall itself is pretty, no doubt about that. But the sad truth is, the area's been neglected. It just needs a little TLC like the other attractions on the Panorama obviously are getting.

Despite the lack of attention, you can still have a bit of an adventure. See the bridge, climb those rocks, and get to the edge of the waterfall slope. When you're done, you can look forward to your last stop on this itenrary, Sudwala Caves. I absolutely loved it there.
Stop 5, day 2 on 2-day itinerary: Sudwala Caves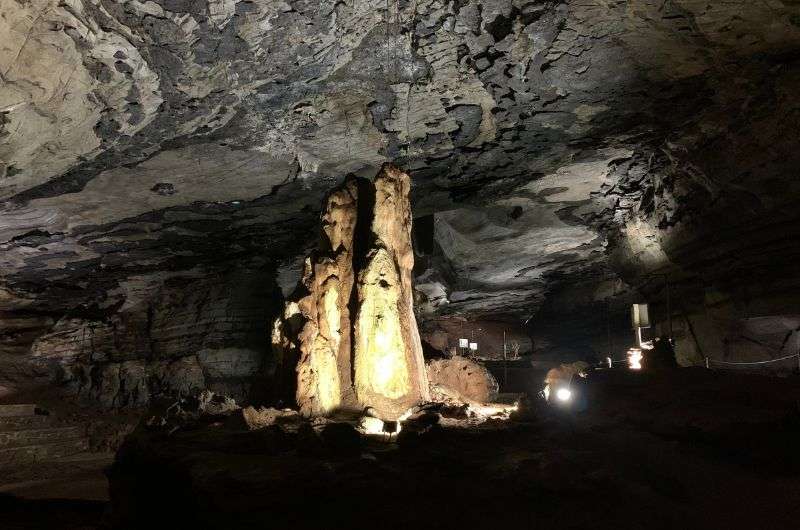 On of the best highlights of the whole Panorama Route—Sudwala Caves

Distance from Sabie Falls: 50 km/30 miles, 45 mins drive
Time spent here: 1 hour (or 4 hours for the Crystal Tour)
Entrance fee: ZAR 110 (USD 6) for a regular tour, ZAR 750 (USD 42) for the crystal tour
Opening hours: 8 am–5 pm
Sudwala Caves official website

Last but definitely not least, this was one of the highlights of the Panorama Route for me personally: the Sudwala Caves. They are the oldest (known) caves in the world, and they are as fascinating as they sound. Usually, when you go see caves in Europe, they are babies—only up to a million years old—that's nothing in Earth years. But the Sudwala Caves are over 200 million years old!

Let me tell you, those stalactites and stalagmites mesmerized me. But the real showstopper here is the stromatolites. These bad boys played a crucial role in the Great Planet Oxidation and the rise of complex life on Earth. Impressive, huh?

This nice gentleman guide made our tour of Sudwala Caves even more enjoyable

Our guide was a pleasant surprise—he was friendly and educated. Normally, they tend to stick to that one story they repeat over and over, but this guy actually used his brain and was able to answer questions. He also told us intriguing stories about cave men and such, but let's be honest, the main attraction is the sheer size and natural beauty of this place.

The regular tour takes around 30–45 minutes, and that's what we did. Then there's the 4-hour Crystal Tour if you want a proper cave experience. We're talking getting down and dirty, headlamps and all. The official Sudwala Caves website even takes my favorite recommendation and puts it into their own (hilarious) words: "It is not suitable for people with back or knee problems and large people over 115 kg will not be eligible because they will get stuck."

If you manage to make it out of the caves alive and unstuck, your drive through the Panorama Route has reached its end. Now what? Maybe take on Kruger National Park? I'm not a huge safari fan, but this one is definitely worth it. Or maybe head down to the central Drakensberg Mountains? Or, if you can't get enough of driving scenic routes, have you already planned on driving the Garden Route?
FAQ: What is the Panorama Route in South Africa?
The Panorama Route in South Africa is a 160-km (100 mi) scenic road located in the Mpumalanga Province in the northeast of the country. It follows the Great Escarpment, starting outside Lyndenburg at the Long Tom Pass and finishing at Echo Caves. This iconic route offers breathtaking views of waterfalls, canyons, and gorges, making it one of the best drives not only in South Africa but possibly in the world.
FAQ: How many days do you need on the Panorama Route?
It's possible to see the best places on the Panorama Route in a single day, but it'll be a very long day! It's about 3 hours of driving one-way without stops (there are 11 main ones that I cover in more detail in this article). I recommend taking 2 days to see South Africa's Panorama Trail, but I have done it in one day myself.
FAQ: How much does it cost to go on the Panorama Route?
Driving on the Panorama Route in South Africa is free, but you pay entrance fees individually at each stop along the route. How much you spend will depend on how much you stop. The rate is typically ZAR 15–40 (USD 1–2), the more expensive stops being Bourke's Luck Potholes at ZAR 130 (USD 7), the Three Rondavels Viewpoint at ZAR 75 (USD 4), and Graskop Gorge at ZAR 240 (USD 13) for the elevator and forest trail and ZAR 250 (USD 14) for the zipline. Boat cruises on the Blyde River Dam can cost around R 290 (USD 16) per person. These prices are tourist prices, locals pay less.
FAQ: What places are along the Panorama?
The best stops along South Africa's Panorama Route, in order of how much they wowed me personally, are:
Blyde River Canyon–the Three Rondavels viewpoint
Graskop Gorge
Bourkes Potholes
Sudwala Caves
Mac Mac Falls
The Pinnacle Rock
Gods Window
Blyde River dam boat ride
Lisbon Falls
Berlin Falls
Sabie Falls
This post contains affiliate links. I earn a small commission if you make bookings through my links, at no additional cost to you. This helps keep this blog free, thank you!