South Africa, with its untamed wilderness and dramatic landscapes, is your playground for adventurous activities and breathtaking sights. There are so many exciting activities that you could choose to do in South Africa that they're impossible to fit into a single vacation—you'll be back, I know it!
In this article, we've handpicked a selection of thrilling experiences and awe-inspiring sights that will fill your South African itinerary with unforgettable moments.
From coming face-to-face with great white sharks and checking off the Big 5 in Kruger National Park to hiking to jaw-dropping vistas and exploring South Africa's colorful cities (with or without a glass of wine in hand!), there's something for everyone. Take a look and start writing that South African bucket list!
1. Cage diving with (great white!) sharks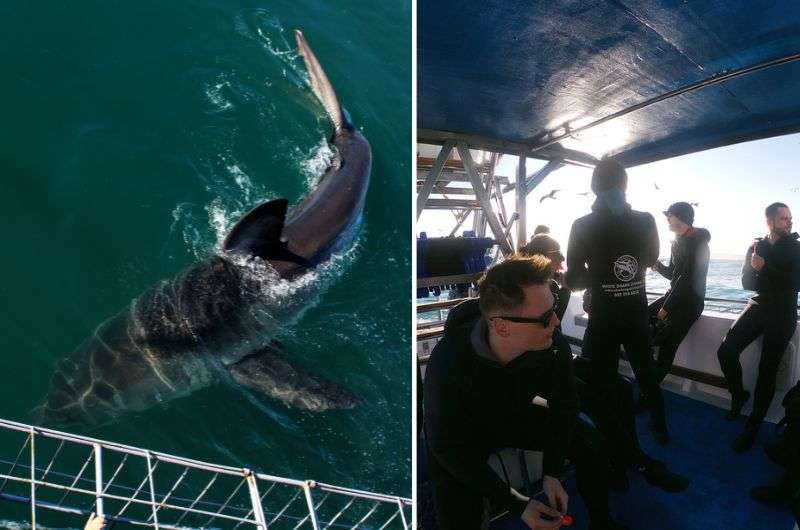 My cage diving experience was, um, memorable! Thank goodness for sea-sickness lollipops

One of the most adventurous—heroic, even!—things I've done in South Africa is shark cage diving with great whites.
Here's an excerpt from my imaginary diary: "As I sat on the boat after my encounter with 2 of these gorgeous creatures, anti-nausea lollipop in mouth, stomach floating around in my torso, I tried to remember that adventures don't have to be positive, they mainly need to be strong experiences. I was a fool to think that the nausea would be better in water. It isn't. In fact, it's even worse in the cage. I saw the shark several times, however, due to my pitiful, frozen-to-death state and stomach discomfort I couldn't do better than ignore it and focus on my suffering." More about my experience.
The mecca for shark cage diving in South Africa is Gansbaai, as you are almost guaranteed to see great whites or at least copper sharks. Other places that put you in a cage and wait for sharks to try to taste you through the metal bars are: Mossel Bay, Port Elizabeth, and Durban.
The best time to see great whites is in South African winter, when the waters are at their coldest: May to October. Most shark trip organizers take small groups out on a 2-hour boat ride and then, once you find an area with sharks, people take turns in the cages. Don't worry though, sometimes things are just as exciting just watching from the boat—you just need to decide if you're team shark or team human.
2. Kruger National Park Safari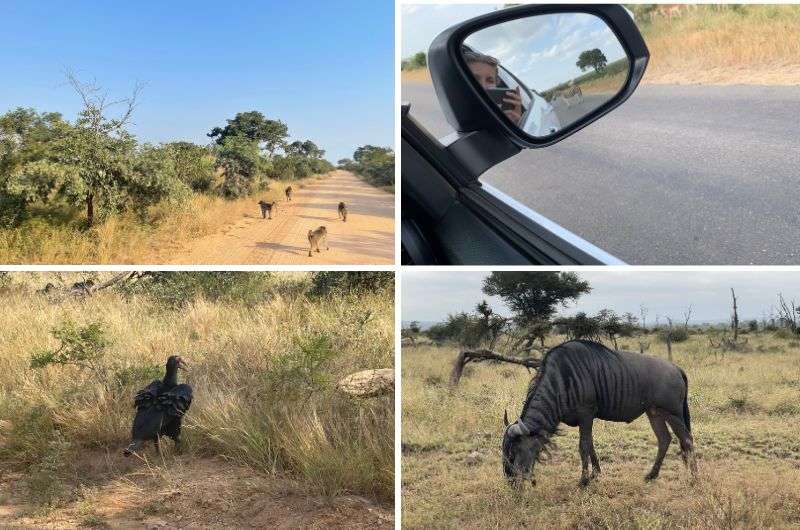 Kruger National Park is one of the best safaris I've ever been to!

Going to a safari is a mandatory stop on any South African bucket list, because how can you go to Africa and not be in awe of the wildlife?? Unless you're from another African country, I guess It's surreal to be right in their environment and not in front of a TV screen when you see your first giraffes and lions in the wild.
The best place to see animals in South Africa is hands-down Kruger National Park. It's a humongous park, perfect for self-drives especially across the southern savannahs and wooded areas, animal checklist in hand, trying to spot them all like a real-life Pokemon Go. It's a thrill, I have to be honest! Somehow, on my last visit, I saw a total of zero rhinos, so there must've been a glitch in the matrix, but hey, I'll take leopards, lions, and hyenas as substitutes this time around. But next time, you rhinos better watch out! I'm serious about my checklists!
Kruger is roughly the size of Israel, so even though you can meet the Big 5 (and 142 more mammal species), you'll really want to take your time exploring, because it's not like the animals will be lining up to meet you. Especially not the rhinos, apparently. I recommend spending 4 days in Kruger so you have time to cover all of the southern (aka best) section of the park—remember, you'll be driving slowly—and all times of day. We had the best luck with cool animals sightings during early mornings. But there's no guarantee, so having enough time to spend at least an evening and a full day gives you the best chance of seeing the most diverse wildlife.
Further reading:
3. Hiking in Drakensberg, Garden Route, and Cape Town
Hiking around the amazing South African nature!

I want to be very clear here: the nature in South Africa is unreal! I'm not even kidding when I say that I think you need 8 weeks to explore the country and there won't ever be a dull moment, all thanks to the sheer spectrum of natural wonders. And the best way to immerse yourself in nature is always hiking.
South Africa's hiking trails range from easy, everyone-can-do-it walks to multiday adventures. I am a day-hike kind of guy, and I still kept having to pick up my jaw off the ground, because South African hikes are just that good (no sleeping in a tent necessary, haha!). If outdoor adventures is what you're after, hiking is the way to go.
Drakensberg
EPIC!

The obvious hiking wonderland is Drakensberg, the highest mountain range in South Africa. The experience was nothing short of breathtaking, offering vistas that blend the charm of Scotland with the grandeur of US parks. The hiking trails are impeccably maintained, and the infrastructure is decent… the only slight problem is getting there—everything is so far! So get ready to drive a lot.
My favorite Drakensberg hikes are in Royal Natal National Park: Tugela Falls Sentinel Trail and Tugela Gorge. In one word: EPIC. But don't skip hikes with views of Cathedral Peak, either, like Baboon Rock Trail and Rainbow Gorge.
Further reading: Hiking in the Drakensberg: 9 Best Trails For Day Hikes
Garden Route
Bridges, nature and sea—that's the beauty of hiking on Garden Route

A much smaller logistical nightmare is the Garden Route, a 300 km (190 mi) stretch of coastline east of Cape Town. It's basically what happens if you shrink down all of South Africa's best nature into one small area: picture scenic coastline, wild beaches, epic mountains, and enchanted forests all in one place. I can't believe that before I visited, I had very low expectations of this place. Boy, was I wrong!
If you want to focus on one place in South Africa for your outdoor adventures, the Garden Route is it. Sure, you get a great scenic drive, but the hiking on the Garden Route is out of this world. Don't miss the world-famous Otter Trail (you can do part of it as a day hike, or the whole thing in 4 days), Storms River Mouth with those Instagrammable suspension bridges, or Robber Nature Reserve with Island Beach and hundreds of seals.
Further reading: 9 Epic Hiking Trails on the Garden Route for Day Hikes | 5-day Garden Route itinerary
Cape Town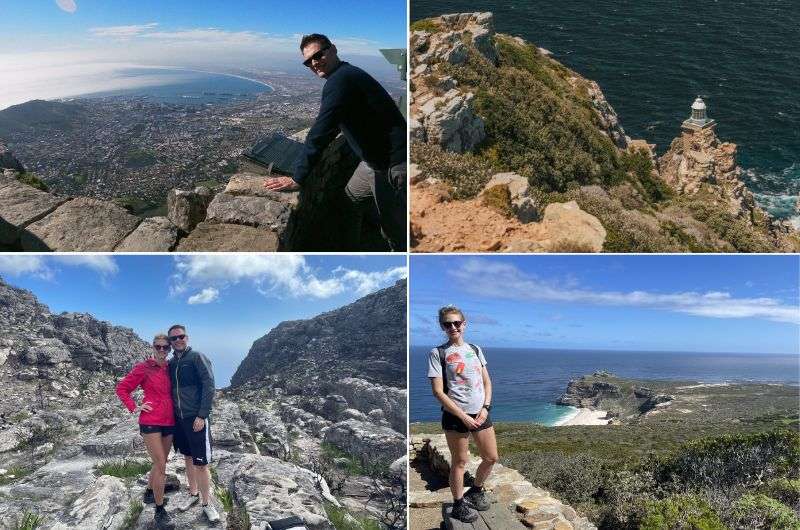 Table Mountain on the left, Cape of Good Hope on the right

You can even hike in South Africa and not even leave Cape Town! And it won't be just an ok hike or a substitute for the real hikes further away, either. I can honestly say that some of the best hikes I've been on in South Africa are in and around the city of Cape Town. So, let's say you're only visiting for a long weekend—no problem, you can get the best of both worlds: city and outdoor adventures!
The Cape of Good Hope hike is popular for a reason, and even though it's always pretty crowded, you should definitely budget time for it—half a day if you can. The hike isn't too long, but if you explore the area properly (don't miss Diaz Beach!), you can spend hours there. And obviously, the unforgettable Table Mountain is also in Cape Town. I LOVE Table Mountain and make sure to visit on every trip.
Further reading: 12 Best One Day Hikes in South Africa | 9 Facts You Need to Know About Table Mountain | 5 Things to do in Cape of Good Hope
4. City sightseeing in Cape Town and Johannesburg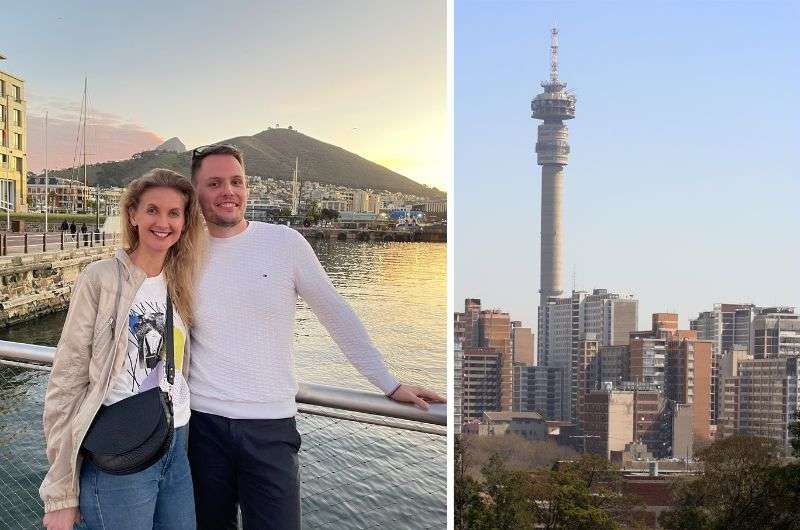 Enjoying our time in Cape Town on the left and the Johannesburg on the right

Not all outdoor adventures in South Africa need to be in the Great Outdoors—some people (not me) prefer to explore cities—no problemo! Here are the top two contenders:
Cape Town, with its breathtaking landscapes, offers a blend of natural beauty and urban charm. The legislative capital of South Africa is framed by the iconic Table Mountain and embraced by Lion's Head and Signal Hill, offering unparalleled scenery from its mountain peaks. Delve into history at the Zeitz Museum of Contemporary African Art or the former prison on Robben Island. Wander through colorful neighborhoods and relax on dreamy beaches (just keep an eye out for the occasional shark!).
Or, discover Johannesburg, the wealthiest city in Africa, which pulses with a dynamic energy, showcasing South Africa's cultural richness. Learn about the poignant history of apartheid at Constitution Hill and witness the perpetual Flame of Democracy. Embrace the 21st century buzz in Maboneng Precinct, home to trendy cafes and vibrant markets. Or journey outside the city to the Cradle of Humankind, where our human story began.
Further reading: 20 Best Things to Do in Cape Town | Cape Town itinerary | 8 Top Things To Do In Johannesburg
5. Wine tasting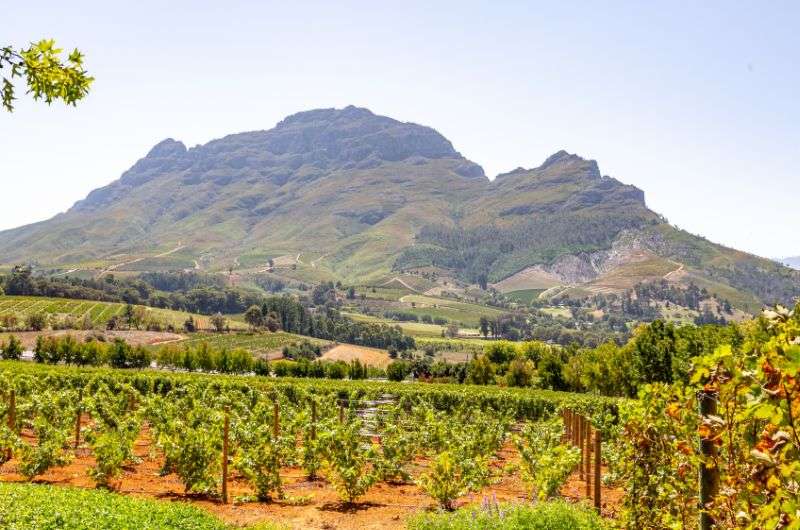 The wines in Stellenbosch tasted really good!

I can solemnly swear that South African wines are delicious—try Pinotage, one of the popular wines here. That's why it's a no-brainer that if you can fit a wine tasting into your itinerary, go for it! Not that it's super adventurous, but it's an activity and you'll love it. (Unless you abstain from alcohol or hate wine, in which case maybe stick to rooibos tea? Did you know it's endemic to South Africa?)
Stellenbosch and Franschhoek are two towns surrounded by some of the country's best vineyards about an hour away from central Cape Town, and you can spend your day tasting wine, eating cheese, and tasting more wine, all while taking in the beautiful scenery.
You can do that on wine trams that take you on a hop on, hop off tour of different wineries, take horse tours, or hire a driver and explore the region more privately. Any full-day wine tour usually includes up to 6 wineries.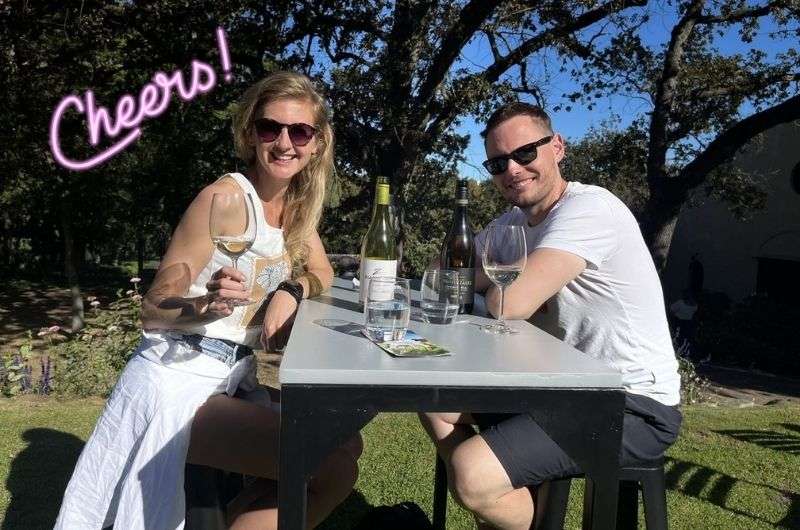 A day well spent

My personal recommendation in Franschhoek: Le Petit Manoir Restaurant. One of best restaurants in South Africa, on Michelin level. In Stellenbosch, schedule in a stop at Delaire Graff Estate. You may not be able to afford to stay in the lodge, but you sure as heck shouldn't miss tasting those incredible wines! This place has some of the best views of all the wineries we visited.
Interesting fact: There are grapes originally from France growing in the Franschhoek vineyards that are hundreds of years old, and they don't grow anywhere else in the world. That's because of the grape phylloxera, a type of pest that decimated the wine population in the northern hemisphere, but luckily not in South Africa.
6. Whale watching in South Africa
Whales breach incredibly close to the shores

South Africa's coastline isn't just about sun-soaked beaches and dramatic cliffs. It's also where some of the ocean's most majestic creatures gather to put on a show you won't want to miss. Want to check whale encounters off your bucket list? The best time for whale watching in South Africa is from end of June to November when migratory whales arrive in force.
When you hear the term "whale watching", you assume you'll be out on a boat. And that is certainly one of the options, but what's great about South Africa is that you can spot whales from dry land, too. Just rock up to a viewpoint and voila—whales!
When it comes to spotting southern right whales, Hermanus proudly waves its flag as the whale watching capital of South Africa. Hop on a tour or walk the Hermanus cliff path and just stare into the ocean, hoping for a breach. Every September/October, this seaside town goes all out with its annual whale festival, celebrating these magnificent marine giants.
On the other hand, the locals will tell you that Hermanus may get all the hype, but there's an even better spot to see the magnificent creatures: De Kelders/Gansbaai. It's just across the bay from Hermanus, but apparently that's where the best action is. De Kelders overlooks a Marine Protected Whale Sanctuary, so there're no reason to not believe them.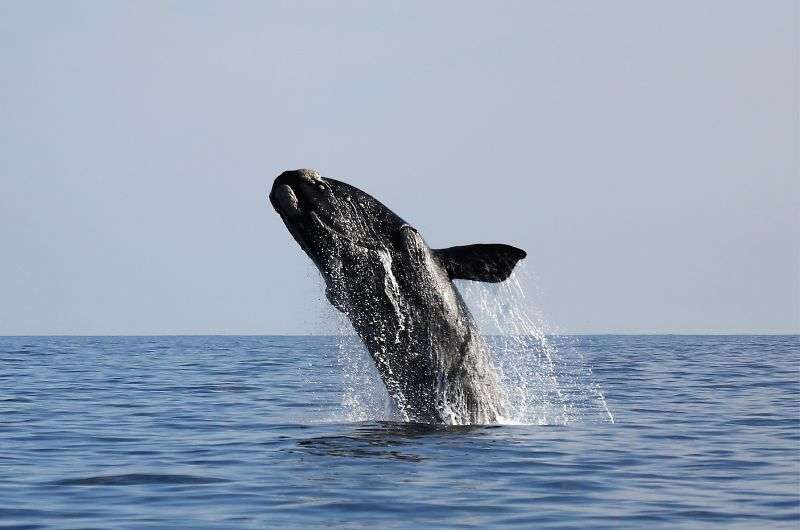 If you head to the De Hoop Nature Reserve, a remarkable whale trail awaits you, winding through coastal fynbos and dunes, leading you to prime whale watching spots. And the nearby St. Sebastian Bay boasts the highest concentrations of southern right whale mother and calf pairs.
If humpback whales are more up your whale alley, the Wild Coast, with its high cliffs and inshore currents, is a hotspot for humpback whale sightings. And guess what? Their winter migration coincides with the epic sardine run, offering a two-for-one wildlife spectacle.
That's not to say that these are the only whale-watching spots in South Africa. You won't have much trouble seeing them in other places, too. Cape Town's False Bay welcome right whales, and Port Elizabeth gets humpback whales, southern right whales, Bryde's whales and minke whales. And up in St. Lucia, you won't be left disappointed, either.
7. Kayaking and cliff jumping in Storms River Mouth and gorge
Us, kayaking on Storms River Mouth...

Storms River Mouth marks the eastern end of the Garden Route, and if it's your last stop on your Garden Route itinerary, you'll now forever remember how the phrase "last but not least" truly comes to life. The river mouth at Stormsrivier is raw and relentlessly wild, with those famous suspension bridges that cross over the water for some incredible views (and photos).
But you don't have to settle for just looking at the river mouth! You can go onto and into the water on one of the epic trips organized by Untouched Adventures. No affiliation, their trips are just that good (and nobody else does them).
You can choose from two options: a kayak under the suspension bridges followed by lilo-ing into the shallower waters of the gorge, including a swim and possible cliff jump, OR for an even more adventurous thing to do, try their newest addition: Where the regular trip usually turns back, you keep going. Switch to yet another boat thingy that only holds your torso (you swim with your legs in the water) and continue into the most beautiful section of the river gorge. They had to think long and hard about how to make this portion of the trip possible because the vessel had to be light enough to carry (there are some rocky sections you'll need to walk across), but this sounds like a solid solution. This is the only way to actually see the Storms River gorge, so it's a little special treat that only those that are adventurous enough get to witness.
Further reading: 14 Things to Do on South Africa's Garden Route | Best Garden Route Itinerary for 10 Days: Driving from Cape Town to Port Elizabeth
8. Cycling the Garden Route
Get your butt ready, the Garden Route is a long stretch! Especially if you ride it all the way from Cape Town

I think seeing the Garden Route by any means is one of the top outdoor adventures that you need you have in South Africa, but I guess the fact that you can take a nice scenic drive with stops for 5–10 days is pretty vanilla. If you're looking for a physical challenge, consider cycling the Garden Route instead of driving.
Opting to cycle the Garden Route over driving it isn't just a choice; it's a sensory immersion. Picture yourself in the saddle, wind whipping through your hair, the road stretching out before you. You'll feel the raw power of the landscape as you conquer each hill and navigate every twist and turn, all the while being surrounded by some serious South African bucket list nature.
You can cycle on your own, obviously, but if you'd like someone to organize the logistics for you so that all you have to focus on is the pedaling and sightseeing, there are numerous group tours offering 10–18-day trips along the Garden Route. They go from either end—Cape Town or Port Charlotte—, some are for die-hard cyclists and won't give you even a single km/mile for free, keeping you in the saddle every single inch of the way; others speed things along by using a bus for some sections. Hey, no shame in that—it's a long-ass trip! Cape Town to Storms River, the eastern end of the Garden Route, is 600 km (370 mi)!
9. Beach vacation (with or without active adventures)!
Durban's Golden Mile

This last one can be tailored to any level of activity. You can fully immerse yourself… into the sand, and become a beach potato, or use the beach as a mere resting spot after more thrilling sea adventures like snorkeling, diving, or surfing.
If you're thinking of a beach holiday in South Africa and actually want to be able to go in the water, remember that the further east you go, the warmer the water will be. The Atlantic Ocean isn't exactly known for its tropical vibes, so you'll have better chances of good temps and calmer waters once you pass Cape Agulhas—that's where the two oceans meet. But don't expect serene bays instantly (or at all, really), South Africa isn't a surfer mecca for nothing!
For city beaches, Durban's Golden Mile could be your spot (you may appreciate the shark nets along the entire beach), or head up a little further to Umhlanga Beach if you don't like to share the sand with so many people. I know I deterred you from the Atlantic, but Cape Town's beaches are some of the most beautiful in all of South Africa! The scenery there is almost unsurpassed! You'll need to be ok with cold water and great whites... What? Don't be soft. Try Muizenberg Beach for city vibes, or Diaz or Nordhoek Beaches for a more natural experience. Even Port Elizabeth shouldn't be off your city beach radar: Sardinia Bay Beach is a stunner, and you'd be close to the dozens of beaches of the Garden Route. We've already talked about Garden Route beaches, which are my favorite, since you generally have to hike to get to them.
When it comes to beaches, you're spoiled for choice in South Africa

You can snorkel and dive in many places in South Africa, but surely you won't settle for mediocre. South Africa's coral reef stretched up from Cape Vidal to the border with Mozambique, and that's where you'll want to do your underwater exploration. You'll want to base yourself around St. Lucia, a small town in the iSimangaliso Wetland Park (UNESCO) up in the northern half of Kwazulu Natal province. In Zulu, the name of the park translates to "place of great wonders and miracles". And it's not wonderful just underwater—the beaches are endless and pristine, and even the wetlands are inviting… if you want to take a walk among hippos and crocodiles. You can, there's a boardwalk, but also signs letting you know that these animals aren't of the cuddly type.
At the northern end of iSimangaliso Wetland Park, 150 km (95 mi) from Santa Lucia, is Sodwana Bay—one of the most beautiful beaches in South Africa, with 7 Mile Reef attracting divers from around the world. Think whale sharks, great white sharks, hammerhead sharks, manta rays, leatherback turtles, loggerhead sea turtles, and millions of colorful fish.
Think of South African beaches as the ultimate playground by the sea, or a picnic in the sand. You can have the best of everything here, which makes it a perfect beach getaway.
Further reading: The 13 Most Beautiful Beaches in South Africa for Non-Beach Bums | 13 Best Natural Attractions in South Africa

This post contains affiliate links. I earn a small commission if you make bookings through my links, at no additional cost to you. This helps keep this blog free, thank you!