When it comes to wildlife encounters, South Africa's Addo Elephant Park is no ordinary destination. Nestled within the heart of the Eastern Cape, close to the famous Garden Route, this remarkable park is a sanctuary for a variety of creatures, with its star residents being the majestic elephants. But don't be fooled by its name—Addo offers much more than just elephants. Like dung beetles. Don't lol, they are kind of a big deal around here!
My initial expectations of Addo were quickly shattered as I realized it was no mere Kruger National Park "little brother". Addo Elephant Park stands strong in its own right, offering unique activities and close encounters that are simply unforgettable. And yes, it's true, you'll find elephants aplenty—more than you could imagine, and even some you'd like to forget—but there's so much more that Addo Elephant Park day visitors get to experience.
I'll answer all your burning questions so you can plan your Addo Elephant Park trip. You'll get the details, the secrets, and the activities that make Addo Elephant Park a perfect self-driving day trip. We ventured out there from Port Elizabeth's epic Nova Boutique Hotel, which is the perfect spot to end your Garden Route itinerary. Visiting Addo Elephant Park at the end of the Garden Route is a no-brainer. It's not part of the official Garden Route, but it's so close you have to include it.
1. The thriller-like history of Addo Elephant Park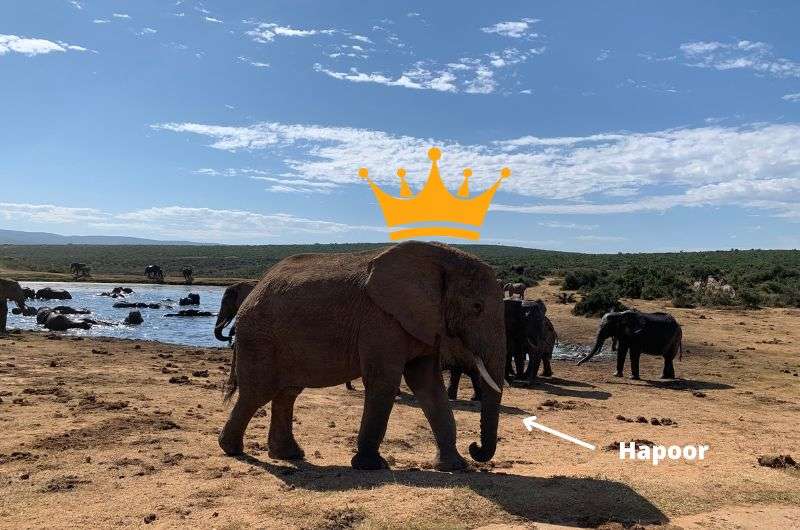 The legendary elephant boss Hapoor (recreated scene)!

From its humble beginnings as a refuge for a handful of elephants, Addo Elephant Park has grown into a sprawling, multi-species haven for Africa's diverse wildlife. Today, it's not just about elephants (though they're still the stars of the show).
We can't talk about Addo's history without first mentioning Hapoor, the legendary elephant boss that gave name to one of the park's watering holes:
Hapoor reigned over the elephant herd for 24 long years, and bore a lifelong grudge against humans. You can't blame him, elephants have a great memory and humans in the area sucked. He even had a gunshot wound in his ear. Hapoor's aggressive nature had park staff on their toes, but he was the boss and was respected.
When a younger elephant finally took over the leadership role in 1968 (after many had previously failed), Hapoor got the boot from the elephant crew. But old Hapoor wasn't ready to be just another retiree. He pulled off a true Houdini move and managed to give the supposedly "elephant-proof" fence a run for its money. He broke free like a rebellious teenager. The taste of freedom must have been sweet, but unfortunately for Hapoor, his feisty attitude towards humans was deemed too dangerous, and he was shot.
You can pay your respects to Hapoor in Addo Elephant Park's interpretation center. He's the guy whose head is on the wall.
Another character in Addo's history is Domkrag, the giant mountain tortoise who liked to use his supertortoise strength to lift up vehicles like a car jack for fun ("car jack" is the meaning of his name in Afrikaans). Domkrag Dam is named after him, and you can see his shell displayed in the Addo interpretation center.
So, how did Addo Elephant Park even start out?
Long before tourists with cameras flocked to Addo Elephant Park, the land was home to the Khoesan people, and then, after the smallpox epidemic wiped most of them out, the nomadic Xhosa tribes. Over hundreds of years, these hunters decimated elephant herds and other animal species in the area. In the 1800s, when farmers settled in the area, they took not only land, but also water and crops, further driving the elephant numbers down. In the end, the mere 11 elephants that were left over were a nuisance to the farmers, and they asked the government to get rid of them. The Addo region was at a crossroads—to shoot or not to shoot?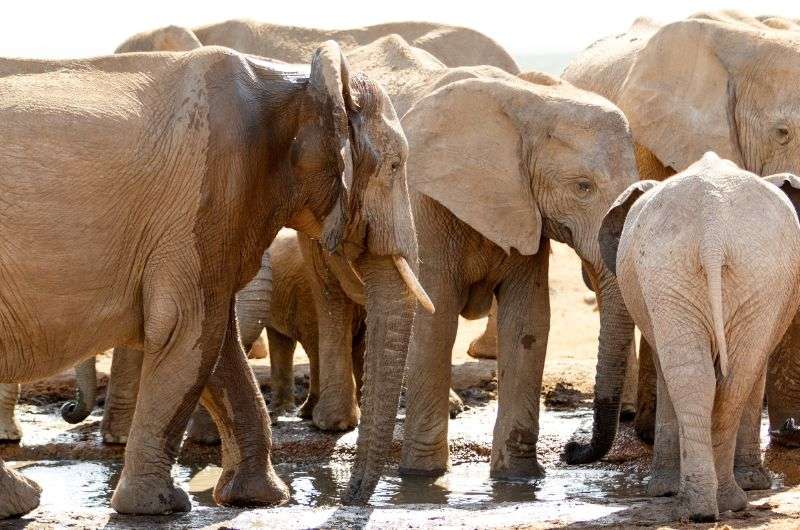 The 11 survivors that started the Addo National Park (I'm still just pretending here)!

In a plot twist that could rival a movie blockbuster, the Addo Elephant National Park was born in 1931, spanning a modest 2,000 hectares, to protect those 11 survivors. Unfortunately, the park didn't have sufficient fencing, so the elephants and farmers were still at it until a guy named Graham Armstrong, Addo's manager at the time, created an elephant-proof fence (the kind that they still use in Addo to this day).
In the end, the herd multiplied, the park expanded, and conservation efforts were divided between elephants and the many other species that needed attention. The rest is history.
2. Things to do in Addo Elephant Park
Driving through Addo was really fun!

Addo Elephant Park is a safari—the main thing you should expect to do is drive around spotting animals. But that's not all. Here's a full list of activities in Addo:
Self-drive on Addo's 120 km (75 mi) of tourist roads, which is what we did
Take a guided tour to tour Addo and spot wildlife
Overnight in the park's camps or lodges and embark on a night safari
Take a Marine Eco Tour or go shark cage diving in the Addo Elephant National Park Marine Protected Area (I didn't go this time, but here's my experience with the sharks from my previous South Africa trip)
Go hiking—Sorry, no adrenaline hikes where you try not to get eaten by the lions, but there are several hiking trails from 2 km (1.2 mi) to 8 km (5 mi), and one that even takes you out on an ocean trail
Have a picnic—there are several picnic spots near the main camp, all include a grill and a fence so that you aren't surprised by wildlife trying to share your steak.
Get a massage at the spa right inside the park

3. How do I get to Addo Elephant Park?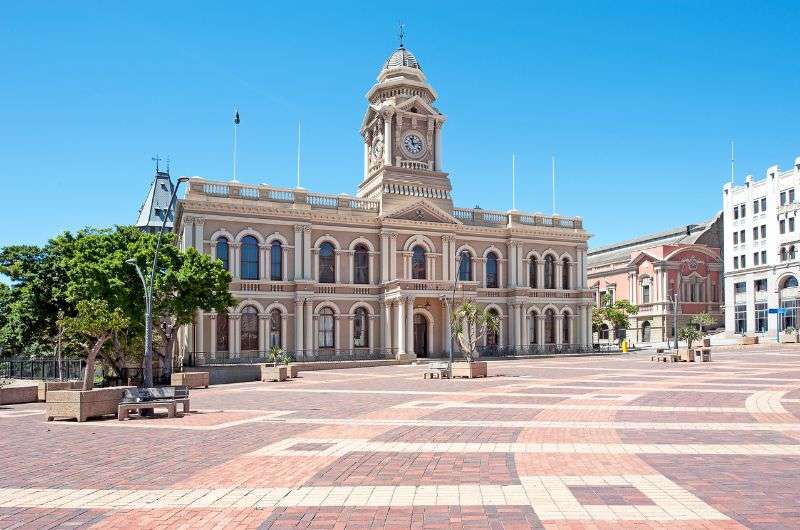 Port Elizabeth City Hall—base yourself here to visit Addo Elephant Park

There are two entrance gates to get inside Addo Elephant Park–South Gate (near Matyholweni Camp), or the Main Gate further up north.
From Port Elizabeth (Gqeberha), I recommend using the South Gate as it's just a 30-minute drive along the N2. For the Main Gate that gets you to where most of the safari's facilities are, it's approximately 72 km (about 45 mi), or about an hour's drive. If you want to take this gate, make sure to drive around through Paterson for safety reasons. Hey, I know that there are regular folks living in townships as well, but the bad guys have to live somewhere too, you know? And it's usually in townships, which is a great reason to avoid them.
As you can see, the gates are very close to Port Elizabeth and it makes for the perfect overnight spot for an Addo Elephant Park day visit. It's an accessible and convenient destination for your wildlife adventure. The park is situated in the Eastern Cape of South Africa, making it an ideal stop for those exploring the renowned Garden Route.
4. How much time do I need to visit Addo?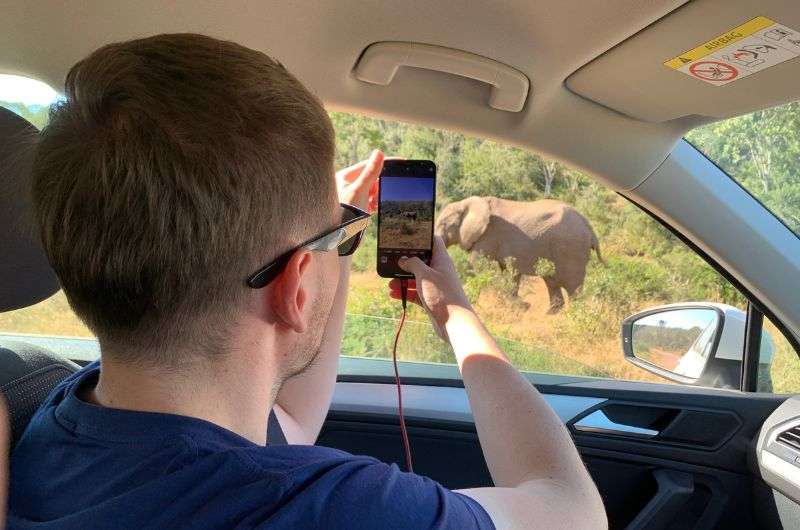 Say cheese, big guy!

One day in Addo Elephant Park seemed like the perfect amount to me! It has great infrastructure, making it easy to explore in a day (unlike Kruger National Park). Drive in in the early morning right as they crack the gates open (which is when the animals are most active) and be back at your comfy hotel (Nova Boutique Hotel guys, I'm telling you, it was my favorite hotel in all of South Africa!) by 8 pm at the latest.
Of course, there are people staying inside the park at the lodges or camps that get another day or two out of it, but for me, that's excessive. There's only so many hours you want to be staring at animals at watering holes, hiding from the sun near bushes, or walking in the distance. Don't get me wrong, it's an amazing experience (my girlfriend's favorite out of our entire South Africa trip!), but it's... repetitive.
The only time it makes sense to overnight at the park is if you're dead set on doing a night safari in Addo Elephant Park. Those go after gate closing hours, so anybody not shacked up inside the park isn't eligible.
Addo's gates open at 7 am and close at 7 pm (Main Gate) and 6:30 pm (South Gate). It's a good idea to check the closing times when you enter, because times are subject to change based on season.
5. How much does it cost to enter Addo Elephant Park?
If you are self-driving Addo Elephant Park and make it a day trip, you'll just pay the "conservation fee" at the gate, which is ZAR 376 (USD 20), and you're good to go and enjoy the elephants (and the bazillion other animals that were left out of the name).
Guided tours cost an extra ZAR 450, a guide that drives with you in your car costs ZAR 290. More on these options below.
6. Can I self-drive in Addo Elephant park?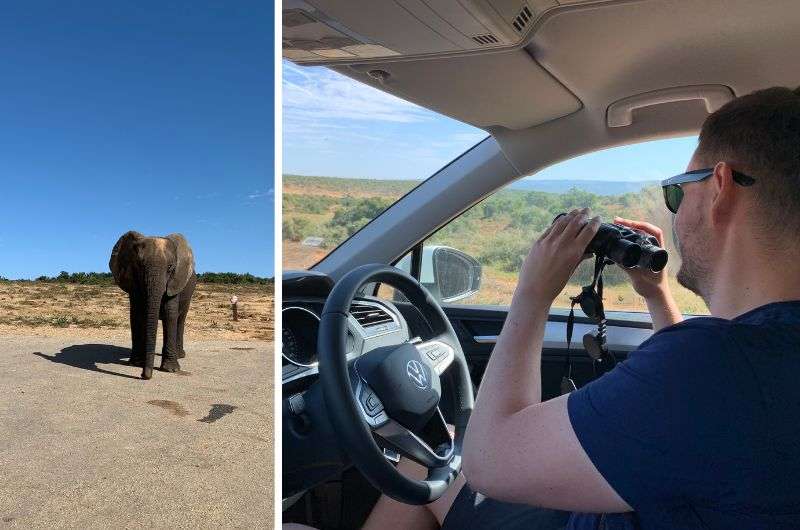 Watching the elephants from a safe and comfortable car—what else could you wish for?

Self-driving is what most people do when they visit Addo Elephant Park. Or maybe it's just what I think most people do because that's what I do, so who knows. What's not to love? You can take your time (or not), take as many photos of elephants as your heart desires, and spend time at viewing areas even if a guide would say those elephants seem to be looking at you funny and you should probably head back into your vehicle.
I found it entertaining that they checked the trunk of my car when you are going through the gate. Like, what are they looking for? Do people smuggle in their pet cheetahs in to give them a better life or something? Apart from this, the entry procedure was smooth and fast (unlike the sloth-speed one in Etosha National Park in Namibia).
The roads are mostly gravel and well-maintained. You don't need a 4x4 to drive in the Addo safari.
7. What animals should I expect in Addo Elephant Park?
Don't forget that you are in Africa—in Addo there is so much more of wildlife than "just" elephants

Addo Elephant Park is not just an elephant safari—there's a full lineup of wildlife waiting to steal the spotlight. But yeah, expect to see tons of elephants.
Apart from those, picture this: sassy Cape buffaloes strutting their stuff, lions making dramatic entrances for sunrise and sunset shows, and even spotted hyenas joining the cast to restore nature's balance, like the eco-friendly villains they are. Shy and secretive (I say "human-hating") leopards make rare guest appearances, while antelopes like red hartebeest, eland, and kudu are abundant. Zebras with a fashion sense aplenty, warthogs showing off their tusks all over the place., and let's not forget the hippos at Sundays River or the black rhino and wildebeest at Darlington Dam, and the dozens of different snake species. See? Addo's not just a place to see elephants!
Addo Elephant Park isn't just a one-act wonder—it's a full-fledged wildlife safari extravaganza!
Not in the park per se, but Addo Elephant National Park Marine Protected Area can be visited near Port Elizabeth, allowing you to see precious sea mammals like right whales, humpback whales, orcas, dolphins, and oh, great white sharks, too.
I'm sorry, I forgot to mention one "animal" that gets special treatment: the rare dung beetle that reigns supreme on the roads—yes, you read that right. Because of this clever recycling fella, you're not allowed to squash elephant dung with your mighty car tires—you have to leave dung intact for the dunch beetles. They can't fly, so this dung beetle has the right of way and the right of poop on the roads! If you see people staring at a pile of shit, they probably aren't weird, they're just hoping for a dung beetle sighting.
8. How many elephants are there in Addo Elephant Park?
A lot of elephants!

According to my calculations and the feeling we got at the watering holes, I'd say about a million elephants. Officially, there are 600 of them.
For my girlfriend, Addo was her top favorite spot in South Africa, and it's all thanks to the elephants, or rather our perception of the sheer number of them. It was the first safari she ever visited and there were so many elephants in one spot taking a dip and a sip at the watering hole, it was incredible! Even I, a safari veteran, didn't even dream of seeing so many elephants in one spot! Remarkable. Although, I'd be fine with seeing less elephant sex. What has been seen cannot be unseen.
Tip: You can see elephants throughout the day in Addo, but the mid-afternoons are prime elephant watering hole times.
9. How to see the animals in Addo Elephant Park?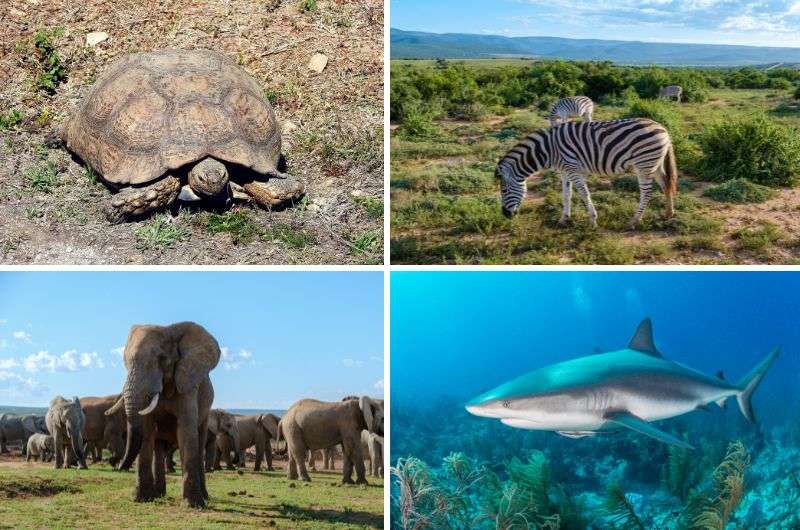 And even more animals to see in Addo!

Besides self-driving in Addo Elephant Park, there are guided tours on offer as well. And perhaps surprisingly for those that are aware of my guided tour allergy, I recommend you take one. But there's a twist—you can actually get a guide to go with you in your own vehicle. The best of both worlds! The price of ZAR 290 gets you 2 hours of the guide's time.
You can obviously also take the park's trucks and be guided in a very regular safari way. These depart about 4 times a day and last 2 hours.
The guides will help you find and spot animals that you would otherwise completely miss. Since you're in Addo to see wildlife, I'd say that's a huge bonus worth paying extra for.
You'll be driving on 120 km (75 mi) of mostly gravel roads, with the option to stop at one of the 5 viewing areas. These are the only spots where you are allowed out of the vehicle. But you still do so at your own risk, so keep an eye out for sneaky wildlife.
If you are interested in birds, tortoises, and maybe even some snakes, you can set out on the hiking trails in Addo, or hang out at the bird hide.
And if you're keen on seeing the last two of the Big 7, the great white shark and southern right whale, you'll be happy to learn that you can go out on boat tours and cage diving tours from Port Elizabeth into Addo Elephant National Park Marine Protected Area. Addo recommends Raggy Charters on their website.
10. Does Addo Elephant Park have the Big 5?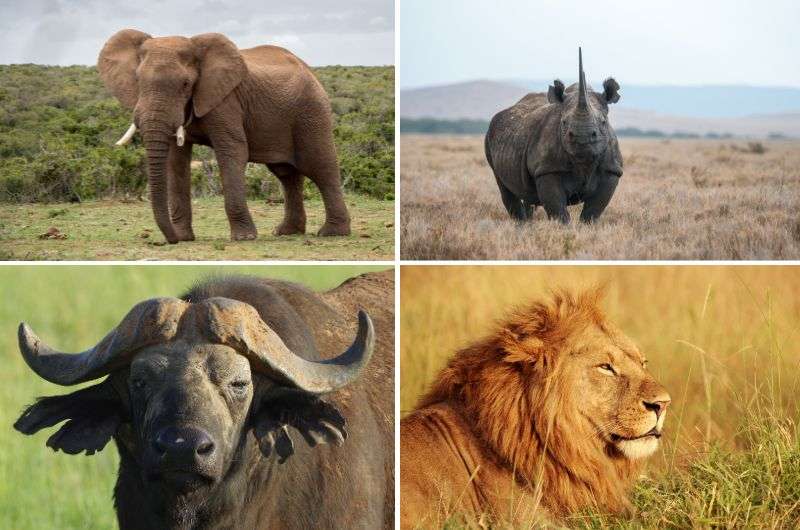 The big 4 that we saw in Addo Elephant Park (I'll get you next time, leopard)

Nope... they have the Big 7! We've established that there are elephants, but Addo Elephant Park safari wouldn't be such a great safari if there weren't other animals as well. And oh boy, are there! Let me explain:
The big 5 is the Cape buffalo, African elephant, leopard, lion, and rhino. It was my first time ever seeing the Cape buffalo at Addo (there's 400 of them there), so I could check off 4/5 of the Big 5 only missing a leopard. Leopards are next to impossible to spot (unless you're on a special sunrise tour or something), especially during the day. I'd change the Big 5 anyway, adding hippos or cobras instead.
What's with this Big 7 business? Well, if you add the southern right whale and great white shark to the Big 5, that's what you get. And the Addo Elephant National Park Marine Protected Area is where you can see them, as well as many other magnificent sea creatures.
In summary, yes, you can see the Big 5 in Addo Elephant Park. But you probably won't.
11. Are there lions in Addo?
Yes. There are 17 lions in the main Addo Elephant Park, and some more in the private game reserves that are part of the park.
12. Are there rhinos in Addo?
Rhinos—check!

Yes. Black rhinos can mainly be spotted in the outlying Darlington Dam area of the park. So, it's not like you'll be stumbling over rhinos everywhere you go, but you can see them if you put in some effort.
13. Are there hippos in Addo?
Hippos—check!

Yes, they like to hang out in the Sundays River at the base of the Zuurberg Mountains.
As the animal that kills the most humans in Africa every year, please don't be fooled by their natural body shape. Hippos are fast, and those teeth are razor sharp and HUGE. Though, I learned a hippo never attacks without giving a warning, so if you're a human that ignores the warning and proceeds to get impaled by a hippo, you probably deserved it. Natural selection at its finest.
14. Addo Elephant Park safari rules
These animals are beautiful but can be dangerous so stay cautious and don't leave your car!

Remember that the animals are the locals here and you are a mere visitor. Play by the rules and everyone will be safe.
Keep your need for speed in check. The roads have a 40 km/h limit, but even that is too fast if you really want to see anything. There's no hurry, slow and steady wins the (animal-spotting) race!
Stay on the roads, no offroading or chasing animals at your whim.
Stay in the car at all times. You can only leave your vehicle in the designated viewing areas if you really need a closer look at our four-legged friends, but remember, it's an at-your-own-risk situation.
Lock those doors! Lions have apparently taken up locksmithing as a side hustle and can pop those doors open quicker than you can say "King of the Jungle."
Don't feed the animals.
Keep your limbs inside the car. Again, don't feed the animals. And don't even think about offering a high-five to a curious trunk.
Keep your decibel levels in check. Animals have their own conversations going on and you just need to sit back and not be in the spotlight for a while.
The rangers are the kings and queens of this jungle. Listen to their royal commands for a smooth safari sailing.
Give animals their space. You're not auditioning for a National Geographic documentary.

15. Is Addo Elephant Park worth visiting?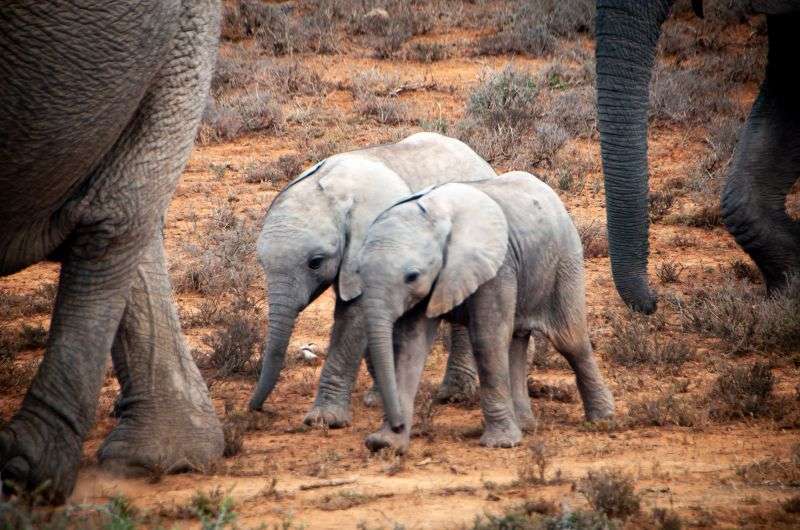 It's soooo worth it!

Do penguins love tuxedos? No doubt about it, Addo Elephant Park is worth a visit, and it might even become your favorite memory of your South Africa vacation! It's remarkable to see so many animals in such a compact park. When you see dozens and dozens of elephants hanging out together in one spot, you'll know why. It's just not something you see every day, and it'll be a treasured memory for even the toughest dude.
Addo Elephant Park is located conveniently close to the Garden Route, which I'm assuming you'll be driving through (you have to—it's another top place in South Africa that I absolutely loved). So you don't even have the excuse of complicated logistics. Just go, Addo Elephant Park is worth at least a day trip, hands down.
16. When to visit Addo Elephant Park?
Alright, let's dive into the timing of your Addo adventure, shall we?
We went in April and I think the weather was perfect. It wasn't scorching hot, but mornings were still nice and warm still, there was no rain, and the animals were out and about. And we saw about a million elephants at the watering holes.
Generally, in the summer months, from November to March, the temperatures range from a cozy 15°C to a scorching 45°C (that's 59°F to 113°F for my Fahrenheit peeps). As winter approaches, things cool down, dropping to a chiller 5°C to 18°C (or 41°F to 64°F) in July. Frosty mornings? Absolutely.
Rain's a bit of a renegade here, deciding to sprinkle some fun all year round. But if it has a peak season, it's in February–March and then a rerun in October–November.
So, when's the prime time for a Addo Elephant Park safari? There is a consensus that May to September is the best because it's the driest. It's when water becomes the hottest (or rather, the coolest) commodity, and guess what that means? Animals of all shapes and sizes gather around the waterholes like it's a wildlife water cooler hangout. But, let's not forget those sweltering summer days. When temps spike, even the elephants ditch their dignified stance and indulge in a splash-fest at the watering holes. I say April strikes the perfect balance between the two.
This post contains affiliate links. I earn a small commission if you make bookings through my links, at no additional cost to you. This helps keep this blog free, thank you!