Welcome to the Garden Route – where the trees are as tall as skyscrapers (well, almost), the waves are like adrenaline-packed roller coasters, and the trails? Oh, you'll see. Just beware—the Garden Route might just become your new favorite hiking spot in the world!
Hold onto your hiking boots, this'll be a journey that will both challenge and reward you in ways you never imagined. Especially if you don't watch the tides... This is no stroll through the neighborhood park—this is Garden Route hiking, where every step is an adventure. Some of these hikes will take you along cliff edges, some will need you to be able to scale a boulder or five (while making sure you aren't caught by high tide), but all will make you fall in love with South Africa's scenery.
It's really hard to put all of these incredible Garden Route hiking trails in any kind of order. After about the top 3, I'd just lump them all together in one glorious 4th place. I'll describe 9 top hiking trails on the Garden Route, each perfect for a day hike (there are no multiday hikes on this list). Each hike includes practical details (look for the trailhead link to Google Maps where you can usually also find the parking area) and my opinions and riveting stories about it.
My top tips for hiking on the Garden Route:
Always download an offline map of the trail or route you're going on. You can't count on reception in some of these places.
We had our best hotel experiences in South Africa on the Garden Route. I can wholeheartedly recommend Kambaku at Sea for the western portion of the Garden Route, and Nova Boutique Hotel in Port Elizabeth for the western part (it's close to Addo Elephant Park, too!).
Sometimes you'll need to sign in before the hike and pay entrance fees—bring cash and provide your trip details. This is especially important in case you go missing.
If you can only choose one hiking area on the Garden Route, choose Tsitsikamma NP. It's stunning!
Let's hit those trails!
Best hiking trails in Garden Route
Here's my list of the best hikes on the Garden Route, in order of how I personally liked them:
Day 1 Otter Trail
Storms River Mouth Hike
Robberg Nature Reserve Hiking Trail
Half-Collared Kingfisher Trail
St. Blaize Trail
Salt River Mouth Trail
Kranshoek Coastal Trail
Big Tree Trail
Platbos Trail
Here's a map showing the locations of all of the Garden Route trails on my list:

You can see the Garden Route has a lot to offer—and I haven't even mention the scenic drives, canoeing, and monkey sanctuary (to name just a few of the incredible activities)! Here's how to fit it all into a 5 or 10 day itinerary
1. Day 1 Otter Trail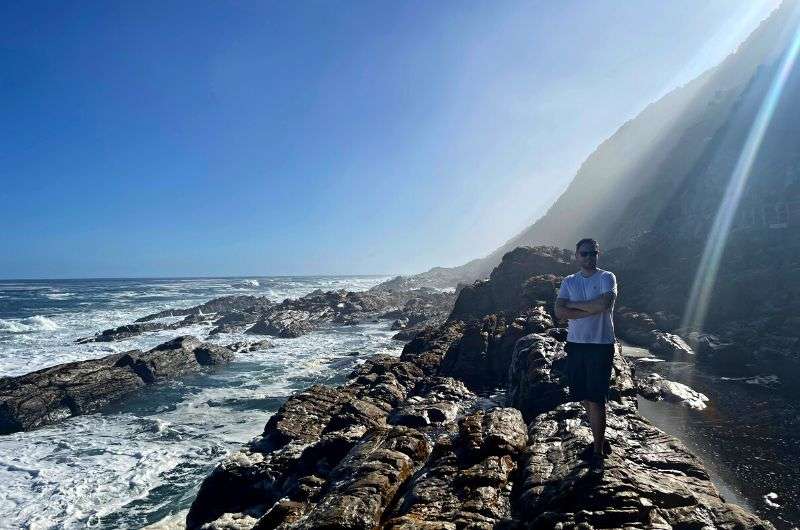 Otter Trail is all about scrambling around the sea...loved it!

Hike length: 4.8 km (3 mi) out-and-back
Elevation gain: 135 m (440 ft)
Difficulty level: Moderate
Hiking time: 2–3 hours
Trailhead: Google Maps link to trailhead
This hike is the beginning of the famous 5-day Otter Trail, not very long, but it definitely gives you an idea why the Otter Trail is so popular. It's technically challenging because you're on rocks and boulders most of the way, but who doesn't love some shoreline scrambling?? I sure do!
The Day 1 Otter Trail hike is in Tsitsikamma National Park and it starts at Storms River Mouth, aka the most incredible place on the Garden Route. The trail begins at the end of the Storms River Rest Camp and goes all the way to the waterfall and then back the same way. It delivers unbelievable scenery—you're in the luscious forest one moment and exposed on the boulders right next to the wild ocean the next. Seriously, the waves were something like 3–4 m high when I hiked the Otter Trail, it was insane!
Beware that the rocks can get slippery and that there's a fair bit of scrambling, but if you aren't a total klutz or wearing flip flops, you'll do just fine. I saw people of all ages on this route, so instead of "hard", I'd describe it as "adventurous and fun". If a 5-year-old can do it, you can too.
Day 1 Otter Trail (get full map on Alltrails)

It's coastal Mordor vibes all around, sharp cliffs making the scene look like a movie set. Every step felt like a leap into an adventure, especially when the path turned rocky. And hey, rocky's my kind of terrain! The route is pretty straightforward, just remember not to veer off anywhere. If you're having to make turns, you're probably not on the Otter Trail anymore.
There is a cave roughly in the middle of the Day 1 Otter Trail if you want to do see some bats. The hike ends at the waterfall. It's very pretty, and people like to swim in the pools there and have a snack before heading back. We didn't, but you can. Take your own food and water, there are no facilities.
You don't need to book the one day Otter Trail, unlike the full hike. You can just rock up and go any time. Just make sure to time your hike appropriately, since high tide can turn this into a more of a challenge than you'd like. We did the hike in 2 hours.
2. Storms River Mouth Trail
My favorite—Storms River Mouth trail

Hike length: 3.7 km (2.3 mi) out-and-back
Elevation gain: 200 m (655 ft)
Difficulty level: Easy to moderate (if you don't like stairs)
Hiking time: 1.5 hours
Trailhead: Google Maps link to trailhead
Storms River Mouth was my favorite place on the Garden Route, and luckily for you there's a trail that'll allow you to see the very best of the best views there. Everyone and their grandma does this route, since the famous suspensions bridges are a part of it. It starts in almost the same place as the Otter Trail and just heads in the other direction, so it's great to connect the two into a one-day trip.
The Storms River Mouth trails starts at the parking lot near Untouched Adventures (the people that do kayaking trips into the river mouth and gorge) and make your way to the bridges. You'll walk through a gorgeous forest and on wooden paths. The 3 suspension bridges are good fun, though you might get stuck in a traffic jam when people hold up the flow taking photos on themselves on the main bridge. It's not bad to be able to stop and take in the views though, you'll be standing right above the wild waters of Storms River mouth below.
After the suspension bridges, the trail goes up some steep stairs. You can scramble even higher up to get to a cool viewpoint when you reach the end.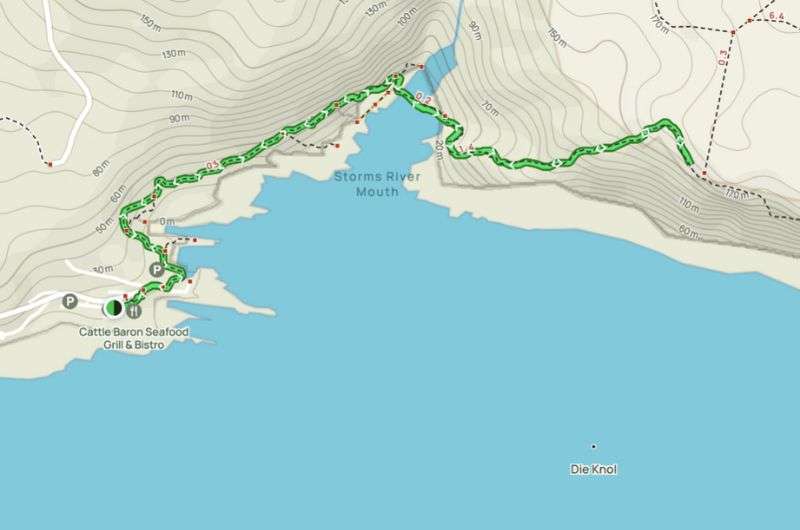 The steep part of this trail starts after the suspension bridges (see full details on Alltrails)

We got to see plenty of baboons and vervet monkeys on this trail, too. I'm telling you, this place is unbelievably wild and epically beautiful!
It's certainly not a hard route, and even with the stairs at the end it's just a good workout and nothing too strenuous.
3. Robberg Nature Reserve Hiking Trail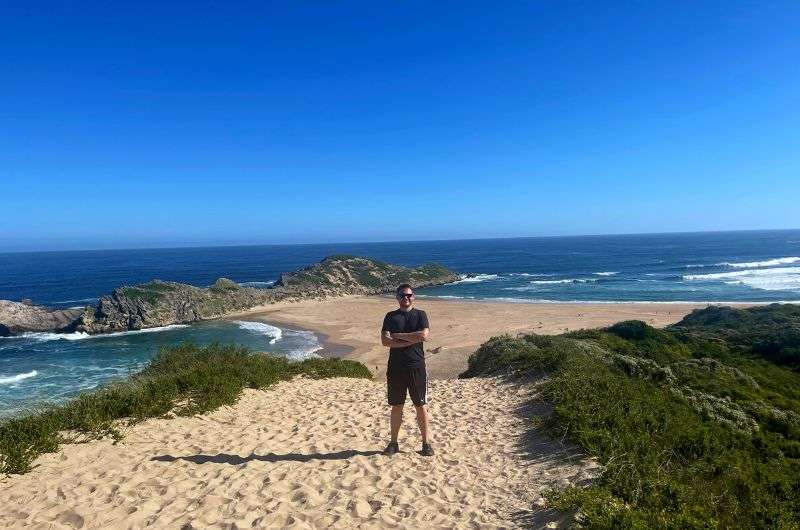 Me and the scenery on the hike in Robberg Nature Reserve

Hike length: 8.7 km (5.4 mi) loop, with the option to cut it in half
Elevation gain: 280 m (920 ft)
Difficulty level: Easy to moderate
Hiking time: 2.5 hours for the full trail
Trailhead: Google Maps link to trailhead
This slice of peninsula has been on my radar for a while, and let me tell you, it's one of the A-listers on the Garden Route. It's a 8.5 km (5.3 mi) route that feels like multiple hikes in one—it keeps changing and stays interesting the whole time (a little too interesting in the sandy part).
You start at a "cozy" parking lot (good luck finding a spot), and first things first, I recommend stopping at Nelson Bay Cave. It's an interpretation center that educates you on the story of the local San and Khoi people, their local lives spanning 120k years. They practically owned the place when the sea decided to take a vacation elsewhere. Their hunting game changed as the sea levels did (something about the Ice Age). Very interesting stuff!
You'll circle the entire peninsula on the Robberg hiking trail (but there's an option to cut it in half) (full route details on Alltrails)

Then you're ready to continue on the Robberg hiking trail. It's jaw-dropping coastal goodness all the way, though if I were to do it again, I'd opt for the shorter version, where you cut through the peninsula in the middle and skip the sandy shuffle of the longer route. Also, whatever those little insects were, they were annoying as heck and stung, too!
We have got to talk about the 6000+ seal colony. They are entertaining, but they come with a scent. I have a love-hate relationship with seal colonies ever since I couldn't wash the stench out of my hair for a week after visiting the Cape Cross seals in Namibia.
If you're lucky, you'll also be able to spot whales (I wasn't).
Some sections of this route are quite steep, but there are ropes you can hold onto. I saw some people opting to scramble on the rocks instead of walking on the sand in some places, so that's an option, too.
Overall, the Robberg hike is incredibly scenic and one of the highlights of Garden Route hiking for me for sure.
4. Half-Collared Kingfisher Trail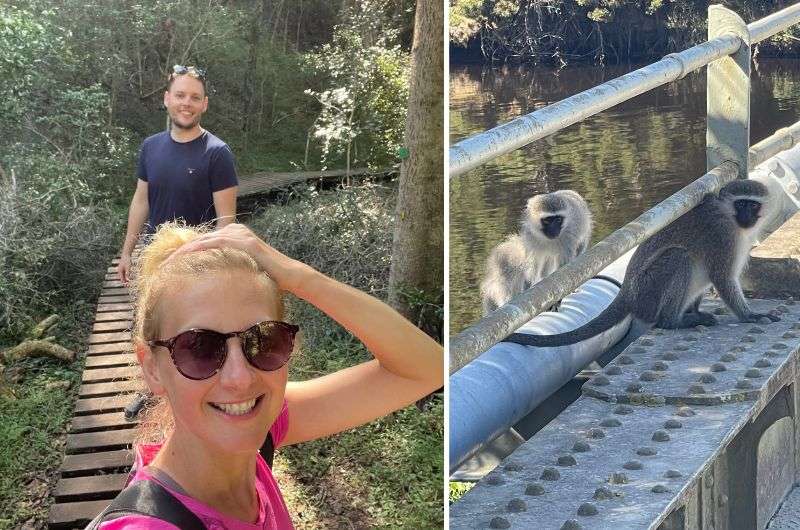 Half-Collared Kingfisher hike is the fun one. Prepare to see some monkeys!

Hike length: 7.6 km (4.7 mi) out-and-back
Elevation gain: 270 m (885 ft)
Difficulty level: Easy
Hiking time: 2 hours
Trailhead: Google Maps link to trailhead
The Half-Collared Kingfisher trail is a fun one, and easy enough for the whole family. And, this being the Garden Route, very pretty, too. It's a shaded hike alongside the river leading to a waterfall and natural pool—it felt dangerous to swim there to me, but we saw people arrive and dive in, so you'll need to decide for yourself about how to handle that part of the hike
More a walk than a hike, you'll be strolling mostly on a well-maintained wooden walkway under a canopy of trees. Whoever built this deserves a high-five, it must've been quite an undertaking. There are some stairs and a river crossing, but they add to the fun. This hike really can be done by almost anyone.
The pontoon bridge at the start of the trail is definitely a highlight, because you feel like you're entering a secret area. I was as giddy as a kid on Christmas, pulling us along, feeling all strong and manly as I muscled us to the other shore. There's also an alternate path that'll take you across the river on stepping stones instead. It's a little bit further along the river than the pontoon bridge (from the beginning of the trail).
The pontoon bridge comes after the first 15 semi-boring minutes of the Kingfisher trail. That's where the fun really starts!

We hit the Vervet monkey jackpot—those cheeky little devils almost swiped our phones, so stay aware if they start looking a little too interested. Apparently, they are used to all the humas on the Kingfisher trail, so you can see them pretty often.
The waterfall at the end is nice, but don't think of it as the highlight. The setting that the waterfall is in is much more spectacular than that bit of water falling.
The return hike is the same route, but there are some areas near the beginning of the trail where you can turn it into a loop. This Alltrails map shows the extra paths.
5. St. Blaize Hiking Trail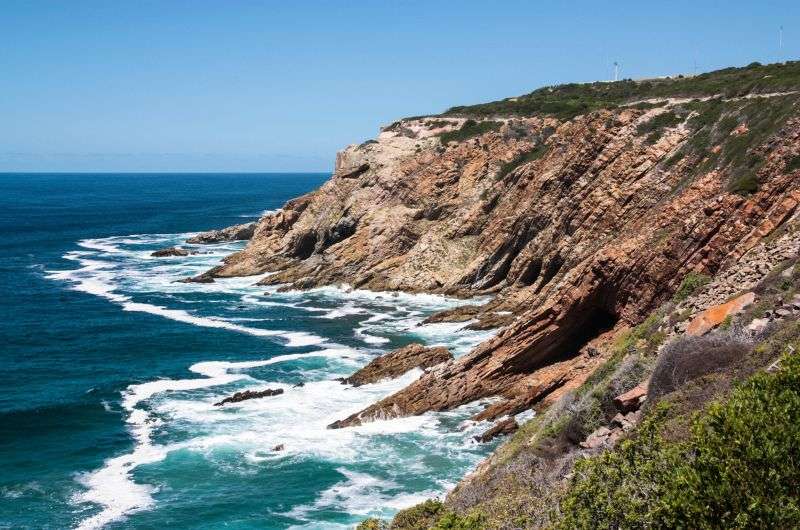 Mossel Bay

Hike length: 27 km (16.7 mi) out-and-back or as long as you want
Elevation gain: 870 m (885 ft)
Difficulty level: Moderate to hard
Hiking time: 8 hours for the whole thing
Trailhead: Google Maps link to trailhead in Dana Bay | Google Maps link to trailhead in Mossel Bay
The Saint Blaize hiking trail, stretching from Mossel Bay to Dana Bay, offers an admittedly long journey through some of South Africa's most awe-inspiring coastal landscapes. While the entire trail promises breathtaking vistas, if you want to just walk a few kms and turn back, I'd recommend starting from Dana Bay. It is a tad bit more spectacular on that end.
You will need a good map around the Pinnacle Point Golf Resort (Alltrails has got you covered)

Even though it looks like hour after hour of the same view, note that this trail isn't here to bore you. In fact, it's so un-boring that even those with a stable sense of direction might feel their inner compass spinning as they teeter along narrow paths hugging the cliffs. Fear of heights, anyone? Yeah, it's like that. If you truly have a fear of heights, don't go on the St. Blaize trail. You will hate it.
There's a golf course a short distance from Dana Bay where you might wonder if your hiking map is fooling you, but rest assured, you're on track. The trail just decides to play a little game of "choose your adventure" and splits into two paths. The upper route is your best bet, saving you from a rocky scramble along the shoreline.
Stock up on water and snacks, especially if you're doing the entire St. Blaize hike– you know, the essentials for survival. There's nobody selling snacks on the cliffs, in case you were wondering.
6. Salt River Mouth Trail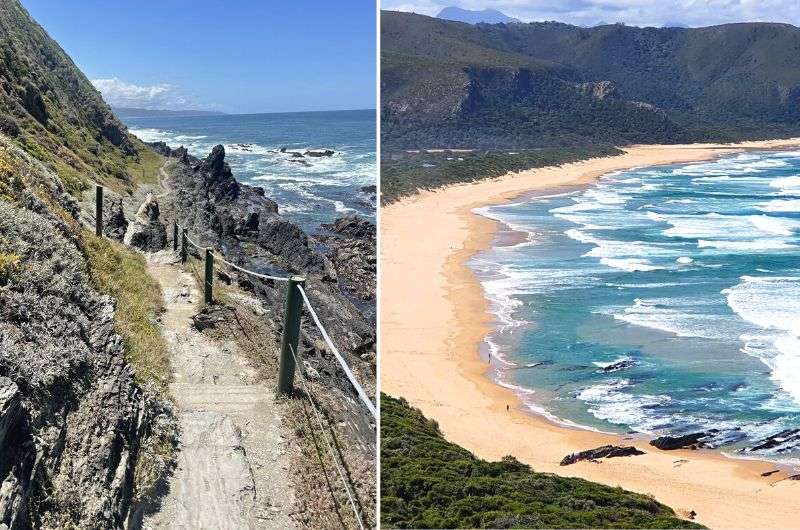 Salt River Mouth hike views

Hike length: 3.7 km (2.3 mi) loop
Elevation gain: 130 m (430 ft)
Difficulty level: Easy with moderate sections
Hiking time: 1 hour
Trailhead: Google Maps link to trailhead
Depending on when you visit, this one is for those that don't mind bending the rules a bit. Yes, this is an official route, but since some of the safety features fell into the ocean after a landslide, there are signs saying it's "extremely dangerous" and that "access is not possible". While I agree it was probably safer before, access still is possible, as proved by the many people that choose to disregard the sign and proceed to have a wonderful hike full of stunning views. So, if the sign is still there when you visit, you may need turn a blind eye to it if that's something you feel comfortable with.
If you do set out on the Salt River Mouth trail, just try not to fall from the path into the ocean below, ok? Ignoring a forbidden access sign and then falling off the cliff is not a good look. And even then the safest way to do this hike is clockwise. The bottom part of the trail leads you along the rocks right on the water, so you have to plan your trip according to the tide—low tide, that is. Otherwise, a fun scramble could turn into a wet mess really quick.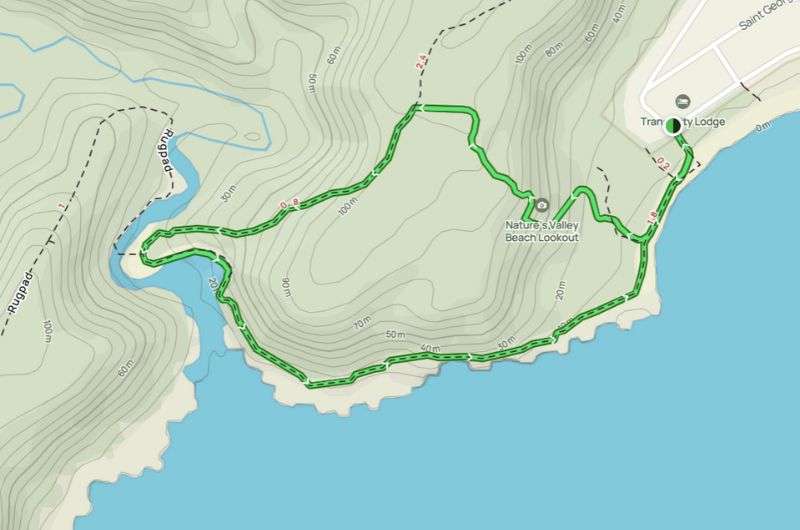 I recommend doing this route in the opposite direction (map from Alltrails)

Only if you're 100% certain that you'll be at the rocks during low tide, i.e. you won't spend too much time in the higher section, or you won't want to take a dip in at the river mouth and rack up extra time that way would I recommend doing this hike clockwise. Because finding out in the second half of your hike that you have to turn back because Mother Nature spilled ocean on your trail isn't the best situation to be in. So, I say you get the rocky section out of the way first and then continue uphill where no body of water can touch you.
The Salt River Mouth is definitely way less busy than Storms River Mouth, so if you like a bit of solitude, this is your spot. The top section has some great views, but it's also full of trees and bushes that block the stunning coastal view a lot, so just come with adequate expectations. The views you do get are superb and should be savored when you do get them! Otherwise, this hike is a hoot. I always like a hike that has a bit of a fear factor to it.
Take your swimwear if you want to go for a dip.
7. Kranshoek Coastal Trail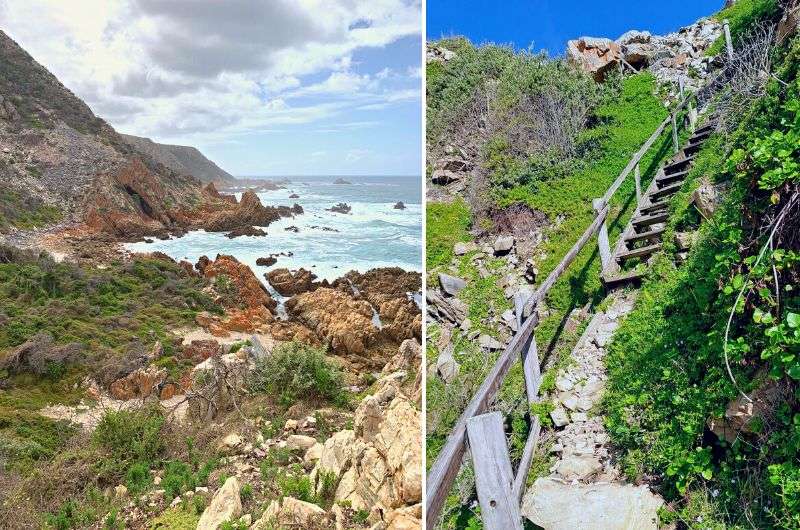 Sometimes, you can't find the trail at all, and sometimes, you need to go straight up. Easy peasy, no? Kranshoek Coastal Trail

Hike length: 8.4 km (5.2 mi) loop
Elevation gain: 299 m (980 ft)
Difficulty level: Moderate with hard sections
Hiking time: 3 hours
Trailhead: Google Maps link to trailhead
The Kranshoek Coastal Trail is another gorgeous adventurous trail that deserves a lot of attention, and I kind of feel bad for it for being in the no. 7 spot. Just so you know, all of the Garden Route hikes on this list are fantastic and you'll love 'em. Even if they aren't in the top 3.
Remember those childhood days when you'd scramble up trees and jump from boulder to boulder? Well, Kranshoek is the grown-up version, complete with some epic climbing up ladders. The Kranshoek Coastal Trail is literally a natural playground, and I'm here to tell you, if you're seeking an outdoor adventure that makes your heart race faster than a caffeine overdose, Kranshoek is your guy.
But don't worry, it's not the entire 8.5 km that's like that. The last 2.5 km are on a dirt road, which, depending on your perspective, is either a nice and chill ending or way too boring after what you've just been through.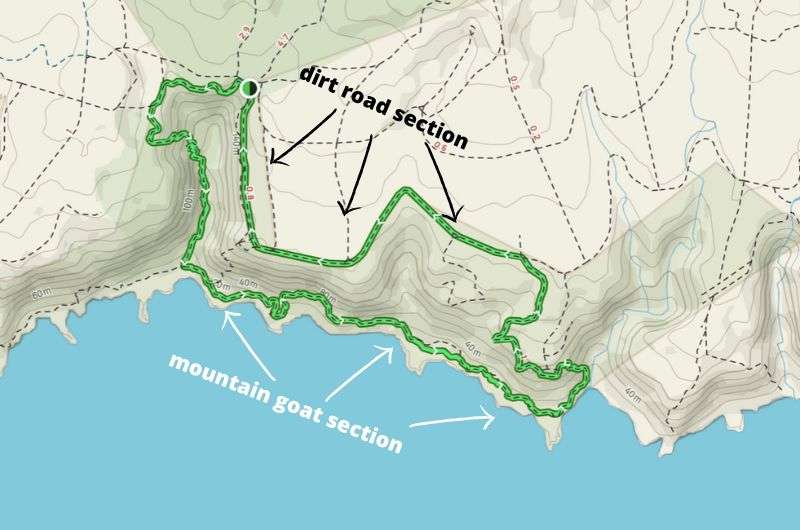 After all that fun on the rocks, the end of the Kranshoek Coastal Trail can feel a little boring (full trial on Alltrails)

This trail takes the thrill of the Salt River Mouth hike and dials it up to eleven, minus the river but loaded with even more opportunities to channel your inner mountain goat. Not scary, just super fun. The rewards? Views that'll make your heart sing, vistas that Instagram dreams are made of, and a sense of accomplishment that'll leave you grinning like a Cheshire cat.
Don't underestimate the time this trail will take you, especially since a lot of times, you'll have a hard time finding a trail at all. There are some markings along the way, but it's not especially well maintained. But since you'll be walking along the rocks right on the shore a lot of the time, there's no place to really get lost. Will you get stuck scratching your head on where you're supposed to pass a certain area? Oh yeah. But you'll always know the general direction in which you're supposed to be going.
8. Big Tree Trail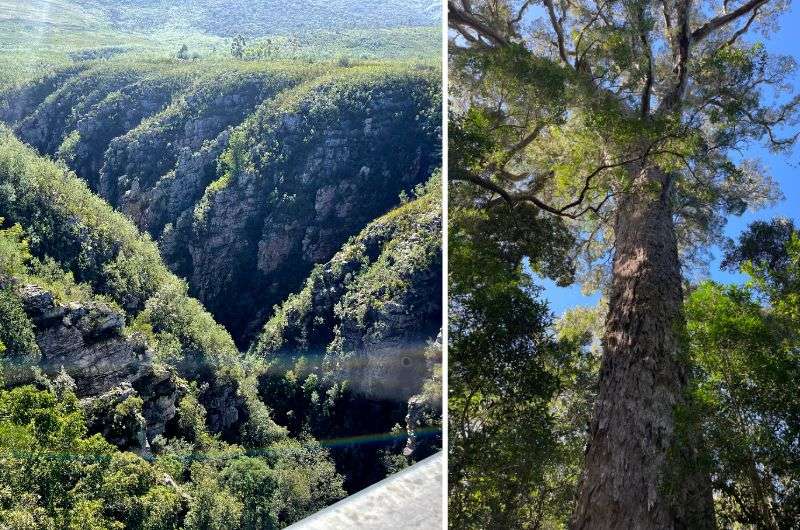 Hike through the jungle!

Hike length: 1.3 km (0.8 mi) loop or extend 2.5 km on the Yellow Trail
Elevation gain: barely any
Difficulty level: Easy
Hiking time: 30 minutes
Trailhead: Google Maps link to trailhead
The Big Tree trail is like a mini adventure that you can squeeze in after some of the longer hikes in the Tsitsikamma area. Think less than 30 minutes of strolling, just over 1 km (0.6 mi) round-trip for the Big Tree trail. You can stretch it even further on the Yellow Trail if you're feeling like a walk in the dense forest, and clock in around 3.5 km (2.2 mi) total.
The Big Tree Trail is just the green bit on this map. If you want more big and small trees (and probably some spiders and snakes), continue on the Yellow Trail (map from Alltrails)

It's all about getting cozy with the OG forest. The star of the show is a tree that casually stands at 38 m (125 ft) and is 800 years old. I was all prepared for some regular trees, but whoa, this tree was something else! It's a Outeniqua Yellowwood.
The entire forest surprised me by how jungle-y it was (if you can ignore the road noise—Big Tree is very close to the highway). If you venture out onto the Yellow Trail, this lusciousness means a good chance of running into spiders and snakes. If that motivates you or deters you from the walk is up to you. There are at least two other huge trees further down this trail if that helps.
We only had time for the Big Tree and it was a lovely short walk on a wooden boardwalk from the reception area, a mere 500 m (0.3 mi) or so. A perfect hike for those that don't like hiking!
9. Platbos Trail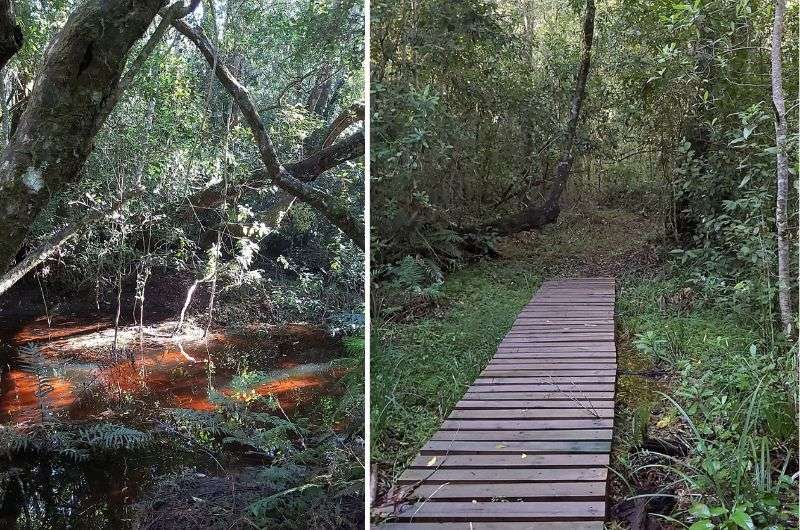 It was a wonder there were no snakes or obvious creepy crawlies in this jungle of a forest

Hike length: 10 km (6 mi) loop (red trail + part of official yellow trail)
Elevation gain: 280 m (920 ft)
Difficulty level: Easy to moderate
Hiking time: 2.5 hours
Trailhead: Google Maps link to trailhead
Last but not least, Platbos Nature Reserve is a gorgeous indigenous forest that is a quiet, tranquil area to walk in, and comes in a stark contrast to all the other exciting hikes on the Garden Route. If you need to settle your nerves from all the cliff hikes and rock scrambling of the other hikes on this list, Platbos is the place to do that.
Platbos is actually a series of loop trails, so you can tailor the route and distance to suit your needs. There are markers along the way that will help you do that.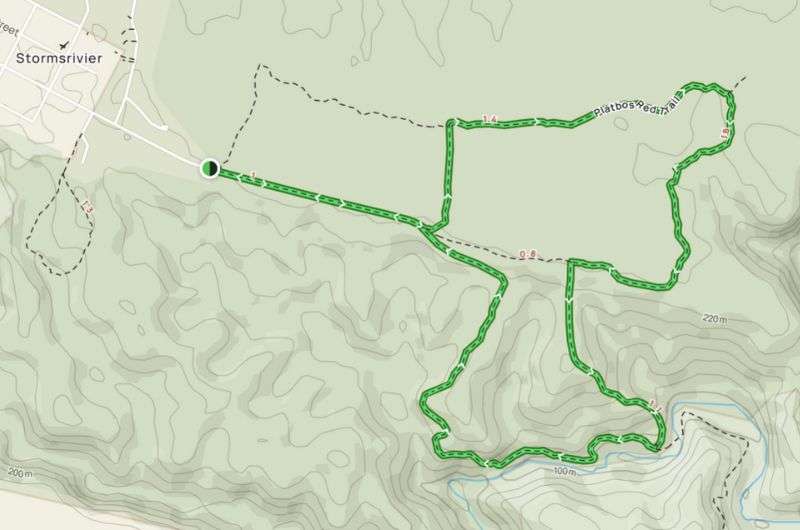 Choose your own loop: Platbos trails (map from Alltrails)

The red loop takes you through thick forest, and if you extend it down the yellow trail, you'll get all the way down to Storms River. You can experience the river in a much mellower state than what you will see at Storms River Mouth. No selfies on suspension bridges here! But a perfect spot for a picnic or quick stop.
The Platbos area is easy for anyone to explore, though you may find some of the trails a bit overgrown. There are a few boardwalks, and some of the way is on a dirt road. Overall a pleasant area away from all the crazy Garden Route activities.

This post contains affiliate links. I earn a small commission if you make bookings through my links, at no additional cost to you. This helps keep this blog free, thank you!