Calling all adventurers and fellow wildlife aficionados! If you've found your way here, you're likely planning an exciting voyage to Kruger National Park, the heart of Africa's untamed wilderness!
Now, let me be honest—I'm not typically a "safari person." The predictability of it all tends to leave me yawning. But Kruger? Well, it's a whole different ballgame. This place, thanks to its jaw-dropping diversity, will keep even the pickiest of travelers (yes, like me) engaged for days on end. My original plan of a modest 2-day visit? It somehow morphed into an exhilarating 4-day adventure in Kruger!
Tip: One day is all you need in Addo Elephant Park, and 2 is the maximum I would've been happy with in Etosha National Park in Namibia. So 4 days in Kruger really says a lot about how amazing it is.
Here's the deal: Kruger is a sprawling kingdom of the animals, stretching nearly 350 km (220 mi) tall and 80 km (50 mi) wide. That's 20,000 km² (8,000 square miles) or almost the size of Israel! They say, "You can't step into the same river twice," and that couldn't be truer here. There's just so much ground to cover, you won't even be able to find the same river twice!
Who is this Kruger guide for?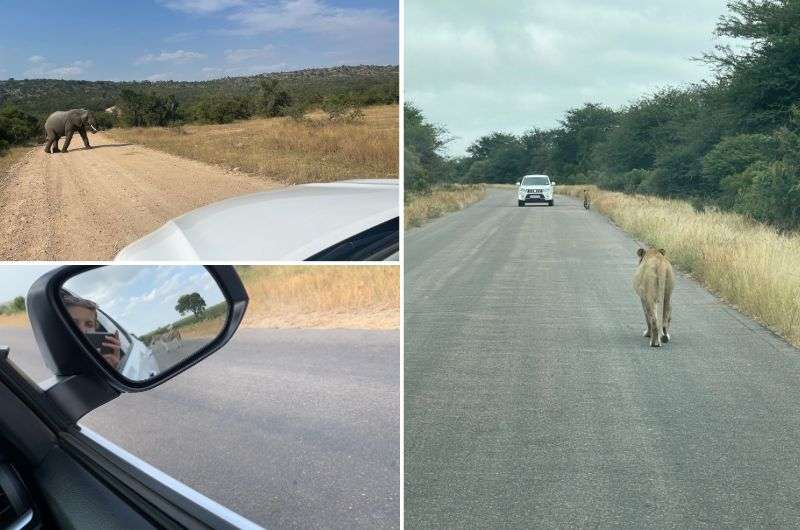 Get ready close animal encounters in Kruger National Park!

Wondering if this guide is your cup of safari tea? Well, if you were looking for a guide that'll give you plenty of practical information and drop some real-life insider tips, you're in the right spot. Whether it's your maiden voyage or a grand return to Kruger National Park, this comprehensive guide is crafted to make your experience smooth, unforgettable, and teeming with remarkable wildlife encounters.
I'd like to think this Kruger travel guide is the only one you'll need. I hate when I have to hunt around the internet looking for forgotten details. So first, we'll tackle the essential FAQs—including those burning questions that might be keeping you up at night (or too excited to sleep). Then, we'll dive into some tried-and-true visitor's tips, honed from my own experiences at Kruger, and last but not least, I'll give you some facts about Kruger that'll be the perfect addition to your mental gear before heading out on your trip.
So, grab your virtual safari hat, adjust those binoculars, and let's Kruger!
1. What's the distance between Johannesburg Airport and Kruger National Park?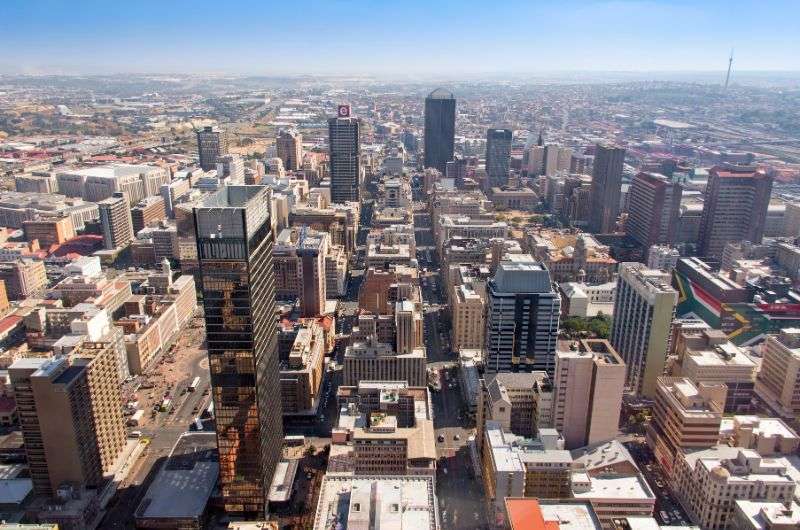 The city of Johannesburg

The distance between Johannesburg OR Tambo International Airport and Kruger National Park, also known as, is approximately 400 to 500 km (248 to 310 mi), depending on which part of the park you're heading to. But hold on, don't let those kilometers intimidate you! Road trips in Africa are an experience in themselves, offering breathtaking landscapes and exciting detours.
Plus, you'll be driving on the highway almost all the way, and South Africa's highways are generally in good shape, so it's an easy trip.
Pro Tip: To add extra pizazz to your Kruger journey, consider making a one- or two-day detour—explore the stunning Panorama Route. For more details on this side trip, check out my Panorama Route Guide and Panorama Route 1-2 day itinerary. It's all about making the journey as memorable as the destination!
2. Which is the closest airport to Kruger National Park?
If you're looking to fly into Kruger National Park, the closest airport is Kruger Mpumalanga International Airport in Mbombela (Nelspruit), also known as KMI Airport. This airport is practically on the park's doorstep (and, as a bonus, very close to the epic accommodation we stayed at and loved: Ndhula Luxury Tented Lodge).
What's fantastic about the airport is that it grants you easy access to the southern part of the park, an area renowned (and I second that tip!) for incredible wildlife encounters. You'll be within a whisker's reach of Skukuza and Lower Sabie, some of my personal favorite parts of Kruger with the best wildlife spotting opportunities.
Pro Tip: Depending on your South Africa itinerary, you could certainly decide to fly into Kruger to save on driving time. I, on the other hand, recommend renting a car in Johannesburg (or "Jozi", as the locals endearingly call their capital) and making the drive to Kruger. The Panorama Route is right there, people!
3. Can I visit Kruger as a day visitor?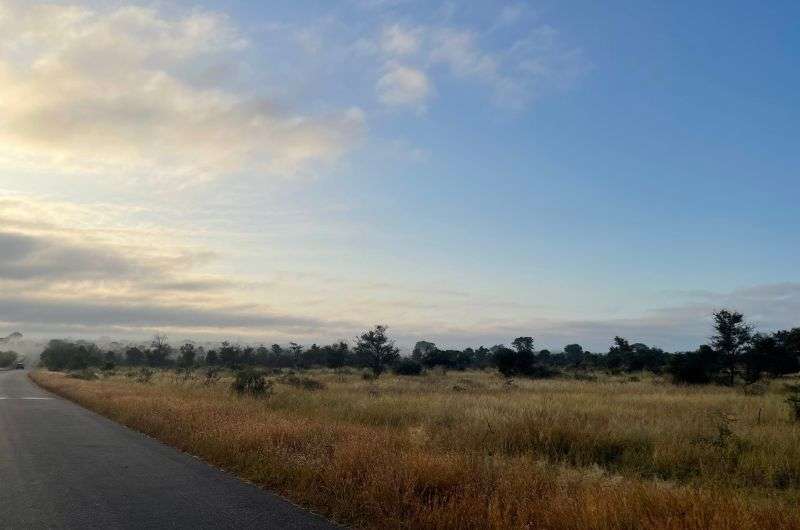 I loved driving around Kruger National Park

Yes, you can choose to stay outside of the park and visit Kruger each day as a day visitor. You can self-drive or go on a guided game drive. You will need to take note of gate opening and closing times (see FAQ no. 8 below).
Even as a day visitor, you can use the restaurants and picnic sites around the park. Restaurants are always at the main camps, while picnic sites are interspersed. They're a great place to stop, which, trust me, you will be happy to do every now and then. Stretching those legs after hours of slow driving feels so good! The picnic sites are well-maintained and well-equipped, too. Some have a shop with food, bbq facilities, and there are even attendants that'll clean your dishes when you're done making your food.
Note that park gates have limits on the number of self-driving visitors they let in each day, so you should plan on getting there early if you're visiting in particularly busy times.
4. How much does it cost to enter Kruger National Park?
For every day you visit Kruger National Park, you will pay the conservation fee of ZAR 460 (USD 24) + 1% community fee for international adult visitors. International kids pay ZAR 230 (USD 12). South Africans pay ZAR 115, SADC country nationals pay ZAR 230.
5. What animals can I see in Kruger?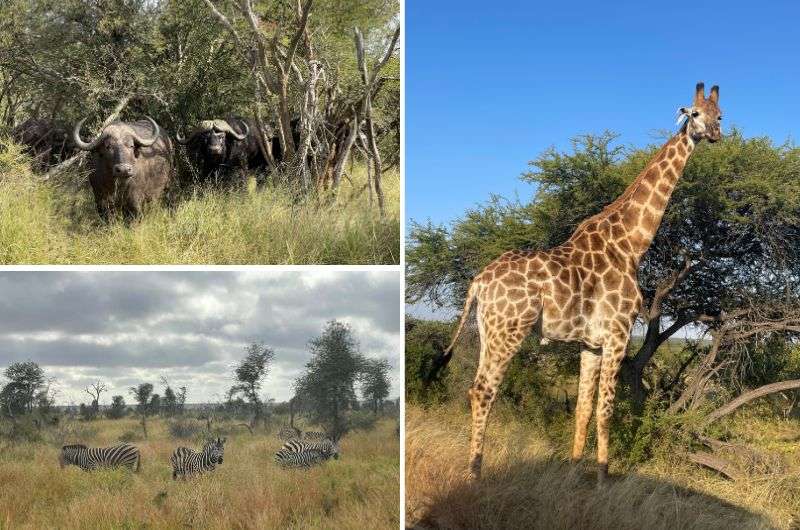 SO. MANY. ANIMALS!

Ah, the stars of the show, the headliners, the real A-listers of Kruger! You want to know who they are? Well, drumroll, please... it's pretty much everyone! Kruger National Park is one of the best places in Africa to see wildlife, so it's obvious it won't just be an elephant here and a wildebeest there.
First up, Kruger is the place to go to see lions. That's not saying it's easy to see them, you will need to put in effort and patience, but once you see them strutting their stuff through the savanna like they own the place (which they kinda do), with that classic feline "I couldn't care less about you" look, you'll feel like you've won the safari lottery.
Lions are part of the Big Five, all of which have a home at Kruger National Park: elephants, buffalos, rhinos, and leopards are the other four. Good luck spotting a leopard, though! I also had bad luck with rhinos on my last trip and saw a grand total of 0 specimens.
In total, there are about 150 species of mammals in Kruger; to mention a few: giraffes, hippos, hyenas, cheetahs, wild dogs, honey badgers, baboons... and don't forget the hundreds of reptiles, amphibians, and bird species! Who else loves ostriches and snakes? Show of hands?
Beautiful antelopes just a few meters away...but shhh!

You'll see such an overwhelming number of impalas, zebras, and antelopes of all shapes and sizes that they end up being almost as interesting to see as a pigeon in your home city.
Remember, how many and which animals you see in Kruger largely depends on how patient you are. Don't try to cover large distances, your FOMO isn't going to be cured by jumping from one place to another. There's nowhere to hurry to, focus on the area you chose and stick to it. Take your time, drive slowly, and keep your eyes peeled. Also, if there are a bunch of cars stopped in front of you, it's a dead giveaway that there's something interesting there.
6. Which area of Kruger is best?
I'm guessing you want me to tell you where all the cool animals live, right? Well, they move around, so no complaints if you didn't see a lion even though "Jan said I would". But here's the scoop from my multiple Kruger explorations:
The park is massive, and I mean "larger than some countries" massive. And each area has its own variety of wildlife that mostly hang out there. If I'm to be very general, the southern 1/3 of Kruger is your best bet for the most animal sightings. Roughly from Hoedspruit down is where the wildlife action was the best for me every time.
Hotel tip: We stayed in Hoedspruit for our Panorama Route weekend this last trip, but you could very well stay put and enter Kruger National Park from there as well. I wanted to mention this because Little Kubu Lodge in Hoedspruit was one of my top personal favorite hotels in all of South Africa.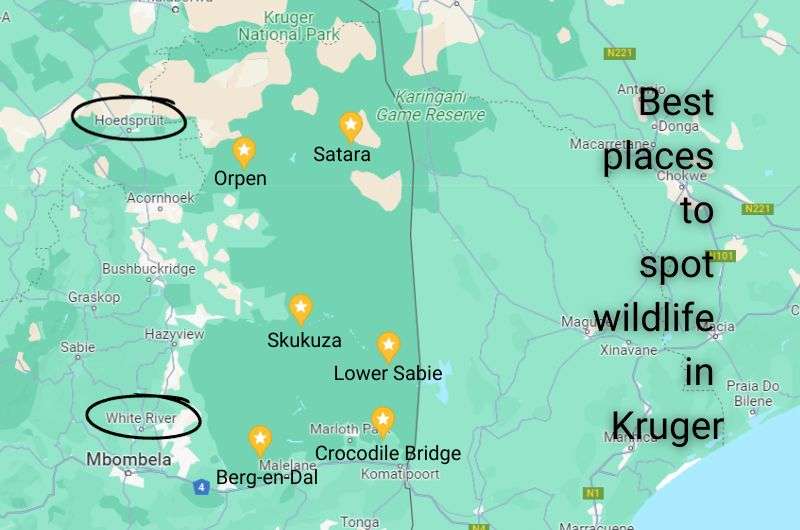 We always had the best luck in spotting the Big 5 and some of the coolest African animals in the southern section of Kruger.

Stay either in Hoedspruit: Little Kubu Lodge or White River: Ndhula Luxury Tented Lodge

If you're looking for more specific best areas in Kruger for wildlife spotting, try driving between Orpen>Satara>Lower Sabie and also around Skukuza>Berg-en-Dal>Crocodile Bridge. This is where we had some jaw-dropping encounters with lions, hyenas, cheetahs, giraffes, a bazillion zebras and elephants, and tons more.
Tip: I put together a whole other article about hunting for animals in Kruger (checking them off with a pencil and paper in hand, obviously!) in How to see the wildlife in Kruger?
You'll find mainly savannas and mixed woodlands in these parts, which are the best habitat for the animals we're all chasing after.
Pro tip: Grab a park map and brilliant guide at the gate. They're gold. You'll find colored zones indicating the type of vegetation you'll find in each area, which is code for what animals you can expect there. You can check off your sightings in the guide, too. It was like Pokemon Go for me, gotta catch 'em all! But I did not. I wasn't even close, and I spent restless hours trying! Stay in the pink and dark green areas for best results (no guarantees, but those were our hotspots!). Good luck!
7. Which gate is the best to enter Kruger National Park?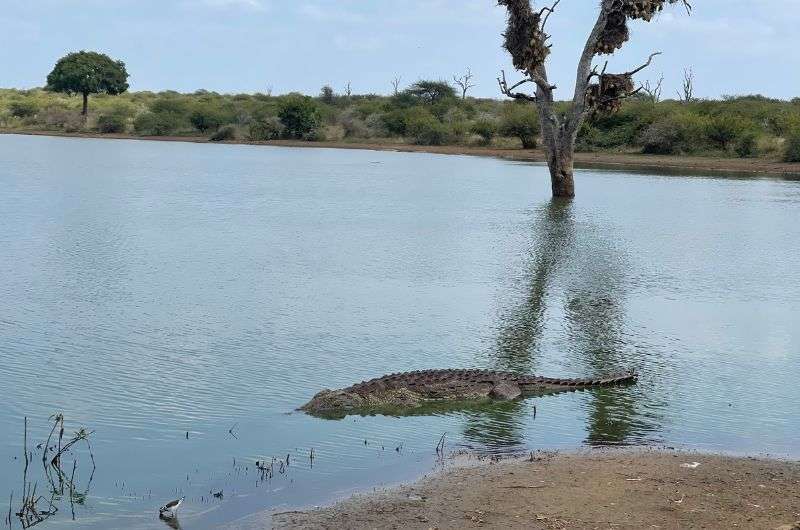 We started from the sharp end—at the Crocodile Bridge

There are so many gates in Kruger National Park (10 in total), it makes it really easy to base yourself almost anywhere and always have a convenient way in as a day visitor. We stayed outside of the park—we were very happy at Ndhula Luxury Tented Lodge in White River!—which was a perfect location because it's in the southernmost section of Kruger aka the best part of Kruger.
We used Crocodile Bridge and Malelane Gates, and it's easiest to use Orpen Gate if you're coming to Kruger from Hoedspruit.
One place to avoid is Numbi Gate, which is known as a crime hotspot.
Pro Tip: One thing to note if you're a day visitor is that gates have a limit on how many people they let in each day, so it's best to plan on getting there early if you're self-driving, especially in peak periods and on weekends in general. But if you do end up being turned away, you can still get on a safari game viewing vehicle and see Kruger that way.
8. What are Kruger gate opening times?
Unless you're staying inside Kruger National Park at one of the camps, you'll need to drive in and out each day and adhere to gate times. They are strict—if you get caught at the park late, you will be fined. That said, even if you're staying inside a camp, you'll still need to be inside the camp gates at certain times, too. Camp gate times are almost the same as general gate opening times except for a couple summer months when they open a little earlier.
Kruger gate opening times:
October–March: 5:30 am
April–September: 6:00 am
Kruger gate closing times:
November–February: 6:30 pm
March and August–October: 6:00 pm
April–July: 5:30 pm
9. What is the best month to visit Kruger National Park?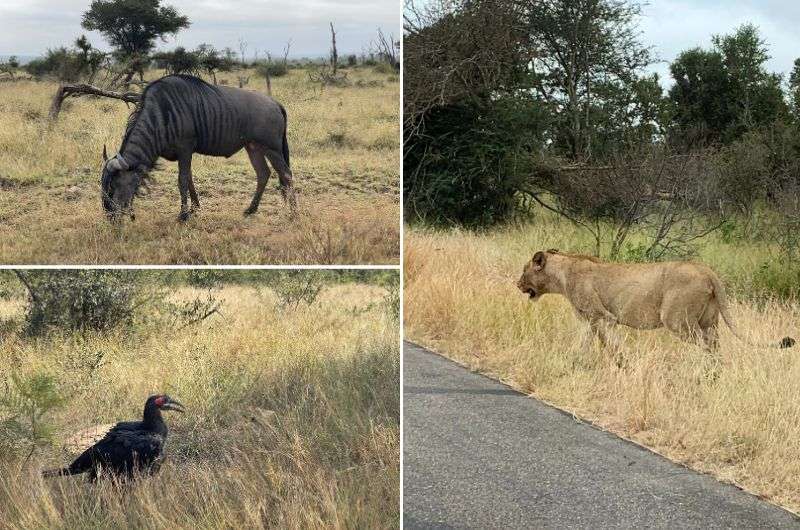 In Kruger National Park there are always animals to see!

I think Kruger is a year-round destination, though the best months to visit are arguably dry season: May to October. I say arguably because unless you're visiting just Kruger and nothing else, you need to consider the rest of your South Africa itinerary, too. The dry season in Kruger is end of fall through beginning of spring, and that will almost always collide with the best times to visit other parts of South Africa (for Cape Town and Garden Route, for example, you don't want to be there for winter, when it can rain a lot).
Obviously, there are pluses to visiting in dry season: You get less vegetation, which means the animals are easier to spot since they have less grass and leaves to hind behind. They're also thirsty and gather around the watering holes a lot, so again—easy peasy wildlife sightings. Then again, it's peak tourist season, which means traffic jams on self-drive roads.
I've been to Kruger National Park in dry and wet seasons and to me, it mattered very little which month I went. I always saw plenty of animals, and if you visit in a wetter month, you'll get prettier vegetation and spot lots of baby animals. And you know what little fuzzy baby cuties means... predators in action! Sorry, babies, but you're the easiest to eat.
My last Kruger visit was at the end of wet season, in April, and it was epic. You can see from my photos that there was no absence of animals whatsoever.
10. What time of day will I see the most animals in Kruger?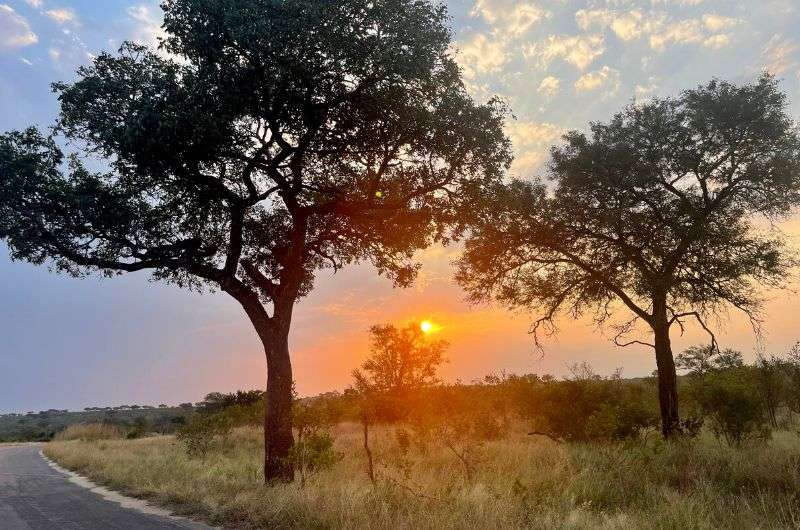 If you visit Kruger in the evening, you'll get this beautiful sunset as a bonus

If you want to see the most animals, visit Kruger in all times of the day! We did a couple of evenings, two very early mornings, and a full day, and each time saw different animals. If I were to say when I personally saw the coolest critters, I'd vote for mornings, but your experience can differ. Sunrises and sunsets are known to be when wildlife are the most active, so you'll need to test out your luck, ideally more than once, to get the most out of your Kruger experience.
We saw lions super close up on our last morning in Kruger. It was spectacular! We watched, almost holding our breath, as a group of lions walked right in front of our car for about 10 minutes. This was right before we headed to catch out flight back to Europe, so it felt like an extra special goodbye.
Tip: Check out my other article specifically about how and where to see the wildlife in Kruger. I even show you my animal checklist and try to tally up our animal sighting for the 4 days we were in Kruger National Park (I'm a little OCD about checklists).
11. How many days should I spend in Kruger National Park?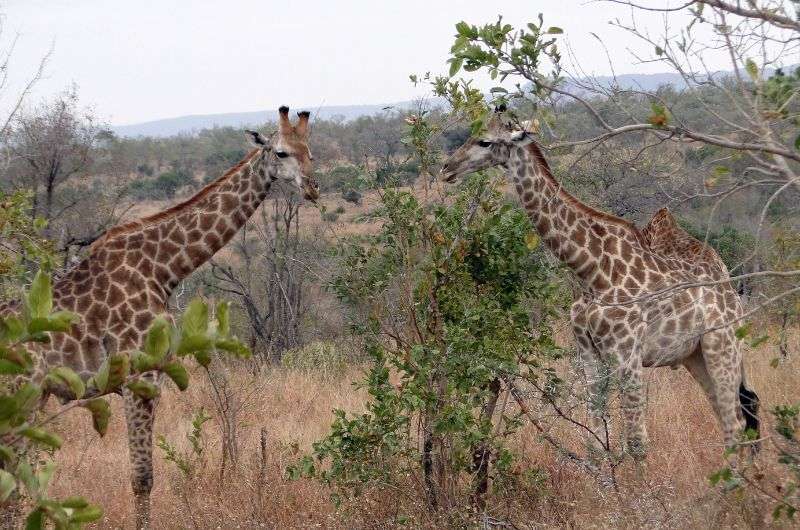 Kruger is not like some other safaris that tend to get repetitive really quick. Stay at least 4 days!

If you're contemplating the number of days to invest in Kruger National Park, this is one place you may want to stretch that time budget of yours. If you have 4 days, do 4 days. Two days aren't enough for Kruger!
Here's a little tidbit about my last Kruger visit: You see, I'm not your average traveler—I travel fast and cram a lot into my days, because there's so much to see and so little time! I've got a penchant for covering vast distances, and squeezing as much adventure as possible into every moment.
So, when I initially planned my Kruger escapade, I figured a couple of days should do the trick. Safaris usually get boring for me after two days anyway... But oh boy, did Kruger have a surprise in store for me! What was meant to be a swift two-day trip turned into a glorious four-day safari for me!
Why? Well, because Kruger is unlike any other. The diversity of wildlife and landscapes is astounding, and the thrill of spotting animals in their natural habitat is just irresistible. If you're anything like me (i.e. a little OCD) and possess that nagging obsession to check off every animal in your guidebook, well, four days will barely suffice.
Pro Tip: I'd recommend lots of time for this safari: the sweet spot is 3—4 days in Kruger National Park. We went in in the break of dawn on a couple of days, stayed into the evening on another, and pulled off one very long, full-day tour. Trust me, it's a lot, so it's a good idea to give yourself time to rest in between Kruger visits. I can't recommend Ndhula Luxury Tented Lodge enough for this. Not only is it basically a comfortable hotel room that's outside, but it's in its own private nature reserve, so you'll be spotting animals right from your private terrace!
12. Is it safe to self-drive Kruger?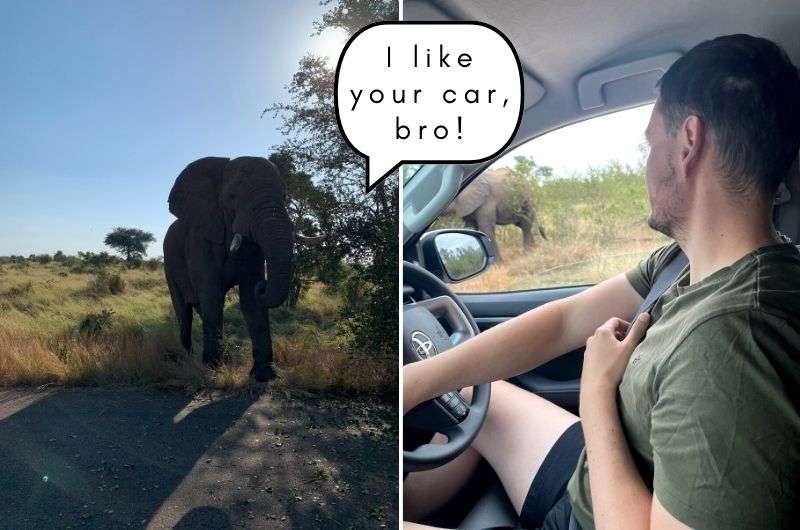 I like it too, bro. I like it too...

Absolutely, driving in Kruger National Park is as safe unless you do something stupid, like get out of the car near some lions, like that lady I say on Youtube. Seriously?! Darwin's law I guess.
Kruger has well-maintained roads, clear signage and good maps available, and speed limits that ensure everyone's safety, including the wildlife. That is, if humans adhere to these rules...
It's not rocket science: Keep your doors locked, windows shut if you see any predators around, and never exit your vehicle unless you're at a designated viewing spot. And remember, these are wild animals, so respect their space. That means no attempting to feed, pet, or take a selfie with them.
I'd say the only danger when driving in Kruger is a sore butt from the hours of sitting in the car driving slowly. I strongly recommend getting a comfortable vehicle, ideally a high-clearance one so you're up higher off the ground, which makes it easier to spot animals. We had a Toyota Fortuner and it was perfect for a smooth ride (and our tushes were happy, too!).
13. What are the road conditions like in Kruger National Park?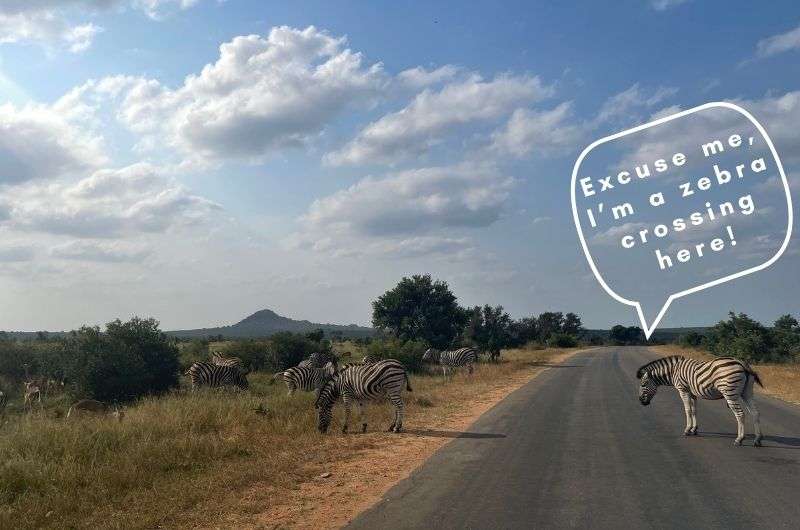 Remember, the animals in the park always have the right of way!

The road conditions in Kruger National Park are a pleasant surprise: mostly sealed, with only some sections with gravel, but nothing too bad. All the roads in Kruger are well-maintained, so even though you're in the wild, you don't need a mighty vehicle to tame them. Like I said above, I'd suggest a higher 4x4 just for the sake of your own comfort, but it's not necessary and you'll do fine even in a sedan.
As someone who's explored Kruger inside out, let me share a tip: slow down. Sure, there is often a 40 or even 50 km/h speed limit, but that just seems crazy to me. There's nowhere to hurry to! Onthe contrary, driving slow will guarantee you more animal sightings. Trust me; you don't want to speed past a leopard lounging in a tree or a herd of elephants crossing the road because you were in a hurry to get to the next place.
My 9 top tips for visiting Kruger National Park as a day visitor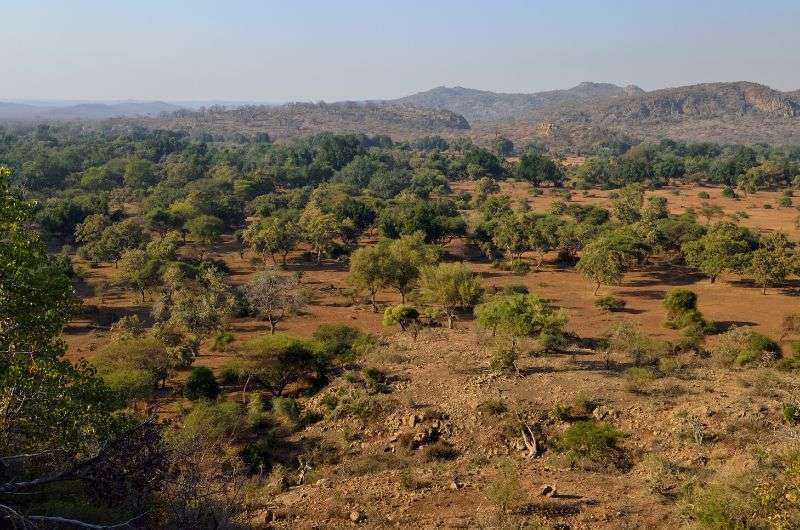 Kruger National Park

Don't rush, it's not a race! The animals are not putting on a show for humans, so you'll need to practice your patience and give yourself time to spot them. The nature isn't all that interesting, really, so it's not about covering the most ground. If you are having luck in an area, stay there.
Get off the ground... literally. Rent something big, like an SUV (we were happy with our Toyota Fortuner), so you get a good views from your car. You don't need a 4x4 to drive in Kruger, but if you're sitting in a sedan, you might miss some wildlife sightings just because you're so low to the ground.
Mornings beat evenings. At least they did in my experience. Early morning (between 6-9 am) is when we saw the most animals. I'm talking leopards, a pack of hyenas, and we were even able to trail behind lions for 10 minutes, so it was hands down my favorite part of the day.
Stay in the south. I want to say that it's just birds up in the north, but that's just not true. It's just that the density of big animals, including predators, is much larger in the area south of Satara.
Know where to go. My tried and true highlight routes for a self-driving Kruger trip, where I say the most animals, the most different kinds of animals, and the most lions, are: Orpen>Satara>Skukuza and Lower Sabie>Crocodile Bridge>Berg-en-Dal. Also, get the map and guide at the entrance gate, they are superb (and have an animal checklist).
You need more time than you think. Plan for at least 3–4 days. I thought 2 would be good enough but it wasn't even close. This way, you can combine self-driving and some guided game drives, and see the park in different times of the day.
The season doesn't matter. Dry season is deemed the best, but it's also the busiest, and from my experience, it makes little difference which month you go to Kruger. Each season has its pluses and minuses, but they all have tons of animals!
Stay near Malelane and Crocodile Bridge Gates. These proved to be the best access points for the southern area of the park, with easy and wildlife-abundant drives towards Lower Sabie and Skukuza. We chose Ndhula Luxury Tented Lodge as our base and can't recommend it enough. It's in a private reserve of its own, so you'll see animals straight from your hotel room/tent hybrid. I especially enjoyed the evening bonfires as they had this memorable safari vibe... yes, I talked to strangers and liked it!
Don't worry about food and gas. There are camps all over the park that you can stop by, eat at the restaurants, buy snacks at the shops, and even get gas. There are also many gated picnic areas where you can take a break, eat, stock up on goodies, and even BBQ.
8 Kruger National Park fun facts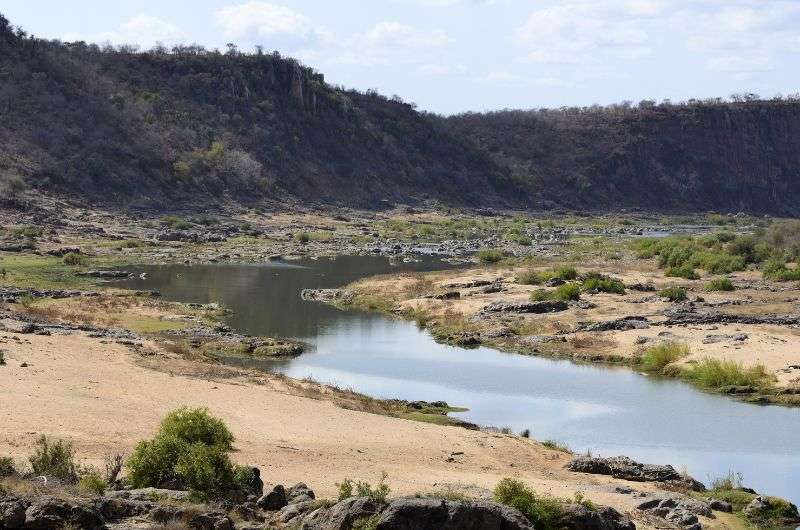 Kruger National Park is a huuuge park

Before you do to Kruger National Park, here are some facts about the park that'll blow your khakis right off:
Location, location, location: Kruger is nestled along the borders of South Africa, Mozambique, and Zimbabwe, giving it access to some of Africa's most diverse ecosystems.
Size matters: Covering a jaw-dropping 20,000 km² (8,000 square miles), Kruger is about the size of Wales, Israel, or the state of New Jersey in the US (but with way more lions). Kruger is really an animal kingdom.
It's old: Established 125 years ago, Kruger National Park is one of the world's oldest and most renowned game reserves. The park's history dates back to 1898 when the then-president of the South African Republic, Paul Kruger, proclaimed the area as the Sabie Game Reserve. It aimed to protect the region's wildlife from rampant hunting and poaching.
What's in a name: The park's name was changed in 1926 in memory of Paul Kruger's role in its establishment.
It's really old: Your great-great-great-...-great grandfather lived and hunted in the Kruger area. Humans have been living here for a million years! Look out for rock art and engravings in the park. Numerous Iron Age sites with relics and artifacts, like pottery and stone tools, have been discovered within the park.
UNESCO likes it: Kruger National Park was declared a UNESCO World Heritage Site in 2003. It's renowned not only for its diverse wildlife but also for its archaeological sites.
Saving the dogs: Kruger has played a vital role in conservation and wildlife research. It's been at the forefront of initiatives to protect endangered species like the African wild dog. Their population has gone from 120 wild doggos in 2009 to almost 400 in 2023!
Famous faces: Nelson Mandela declared Kruger "a priceless asset" in hit speech for Kruger's 100th anniversary celebrations. If it's good enough for him, it's good enough for us!

This post contains affiliate links. I earn a small commission if you make bookings through my links, at no additional cost to you. This helps keep this blog free, thank you!