Oh, Panorama Route, I was expecting you to be good, but not this good! Be ready to experience one of the most spectacular places of natural beauty that you will see in your life. Seriously, it's that good. And you know I'm not easy to please.
From some of the oldest caves in the world (Sudwala Caves) to what I consider one of the most beautiful canyons I've ever seen – Blyde River Canyon – the Panorama Route is just oozing with one incredible place after another. Waterfalls, gorges, and epic scenery that'll have your eyes popping out and that gooey feeling of "wow, this planet is amazing!" filling your body mile after mile. Yeah, this is why we travel, am I right?
For you creatures of comfort, I have a word of extra encouragement: You will have the opportunity to sleep in one of the most beautiful houses and best hotels I've ever seen and been to in my life, Little Kubu Lodge.
Wow, so many superlatives in just the first 3 paragraphs, how very unlike me. But South Africa's Panorama Route will do that to you. You'll get all warm and tingly inside and say things like "I'm so grateful that this is my life". But it's my own doing, obviously, so pat on the back for me. Thanks, me, for being awesome! There, I'm back to my old self.
What is the Panorama Route in South Africa?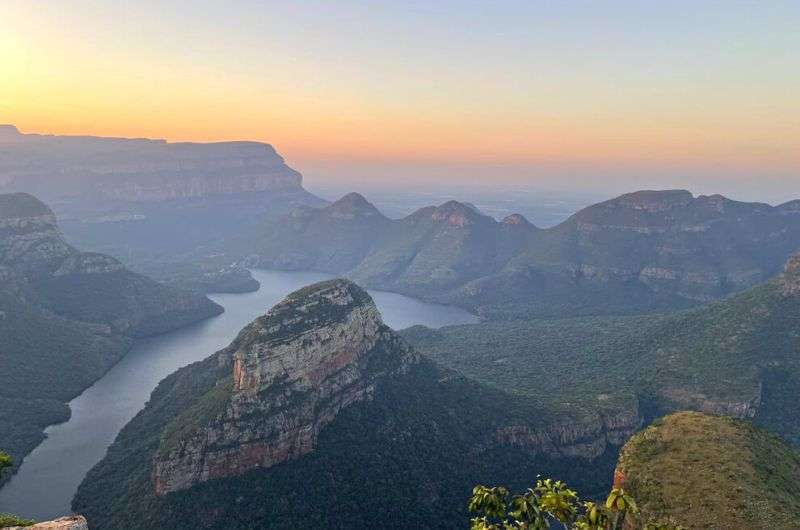 See my Panorama Route itinerary for a tip on how to see Blyde River Canyon at sunset
The Panorama Route is a 160-km (100 mi) scenic road in Mpumalanga Province, which is in the northeast of South Africa. It's often touted as an add-on to Kruger National Park, but don't underestimate Panorama Route, it's one of the best drives not only in South Africa, but dare I say the world.
It starts outside of Lyndenburg at the Long Tom Pass, following the Great Escarpment, and finishing up at Echo Caves.
What attractions are on the Panorama Route?
The best stops along South Africa's Panorama Route, in order of how much they wowed me, are:
Blyde River Canyon–the Three Rondavels viewpoint
Graskop Gorge
Bourkes Potholes
Sudwala Caves
Mac Mac Falls
The Pinnacle Rock
Gods Window
Blyde River dam boat ride
Lisbon Falls
Berlin Falls
Sabie Falls
What to expect on the Panorama Route?
Let's hit the Panaroma Route road!
I hope I've gotten my point across—the Panorama Route in Mpumalanga is absolutely worth it, and it helps that it's easy to navigate to all of the best spots. Not only that, but the road is trouble-free and safe (have you read up on safety in South Africa?), you'll meet friendly people along the way, and the infrastructure is good, too.
You pay an entrance fee at many of the stops, which is a little annoying and I wish they'd just put a gate at the beginning of the route where you'd pay for the whole thing at once. They also try to convince you they don't take cards, but they usually do (watch out for load shedding causing disruptions, though!). You'll often spot the hidden card terminal that only comes out if you're adamant about it.
All of the attractions on the Panorama Route are really set up as tourist stops, with staff, toilets, and most of them have some sort of restaurant or cafe.
If you're full of beans or just short on time, you can see the Panorama Route in one day, but I'd split it up into two days if I were to do it again. There's just too much to see. I show you how in my Panorama Route itinerary, so head on over there for a route plan and practical trip details.
Now let's get crackin'! The best things to do on the Panorama Route in 3, 2, ...
1. Blyde River Canyon and the Three Rondavels viewpoint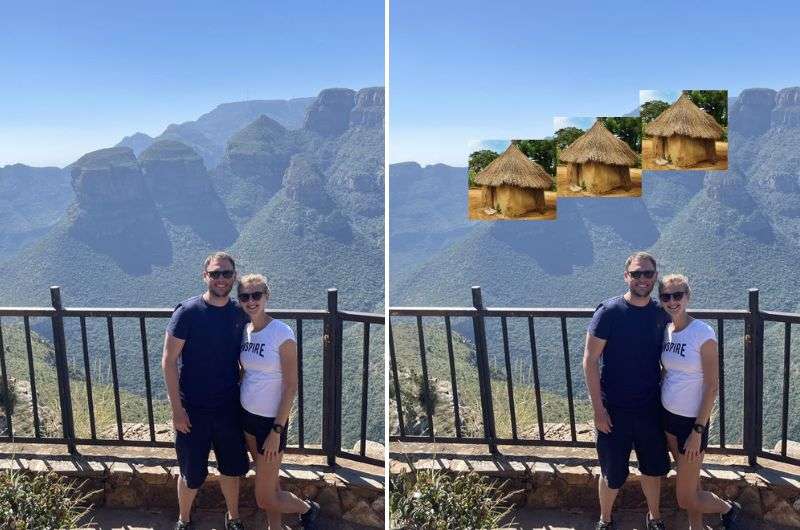 Can you see it now? @ The Three Rondavels Viewpoint
The Three Rondavels are the pinnacle of the Panorama Route. Missing this viewpoint is like watching a thriller and leaving right before the climax—your brain would explode in frustration.
I think the northern part of Drakensberg is just as spectacular as the more popular Central Drakensberg (Drakensberg article this way), and Blyde River Canyon is a testament to that. It's like no other place I've been to before—I was blown away.
The Three Rondavels viewpoint is where you can get an easy glimpse into the 3rd largest canyon in the world—Blyde River Canyon. The title is debatable, because it depends on what metrics you use, but it's big, trust me. And it's lush and green, 800 m (2,600 ft) deep, and just so different than other canyons (see Fish River Canyon in Namibia or Colca Canyon in Peru), it has to be my favorite of them all.
The Three Rondavels viewpoint is a couple of minutes walking distance from the parking area. Actually, there are two official viewpoints, and then you can just wander anywhere in between (within reason—nobody's going to go looking for you when you fall off into the abyss taking a selfie). I just suggest you stay on the trails, because the cobras that live in these areas really don't like it when humans step on them.
It took us a full hour to get enough of this view from the various lookout points, with a lot of staring and oohing and aahing.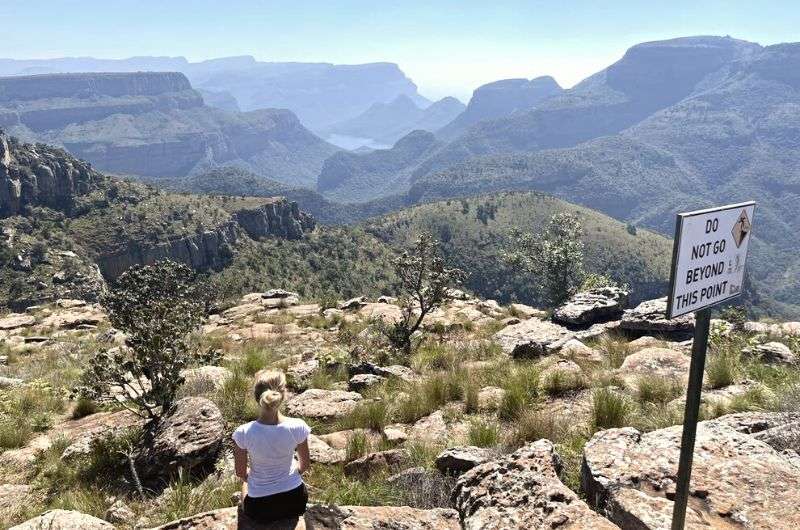 Can I just sit and take a photo beyond this point?
The story behind the Three Rondavels is steeped in local folklore. According to the legend, a chief lived in the Blyde River Canyon with his three wives. These wives were beautiful but fiercely jealous of each other. One day, as the chief was away on a hunting expedition, a great snake entered the canyon and abducted the three wives, turning them into stone formations. That are now named after the traditional African dwelling that they resemble. Or something like that.
Other Blyde River Canyon activities include heading down to Blyde River Dam for a boat ride or a hike. Not only do you get a fresh perspective on the rock formations, you'll even have a chance to be eaten by a hippo or crocodile! If you stay at the magnificent Little Kubu Lodge, you'll be driving right past the boat area when you head back to your little heaven on earth room (can you tell I liked this accommodation?). See item no. 8 on this list for details.
There are several other Blyde River Canyon hikes that you can go on, some of which are on the bottom near the river, and some that are up near the Three Rondavels viewpoint. There's a second viewpoint area a little to the north from the Three Rondavels, with trails starting close to the Blyde Canyon, A Forever Resort. The hike follows the Guinea Fowl trail and Leopard Trail and takes 2.5–3 hours to comlpete. If you give yourself 2 days for the Panorama Route (here's the itinerary I suggest), you'll have enough time for this rocky, fun route and the great little swimming places you'll encounter. No hippos up here!
The Blyde River Canyon entrance fee is R 75 per person, which is about USD 4. Like in most places, you should be able to pay by card, but it's best to carry cash just in case. There are many souvenir stalls at the parking area all selling the same hand-made things, some places to grab a snack, and public toilets.
2. Graskop Gorge Forest Trail and Zipline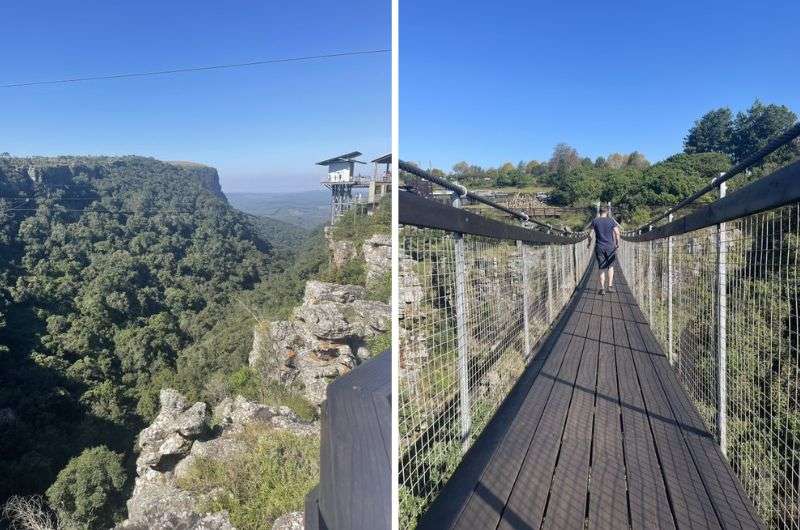 That little house is the elevator down into Graskop Gorge
Graskop Canyon's attractiveness has been heavily assisted by human hands, building up this natural area into an adrenaline and education-filled spectacle. And I loved it.
The place is managed by Graskop Gorge Lift Co., and there are viewing platforms, an elevator that goes down into the gorge, a zipline, big swing, and forest trail, all waiting for you to try out.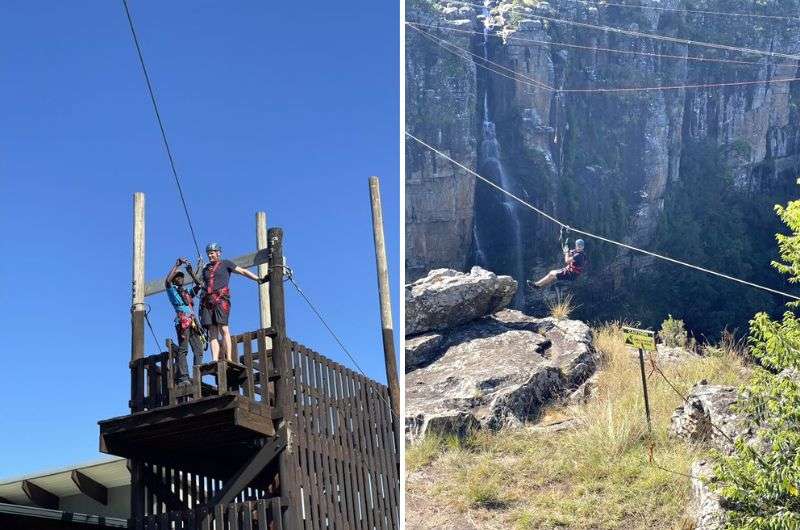 What an adrenaline rush!
I did the zipline, and whoa! Way higher and more adrenaline-pumping than I expected, and I've tried a few before. The big swing looked like a great way to lose your lunch, so I skipped that. The elevator is ok, I just can't understand the poor design choice of not making the whole thing glass—that glass panel at the front really doesn't cut it.
Walking the Graskop Gorge Forrest Trail
Best of all—the forest trail. Don't miss the 1-hour long Afromontane forest walk—it's educational heaven, which, for a nerd like me, resembles actual heaven. I loved the information panels, they talk about the flora, fauna, and geology. This type of forest is rare in South Africa, and so lush. There are also many live specimens all over the place... I hope you like spiders. And—nerds, you can empathize with my excitement here—there were timelines! But there's still more! Motitsi Waterfalls? OMG, stunning. Yeah, I loved it at Graskop Gorge.
Take note that they don't take cash at Graskop Gorge. There are two cafes on site that aren't terrible for a little pit stop.
3. Bourke's Luck Potholes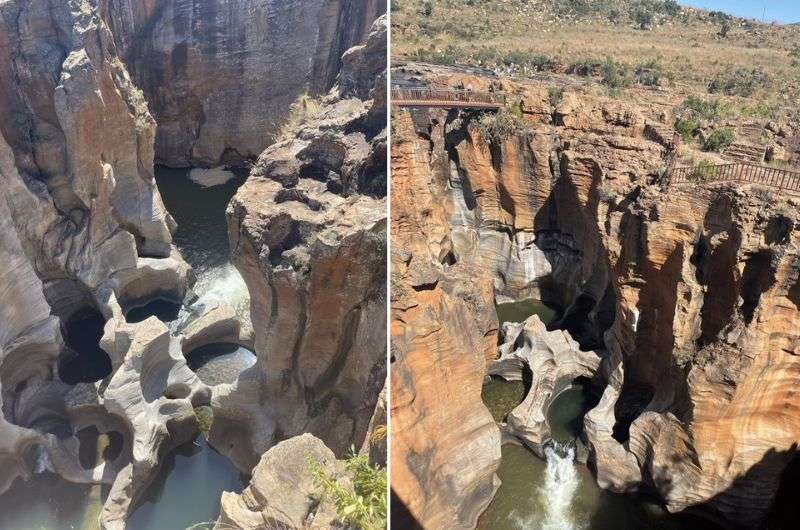 Amazing Bourke's Potholes!
You wouldn't know it from the name, but this place along the Panorama Route will leave you gasping for words, and maybe air if you're too awestruck. It's like Mother Nature decided to create a mind-boggling masterpiece just to show off, sassy lady that she is.
Bourke's Potholes is a series of cylindrical rock formations formed by centuries of the river water swirling away. The relentless force of the water, coupled with abrasive sand and rocks, carved these magnificent potholes into the bedrock.
You can walk along the wooden walkways and bridges to stare at the potholes from all angles.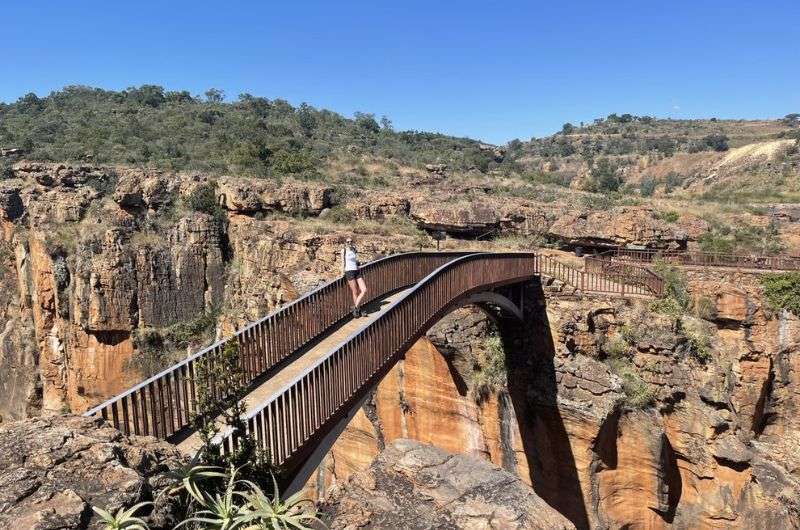 On the bridge above Bourke's Potholes
The scorching sun? Pff, not an issue! The cool, refreshing breeze from those playful water splashes will make you forget the sweltering heat.
We spent close to an hour there. I've seen similar potholes elsewhere, but this one takes the cake, they're just a different level of awesome.
4. Sudwala Caves
The oldest caves in the world—Sudwala Caves
Sudwala Caves are the oldest (known) caves in the world. And guess what? They are as fascinating as they sound. Usually, when you go see caves in Europe, they are babies—only up to a million years old—that's nothing in Earth years. But the Sudwala Caves are over 200 million years old!
Let me tell you, those stalactites and stalagmites had me mesmerized. But the real showstopper here is the stromatolites. These bad boys played a crucial role in the Great Planet Oxidation and the rise of complex life on Earth. Impressive, huh?
Our guide was a pleasant surprise—he was friendly and educated. Normally, they tend to stick to that one story they repeat over and over, but this guy actually used his brain and was able to answer questions. He also told us intriguing stories about cave men and such, but let's be honest, the main attraction is the sheer size and natural beauty of this place.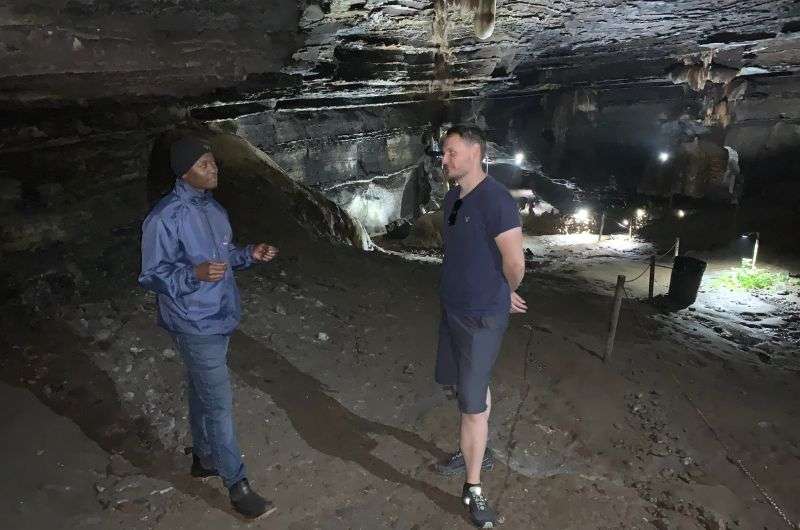 This nice gentleman guide made our tour of Sudwala Caves even more enjoyable
The visit takes around 30–45 minutes for the regular tour. Then there's the 4-hour crystal tour if you want a proper cave experience. We're talking getting down and dirty, headlamps and all. The official Sudwala Caves website even takes my favorite recommendation and puts it into their own (hilarious) words: "It is not suitable for people with back or knee problems and large people over 115 kg will not be eligible because they will get stuck."
5. Mac Mac Falls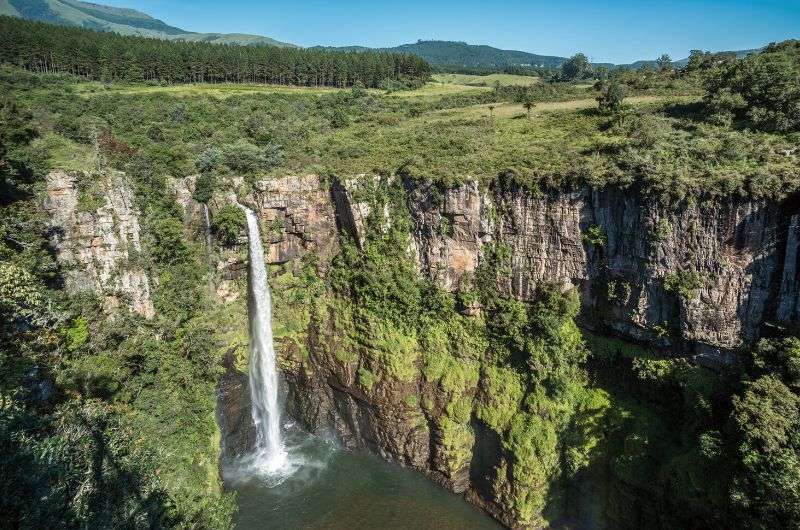 Mac Mac Falls
Mac Mac Falls are twin waterfalls that plunge an impressive 70 m (230 ft). The trail leading to the viewing platform and the series of pools is worth mentioning, the gorge views were spectacular.
Fun facts: It used to be just one waterfall until the gold miners blasted away the rock to divert the river in hopes to strike gold. So now we get two waterfalls. Also, why Mac Mac? Because the Scottish immigrants that tried to find gold here all had the last name MacSomething. Amused, the president named the falls Mac Mac because that's all he ever heard when he visited.
Now, don't expect a grand hike to a hidden waterfall—it's just a 5-minute walk from the parking lot and the place is packed. The waterfall is one of the tallest I've seen, with a good flow of water (we were lucky to visit after it had rained—nature sure turned up the faucets!), not some weak dribble.
But, truth be told, there's this darn iron fence that might be an eyesore for some. Sure, it's for safety (though it honestly didn't feel like it is very safe), but it's a bit intrusive when you're trying to soak in the scenery. Also, be safe, the tiny viewing area gets crowded, so don't get yourself into a pushing contest right by the edge.
Mac Mac Falls is a 10-minute pit stop or you can also venture down to the freezing waters of the falls for a longer trip.
Or, spend time haggling with the somewhat pushy and in-your-face sellers at the market stalls nearby. Bring cash, you might be lucky and find that perfect souvenir from one of the local artists there, or get hungry and want to grab a quick bite to eat.
6. The Pinnacle Rock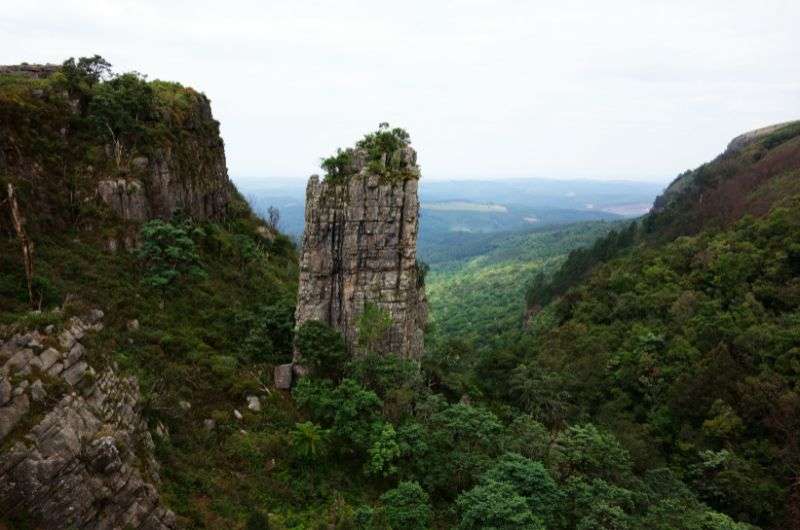 The Pinnacle Rock really surprised me how amazing it is - you have to see for yourself!
The Pinnacle Rock is a spot that pleasantly surprised me! It had a certain charm that even surpassed the more famous God's Window, and it gave me some serious Meteora vibes from Greece. If you've seen Katskhi Pillar in Georgia, you might say that's the budget-friendly version, ha! But trust me, no photos can fully capture its beauty; you just have to be there to truly appreciate it.
What I loved is that the view is genuinely unique, and you can admire it from various angles. Plus, it's a lot quieter than the bustling God's Window, making it even more enjoyable.
The Pinnacle Rock is just a short, 10-minute walk from the car parking area, so no exhausting hikes involved, though you can wander around for longer if you please. The gate person was friendly and there are a few stalls with food, too.
Oh, and there's a waterfall there as well, though it's visible only from the top, and it may not be a showstopper compared to the other sights along the Panorama Route. But overall, the Pinnacle Rock is in solid 6th place on my list!
7. God's Window
Look through the God's Window
I had high hopes for a place with a name like God's Window, but it left me feeling a bit... meh. Don't get me wrong, it's pretty, but the competition is steep and it's certainly not THE top spot on the Panorama Route.
So, you start at about 1800 m above sea level, and there's this wooden path through a gorgeous tropical forest, it gets steep and there are a lot of stairs, so you'll need to earn those views.
Honestly, some of it reminded me of Central Europe's views–beautiful, no doubt, but boring for me personally. The "God's Window" viewpoint itself was a bit underwhelming, too, but the higher you climb, the better it gets, just be prepared for a workout! Watching people huff and puff while taking breaks was quite the spectacle. If you're not fit, those stairs will have you calling on God more times than is appropriate!
You can spot Maputo by the Indian Ocean in Mozambique on clear days, but be warned, it's one of the rainiest places around with a staggering 2600 mm of rain per year. You might end up visiting more times than you planned due to those weather surprises!
So, it's a mixed bag. The view at the top is worth the effort, but don't expect fireworks right from the start. God's Window may not be the ultimate highlight of the Panorama Route, but it's still a lovely spot to explore. Just remember to bring your hiking spirit and maybe an extra pair of legs for when your old ones get tired.
8. Blyde River boat cruise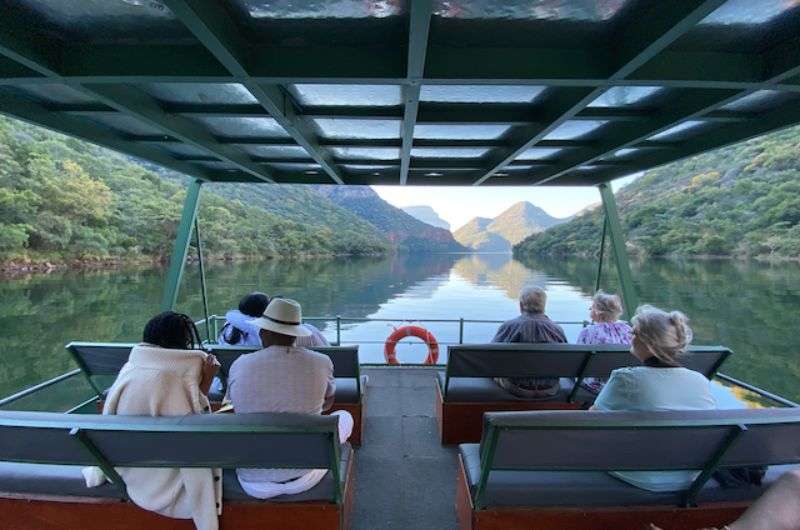 One of the well-reviewed cruise companies at Blyde River Dam is Blyde Canyon Safaris
If you thought seeing the canyon from the Three Rondavels viewpoint was enough, think again. When you head to the Blyde River Dam, you're able to hop on a little boat to see the canyon from the bottom up! Yes, even the Three Rondavels.
You can choose from a couple of different boat companies. From the looks of it, it seemed they all do the same thing and everyone on and off the boats looked happy with their trip.
There are hippos and crocodiles in the area and you'll probably see some on your boat tour. That should also be a warning to you if you like walking along the waters... don't, unless you want to be an exotic snack for the wildlife here. You also have a high chance of spotting birds, baboons, and who knows what else. The guides were fantastic at pointing out animals that we wouldn't have noticed, and they were telling us interesting facts about them as well. For example, that baboons are assholes, and you should definitely keep your distance (more South Africa Safety Tips and Impressions here).
The boat trip near Blyde River Dam takes about 1.5 hours and you're on a boat with a tarp roof, so you shouldn't boil in the sun, but I'd suggest you bring drinking water.
9. Lisbon Falls
Lisbon Falls won't take you long, but I strongly recommend not to skip this stop
Lisbon Falls is another stop on the Panorama Route. This place has it all–picturesque falls with a dramatic backdrop, a great viewpoint, and a chance to hike down to take a dip. And, to top it off, they offer a fair deal for everyone with the same entrance price for locals and foreigners. Can't argue with that!
The waterfalls themselves are indeed beautiful, gracefully flowing amidst the dramatic scenery. They are easily accessible, just a few minutes' walk from the parking area. Now, I won't lie to you, you won't spend hours here, but it's totally worth a quick visit if you happen to pass by the area. This comes in handy if you're on a single-day Panorama Route itinerary, though I strongly suggest you make it 2 days.
Panorama Route Itinerary (1- and 2-day variants)
Actually, there are ways to turn this pit stop into a longer stopover. First of all, don't miss the rocky river area about 300 m (0.2 mi) before the falls; it's a cute little place to kick it for a bit.
Better yet, here's the secret sauce to get the most out of Lisbon Falls: Take a hike to the base! You won't experience the falls in all their glory any other way. The path to the base might be steep and challenging, but just take it as Mother Nature's personal workout plan. The view from the bottom is absolutely mind-blowing, and you can take a dip in the pool there, too.
If you have time to scramble down to the bottom, find the path to the left of the viewing area. It's only about 25 minutes each way (15 for me, but I'm fit, young, and handsome).
10. Berlin falls
Berlin Falls were... just okay (maybe with more water they'd be better?)
We caught Berlin Falls on a low-water day, so though it was pretty—and supposedly the tallest waterfall in the region—it didn't blow us away. If you visit after rain, I'm sure you'll get a better experience.
The road to the parking is a little rough, but the area was clean and safe, which is always a plus. We saw some daredevils on the "authorized personnel only" pathway to the top of the falls, literally living life on the edge. I'm too young to die, so I didn't partake.
You can't really do anything but pop in for a quick view on from the platform, since it didn't look like there's a reasonable way to hike down to the bottom or anything. But hey, parking was a breeze, and it certainly won't break the bank, so it still makes a nice stop on your Panorama Route drive.
So, overall, Berlin Falls is a solid spot to visit, and you might get a more mesmerizing experience if you catch it when the water is flowing like crazy.
Again, there's a little market near the parking lot where you can try your shopping skills out.
11. Sabie Falls
Looking at Sabie Falls
Sabie Falls, a place with immense potential, but sadly left to the winds of neglect. Still, if you're up for a quirky and slightly smelly experience, it might just be the spot for you.
Sabie Falls is the first stop on the Panorama Route when going from Lyndenburg. Let me give it to you straight: the waterfall itself is pretty (though not incredible), no doubt about that. But the sad truth is, it's been terribly neglected. Come on, people, it deserves some love and care!
Despite the lack of attention, you can still have a bit of an adventure. See the bridge, climb those rocks, and get to the edge of the waterfall slope.
And oh, the town's cleanliness—or should I say, lack thereof—is nothing to write home about. "Maintenance" seems to be an unknown word around here. Add a bit of sewage smell and here we are at the bottom of my list. Sabie's nice, it has potential, but it needs some work.
And hey, at least the Panorama Route's attractions can only get better from here!
This post contains affiliate links. I earn a small commission if you make bookings through my links, at no additional cost to you. This helps keep this blog free, thank you!