I must admit, I started my Garden Route drive with a dash of skepticism, questioning the sanity of those bloggers who proposed dedicating a week or two solely to this famed route. Well, dear reader, I stand corrected—or rather, I'm in awe of being so gloriously mistaken. Picture this: bridges that seem to defy gravity, exhilarating hiking trails that lead to vistas straight out of dreams, and awe-inspiring coastal landscapes that could make a nature-lover's heart skip a beat. The Garden Route has done it, leaving me utterly spellbound and unapologetically hooked, wondering if this is the spot I'd like to spend my retirement in.
I'm still not convinced you need 2 weeks on the Garden Route—definitely not, unless you travel at sloth speed. But you'll have plenty of activities and sights to fill 5 days with. Or, if you have more time and want to take the full road trip from Cape Town to Port Elizabeth, give it 10 days.
And oh, let's not forget the divine icing on this adventure cake—the hotels. On this shorter Garden Route itinerary you'll be starting and finishing in Port Elizabeth*, though you'll be spending most of your nights in what was possibly my favorite hotel of all time, Kambaku at Sea. I even put it as one of the top spots on the Garden Route it was so good! You might just find yourself wishing for longer days—not to explore the surroundings (though they're stunning), but to bask in the sheer awesomeness of this hotel. And if Kambaku is the best hotel ever, Port Elizabeth's stylish Nova Boutique Hotel has the best hosts ever!
Walks along the coastline on Garden Route...it was magical!

*Where did Port Elizabeth go?! Don't be alarmed when you can't find Port Elizabeth on Google Maps. It's still there, but in 2021, Port Elizabeth controversially changed its name to Gqeberha. If trying to read it seems impossible, just wait until you hear how it's pronounced! You know how to click, right?
Alright, buckle up, it's Garden Route time!
Garden Route suggested itinerary for 5 days
In a nutshell, this is how I propose you spend 5 days exploring South Africa's Garden Route:
Day 1: Tsitsikamma National Park
Day 2: Hikes, monkeys and views around Knysna
Day 3: Wilderness National Park, 7 Passes Road
Day 4: Robberg Nature Reserve and drive to Port Elizabeth
Day 5: Addo Elephant Park
This itinerary expects you to start and end in Port Elizabeth and explores the area between Storms River Mouth and Wilderness National Park. The last stop is Addo Elephant Park, which technically isn't on the Garden Route, but it's so close to Port Elizabeth it would be an abomination to miss it. And in case I wasn't clear before: do yourselves a favor and stay at Kambaku at Sea at least for a couple of nights on your Garden Route itinerary.
If you need to see if you should spend more time driving along the coast, here's my 10-day Garden Route itinerary. You could even pick and choose some extra stops if you want to extend this itinerary to 7 days instead of 5.
Day 1 of Garden Route itinerary
Get the route of the 1st day of this itinerary on Google Maps

Main sites visited on day 1: The Big Tree, Storms River Mouth, Day 1 Otter Trail
Restaurant tips: Papa Africa in Storms River| Taste Restaurant and Farmstall in Storms River| Down to Earth near Plettenberg Bay
Hotel recommendations: Kambaku at Sea
Further reading: Garden Route top places | South Africa safety tips | Best hotels in South Africa
Today, head out from Port Elizabeth to Tsitsikamma National Park. It's almost a 2-hour drive, so start early, because there is A LOT to discover in Tsitsikamma. It's the part of the Garden Route that continued to dazzle me on every single stop. So pay attention, this is serious stuff!
Day 1, stop 1: The Big Tree
Big Tree Trail—hike through the jungle

Distance from Port Elizabeth: 170 km/105 miles, 1 hour 45 minute drive
Time spent here: 30 minutes
Right before you get to Mr. Big Tree, you may consider stopping at Storms River Bridge. It's not just a bridge; it's a gateway to Tsitsikamma's jaw-dropping vistas. There are multiple decks at the bridge that offer panoramic views of the canyon, and you can stock up on drinks for yourself and your car at the nearby shop and gas station.
Then, right off the highway, is the Big Tree Trail. The star of the show is a tree that casually stands at 38 m (125 ft) and is 800 years old. I was all prepared for some regular trees, but whoa, this tree was something else! It's a Outeniqua Yellowwood. Think less than 30 minutes of strolling on a wooden boardwalk to the giant, just over 1 km (0.6 mi) round-trip for the Big Tree trail. It's so close that you'll actually hear traffic when you're walking in the gorgeous forest (you might see some spiders and other creepy crawlies).
Day 1, stop 2: Storms River Mouth trail with suspension bridges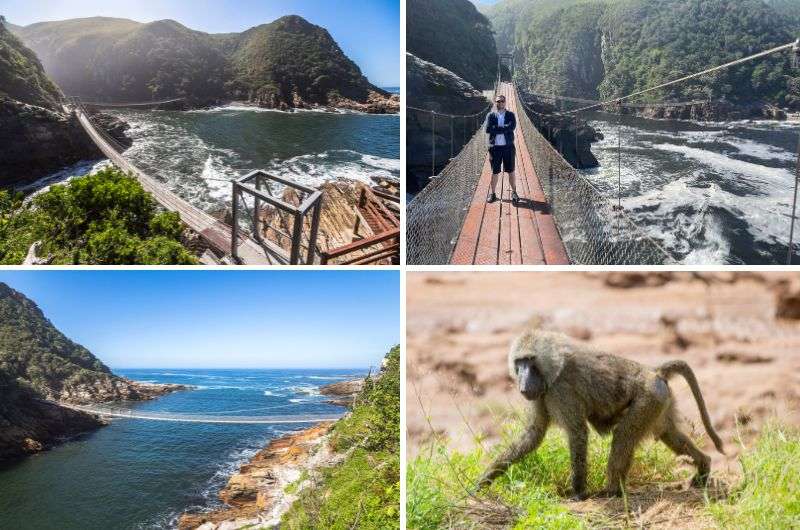 Walking through the Storm River Mouth trail is unforgettable

Distance from last stop: 14.5 km/9 miles, 20-minute drive
Time spent here: 2 hours
Storms River Mouth is an absolute must-see on your Garden Route itinerary (as is the Otter Trail that's right next to it!). Plan to spend most of your day in this area When you see the monstrous waves and beautiful coast while the whole scene is straight-up wrapped in lush forest awesomeness, you'll understand why Tsitsikamma National Park is the top place on the Garden Route, hands down.
First, ease into the more adventurous part of the day with the trail across the Storms River Mouth suspension bridges (there are 3 in total). It'll take you about 1.5 hours to go there and back. Park at the parking lot near Untouched Adventures (they do kayaking trips into the gorge, fyi).
You'll walk through a gorgeous forest and on wooden paths. The 3 suspension bridges are good fun—you'll be standing right above the wild waters of Storms River mouth below. After the suspension bridges, the trail goes up some steep stairs. You can scramble even higher up to get to a cool viewpoint when you reach the end. The Storms River Mouth trail is a good workout, but nothing too hard.
We got to see plenty of baboons and vervet monkeys on this trail, too. I'm telling you, this place is unbelievably wild and epically beautiful!
Day 1, stop 3: The famous Day 1 Otter Trail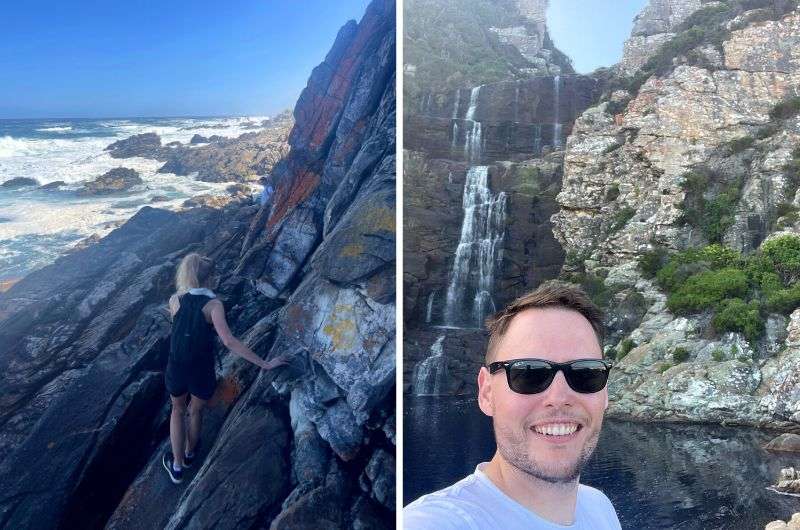 Climbing, ascending, descending—this hike is a challenge with a waterfall as a reward

Distance from last stop: 1.5 km (1 mi), 5-minute drive
Time spent here: 3 hours
You could just head out on this hike from where you're parked at Storms River Mouth, but there are parking spots available right at the trailhead to the Day 1 Otter Trail about 1.5 km (1 mi) away.
First of all: What's with the weird hike name?! There is a famous multiday hike called the Otter Trail, considered one of the finest hiking trails in the world, which goes on for 44 km. But for folks that don't have the time or will for that kind of walking, they can do the first section of the Otter Trail, which is the part that you'd normally do on your first of five days of the full hike. Hence the Day 1 Otter Trail.
This hike is a 4.8 km (3 mi) out-and-back route that's slightly technically challenging. You'll be walking (and jumping over) rocks with a fair bit of scrambling, but if you aren't a total klutz or wearing flip flops, you'll do just fine. I saw people of all ages on this route, so instead of "hard", I'd describe it as "adventurous and fun".
The trail goes all the way to a pretty waterfall and then back the same way. We did it in a little over 2 hours, but you could spend ages taking photos and even taking a dip in the pool by the waterfall. The Otter Trail delivers unbelievable scenery—you're in the luscious forest one moment and exposed on the boulders right next to the wild ocean the next. Seriously, the waves were something like 3–4 m high, it was insane!
Day 1, stop 4: The unmissable, the unforgettable Kambaku at Sea
Mornings at Kambaku at Sea hotel were just awesome...

Distance from last stop: 120 km (75 mi), 1.5-hour drive
Time spent here: 12 hours of the best hotel in your life
When you're done with your Otter Trail hike, say goodbye to Tsitsikamma and make the 1.5-hour drive to your hotel, Kambaku at Sea, which is a little past Knysna. On the way there, you'll drive across Bloukrans Bridge, a favorite bungee jumping area. Just saying, in case you want to take a detour from tranquil relaxation to experience the heart-pounding joy of free-falling off a bridge, attached only by a glorified rubber band.
If I had to pinpoint one thing I can't get over at Kambaku, it's the mornings on the terrace overlooking the sea. I almost didn't notice how delicious the breakfast was, and that's saying something in my world. Picture-perfect doesn't even begin to cover it.
They'll also feed you wonderfully, take care of your every whim, and you can chill out in the swimming pool, too. Not to mention that we got a huge room with a bed so plush it was like sleeping on a cloud made of slightly old marshmallows (because nobody wants to sleep in a super soft bed, duh).
Make sure to wake up early so you don't have to miss out on that morning terrace time!
Day 2 of Garden Route itinerary
Get the route of the 2nd day of this itinerary on Google Maps. You will need to tweak it in case you choose the Knysna Forest Trail, I've included the Kranshoek Trail on this map

Main sites visited on day 2: Knysna Forest Trail OR Kranshoek Coastal Trail, Monkeyland, Salt River Mouth Trail, Knysna Heads
Restaurant tips: Down to Earth near Plettenberg Bay | Blue Rocks Cafe in Nature's Valley | Anchorage Restaurant in Knysna
Hotel recommendations: Kambaku at Sea
Further reading: Garden Route top places | Garden Route hiking routes | Panorama Route itinerary
Today is a very packed day, so if you're not an early riser or just don't want to pack your day as much, you'll need to leave one of the hikes out. And not to worry, you'll have more downtime tomorrow.
Day 2, stop 1: Knysna Forest Trail OR Kranshoek Coastal Trail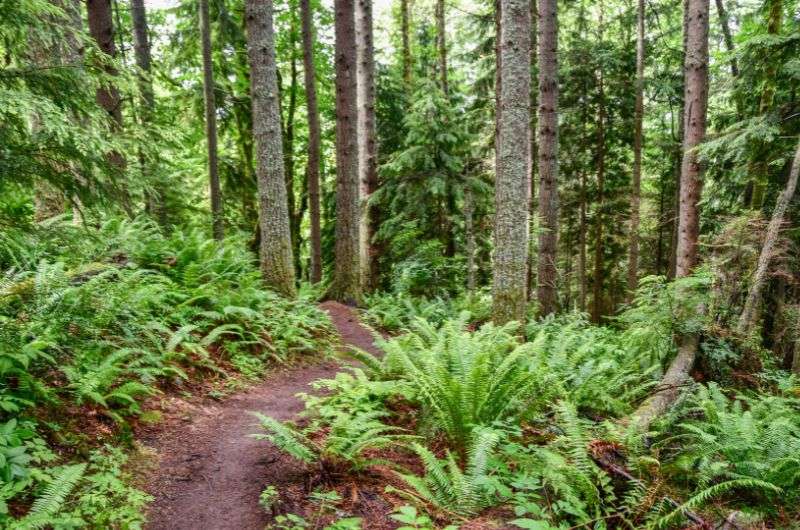 Knysna Forest Trail

Distance from Kambaku at Sea: 50 km/30 miles, 1-hour drive
Time spent here: 2–3 hours depending on which trail you choose
You'll start out today with a choice: either a walk in a deep, ancient forest in the hills above Knysna, or a mountain-goating experience along the coast at Kranshoek (where you are the goat).
Knysna Forest Trail
You'll feel like you're world's away from the coastal Garden Route area in the hills above Knysna, but you're not. Time sure does seem to slow down here though.
There are 3 "Elephant Walks" that start at the Diepwalle Forestry Station and Camp. The word "Diepwalle" literally means "deep walls", and you'll see why when you get there. This forest is so deep and so dense that it really does look like giant walls of trees flanking the narrow walkways. You'll feel tiny, and the forest is just magical.
All of the 3 hikes are of similar length, ranging from 7 km to 9 km (4.3 to 5.6 mi), all easy and almost flat.
Kranshoek Coastal Trail
Kranshoek Coastal Trail—your childhood dream!

Remember those childhood days when you'd scramble up trees and jump from boulder to boulder? Well, Kranshoek is the grown-up version, complete with some epic climbing up ladders. The Kranshoek Coastal Trail is literally a natural playground, perfect for those that just can't get enough of adventurous coastal exploration.
But don't worry, it's not the entire 8.5 km that's like that. The last 2.5 km are on a dirt road, which, depending on your perspective, is either a nice and chill ending or way too boring after what you've just been through.
Here's the Google Maps link to trailhead where you can also park your car.
Day 2, stop 2: Monkeyland Primate Sanctuary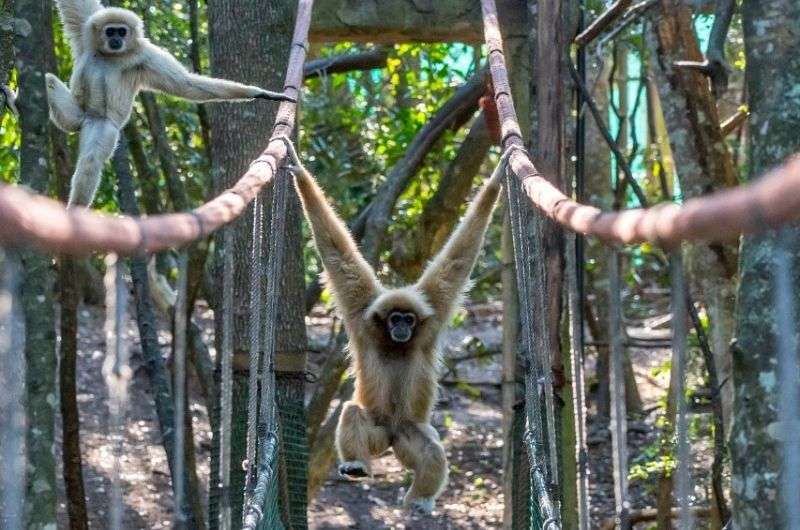 One of the gibbons in Monkeyland saying "hi!"

Distance from last stop: 40 km/25 miles, 30-minute drive
Time spent here: 1.5 hours
Don't expect a zoo, Monkeyland is a true primate sanctuary, and it's sprawled over acres of pure monkey paradise. You'll be guided through this massive enclosure that's like stepping into their jungle homeland. It's entertaining to see these fellas out in the "wild", especially when sometimes, they are equally as interested in the humans as we are in the monkeys. It seemed the vervets were really into sunglasses, so watch out!
Tip: If you're ready for lunch before heading out to stare at lemurs and gibbons, stop at the wonderful Down to Earth restaurant just past Plettenberg Bay. You can eat either in the comfortable interior or our by the decks by the river. Monkeyland has a little cafe, but not great for a full post-hike meal.
On the one-hour guided tour, you're walking under and in the trees, across the suspension bridge, soaking in a bird's eye view of the cheeky monkeys. Guides are excellent and full of monkey facts. When our guide wrapped things up, I felt like I'd just come back from a mini safari.
It's also possible to combine a visit to Monkeyland with the bird sanctuary next door (apparently the largest free-flight bird aviary in the world), and with Jukani Wildlife Sanctaury just a 10-minute drive away. We didn't, so I can't say anything relevant about them, and I'm not sure you have time on this itinerary.
Day 2, stop 3: The semi-forbidden Salt River Mouth Trail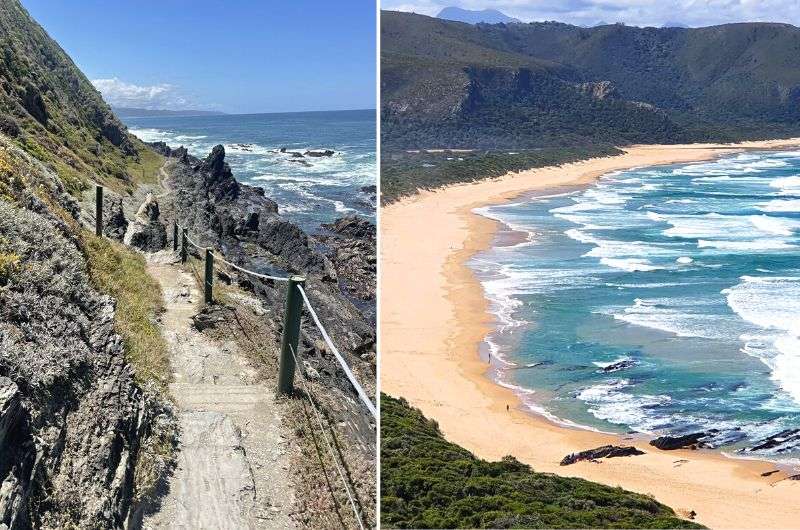 Salt River Mouth hike views

Distance from last stop: 16 km/10 miles, 20-minute drive
Time spent here: 1.5 hours
Salt River Mouth is infinitely less busy than Storms River Mouth, giving you a completely different experience. Don't expect much in the way of infrastructure. Actually, if you're visiting in 2023, you'll even have to expect less than usual: there was a landslide that slid away some of the railing, resulting in a big warning sign at the entrance forbidding entrance. Just *cough* ignore it *cough*.
What you do need to watch out for on this hike is the tides. You should only do the lower section along the rocks by the ocean at low tide. Otherwise, bring a boat.
There's also a higher up section with stunning sea views, and a walk along the river mouth where you can also take a swim if you so desire. You'll only need about 1 hour for the hike, add extra time if you need it for the swimming or chilling.
Alltrails has the full hike map that you can follow, but I recommend doing this hike clockwise so you get the tide timing just right. Because finding out in the second half of your hike that you have to turn back because Mother Nature spilled ocean on your trail isn't the best situation to be in. Otherwise, this hike is a hoot. I always like a hike that has a bit of a fear factor to it.
You can park in Nature's Valley close to the beach, close to the trailhead (Nature's Valley is where the full Otter Trails ends btw).
Day 2, stop 4: Quick and easy views Knysna Heads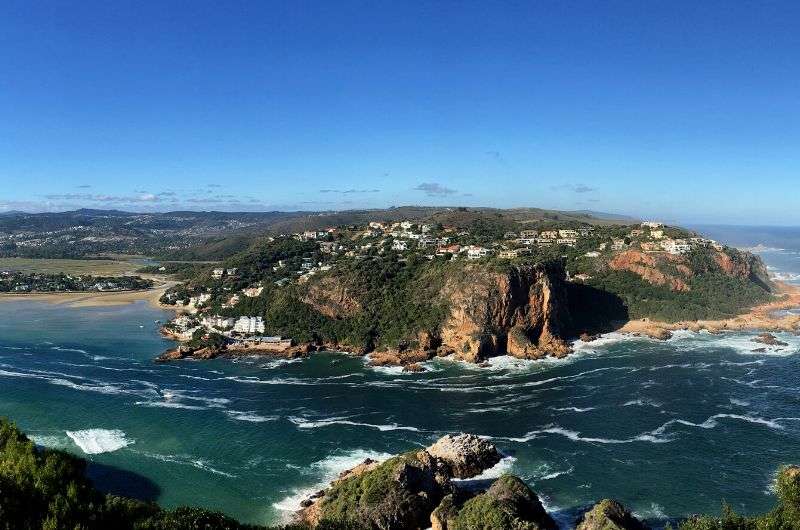 The 300 m wide watery gap—gatekeeper between the Knysna Lagoon and the open sea

Distance from last stop: 70 km/42 miles, 1-hour drive
Time spent here: 30 minutes
You're just about finished for the day, but you can make one final stop before relaxing back at Kambaku at Sea. A peak at the Knysna Heads is an easy stop, no hiking necessary, and if you plan it right, you might just be there for sunset!
The Knysna Heads are what they call the sandstone cliffs that play gatekeeper between the serene Knysna Lagoon and the mighty open sea. We're talking a 300-m-wide watery gap, and most of all the viewpoints on the East Head where you can take it all in.
You'll be treated to insane vistas of the channel, the mighty Indian Ocean, Knysna Lagoon, and even the Outeniqua Mountains in the background.
There's a main wooden viewing platform and a wooden footpath will take you to the lower viewpoints. See, easy.
Parking is another story. Super limited and a bit of a tango during the peak season. But hey, those views are worth it.
When you're done at Knysna Heads, you're only a 30-minute drive from Kambaku at Sea. Or, if you've booked yourself into another hotel in Knysna, well, you'll be home before the sweat on your forehead dries off.
Day 3 of Garden Route itinerary
Get the route of the 3rd day of this itinerary on Google Maps

Main sites visited on day 3: Half-Collared Kingfisher Trail, canoeing, 7 Passes Road
Restaurant tips: Joplins Steak Bar in Wilderness | Cornerstone Creek Art Gallery (cafe) in Wilderness | African Experience Bush Caf'e on 7 Passes Road | Bistro Celeiro on 7 Passes Road
Hotel recommendations: Kambaku at Sea
Further reading: Garden Route hikes | Garden Route best places | South Africa safety tips
Today will be more relaxed compared to the first two days of this Garden Route itinerary—I know you're young and strong (or young at heart), but let's not overdo it, kids. Alas, sometimes you need to stop and smell the African roses, otherwise you risk blasting through your trip and ending up in some bizarre time warp where you're suddenly back at the airport before you even realized your vacation began.
Anyway, today's agenda: first, channel your inner Zen master. Start your morning with a hearty breakfast. We're talking leisurely sips of coffee while gazing out at the views on Kambaku's terrace—finally you get to do that without rushing to your first stop of the day!
Next, you're in for some canoeing, hiking, and scenic driving! What? I never said today will be couch potato-style relaxation. I hate that stuff.
Day 3, stop 1: Canoe + Half-Collared Kingfisher Hike combo
No risk of encountering a crocodile in the Touw River

Distance from Kambaku at Sea: 25 km/15 miles, 25-minute drive
Time spent here: 3 hours minumum
When we vistited Wilderness National Park, we did the full Half-Collared Kingfisher Trail and canoed separately, taking up about 4 hours total. But how long you are in the canoe depends entirely on how long of a route you choose—you can paddle out to Island Lake for a 3-hour round trip, or choose the slightly more exciting trip to the river mouth for a maximum 1.5 hours round trip. Or, if you have a girlfriend that has never sat in a canoe before, you can spend an unforgettable hour battling it out against the gentle river's slow current.
Or, there is an option to connect canoeing and hiking that I think is just too good not to mention. You'll need about 3 hours in total for this.
You start at Eden Adventures where you pick up your canoe and gear (they give you a waterproof bucket for your stuff), and off you go, trying to balance on the water in your yellow boat. Just in case you were wondering: no, there aren't crocodiles in the Touw River.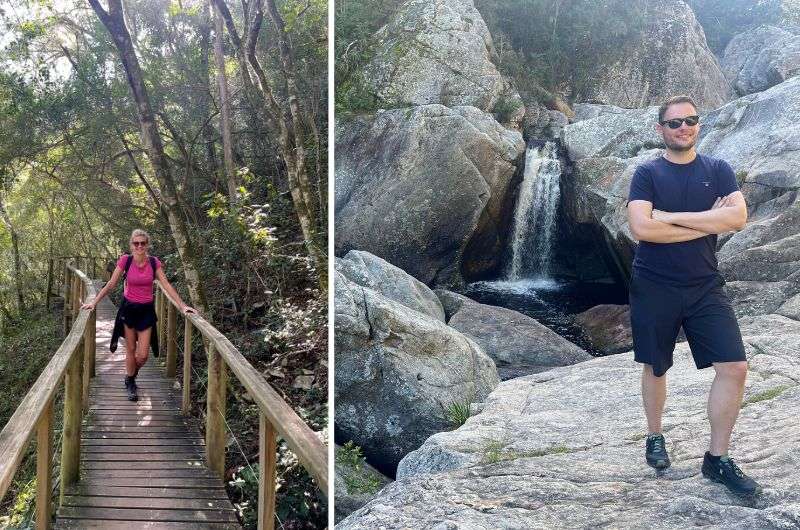 Again—Half-Collared Kingfisher Trail leads to a nice waterfall

In about 45 minutes (this clearly depends on your canoeing skills) you'll park your canoe and continue on foot on the Half-Collared Kingfisher Trail. A wooden boardwalk will take you all the way (2.5 km/1.5 mi) to a waterfall, which is where you can take a swim in the natural pools. Don't get too excited about the waterfall visit—it's nice, but setting that the waterfall is in is much more spectacular than that bit of water falling. Also, watch out for cheeky vervet monkeys trying to steal your phone/snacks/glasses!
The return route is exactly the same and in total, this water+land adventure should take you 3–4 hours.
If you prefer to do the full Half-Collared Kingfisher Trail completely on foot, get the details in my Garden Route hikes article. You're in for a 2-hour 7.6 km (4.7 mi) hike, complete with some epically fun river traversing!
Day 3, "stop" 2: The OG 7 Passes scenic drive
Retracing history on the OG Garden Route (Seven Passes Road)

Distance from last stop: 10 km/6 miles, 15-minute drive
Time spent here: 2 hours
Now that you've got your steps in, saddle up your trusty steel stead and take a trip down memory lane—you'll be driving on the 7 Passes Road, aka the original Garden Route before the N2 highway way even an idea.
The official 7 Passes Road starts in George and ends in Knysna, but if you don't feel like going all the way to the beginning (a 20-minute drive from where you are in Wilderness NP), it's not a big deal. Instead, cut up along Hoekwil Road until it connects to 7 Passes. Bonus: This shortcut will give you a chance to stop at Cornerstone Creek Art Gallery, a lovely cafe/galley hybrid with a large garden (complete with sculptures) about midway. Don't expect much in terms of food, but it's good for a coffee and snack.
Once on 7 Passes Road, you'll see just how adventurous the OG Garden Route was once you realize that all the roads are either tarred or dirt and there's never a straight section that's too long. Don't drive this route without a 4x4 if it has rained. The total distance of the 7 Passes drive is 75 km (46 mi), but remember the drive will take longer than it would on a wide asphalt road, so leave yourself enough time to drive it in daylight.
The journey is all about winding through dense forests, over little bridges, and cruising over farm patches. It's not exactly jaw-droppingly amazing scenery, more like really nice and peaceful.
There are a couple of places where you'll be able to get a great meal and experience, too. Try African Experience Bush Caf'e or Bistro Celeiro.
Day 4 of Garden Route itinerary
Get the route of the 4th day of this itinerary on Google Maps. I include hotel to hotel (Kambaku at Sea to Nova Boutique Hotel), but you can change those of course

Main sites visited on day 4: Robberg Nature Reserve hike, drive to Port Elizabeth
Restaurant tips: Adi's Kitchen in Plettenberg Bay | De Kelder Restaurant in Port Elizabeth | The Hussar Grill in Port Elizabeth
Hotel recommendations: Nova Boutique Hotel
Further reading: 10-day Garden Route itinerary | Garden Route hikes | Garden Route best places
Even though it's only the 4th day on your itinerary, it's almost time to bid farewell to the glorious Garden Route. Today, you'll drive back to Port Elizabeth, because I think it's an abomination not to visit Addo Elephant Park when you're in the area. Sure, it's not officially on the Garden Route, but it has potential to become your favorite place in all of South Africa (it was for my girlfriend), so you'll be doing that tomorrow.
Tip: If you want to check out more Garden Route stops, see the extended 10-day Garden Route itinerary.
The move also means toodleloo to Kambaku at Sea, but since you'll be checking into another incredible hotel in Port Elizabeth, there's a silver lining. Nova Boutique hotel is so cool it reminded me of my own apartment at home, so obviously very stylish. It was also the South African hotel that I've deemed to have the most incredible hosts in the country—you will not only feel at home, you'll feel like you own the home (just without all the homeowner headaches).
But first—Robberg!
Day 4, stop 1: Robberg Nature Reserve hiking trail
Me and the scenery on the hike in Robberg Nature Reserve

Distance from Kambaku at Sea: 60 km/38 miles, 1-hour drive
Time spent here: 2.5 hours
About an hour into your drive to Port Elizabeth you'll stop in my 3rd favorite hike of the Garden Route, Robber Nature Reserve hiking trail (see my full hike list here). What I love about this hike is that it keeps changing, and you end up feeling like you did 3 hikes in one go—it's just never dull.
Here are the hike stats:
Hike length: 8.7 km (5.4 mi) loop, with the option to cut it in half
Elevation gain: 280 m (920 ft)
Difficulty level: Easy to moderate
Hiking time: 2.5 hours for the full trail
Trailhead: Google Maps link to trailhead
Right after the parking lot, before the route really starts, I strongly recommend you stop by Nelson Bay Cave. It's an interpretation center that educates you on the story of the local San and Khoi people, their local lives spanning 120k years. They practically owned the place when the sea decided to take a vacation elsewhere. Their hunting game changed as the sea levels did (something about the Ice Age). Very interesting stuff!
You'll circle the entire peninsula on the Robberg hiking trail (but there's an option to cut it in half) (full route details on Alltrails)

The Robberg hiking trail is jaw-dropping coastal goodness all the way, though if I were to do it again, I'd opt for the shorter version, where you cut through the peninsula in the middle and skip the sandy shuffle of the longer route. But, if you don't mind a long sandy walk, the full route will still only take you about 2.5 hours. Some sections of this route are quite steep, but there are ropes you can hold onto. I saw some people opting to scramble on the rocks instead of walking on the sand in some places, so that's an option, too.
Be ready to encounter a very large and smelly seal colony, and you can also try to spot whales from the higher ground.
Day 4, stop 2: Feel like you're at my house @ Nova Boutique Hotel
Spend the night in Nova Boutique Hotel!

Distance from last stop: 250 km/155 miles, 3-hour drive
And now folks, a pretty long drive that'll make more sense tomorrow when you're surrounded by dozens of elephants. Today, you will pass by all the fantastic spots you've explored in the past few days. Remember, driving the Garden Route is just as much as an activity as any, as the scenery is so memorable. It's called the Garden Route, not the Garden Stops, ok? So, embrace the journey.
Once you arrive at Nova Boutique Hotel, you'll be welcomed by the owners who will instantly become your favorite people in South Africa. As for the location, it is tucked away in an upscale neighborhood, and the best part? It's very close to the airport (not that you'd even notice the pint-sized airstrip, so don't worry about noise).
The rooms aren't just spacious, but also super clean, and I must say, their thoughtful inclusion of star constellations was a charming touch. The breakfast spread boasted homemade delicacies that could rival a five-star culinary affair, and you know I love me some good morning food!
To add icing to this vacation cake, we indulged in the spa and pool, which, might I add, were as refreshing as a dip in an oasis. After the long day you've had today, I trust you'll find these similarly appealing.
Day 5 of Garden Route itinerary
Get the route of the 5th day of this itinerary on Google Maps. It shows the way to the South Gate, which is the best one to enter through if you're self-drivings

Main sites visited on day 5: Addo Elephant Park
Restaurant tips: Adi's Kitchen in Plettenberg Bay | De Kelder Restaurant in Port Elizabeth | The Hussar Grill in Port Elizabeth
Hotel recommendations: Nova Boutique Hotel
Further reading: Plan a visit to Addo Elephant Park | 10-day Garden Route itinerary | Garden Route best places
Don't be fooled by its name—Addo Elephant Park offers much more than just elephants. It's a sprawling, multi-species haven for Africa's diverse wildlife where you can spot the Big 5... or even the Big 7 if you try hard enough!
There are about 600 elephants currently living in Addo, and when we stopped at one of the watering holes at prime elephant watering hole time (in the afternoon around 3 pm), it literally felt like they were all there at once. I'm not sure if you can imagine hundreds of elephants in one spot, but it's surreal! That was the moment when Addo shot to the top of our South Africa highlights list.
You can either self-drive or get a guide at Addo Elephant Park—choose form the tourist trucks or pay a guide to join you in your own car. Addo has 120 km (75 mi) of tourist roads that'll keep you busy for a full day. You can also hike, go to the spa, have a picnic (protective fences as provided), or take a Marine Eco Tour (for whales) or go shark cage diving in the Addo Elephant National Park Marine Protected Area. I didn't go this time, but here's my experience with the sharks from my previous South Africa trip (it was... memorable).
From Port Elizabeth (Gqeberha), I recommend using the South Gate if you're self-driving as it's just a 30-minute drive along the N2. For guides, you'll want to start at the Main Gate, because that's where you'll find all of Addo's tourist facilities. The Main Gate is 72 km (about 45 mi) from Port Elizabeth—make sure to drive around through Paterson for safety reasons.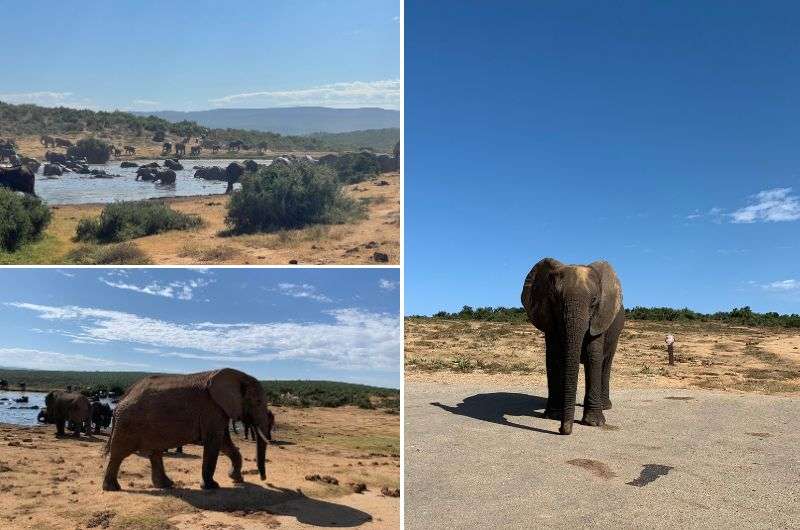 These beauties are on every corner in Addo

Addo's gates open at 7 am and close at 7 pm (Main Gate) and 6:30 pm (South Gate). It's a good idea to check the closing times when you enter, because times are subject to change based on season.
If you are self-driving Addo Elephant Park and make it a day trip, you'll just pay the "conservation fee" at the gate, which is ZAR 376 (USD 20), and you're good to go and enjoy the elephants (and the bazillion other animals that were left out of the name).
Guided tours cost an extra ZAR 450, a guide that drives with you in your car costs ZAR 290.
I've put together an Addo Elephant Park Trip Planner full of all the details on visiting the safari and what to expect, so check that out before going. That way, you won't be surprised that they'll check your trunk at the entrance, or what to do if you want to go on a night safari.
This Garden Route itinerary has you starting and ending in Port Elizabeth, so this is the end, my friend. You'll spend another night in Nova Boutique Hotel before continuing on your South Africa trip. We returned the rental car at the airport and flew back to Cape Town. If you're curious what a road trip from Cape Town to Port Elizabeth could look like, see my 10-day Garden Route itinerary.

This post contains affiliate links. I earn a small commission if you make bookings through my links, at no additional cost to you. This helps keep this blog free, thank you!