Mallorca is a small island, but man there is a lot to see! This island has it all—stunning beaches, epic mountain views, and everything in between. And we're not just talking about the epic scenery everywhere you go, guys. The food and drinks you get there will make your taste buds do a happy dance.
But hold on to your horses, okay there cowboy? First, you have to learn about the top places to visit in Mallorca so you can make the most out of your vacay. Luckily for you, your best travel advisor, most clever fella on the face of Earth is right here. So, grab your bikini, your camera, and your sense of adventure. Let's get started, these are the Mallorca best places to see!
You might also be interested in reading:
Is Mallorca worth visiting?
Hmm, let me put it this way. Are you into crystal-clear turquoise waters, breathtaking mountain views, delicious food and drink, and all-around good vibes? Then this paradise-like island is the right choice for you! Mallorca has beautiful places, that would literally make your head dizzy—looking at you Sa Calobra! And if you are not... What are you into then? (rolling my eyes so hard, they could probably pop out of my head)
Check out my map of the best places in Mallorca

1. Cap de Formentor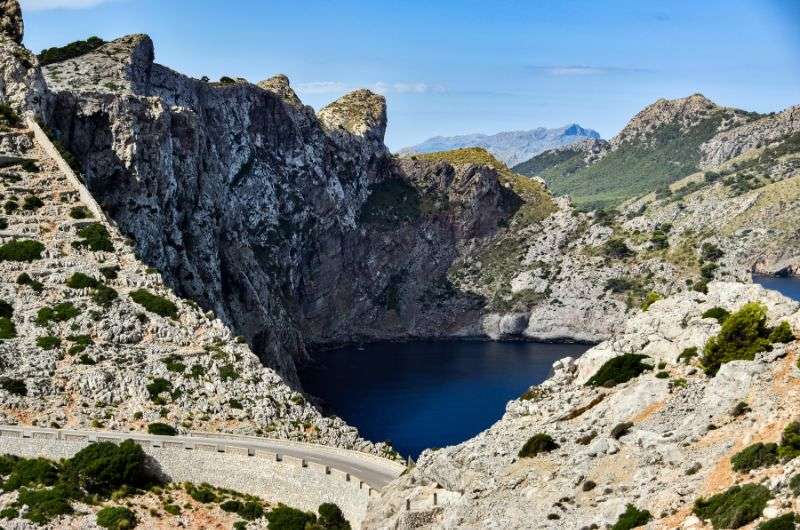 Driving along Cap de Formentor

Cap de Formentor is a place to get the best Instagram pics without a doubt. With a picturesque lighthouse at the very tip of the peninsula, it serves you the best views possible hot on silver platter.
But the road leading there is not for the faint hearted! Warning: high risk of motion sickness—and also a scuffle with a random local goat (or cyclist). The road is a twisting, winding, hair-raising ride that will put even the most skilled drivers and stomachs of the bravest to the test. But trust me, just like everything I ever recommend to you, it's worth it. And this is one is ultra Jan trademark guarantee!
Views of the Cap de Formentor in Mallorca, Spain

As you go further and further, you'll be rewarded with some serious jaw-dropping vistas of the sea and the cliffs below feeling like you're standing at the end of the world. The whole drama of huge waves crashing into rocks and splashing higher than your hopes for a cute pic of the lighthouse without a tourist in it is pretty darn awesome.
Note: The roads on Formentor are restricted access during roughly the middle of June to middle of September to prevent overcrowding. That means that between 10 am and 10:30 pm, you have to get on a bus in Port de Pollença and see the cape that way. It stops in all the main places I mention.
2. Palma de Mallorca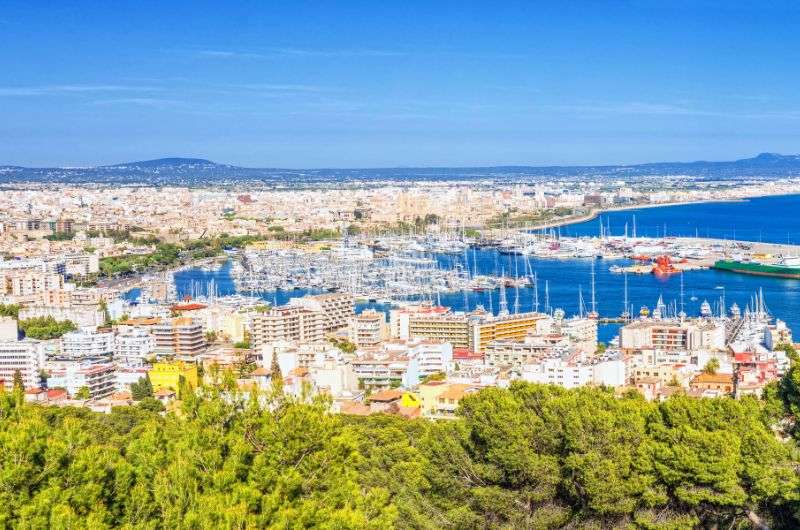 My favourite Palma de Mallorca

Palma is definitely leading the list of best towns in Mallorca. Palma de Mallorca is a cocktail of astounding history, vivid culture and stunning nightlife. If life is like a box of chocolates and you never know what you're gonna get—in Palma you get all the chocolates! And liters of sangria on top of that.
If you're history buff by day and party animal by night, or either of those you have to stop in Palma de Mallorca. Well, the airport is there, so you actually have to anyways. Here are some top places you shouldn't miss on your stroll through Palma's exceptional Old Town.
La Seu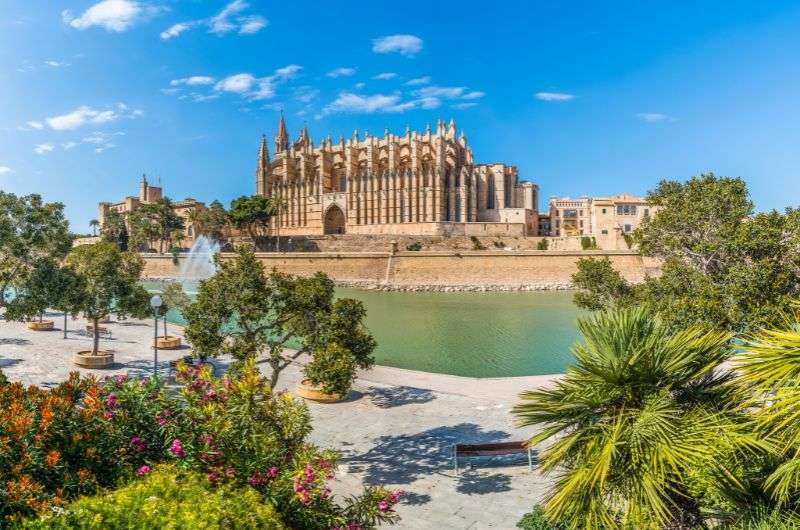 Mallorca Cathedral

La Seu, known also as Mallorca Cathedral, is probably the most famous landmark of Palma. And it sure is a huge landmark, you can't miss it with its 44 meters (144 ft) making it one of the tallest cathedrals in Europe. This Gothic masterpiece can give you some serious neck pain from all the oohs and aahs you're going to do, you've been warned!
In the late 19th century, the cathedral was damaged by an earthquake and after a few years the cathedral had to be restored also because of some structural shortcomings. But every cloud has a silver lining. The renovations were led by Antoni Gaudí himself, my favorite Spanish fella I never get tired of! His work all over Spain never ceases to amaze me, and La Seu is no different. See for yourself!
As you explore the cathedral's interior, you'll be transported back in time to an era when kings and queens ruled the land and religion was a central part of everyday life. Only the Pope blessing you is missing.
You can find there the largest rose window offering breathtaking light play. The audio guide tends to ramble on and on, so unless you are really interested in history, maybe just use your eyes and take in the beauty and give your ears a rest. There's also a guided tour available.
Bellver Castle
Bellver Castle

A castle on the hill watching over the city right from Game of Thrones series, that's Bellver Castle. The only different things are the missing dragons, beheading and incest—at least I hope so.
Bellver Castle offers a wonderful panorama of the city and the bay washed by the Mediterranean Sea. As it's located pretty high, you need to take about 500 steps to get there. Well, do it for your physique, you'll shine in your swimsuit on the beaches later on. No complaining and make it to the rooftop, that's where the magic happens.
Fun fact: Bellver Castle is the only round castle in Spain. Okay, maybe just a fact, the only fun thing may be the dizziness you get when you lose yourself in the maze-like castle.
Royal Palace of La Almudaina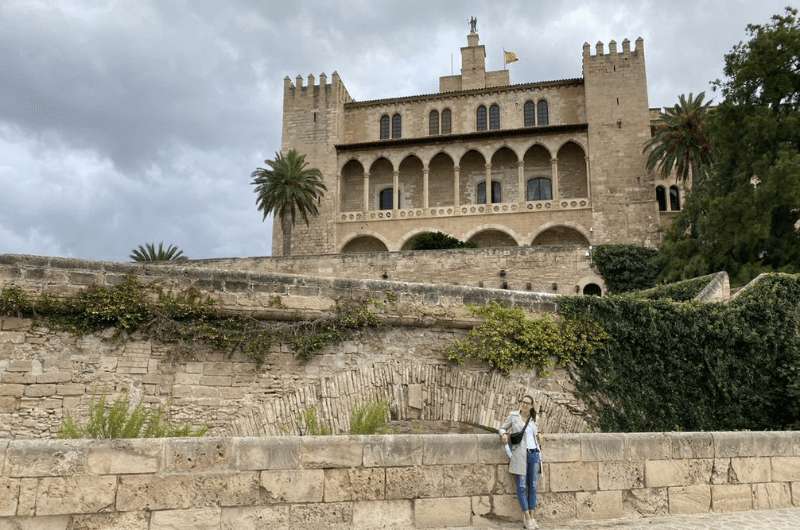 Royal Palace of la Almudaina

You already feel like royalty, now it's time to be royalty. Royal Palace of La Almudaina is the official residence of the King and Queen of Spain. Ladies, maybe you'll meet your Prince Charming there, so leave Shrek at home.
But those of us who came for the place and not the royal pipedream, get ready for splendid courtyards, ornate ceilings, and regal tapestries. If you're a fan of opulence and luxury, you're in for a treat.
As you stroll through the palace's lavish halls and admire the breathtaking views of the sea, you might start to feel like you're a few centuries back. I've immediately seen myself as a court jester entertaining the royalty with my cracking jokes, as I'm the funniest guy under the sun. At least that's what I've heard...
3. Castillo de Alaró hike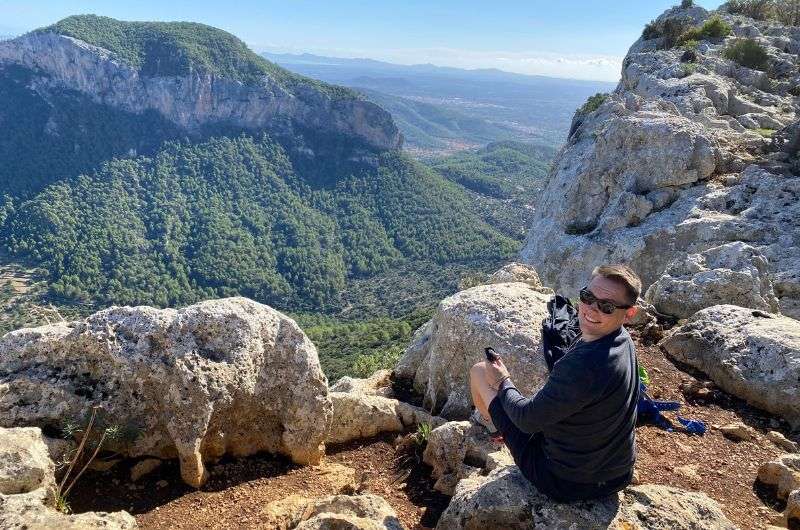 The hike gave me a hard time, but the view was definitely worth it!

Distance: 5.3 km (3.3 miles) out and back
Hiking time: 2 hours
Elevation gain: 269 m (883 ft)
Difficulty: Moderate 

To experience the best of Mallorca, take Castillo de Alaró hike. An endorphin rush guaranteed! One of the top 3 things to see in Mallorca! The hike to Alaro castle was a pleasant surprise for me and I'd recommend it to anyone that doesn't mind a steep hill.
I would consider the hike mildly challenging, but the scenery you get? Totally worth the sweat. Obviously, it leads uphill and sometimes the terrain can be rocky. Occasional stairs would muddle your way. But nothing that would particularly destroy you till the rest of your vacation. As a treat, the views continue the entire way.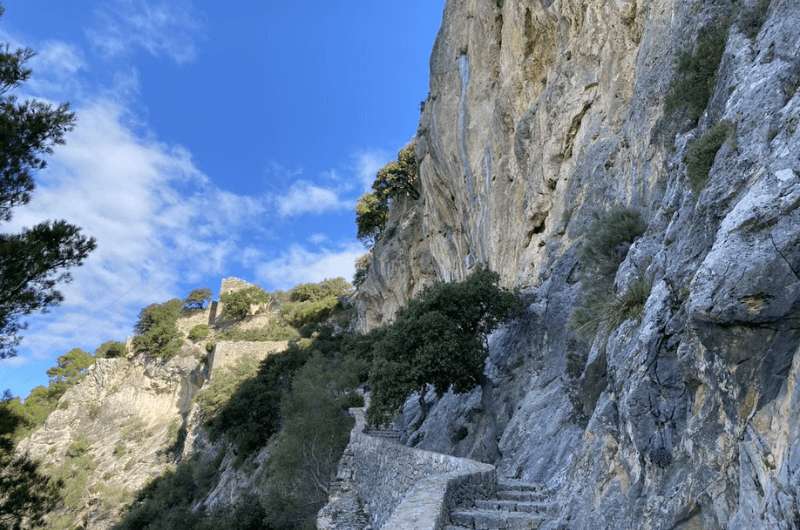 The stairs leading up to Alaro Castle

The castle ruins on top are the bonus you've dragged yourself up the whole time for. Take some nice photos, stare out at the wide sea and dramatic mountains and back down you go. Be careful, it can get slippery, so mind your step!
4. Sollér and Port de Sollér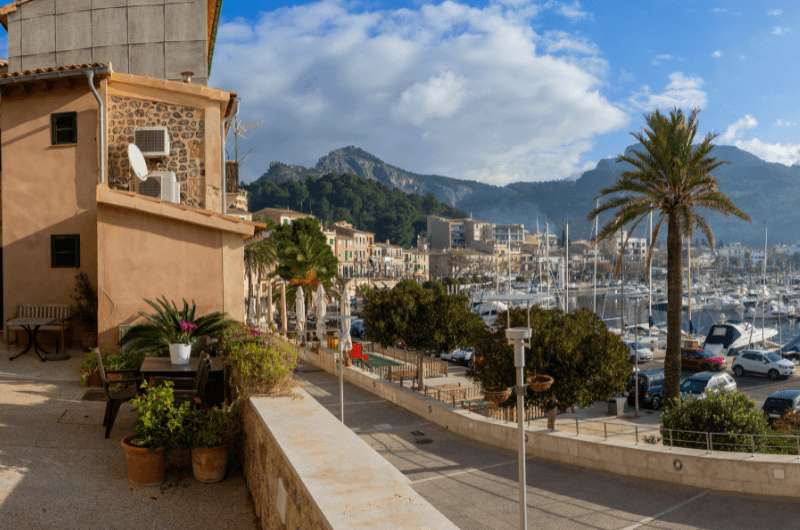 Port de Soller

Port de Sollér is a picturesque town on the northwest coast of the island. This charming town is like a beacon of Mediterranean beauty, with a natural harbor that's sure to make your heart skip a beat. It's next to Sollér, which is a town 4 km (2.5 miles) away up towards the mountains.
Wooden tram at Port Soller

Normally, I would tell you to take a walk from there, but that way you would miss the main attraction of the harbor city thanks to Port de Sollér stands out and must be on your Mallorca itinerary. Hop aboard the vintage wooden tram and prepare to be whisked away on a tour of the surrounding mountains and charming villages.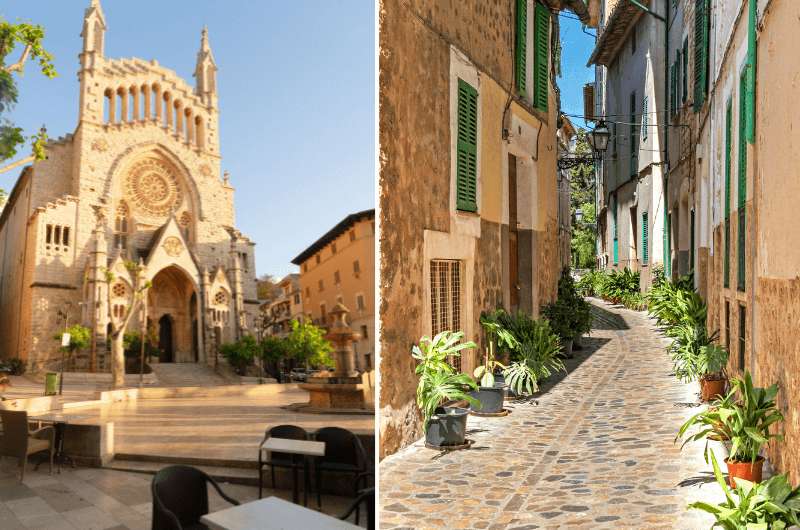 Sollér's extremely charming Old Town

It's like you are in this magical time-travel machine, that takes you back to the beginning of the 19th century, from which this first tram in Mallorca is. The tram will make you think of the cable cars in San Francisco, as they look similar in style.
This journey through time and space will take you about 15 minutes and cost you EUR 8. What a bargain—and it's much more photogenic than the one from The Time Machine! My Insta followers would agree.
Hotels in Mallorca: The best place to stay is Soller!
If you want to travel around Mallorca and visit all these incredible places, I recommend staying in Soller. It's the place that has the best atmosphere and best scenery on the island, close to both mountains and beaches. It's also a working city, which in my book is always nice and it gives you a sense of what real life is like on the island, unlike a beach resort. So, these are the ones we stayed in and couldn't be more satisfied.
Aren't even the pictures of Ecocirer Healthy Stay Hotel relaxing and calming? And those mountain views!

I love how Ecocirer Healthy Stay Hotel is in one of the typical stone Soller houses. It's on one of the narrow streets just to the south of the very central part of Old Town, where many locals live, so you'll feel like you're one of them. The rooms are surprisingly spacious, bright, and with very comfortable beds. Breakfast is fresh, local, colorful—it's basically art!
Some fancy business is happening here @ L'Avenida Hotel

If you have no little screaming bundles of joy with you and want a little fancier hotel with a pool, check out L'Avenida Hotel, an adults-only 4* hotel close to Sollér's town square. It's full of character and elegance, and breakfast is served by a large private pool on the sundeck and near the secluded garden.
5. Alcúdia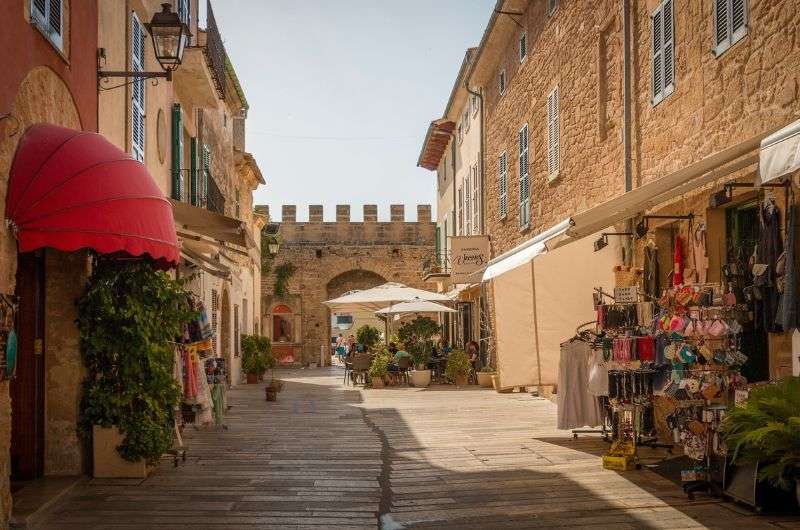 Alcúdia streets

Alcudia is a charming medieval town located in the north, known for its picturesque streets, historic architecture, and beautiful beaches. But the main draw of Alcudia is its Old Town. It's enclosed by a well-preserved medieval wall with majestic gates, that have survived to this day.
As you stroll through the narrow streets, be aware of your steps—you can get lost very easily. Wandering in this old maze will feel like you've stepped back in time, with stone houses, archways, and old churches lining the way. But don't let yourself be fooled by its age. Even though Alcúdia may be the great-grandma of cities, it's also trendy and chic. The town's main square, Plaça de Carles V, is a hub of youthful activity, with cafes, restaurants, and pubs. In Alcúdia they party like there's no tomorrow.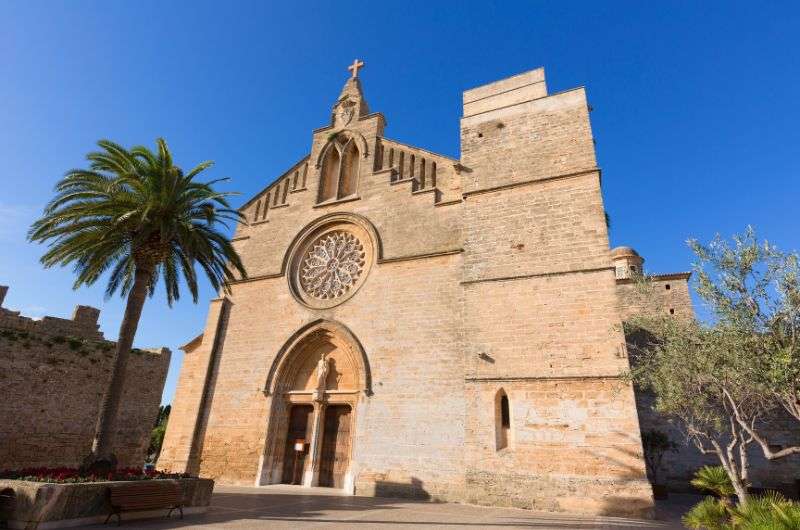 The church of Saint Jaume

But if you are more of an architecture fan or if a hangover would cost you your life or two weeks of bed rest like me, just grab a coffee and go visit some gems of the town.
Originally a part of the town fortification, The Church of Sant Jaume was rebuilt in 1893 to a neo-gothic piece of art. Besides the church itself, you can visit the baroque Chapel of Sant Christ and the display up on the gallery, provided by the Alcúdia parish. Alcudia's Old Town has several impressive ones to choose from, each with its own unique history and architecture. And if you're feeling particularly pious, you can light a candle and pray for forgiveness for all those shots you took last night.
6. Fornalutx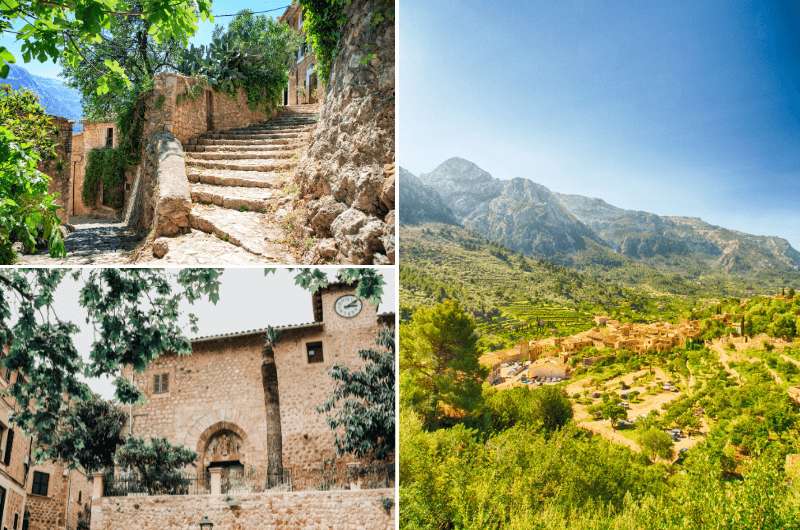 Fornalutx

One of many rural villages around the island that will make you want to move there and live your movie-like Mallorca life is Fornalutx. It deserves a place in this list mainly because of Karin as she was already Googling "apartments for rent in Fornalutx".
I also agree, Fornalutx is undeniably one of the prettiest hilltop villages, but since it's also referred to as "the most beautiful Spanish village", you can gage just how much people love it. It was originally a Moorish farmstead.
While there, I recommend visiting the town hall with its' 17th-century defense tower and the gothic church with a baroque touch. But even without looking for a particular landmark, you'll enjoy getting lost in the countless alleys, walking up and down stairs between the stone houses and getting glimpses of mountains from every corner.
7. Valldemossa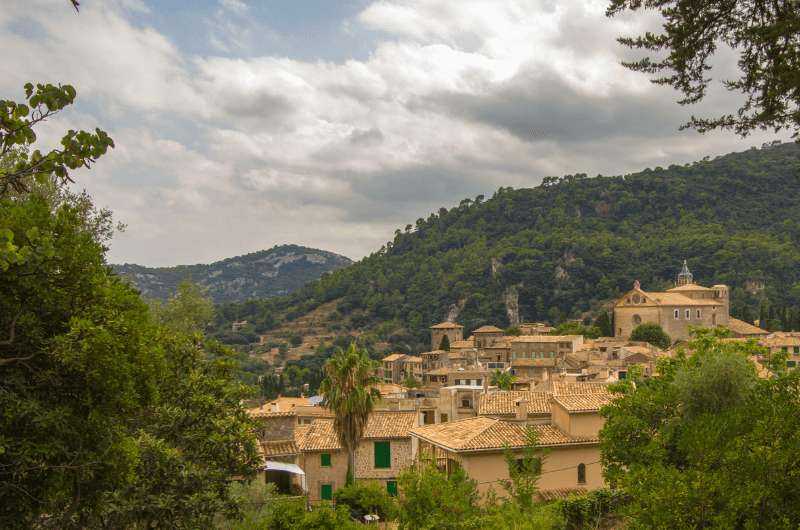 Valldemossa

Yet another coastal village with its typical rural stone houses architecture that Mallorca has plenty—the best are rightfully on my list. But this one will release your inner artist; make you pull out a quill and write a romantic novel or two. Same as Gorge Sand who wrote her novel A Winter in Majorca after trip there.
The major attraction in Valdemossa is the Royal Charterhouse from the 15th century built for King James II of Mallorca. In the 19th century, this complex was also a home for Frederic Chopin and said Gorge Sand.
But for me it was the town itself. The narrow cobblestone streets, lush gardens, and colorful houses with balconies full of flowers look like a postcard from the 19th century. I would describe the whole experience as historic, artistic and slightly romantic, which makes it sound more like a destination for retired people who like to sit on benches and people-watch. However, for a nice short visit it's definitely worth it, though you don't need to spend more than an hour or two there.
8. Sa Calobra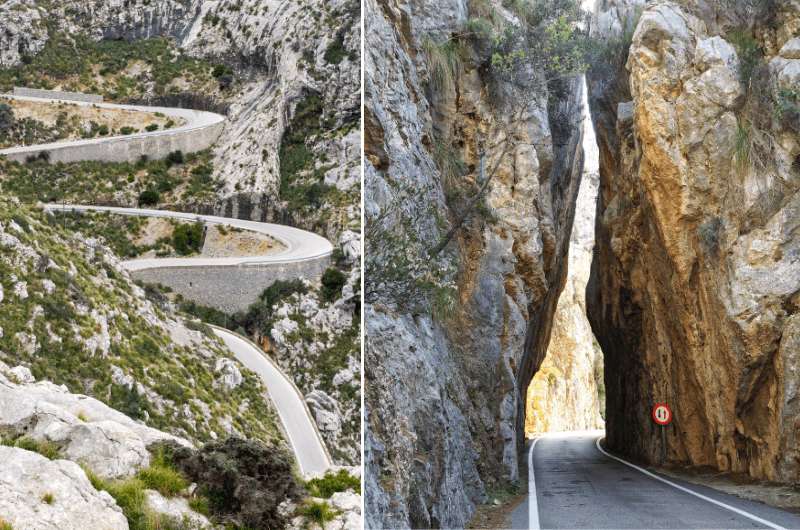 From the crazy drive down to Sa Calobra

Firstly, I would like to say that the journey is the destination here. Sa Calobra is a tiny beach in between sky-high cliffs that you get to through a series of pedestrian tunnels carved into the mountain. And man, what a stunning ride it is! I don't want to underestimate the charm of the beach, but the maze of tunnels, dramatic cliffs and occasional sheep on the way just has something to it.
It's like a rollercoaster ride, only with better views and fewer screaming children. The hairpin turns will have your stomach doing somersaults, and the sheer drops on either side will have you questioning your life choices, or at least the decision to visit Sa Colabra. But don't worry, it's all perfectly safe... probably.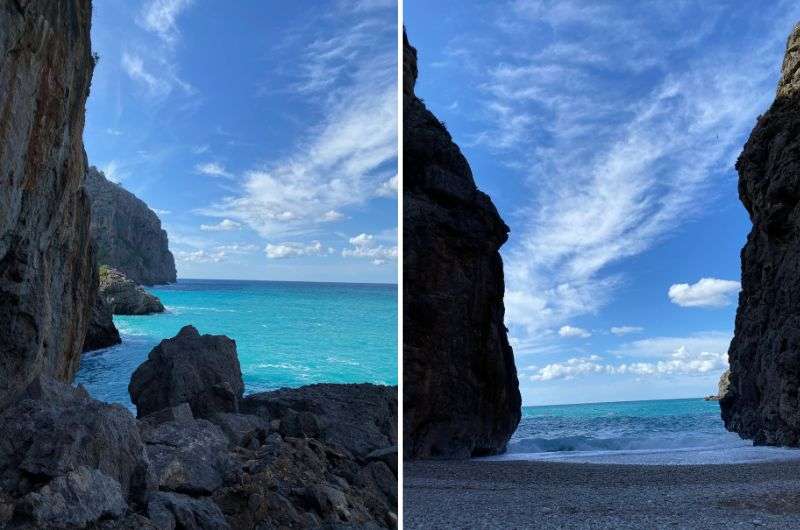 Sa Calobra beach

Once you arrive at the beach, you won't be disappointed either. Sa Calobra is like a travel agency ad comes to life, with its crystal-clear turquoise waters, jagged cliffs, and tiny beach. You'll feel like in a scene from a movie, only with more sunscreen and fewer handsome leading men (if you're not traveling with me, ofc).
If you're not in a mood for sunbathing but feeling rather adventurous, you can take a dip in the Torrent de Pareis, a river that flows through a narrow canyon and empties into the sea. Just be warned: if you are not visiting in summer months the water is ice-cold, just like my judgment on travel destinations I honestly gauge for you.
Sa Calobra is a must-visit destination for anyone who loves a good adventure, stunning views, and a healthy dose of existential dread. Just remember to pack your sense of humor (and maybe some motion sickness pills).
9. Es Trenc
Es Trenc beach

Es Trenc is considered to be one of the most beautiful beaches in Mallorca and that's because of its Caribbean blue waters and sandy coast. But it's definitely not one of those fancy schmancy resort-like beaches with plastic chairs wherever you look. On the other hand, you won't find almost any facilities on or near the beach.
Es Trenc is an almost entirely wild beach, so if nature feels like it, the beach will be covered with sea grass. You found that icky? Grow up or don't go, I don't care. I can enjoy this almost empty beach even in a high season only by myself. To get Es Trenc at its most peaceful, go in the morning.
Even though the competition of best beaches in Mallorca is crazy high, Es Trenc surely made my heart skip a beat. And not because of the nudist part of the beach on its remote end. I don't consider myself to be a beach bum, but places like this make me wonder if heaven is a place on Earth with turquoise water and clear sand.
10. Cuevas del Drach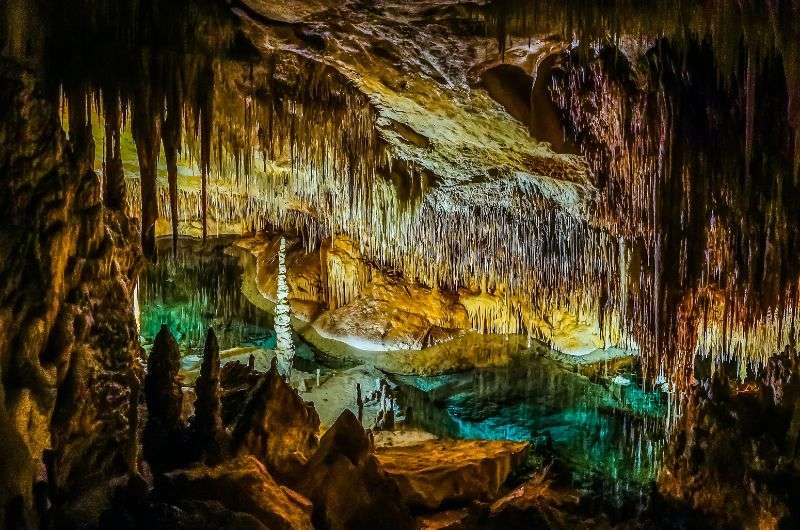 Cuevas del Drach

Are you into adventurous discovering nooks and crannies of dark undergrounds and geological marvels? Arguably the favorite tourist attraction on the east coast will give you exactly that!
The Drach Caves (Cuevas del Drac) is an underground complex of caves hiding one of the largest underground lakes in the world.
Lake Martel is exceptional not only because of its dimensions, but also because of its purity. Its water is said to be one of the clearest and purest on our planet. Hopefully, no oilfield will be found underneath so Americans won't start drilling there too!
You can take a boat ride across the lake while enjoying a classical music concert. Yep, you've read that right. There is a "concert hall" in the complex, where you can attend a short classical music concert. Quite a unique experience, I will definitely remember for a while.
The whole visit will take you about an hour. Though the human traffic jam is a real thing there, especially in the high season. If you don't want your queuing to get inside turn into waiting for Godot, buy the tickets online. You can skip the line and save many years of your life you would waste waiting.
This post contains affiliate links. I earn a small commission if you make bookings through my links, at no additional cost to you. This helps keep this blog free, thank you!