Put on your walking shoes and grab a fan to beat the heat, it's time to tackle Sevilla in 2 days! In this masterpiece of an itinerary, I'll take you through Moorish architecture, flamenco rhythms and bullfighting controversies, and even the largest wooden structure in the world (that locals initially hated), and much, much more.
You don't need to worry about the practicalities (like food… food's good), everything is already in here. From where to stay, the best restaurants, maps, ticket prices and opening times, it's all here.
No really, all you need to do it choose your dates and go.
You might also be interested in reading:
Day 1 of Seville itinerary
See today's route on Google Maps

Main sites visited on day 1: Jewish quarter, Cathedral, La Giralda, Centro Cerámica, Plaza de España
Restaurant tips: La Brunilda | Az-Zait
Hotel recommendations: Melia Sevilla | Hotel Tayko Sevilla
Further reading: Sevilla Guide | Andalusia itinerary | Spain itinerary
It's easy to see Sevilla in 2 days, but really make it 2 full days if you don't want to be rushed. That said, I hope your 2-days in Sevilla got off to a great start last night already—when you arrived at your hotel (I'm telling you, Melia Sevilla is the place to stay!)—and today is your first full immersion into this fantastic Spanish city.
Day 1, stop 1: Jewish Quarter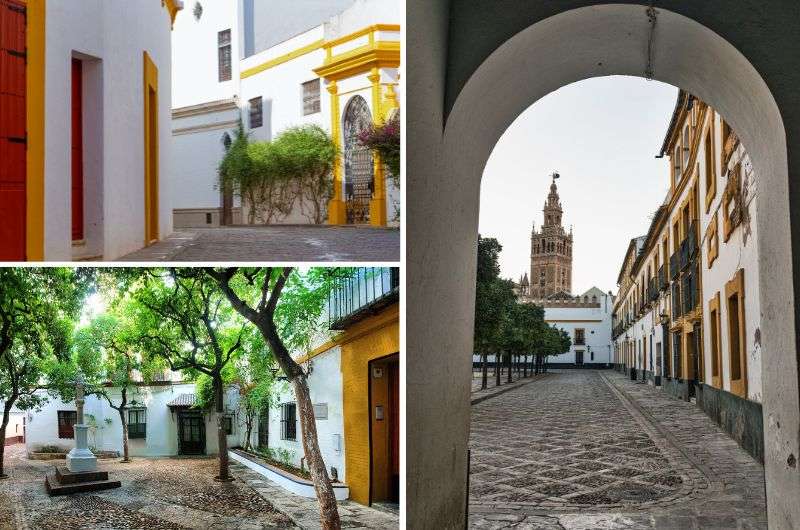 Barrio Santa Cruz

Time spent here: 1–2 hours
First thing's first, let's get a feel for the lay of the land, shall we? You're spending 2 days in Sevilla, so make sure you're wearing your most comfortable shoes, because you'll be doing a lot of walking!
And believe me, the cobblestoned streets in the Jewish Quarter will test your comfort limits. Barrio Santa Cruz is the neighborhood between the Alcazar and Sevilla's Cathedral where you'll feel as if you've time-traveled back to the medieval ages.
The walls and narrow alleys are drenched in centuries of history. Be warned that this place can be a bit of a tourist trap—this maze of streets is usually packed, but don't let that deter you from enjoying its charm. You'll pass tapas bars, tiled benches and myriads of orange trees, all of which add up to a really special walk.
Day 1, stop 2: Sevilla Cathedral and La Giralda Bell Tower
Sevilla Cathedral

Distance from the last stop: 0 m
Time spent here: 1.5 hours 
Now for one of Sevilla's biggest claims to fame: the incredible Cathedral and the La Giralda Bell Tower!
The cathedral, finished in 1506 after over 100 years of construction, proudly claimed the title of the largest cathedral in the world, knocking Istanbul's Hagia Sophia down to second place. Can you imagine the blow to Hagia Sophia's ego after holding the title for over a millennium?
Fun fact: The cathedral in Sevilla is currently the largest gothic church in the world, and it's also the 2nd or 3rd largest cathedral and 3rd or 4th largest church in the world. I try to explain the vocabulary and details in my Sevilla article.
Seville's cathedral is built on the site of a former mosque, adapting to its square structure. The former minaret became the bell tower, La Giralda, which is why its floorplan is not in the shape of a cross like most churches.
It's a massive cathedral with enough doors to confuse a maze runner. With its 80 chapels that could each pass for their own church, the place is seriously extra.
You will also want to climb La Giralda, the bell tower that Sevilla is so proud of. This tower is seriously tall and I loved the views of Sevilla from it. Just as a tip, if you're on the heavier side, you may need to skip this.
And don't forget about Christopher Columbus' tomb, which is the center of a fierce dispute over his final resting place. It actually holds his remains, even though Santo Domingo in Dominican Republic claim that their Columbus is the real thing.
Me and Chris, world explorers

You can buy tickets buy tickets online or at the door for a slight surcharge, but you risk them being sold out. I recommend the first option in order to beat the crowds (and not risk them being sold out).  
If you already bought your ticket online, enter through the gate by the bell tower. If you want to buy your ticket in person, go through the main gate. It's the southern entrance by the replica of the statue that sits atop La Giralda.  
All the details about visiting the cathedral and La Giralda are in my Sevilla article.  
Open daily, Monday—Saturday 10 am—6 pm, Sundays 2:30 pm—7 pm (last entrance 1 hour before closing time) 
Tickets are EUR 11, audio guides are EUR 5 extra. Guided tours are available for EUR 20. Get your tickets online.  
Day 1, stop 3: Lunch at La Brunilda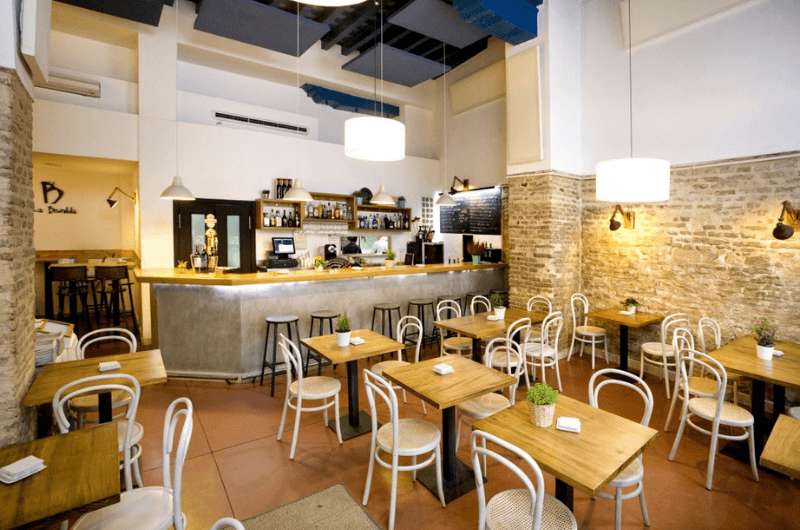 Get tapas for lunch @ La Brunilda

Distance from the last stop: 750 m/0.4 miles, 10 minutes
Time spent here: 1.5 hours
You know when you go to a top-rated restaurant and the place falls flat in reality? Not the case with La Brunilda, which is supposedly one of the top tapas places in Sevilla. You know I tried to find something bad about it, I'm Mr. High Expectations! But this restaurant is superb.
I mean if I wanted to, I could say that the tapas are strangely large. Is that a fault? I don't know. Maybe they just made regular food in really small portions and decided to call them tapas to trick tourists. Just don't go ordering 10 between the two of you or you will need to head back to the cathedral and repent for your sin of gluttony.
It just so happens to be located right between La Giralda and the bridge to Triana where your next stop is. Isn't it wonderful when the stars (and restaurants) align?
Day 1, stop 4: Centro Cerámica Triana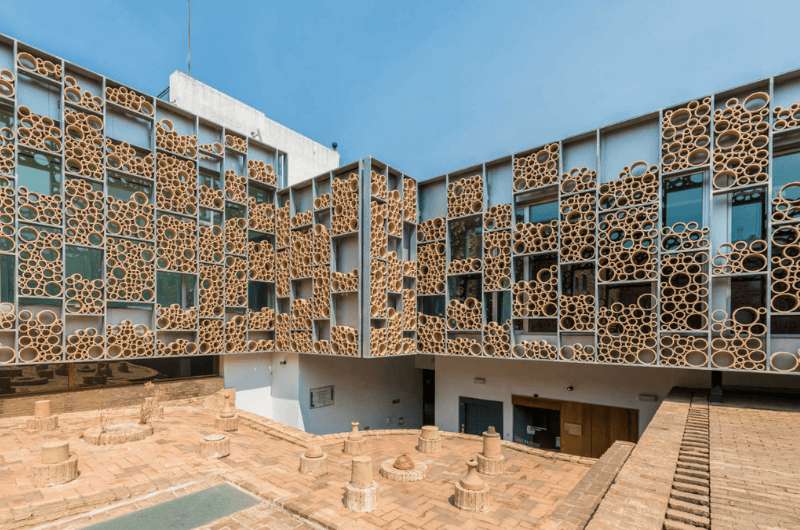 The courtyard of the Ceramics Center

Distance from last stop: 700 m/0.4 miles, 8 minutes
Time spent here: 1 hour + extra time exploring the neighborhood
Now that you've filled your belly, you can continue your cultural immersion—in case you haven't noticed, Andalusia is the land of tiles. You can't take two steps without seeing a gorgeous ceramic masterpiece, thanks to those Moors and their super expensive taste.
So for your next stop, you'll head over the bridge to the not-so-touristy part of town and visit Centro Cerámica Triana. You have 2 days in Sevilla, you can afford to step out of the Old Town!Plus, the Triana neighborhood is full of hip and artsy spots to visit while you're there.
The museum itself is in an old ceramics factory—a perfect fit for the part of town that produced the most tiles and ceramics. In fact, even the tiles on the fabulous Plaza de España were made here!
The inner courtyard is now a very cool area, where you can see various pottery tubes used to make an amazing façade that provides shade inside the museum while still letting the light in.
Inside the museum, you'll get to see kilns, a water well, mineral mills, and potters' wheels—all with display panels to help you understand the ins and outs of pottery making. And the upper floors? That's where they keep some seriously impressive tiled pieces. You can also watch subtitled videos of ex-factory workers telling their stories.
The museum isn't very big—you can breeze through it within an hour. But fear not, there are plenty of ceramics shops in the surrounding streets to extend your tile tour and stock up on some tiles as souvenirs for family and friends back home (just watch those luggage weight limits).
Open Tuesday to Saturday 11 am–6 pm. Sundays 10 am–3 pm. Closed on Mondays.   
Tickets cost EUR 2.10  
Day 1, stop 5: Plaza de España
Plaza de España

Distance from last stop: 2.3 km/1.4 miles, 30 minutes
Time spent here: 1.5 hours
You've made it to the Plaza de España and the Parque de María Luisa. I think it is one of the most beautiful places in Spain, though you really only need 30 minutes to see it. I'm not kidding when I say there is literally nothing to do here, but it was still one of my ultimate favorite spots in Sevilla just due to its sheer monumentality.
But this isn't a race, so calm down, stick around and soak in the atmosphere (and the Parque de María Luisa is big enough for at least another an hour or so).
The Plaza de España was built for the 1929 Ibero-American Exposition and it's a real show-stopper. You'll be surrounded by tiled alcoves representing different regions of Spain, a canal, a fountain, and other buildings that served as Spain's expositions. It's also conveniently right by your hotel Melia Sevilla, in case you want to freshen up just about now.
You can even channel your inner gondolier and rent a little rowboat for a nauseatingly touristy experience. Who needs Venice when you have Andalusia, right?
The main building on the plaza now houses government offices and is free to visit, so why not stop by and say hello to the bureaucrats? (You can see I'm trying really hard to give you things to do here.)
There are also frequent shows around the plaza, from flamenco dancers to who knows what else. Just wander around and see what you can find—extra points if you're there for the sunset!
Day 1, stop 6: Dinnertime at Az-Zait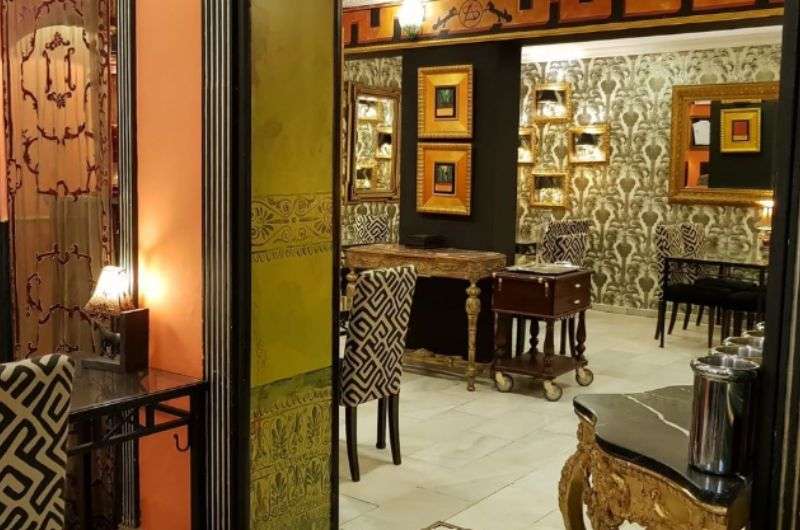 Definitely not a minimalist vibe @ Az-Zait

Distance from your hotel: 3 km/1.9 miles (if staying at Melia Sevilla)
Wouldn't it be great if there was a big white dude that would help point you in the direction of amazing restaurants so you wouldn't have to solely rely on a travel blog's recommendations?
Oh wait, that exists! Michelin and I both think you should have dinner at Az-Zait. The name of the restaurant means 'olive oil' in Arabic, but my brain always thinks of it as "Zeitgeist" for some reason.
No matter the philosophical meaning of what my brain is doing, Az-Zait actually make their own olive oil and are so obsessed with the golden juice that their 3 tasting menus are named after olive oil estates. But no worries, there's more to Az-Zait than oil!
Expect the unexpected: traditional and international dishes with a contemporary twist will land on your table in strangely shaped and massive dishes. Yes, it makes the portions look even smaller, but they are delicious!
Your hotel in Sevilla: A pool, a view, and an incredible breakfast?!
Do yourself a favor and stay at Melia Sevilla

My recommendation for these 2 days in Seville itinerary is the 4-star Melia Sevilla, because it pulls out all the stops without being insultingly expensive.
You can ask for a room with a balcony facing the Plaza de España, or, if you do want to make your stay insultingly expensive, there is "The Level", where you high ballers can congregate amongst yourselves.  
Melia Sevilla is right by Plaza de España, has a trendy design with lots of natural light, and there's an outdoor pool that you'll need to cool down in (Sevilla is HOT!). Just in case you want to warm up, there's a sauna, and also a spa with hamam to get you mighty clean!
Last but not least, the breakfast is superb. For all levels. And you know that's important to me.
Alternative, more boutique-y hotel: Hotel Tayko Sevilla (see pics and details below)
Day 2 of Seville itinerary
See today's route on Google Maps

Main sites visited on day 2: Sevilla Palace (Alcazar), bullfighting arena, Flamenco Museum, The Mushrooms
Restaurant tips: Toby eats the world | Cañabota
Hotel recommendations: Melia Sevilla | Hotel Tayko Sevilla
Further reading: Sevilla Guide | Best restaurants in Spain | Andalusia itinerary
The second day of your 2-day Sevilla itinerary is all about getting to know the culture. You'll be traveling back in time and visiting the Moors, deciding what you think about traditional bull fights, and possible falling for flamenco.

Tip: If your Andalusia trip is just getting started, check out our other city guides: Granada, Cordoba, Malaga. Or just head over to the full Andalusia itinerary.
Day 2, stop 1: The Royal Alcazar of Sevilla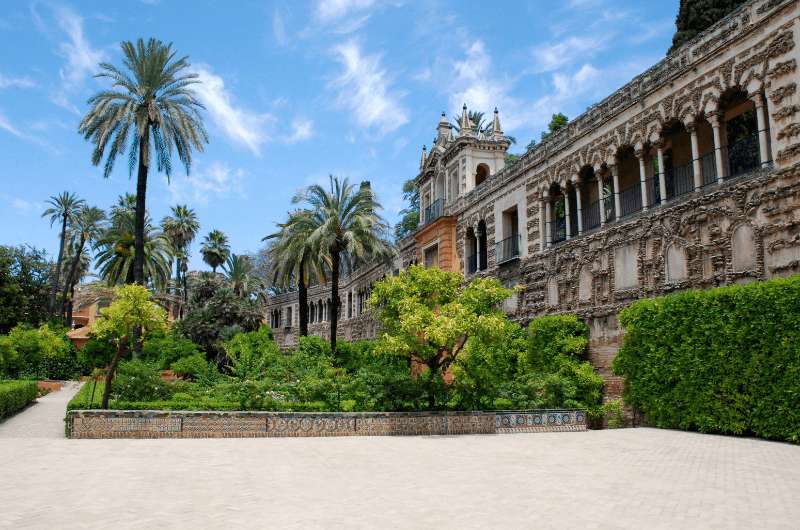 The best Moorish palace in Andalusia: Sevilla's Alcazar

Time spent here: 3–4 hours
Sevilla's Alcazar, the best Moorish palace in Andalusia (says me), is where you'll often find me shedding tears of joy in every nook and cranny (kidding, but just barely!). If you're like me and don't like to skip any little detail of any place you visit, you're looking at 4 hours at the Alcazar, easy.
The interior is like a labyrinth of tiles and gold, and the gardens are so immaculate they make your garden at home look like a little weed patch.
Weather tip: The summer heat in Sevilla is no joke—they now officially name their heatwaves! We're talking temps that make your skin sizzle at 40ºC (104ºF) and beyond. If you're in Sevilla in the summertime, you a) clearly didn't read my Sevilla Guide, and b) you will want to get to the Alcazar at the crack of dawn to beat the heat. Actually, they open at 9:30 am, so you're out of luck. Perhaps check out the nighttime tour schedule instead.
The Alcazar is the oldest royal palace still in use in Europe today, and when the Spanish royal family is in town, they stay in the upper stories of the palace. But fear not, commoners! You too can visit their apartments and even the bedroom if you're feeling nosy.
As for the palace itself, there are so many jaw-dropping areas like the Courtyard of the Maidens, the Princess Baths, and the Ambassador's Hall, each leaving you more gobsmacked than the last. The architecture is the most interesting part, while the exhibitions are... less so.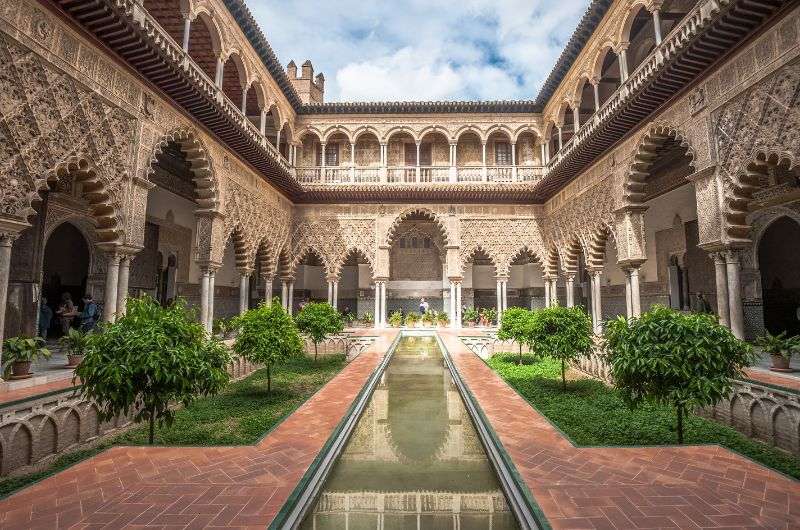 Courtyard of the Maidens

And don't miss out on the gardens! They're not your average botanical plot, oh no. They're the kind of gardens that make you want to break out your picnic basket, pop a bottle of wine, and lounge on a bench all afternoon.
Details about visiting the Alcazar are in my full Sevilla article.  
Open daily 9:30am—5pm, or until 7pm in April—October. Nighttime visits available.   
Tickets cost EUR 13.50 for general entry, EUR 5.50 extra for royal bedroom 
Day 2, stop 2: Eat lunch at Toby eats the world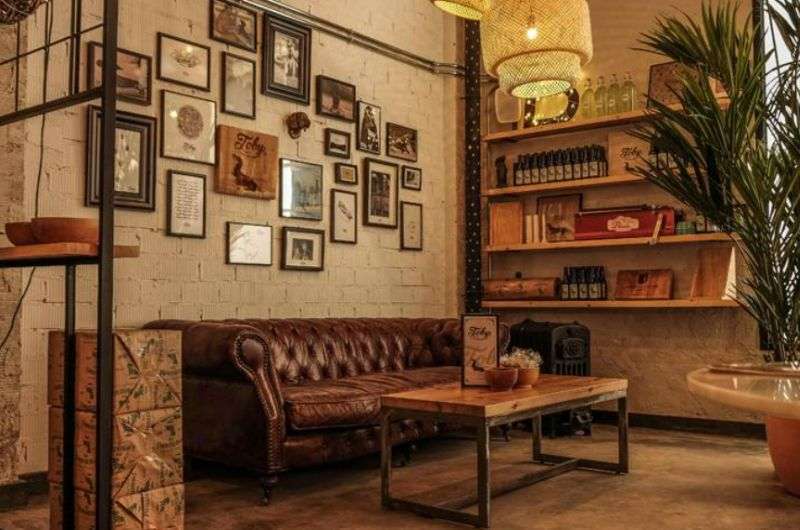 Great vibes @ Toby eats the world

Distance from last stop: 650 m/0.4 miles, 8 minutes
Time spent here: 1 hour
I mean, who wouldn't want to see what it's like to eat that much? Turns out, Toby is actually a wiener dog, and the restaurant is known for being pet-friendly. So if you're allergic or scared of dogs, stay clear of this place.
For everyone else, don't worry, the kiosk-style design of Toby eats the world is strictly for humans (with limited outdoor seating) and the menu is just as delightful as the name suggests.
Now, I know what you're thinking. "But what about the dogs?!" They must feel like they got hit with false advertising, am I right? Toby might be eating the world, but all they get to do is stare at humans stuffing their faces!
But let's talk about the food. The Spanish omelette is a must-try, but don't stop there. They also serve up burgers, salads, and tapas that are just begging to be devoured. It's the perfect spot for lunch, whether you're a solo diner or part of a pack.
Day 2, stop 3: The world's oldest bullfighting ring
Plaza de Toros de la Real Maestranza

Distance from last stop: 550 m/0.3 miles, 7 minutes
Time spent here: 1 hour 
While the centuries-old tradition of bullfighting is a controversial part of Spain's culture, it's still alive and kickin' in some parts of the country, Sevilla included. So, come educate yourself and see who your opinions line up with.
On this Sevilla itinerary, you can either catch all the action or lack thereof, depending on your perspective, at the Plaza de Toros de la Real Maestranza. You should certainly at least visit the small museum, learn about the history of the "sport" and walk on the orange dirt of the bullfighting arena when there isn't any slaughtering happening.
That is, if you can find the entrance! We circled the thing for 20 minutes trying to find the gates, and when we finally did, the place was closing down because of a bull fight or something and we had to come back the next day. So just for you, here's a tip: the best gate is at C. Adriano 35. You're welcome.
Sevilla's bullfighting ring, Plaza de Toros de la Real Maestranza, is almost the oldest in the world, right after the one in Ronda (which honestly has the better museum of the two). Or it's the oldest in the world, but I don't want to be part of that argument. It's old, ok?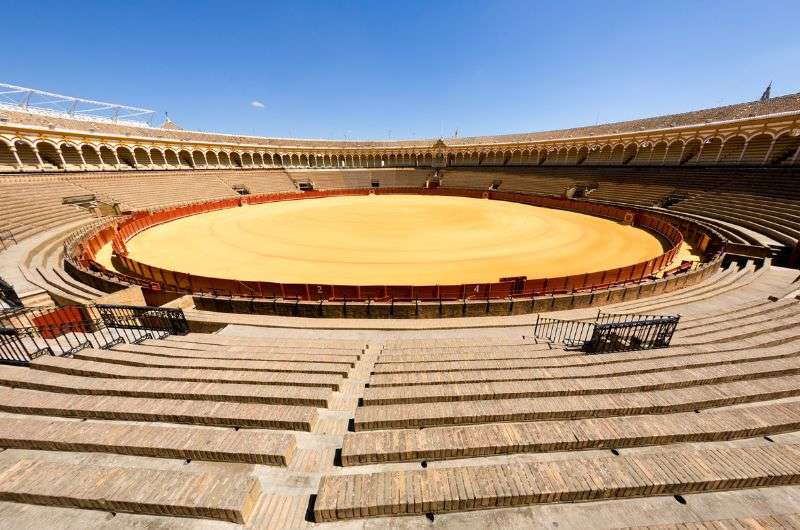 You'll be in and out within an hour. Remember to download the audio guide if you want any English information. The museum is pretty small, so you'll probably spend most of your time pretending to be a matador in the arena.
Open daily 9:30 am–7:30 pm (Wednesdays are bullfighting days, so they close the arena at 3:30 pm)
Tickets cost EUR 10
Day 2, stop 4: Flamenco museum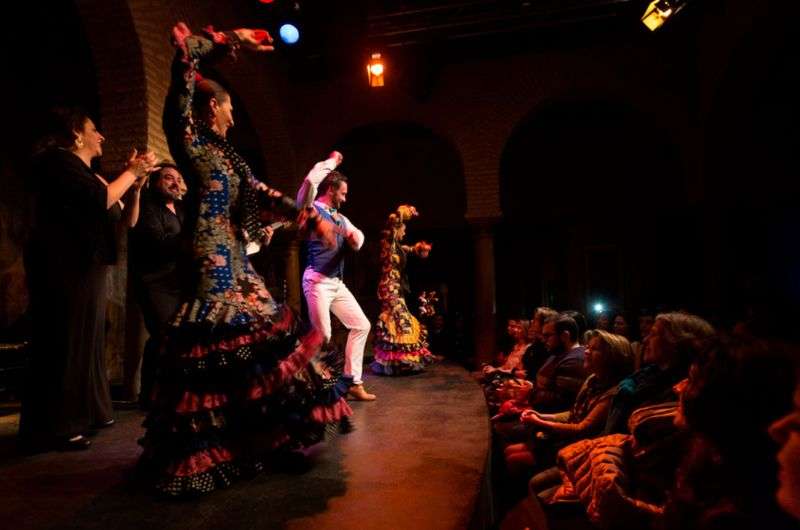 How close is too close?

Distance from last stop: 800 m/0.5 miles, 10 minutes
Time spent here: 1.5 hours if attending the live show
Moving on to a more harmless (but no less stressful!) pastime that is also deeply rooted in Spain's history, it's time for the flamenco! Sevilla is the home of the spirited and passionate dance—with lots of clapping and emotions flying around, it's like a telenovela in musical form! If you want to experience it, Sevilla is one of the best places to do so (Granada would be the other top place—they do shows in caves!).
Visit the Museo del Baile Flamenco to get some understanding of the meaning and history behind the flamenco, but don't stick around the exhibition too long (it's not that great).
Instead, look forward to attending one of the live shows—that's the real highlight. It's in a museum, yes, but it's a really high quality show. I'd go for the 5 pm one so you still have enough time afterward to enjoy your last evening in Sevilla. Just get there early and book tickets in advance, because they do sell out, but seats aren't assigned and you don't want to be in the back row.
Olé!

There are also dance classes if you want to get your stomp on! I have no experience with those though, I'm not exactly the flamenco type, but I'm sure you could squeeze a lesson into your Sevilla itinerary is you really wanted to.
Tip: There are dinner and flamenco venues around town, as well, so if you want to make the flamenco the highlight of your evening, check out some of the best tablaos in my Sevilla Guide.
Open daily 11 am–6 pm, three live shows daily starting at 7 pm for the first one
Tickets cost EUR 29 for museum+show, EUR 10 for just the museum and EUR 25 for just the show
Day 2, stop 5: Sevilla's Mushrooms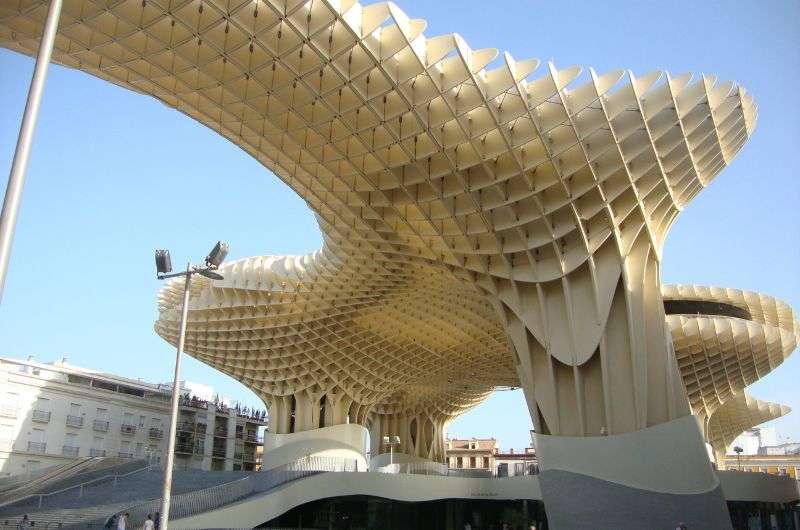 Sevilla's controversial mushroom-shaped structure

Distance from last stop: 550 m/0.3 miles, 6 minutes
Time spent here: 1 hour to as long as you desire 
Finally, in the northermost part of Old Town is the largest wooden structure in the world—"The Mushrooms" (Setas de Sevilla). Why Mushrooms? Well, have you seen the picture?
You don't want to miss the light show that happens here in the evening. Sure, it's pretty interesting during the day, but when the sun sets, and the lights start gliding over the top of the mushrooms, you'll feel like you're in a trippy fairy tale.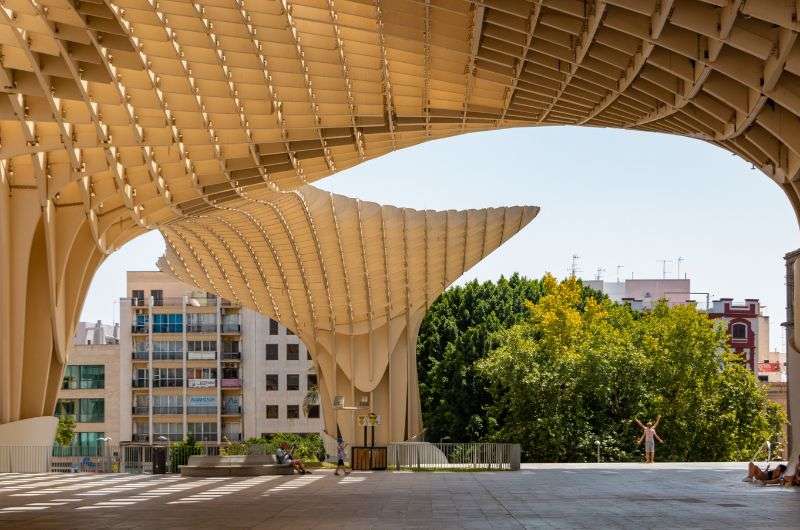 It's supposed to cool down the city

I'll give you a heads up, though. To really appreciate the beauty of this place, you'll need to ignore the shady underbelly. By that I mean many homeless people that made living under a mushroom the best alternative to an actual house. But hey, no one's perfect.
There's an elevator that takes you to the top where you can take in the sights from the winding walkways and platforms. There are a total of 5 floors at the Mushrooms. A unique view of the Cathedral can be seen from it, too.
The Metropol Parasol also includes a couple of (not so great) restaurants and a shop.  
If you get your tickets online, note that there's a time slot you need to limit yourself to, but at least you won't get there and find out they're sold out! 
Day 2, stop 6: The freshest fish dinner at Cañabota
The freshest fish @ Cañabota

Distance from your hotel: 3 km/1.9 miles (if staying at Melia Sevilla)
Distance from Las Setas: 2.5 km/1.4 miles
You've seen the most beautiful palace in Andalusia and explored Spain's cultural highlights, and even walked on some giant fungi… but your Seville itinerary is coming to an end, my friend.
Go out with a bang (or rather a splash) with the best seafood you can eat in Sevilla at Cañabota.
Don't be surprised by this suggestion—it may look like I'm trying to get you to have your last supper at a little fish market-type bistro, but stay with me here...
Cañabota deserved its Michelin star and I think Michelin's description said it best: "It is possible to achieve excellence from apparent simplicity". The open kitchen pulls you into the action of the mastery of preparing Andalusia's best fish and seafood.
Trust your server, because they are also your cook and know what they're doing. Get the tasting menu tailored to your taste.
Reservations are a must!
Hotel Tayko is the cat's pajamas!

Melia Sevilla is great, but if you're after something a little more boutique (and a lot more bubbles in your bath), then Hotel Tayko Sevilla is the place to be. This cool place is located right by the Alcazar, so you can pretty much stumble out of bed and into the heart of Seville.
The staff at Tayko are incredible. Not only are they always friendly, but they seem to know everything about everything. Seriously, we tested them with some obscure questions, and they didn't even bat an eyelid.
Now, if you're into funky wallpaper (who isn't?) and delicious breakfasts (again, who isn't?), then you're going to be in heaven at Tayko. Trust me, they take the most important meal of the day very seriously here.
Tip: You'll be happy to learn that Tayko Hotels have more locations! The one in Bilbao was the perfect place to stay for exploring the city. Here's my Bilbao Guide just in case you already made a impulsive decision and made a reservation there, too!
FAQs: Is 2 days enough for Seville?
I think so. But I rarely spend more than 2 days in any city, so if you are more of a slow traveler, you'd probably find things to keep you busy in Sevilla for 3 days.
This 2-day itinerary for Seville is a happy medium between packing in way too much and having to spend too much time at cafes because there's nothing better to do.
FAQs: Do you need more days in Granada or Seville?
Definitely Sevilla! It's one of the most interesting cities in Spain. Granada is a 1-day destination with one very big tourist attraction and not that much else. You can take a look at the things to do in Granada in my guide.
That said, Granada is a pretty place to spend more nights if you want to use it as a base and take day trips out of there. Yeah, I have a list of Granada day trips, too, obviously! I'm a well-prepared guy, what can I say.
FAQs: Is Seville a walkable city?
For sure. You don't need a car in Sevilla, everything is within easy walking distance. If you look at the maps for each day of this Sevilla itinerary, you'll see that even the longer day is only about 4.5 km (2.8 mi) of walking.
The only time you'll want to hop in a taxi is if you head out to dinner to a great restaurant that's a little ways further from your hotel. Otherwise, pack good shoes, because you'll be pounding the pavement!
FAQ: Can you do Granada as a day trip from Seville?
I mean, you can, but why would you want to? It's a 3-hour drive from Sevilla to Granada, and that just seems painfully unnecessary. They have hotels there, too, you know (like the modern Áurea Catedral Hotel or the incredible Carmen de Vidal with views of the Alhambra!).
In my Andalusia itinerary, I have Granada as a day trip from Malaga. When you're in Sevilla, focus on Sevilla.
FAQ: Is Seville or Barcelona better?
Personally, I am a Barcelona fan all the way, but Sevilla does come in as a close second as far as my favorite cities in Spain. But they are just so different you can barely compare them. Maybe after your 2 days in Sevilla, you should head up north and spend some time in Barcelona.
Here's my full 2-week Spain itinerary if you want more well-researched and detailed inspiration for your vacation in Spain.

This post contains affiliate links. I earn a small commission if you make bookings through my links, at no additional cost to you. This helps keep this blog free, thank you!