Looking for one-of-a-kind experiences? Look no further than Gibraltar. I had my expectations low for this place, I mean, it's just a rock—literally! But once I overcame my own prejudice and started unraveling what this small peninsula of a place has to offer, it knocked my socks off. At Europa Point for real.
So, check out my ultimate guide to discover things to do in Gibraltar, from well-known attractions to unusual experiences waiting for you. From exploring caves to meeting the famous Barbary macaques, we've got you covered. Start planning your Gibraltar adventure today!
You could also be interested in reading:
Is it worth going to Gibraltar?
At first, I wasn't sure. But once we arrived there was no doubt. Gibraltar was a huge surprise for me and with a clear mind I put it on my list of top places to visit in Andalusia. And I can go even further. With no intention of starting an international tussle, it was one of my favorite places in whole Spain, even though it's not in Spain at all!
How many days do you need to see Gibraltar?
To see all the exciting places, that this British overseas territory has to offer, I would recommend spending 2 days in Gibraltar. I mean, if you want to spend 3 days in Gibraltar, you could laze on the beach for a day. But if you don't have much time, you should consider what to do in Gibraltar in one day carefully, because you could miss some top attractions. Or use my 24 hours in Gibraltar guide, where's no room for dawdling around.
See my Google Maps list of top places to see in Gibraltar

What is the best hotel in Gibraltar?
While staying at Rock Hotel in Gibraltar you feel like royalty

Well, there are actually not many hotels in Gibraltar that would be up to my standards. I like spacious rooms, a clean environment and a nice fresh breakfast. It's not that hard, right? And Rock Hotel in Gibraltar—creative name—checked all my boxes!
And on top of that, it's a gorgeous historical building from 1932 that has hosted many famous guests over the years. I mean, how cool is staying at the same hotel as Winston Churchill did?
1. Visit the Rock of Gibraltar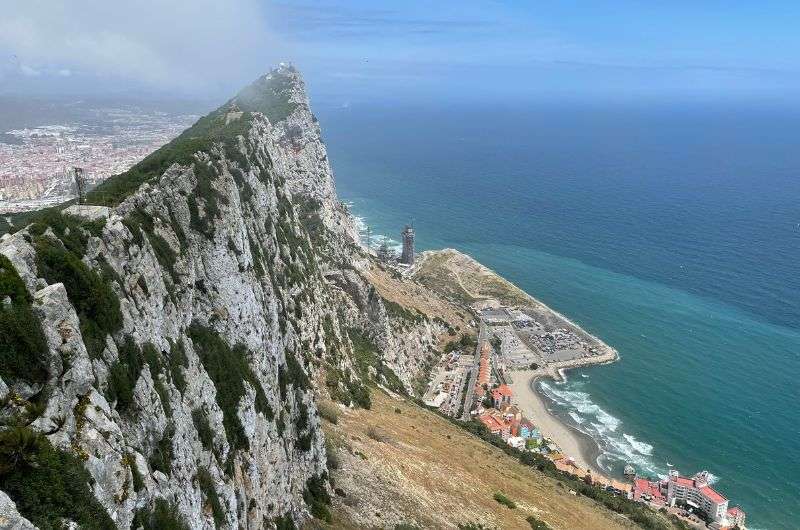 Rock of Gibraltar

Being in Gibraltar and not visiting the Rock is the same as doing something cool and not posting about it on social media. It doesn't count as long as nobody saw you doing it. The Rock of Gibraltar is the iconic centerpiece of Gibraltar, and it's impossible to miss. When you are on your way through Spain, this has to be on your itinerary no matter what, trust me.
The Rock is about 420 meters high (1,400 feet) and the top of it is a nature reserve with the most magnificent views and some gnarly Barbary macaques, the wild monkey that I will tell you more about later. Macaques are basically the biggest celebrities in Gibraltar. They run around and cause mischief like they own the place, and let's face it, they kind of do. If you're lucky, you might even get to take a selfie with one of these Gibraltarian superstars.
The Rock isn't like a regular solid rock. It has more holes than block of Swiss cheese. Then there are the Great Siege Tunnels, which are like a giant maze carved into the Rock. They were used to defend Gibraltar from invading forces, and they're like something straight out of a James Bond movie.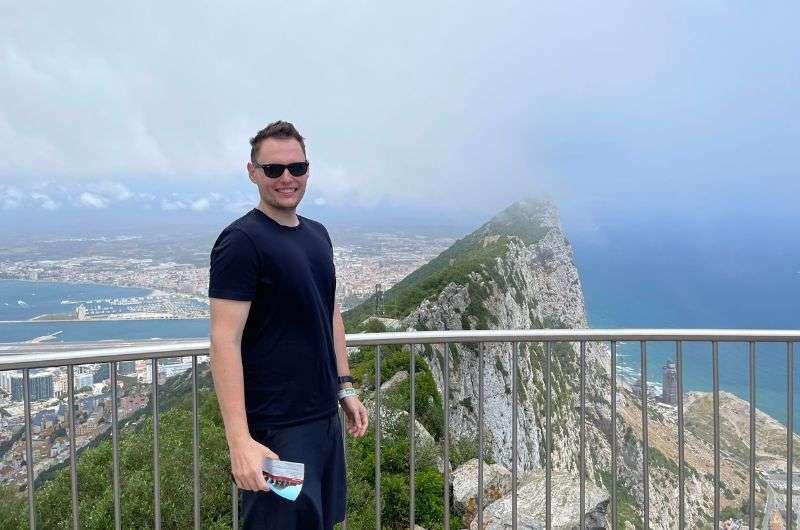 The massive Rock of Gibraltar and me

Fun fact: The tunnels inside the Rock are about 55 km (35 miles) long! That's more than twice the length of all of Gibraltar's roads! The Rock also houses one of Gibraltar's two desalination plants (that's how Gibraltar is able to have drinking water), with underground water reservoirs excavated underneath it. How is that thing still standing?!
Set aside half the day just for touring the Rock. It's massive, with many trails that are worth exploring. You will be walking up and downhill a lot, which will slow you down. Add on time for stopping for the views, taking pictures, and fighting off the macaques. There is a decent café and an overpriced restaurant up by the top cable car station if you want a rest.
2. Walk along the Europa Point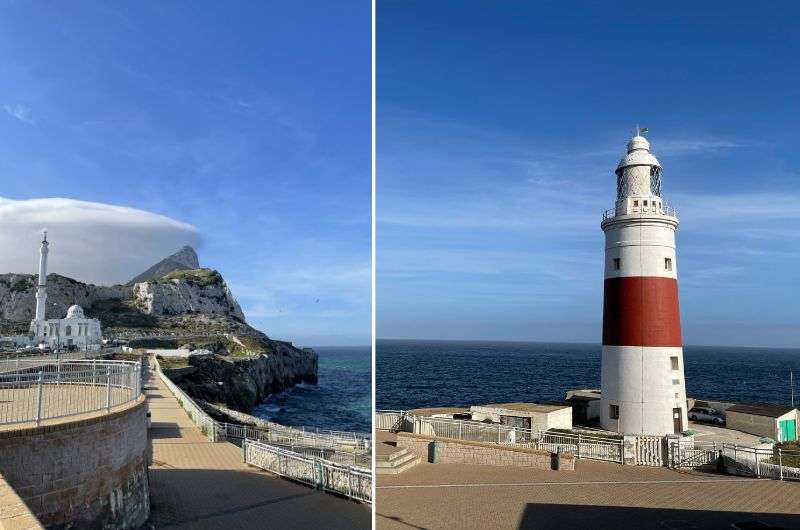 Europa Point

Europa Point is he most southerly point of the Gibraltar peninsula, just one high-five away from Africa. And man, does it deserve a high-five for the views! On the clear days, you can even see Morocco from Europa Point. It's highlighted by Trinity Lighthouse, one of the main Gibraltar tourist attractions the island has to offer.
The lighthouse deserves an award for the second most Instagram photogenic place in Gibraltar. Let's be real, the main reason to visit Europa Point is for the views. The scenery of all those boats passing by is impressive. But for me, it was the lighthouse. I don't know, maybe I have a thing for tall, skinny and beautiful. Okay, let's not go there. But I genuinely think it was one of my favorite places.
It's quite a walk from the main part of the island. It can make up for a nice walk on a sunny day or you can take the bus that goes there. Once you get to Europa Point, the view is not the only thing that can knock your flip flops off. The wind can get immensely strong up there. So, try to keep your feet on the ground! And maybe guard yourselves with a light jacket or jumper as well as sunscreen—the sun there shines brighter than the future of Gibraltar's national football team chances for a decent place at EURO.
3. Visit the Great Siege Tunnels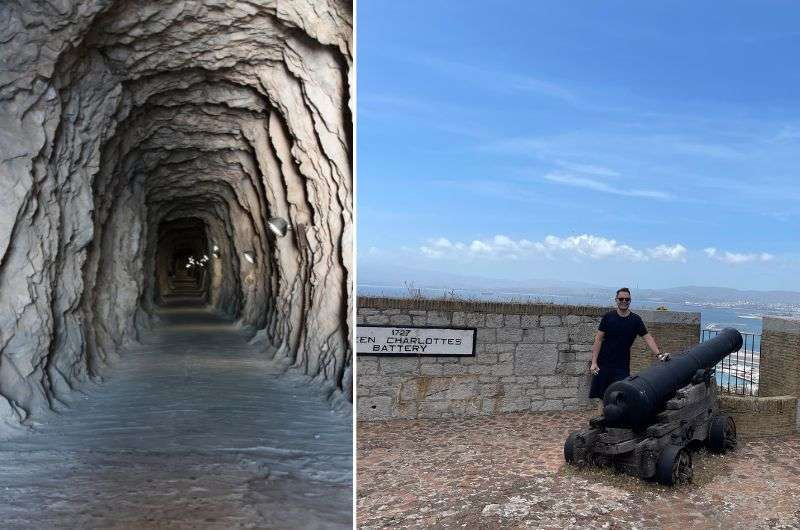 The Great Siege Tunnels

The Great Siege Tunnels at the northern end of the Rock and a visit will take you about 40 minutes to one hour max. Only some of the tunnels are open and they serve as a museum, kind of.
These military tunnels are super interesting, and most are still closed to the public and looked after by the Ministry of Defense. They are included in the price of the basic nature reserve ticket that you get when visiting The Rock. You get an audio guide, and parts are set up to show how they would be used (with figurines and beds and other furniture).
Note that in their day the tunnels were set up as an entire underground city, able to house all 16,000 military personnel with enough food for almost a year and a half! There was even a hospital and a bakery.
The tunnels start out flat but then go downhill steeply, so be prepared to walk up hill on the way back. Do get to the end though, as you will get to the balcony on the other side of the Rock!
If military tunnels fascinate you, there is another section open, the World War II Tunnels. These are not part of the price of the ticket you have and must be booked as a guided tour separately.
4. Explore St. Michael's Cave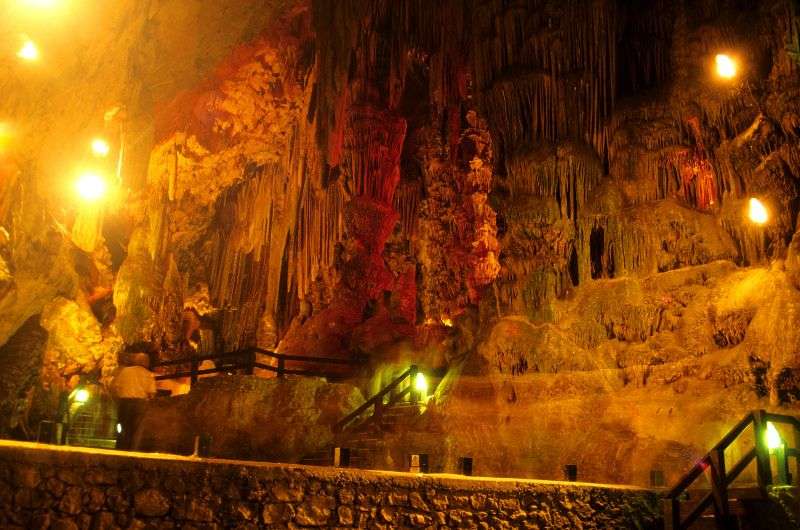 St. Michael!s Cave

If you are looking for a really cool place in Gibraltar—literally—don't go further than St. Michael's Cave. It's a perfect place to escape the heat of Gibraltar surrounded by spectacular stalactites and stalagmites. And you might learn a thing or two about its mysterious history while you're there. You know me too well to sense I can't miss a chance to tell you a bit about it.
Quite a long time ago, the cave was first inhabited by hermits who lived within its walls, isolated from the outside world. You won't meet them there today, the only grumpy fella you could meet will be the tour guide. But I could see easily why they might have chosen this location—the cave's natural beauty and isolation make it feel like a world unto itself. I can imagine living there myself!
Let's fast forward a few years into more recent history. During the time of World War II, the cave was used for military purposes. It was serving as a hospital and an ammunition store.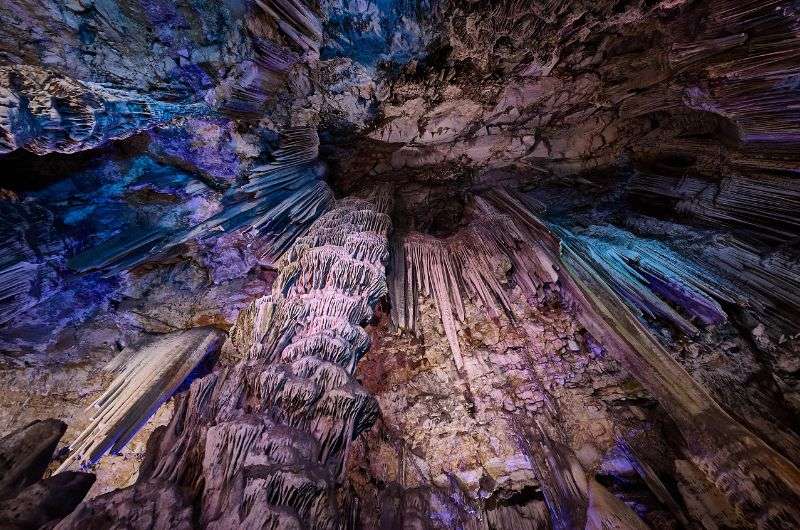 The captivating landscape of stalactites and stalagmites

As you make your way through the winding passageways of the cave, you'll be surrounded by an otherworldly landscape of stalactites and stalagmites, formed over millions of years by the slow drip of mineral-rich water.
The cave is illuminated by atmospheric lighting, which highlights the intricate formations and creates an ethereal atmosphere. Coming from Czech Republic, where we have the most stunning caves—yes, it's a hill I'm willing to die on!—I'm something like an expert. And I can say St. Michael's Cave is pretty high on my list, and that's a trademark. Overall, the cave is not that extensive, so the visit won't take you more than a few minutes.
5. See the Barbary macaques
These creatures are not to be trusted

Want to see wild monkeys on the loose? Everywhere in Europe it's only at football stadiums or in pubs after the game that you can do that, but in Gibraltar, they have the only population of monkeys on the continent. When visiting Gibraltar, you can see the macaques in their natural habitat in the Upper Rock Nature Reserve. The reserve is home to around 200 macaques, who are free to roam and play among the rocks and trees.
So, watch your head, it can become a monkey bar before you can say banana. And don't be fooled! Even though the macaques could seem nice and cute, they are not like average zoo animals. They are still wild creatures with their own personalities and habits. They may look cuddly, but they are still capable of biting and scratching.


A macaque planning his attack

Keep a safe distance and follow the guidelines set by the authorities! Remember, feeding them is strictly prohibited. Keep your bananas in your pockets. They are skilled thieves, so they will probably steal it from you anyways. Have a camera ready under all circumstances, you never know what kind of monkey business you might encounter!
They are either funny or extremely annoying. That depends if you're the one they are trying to climb up to search your bag, or if you are watching some other poor tourists take them on. There's also a superstition that says that if the monkeys ever leave the Rock, the Brits will finally leave Gibraltar.
6. Relax at the beach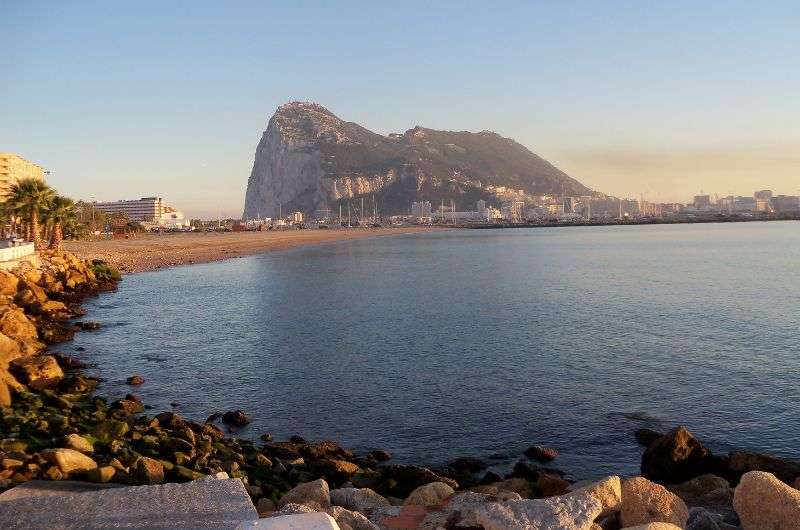 Believe me, after hiking around the top of the Rock of Gibraltar, this beach will be an oasis for you!

What are the best beaches in Spain? The ones in Britain's Gibraltar! No, I'm just messing with you. But to be honest, Gibraltar topped a lot of my Spain lists. Even though it was not the one with beaches, it doesn't mean there are no places worth stopping at.
And the best and brightest award goes to... *drumroll* Sandy Bay Beach! Well, to be honest once again, the competition is not big. Gibraltar has 4 beaches in total. All of them lie on the eastern side except for the rocky Little Bay, but that isn't even what I'd call a beach.
Sandy Bay is a little beach with golden sand hauled in from the Sahara Desert. It's enclosed so there are no waves. You can get a drink or a bad coffee at the little drinks place. Just a tip if you are visiting in the summer: the Rock hides the sun from about 6 pm, so visit before or after that time depending on how much of a vampire you are.


Do you see the manta?

When you are up on the Rock, look down at Sandy Bay. It's very distinct with its artificially crafted area, looking like a manta ray's head.
Eastern Beach is way up north right next to the airport. This is a long beach that is often deserted, or so it feels. There's just a lot of room to fit everyone. Great for plane-spotting if that's your thing. Just check departure and arrival times beforehand, this isn't Heathrow you know. You could be staring up at nothing for hours on end if you don't plan right.
Beware that this isn't the Caribbean, and the close proximity of the Atlantic Ocean keeps it a cooler temperature than some like. For a beach vacation, head up to Mallorca or at least the Sunny Coast, like the area around Nerja.
7. Have some good old fish and chips
Are you already fed up with tapas and tortilla de patatas? Honestly, I don't understand you—but I can't blame you. That's why you can have a break from all the Spanish delicacies for the day and get the fried food you've been craving the whole time!
And when it comes to this masterpiece of a meal, my favorite spot was Jury's Café and Wine Bar. It's small and charming and the fish and chips with beer were great. Service can be slow because they are always busy, but slow and friendly is still better than slow and why-did-we-even-come-here frowny.
But overall, every restaurant I've been to in Gibraltar exceeded my expectations. It sounds weird, but having restaurants that sell tapas and fish & chips on the same menu is awesome. Things like these remind you that Gibraltar is a UK/Spain hybrid.
8. Go shopping at the Main Street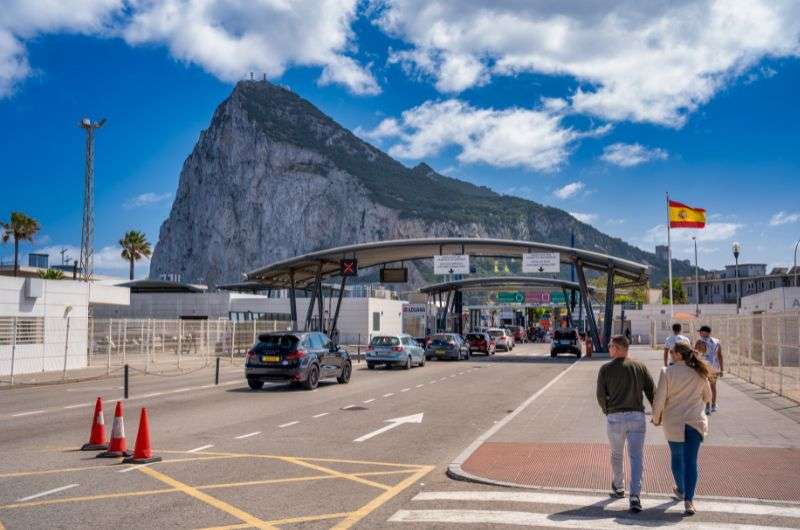 UK+Spain=Gibraltar!

Don't go to Gibraltar expecting cheap electronics or whatever else you might be longing for. They claim shopping is amazing here due to the duty-free status, but it's just a load of bull. Unless you want to stock up on cigarettes or whiskey (and maybe not even that), you aren't getting any deals here. It's like shopping at the airport—duty free but more expensive than in the city center.
It is a place more for fashion enthusiasts that like high-end fashion and luxury items, you would find plenty of those there. Now you probably know, this got on the list not because of me, but my wife. What is a trip without a small amount of shopping therapy? I honestly can't say! But at least I was breathing in the atmosphere of the city and enjoyed a nice cup of coffee there. And you might even run into a red phone booth or two on your way!
If you want to shop, shop because you like to, not for cheaper prices. Main Street is where all the stores are. Most shops are closed on Sundays.
9. Go dolphin watching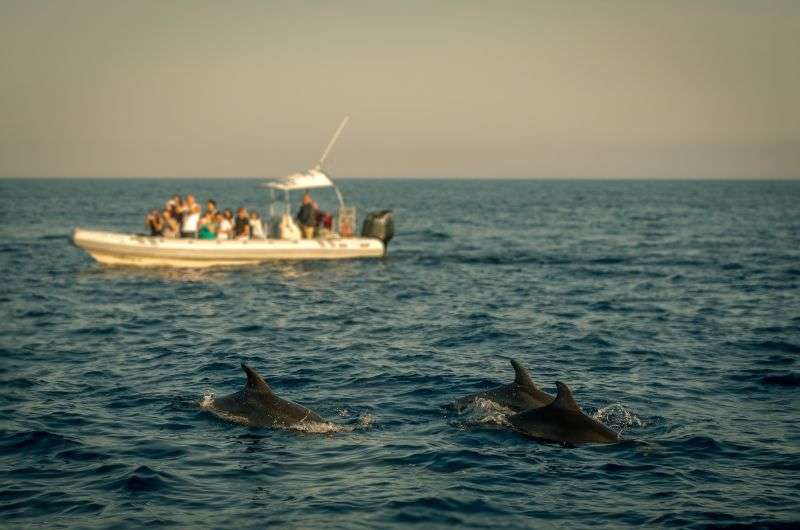 This experience is not to be missed

Probably the most unusual thing to do in Gibraltar, after having a nice time with monkey fellas, is to hang out with the dolphin bros. I don't know, but if these creatures are usual for you to interact with, I genuinely envy you and want to live your life.
A thriving population of dolphins swims in waters washing the Gibraltar shores all year long. So, whenever you are on the island, you have a pretty good chance of spotting the creatures that are probably smarter than half of the people I know.
It's not hard to find them, but the best way would be probably taking some of the dolphin watching tours, which the locals offer to tourists on almost every corner. These tours take you out into the Strait of Gibraltar, where you can see the dolphins in their natural habitat. You might even get to see them jumping out of the water or playing with each other, which is a truly unforgettable sight and it made me want to jump right in there with them.


Who wouldn't want to see these cute sea dogs up close

If you feel particularly adventurous today, you can go swimming with them. I loved swimming with turtles in Akumal in Mexico, but this was something totally different and also very unique. On top of that, you can also see a shell or two in Gibraltar as well as whales if you're lucky.
10. Visit the Moorish Castle
The Moorish Castle

The Moorish Castle a stunning piece of example of Moorish architecture—you are already familiar with from your travels around Andalusia—that dates all the way back to the 8th century Spain when the Moors inhabited Gibraltar. The Moors actually ruled the area from the 8th to the 15th centuries. The castle was later expanded and fortified by the Spanish, who held control over Gibraltar for several centuries. And it has seen a lot in its life!
It has been through countless battles and sieges over the centuries. You can easily imagine the soldiers who once stood guard on its walls, defending their home and their people. And sometimes the Barbary macaques take over and jump on the walls. Maybe they feel like knights and soldiers themselves. But instead of fighting for their people, they just want to steal your food.
When you get inside, it feels like a fascinating journey through the centuries of history and architecture. I liked how the rooms and chambers were decorated. They were full of gripping exhibits and artifacts from the castle's past, from ancient weapons and armor to detailed models of the castle and its surrounding areas.

This post contains affiliate links. I earn a small commission if you make bookings through my links, at no additional cost to you. This helps keep this blog free, thank you!