I have to admit right in the beginning of this article—at first, I was surprised how popular hiking is in Crete. But after I visited the first gorge hike in Crete, I immediately understood.
Before I went, I wasn't sure how good hiking trails in Crete are. But now I have no doubts, Crete is perfect for hiking vacation.
The beauty of the fabulous sceneries and landscape—you simply have to fall in love! And it's not only about gorge hikes, but much more I had to see.
That's why, my dear readers, I hiked the hell out of my stay in Crete, so I can give you an ultimate guide to best hiking trails in Crete.
All of them literally took my breath away... some of them not only because of their beauty—I'm looking at you all the mountain hikes in Crete. They are all included in this way too long list. So, get comfortable, here we go!
You might also be interested in reading:
Mountain hikes
1. Nida Plateau–Psiloritis
Nida Plateau–Psiloritis mountains

Hike length: 8.5 km (5.5 miles)
Elevation gain: 893 m (2,930 feet)
Difficulty level: Hard
Hiking time: 5 hours 
Parking and trailhead: Google Maps link 
Knowing the fact that Psiloritis is with its 2,456 meters (8,058 feet) the highest mountain in Crete, you probably guessed right. You are going to sweat a bunch! This hike is for no amateurs.
There are several ways to get to the top of Psiloritis also known as Mount Ida. I strongly recommend starting from Nida Plateau, it's the best starting point, and you get some stunning views of the mountains right at the beginning of the hike. What can pump you up more than that, huh?
And now to the hike itself. It's beautiful, but keep in mind that it's long and challenging. Getting to Psiloritis' top and back to Nida Plateau via the 8.5 km (5.5 miles) long way will take you up to 5 hours.
Make sure you have proper footwear for your hike because of two reasons, and that's terrain and the weather. The rocks on the path are sometimes too loose, so it would be both dangerous and irresponsible walking in inappropriate shoes.
And the other thing is that at least the top can still be covered in snow! It's pretty normal that even at the end of June there are still some white spots. You won't be able to build a snowman, if you thought that, but it still can surprise you! Leave the bikinis packed in the suitcase for this one, guys. Take out the big guns—I mean boots! And also some jackets, it's windy up there.
I need to say that throughout the whole hike, I was not only excited by the breathtaking views but also how well marked it was. Keep it up guys!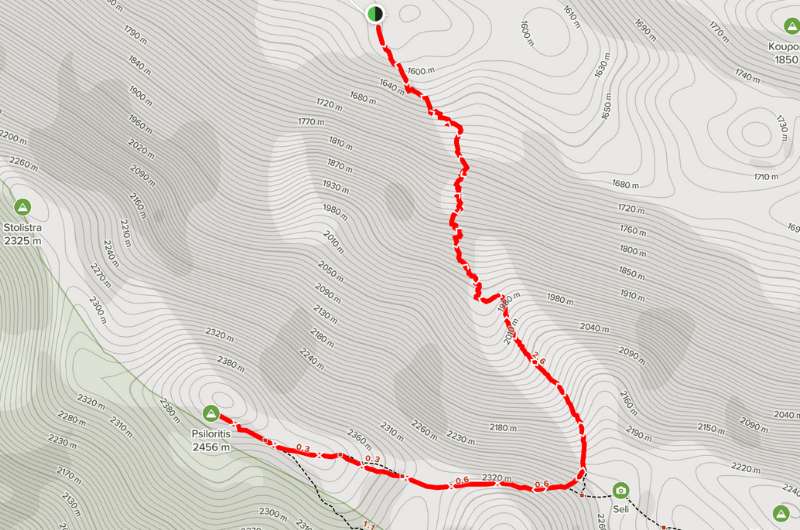 Map of Nida Plateau – Psiloritis hike with details on AllTrails

2. Xyloskalo–Afchenas–Gigilos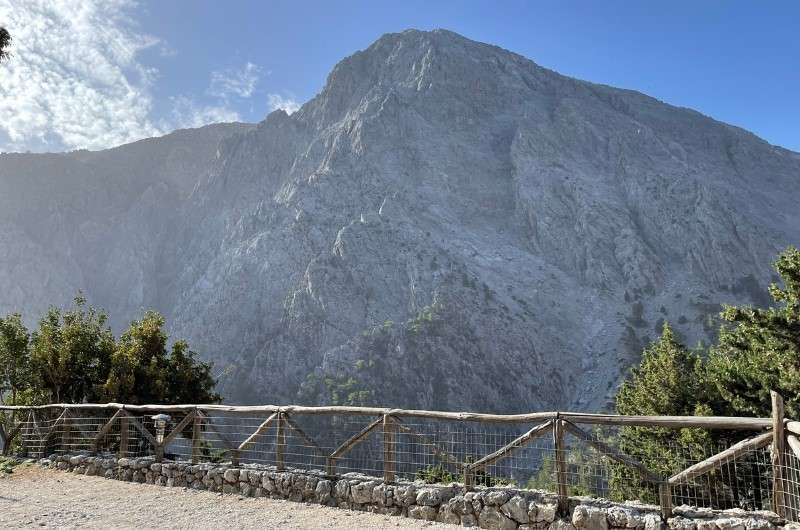 Xyloskalo–Afchenas–Gigilos

Hike length: 9 km (5.1 miles)
Elevation gain: 951 m (3,120 feet)
Difficulty level: Hard 
Hiking time: 5 hours 
Parking and trailhead: Google Maps link 
Another out and back truly challenging and hard trail is this one from Xyloskalo through Afchenas to Gigolos—not that kind of gigolos, that's something else guys, you have such dirty minds! It's the same starting point, as if you were about to hike Samaria Gorge—about that one later—however, with a different destination ahead.
This is another level of difficulty, let me start by saying that. Even if you are fit people, it will take your breath away. And that's not only because of the views! I mean, on the way up I considered turning back a few times, but you know me. I ain't no coward! So, I bit the bullet and endured it. Maybe my vocabulary was R-rated at that moment, but I got to the top, and that's what's important.
The path is super steep and slippery, but fun. You shouldn't miss that if you are an experienced hiker. The whole hike is 9 km (5.1 miles) long with an elevation gain of almost 1000 meters (1281 feet), so it will take you about 5 hours. Will you dare?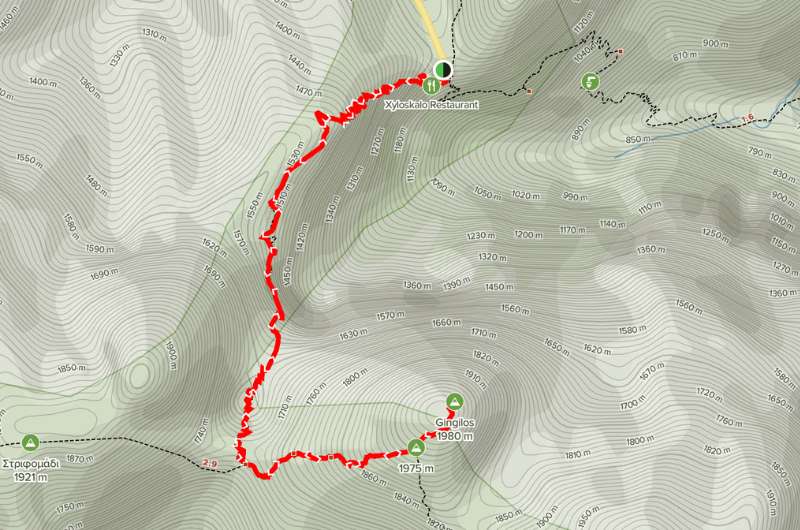 All the details about Xyloskalo - Afchenas – Gigilos hike on AllTrails

3. Mount Dikti–Spathi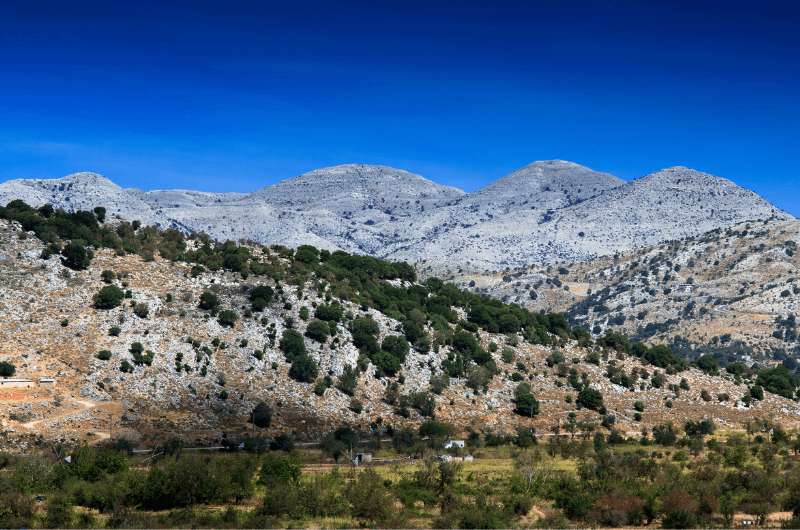 Mount Dikti–Spathi

Hike length: 12.9 km (8.02 miles)
Elevation gain: 1,044 m (3,425 feet)
Difficulty level: Moderate
Hiking time: 6 hours 
Parking and trailhead: Google Maps link
Dikti Mountain is the third highest peak in Crete, and I enjoyed this mountain hike the most of them all. Even though the terrain was sometimes very harsh and rocky even on the path, I would walk it all over again without blinking an eye.
The mythology of Mount Dikti is also quite interesting—in Greek its name means "giving birth to Zeus"! According to the old myth Zeus was hidden by his mother to protect him from Kronos (his father) in one of Dikti's caves. You can also visit Psychro Village and the cave where Zeus was raised during the hike! But I wasn't there actually. I'm a history nerd, but mythology is not exactly my thing.
The hike was absolutely stunning from the very beginning to the end. The views on the way were extraordinary. I know I say this with almost every hike I took on this island, but it's not my fault, it's true, guys. Visit Crete and see for yourself!
You will enjoy every step of the way, I can guarantee that. Afterwards you will feel so rewarded that you managed to walk this challenging hike. I did!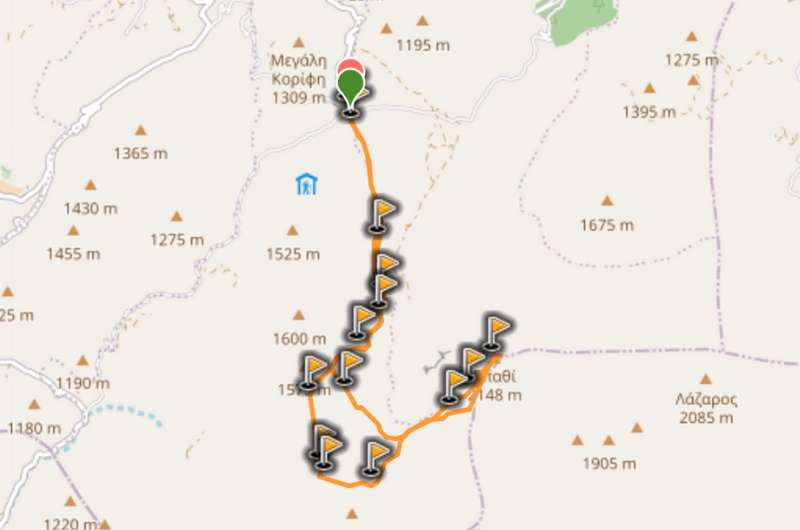 All the useful information you need for this hike you can find on Wikiloc

4. Stavros–Moni Katholiko–Avlaki Cove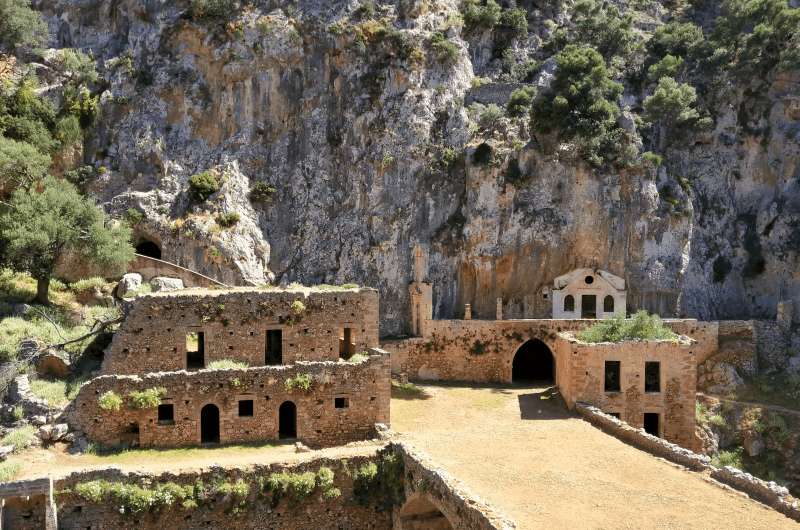 Moni Katholiko

Hike length: 13.5 km (8.7 miles)
Elevation gain: 653 m (2142 feet)
Difficulty level: Moderate
Hiking time: 4.5 hours
Parking and trailhead: Google Maps link trailhead (no parking lot at the spot, you have to park on the side of the road)
This hike is one of the easier you can take in the Cretan mountains. But I would still consider it moderate difficulty at least, so don't celebrate just yet.
The hike is 13.5 km (8.7 miles) long out and back style starting in a lovely village of Stavros. This route is quite popular, so you will probably meet a few fellow hikers on your way. But it shouldn't be too busy, especially if you are visiting during the shoulder season as we did.
On your way there you go up the hill for the first 4 km (2.8 miles) and then you descend until you get to Katholiko Monastery—one of the oldest monasteries in Crete.
Stavros - Moni Katholiko - Avlaki Cove hike map from AllTrails

If you don't want to walk the whole almost five-hour-long hike, you can start at the monastery and then take a taxi from Stavros. But in either case, you should definitely see the monastery no matter where you start. The ruins are rather unknown to most tourists, and it's such a shame—I was simply astonished!
Hotel tip: This hike is close to Chania, so if you need a place to stay before or after the trek, I have a tip for you. We stayed in Mossa Well Being Hotel and we had a great time there. It surely lives up to its name!
The staff was friendly and gave us many useful tips about the city. The check-in was super fast and we even got welcome meze and a drink!
Our room was very spacious and clean but oh my god the beds—I had the sleep of my life! Maybe it was also thanks to the high ceiling of the room, ergo it was full of fresh air.
The breakfast was continental and à la carte style with many delicious options so I think even picky eaters can find something nice to start their day with there. Personally, I really enjoyed the breakfast options that Mossa offers.
The prices are from €140 per night, excellent breakfast included.
My top tips for hiking in Crete:
Mountain hikes are truly the challenging ones. Think twice about taking them on if you are not exactly as fit as a fiddle.
Start as soon as you can, the weather gets hotter every second!
Don't forget to pack enough water and a windbreaker if you are trekking the higher altitude hikes.
Gorge hikes
1. Samaria Gorge
Samaria Gorge

Hike length: 17.5 km (10.2 miles)
Elevation gain: 2,636 m (8648 feet)
Difficulty level: Moderate
Hiking time: 7 hours
Parking and trailhead: Google Maps link 
This trip, Samaria Gorge hike included, will take you the whole day, just because of the logistics of getting there and back.
The hike is long but totally worth it. I rank it high, it's probably one of the 10 best hikes I have ever trekked, and certainly THE top place to visit on Crete. The views were absolutely stunning—it's 11/10. The scenery, nature, everything works perfectly together and makes it undeniably the greatest experience I had on this trip.
If you are in Crete sometime between May and October, which is the time when this hike is opened, you simply have to visit this breathtaking place in Samaria National Park. (I have an entire article on Samaria Gorge, so check that out for details!).
The hike is a one way, leads you for 14.5 km (9 miles) along the gorge in National Park and then another 3 km (1.2 miles) outside the park. Around 4th km the hike starts to descend a lot so get your knees ready for this adventure!
Samaria Gorge

If you want to avoid the crowds, get there in the morning, the hike is very popular and it shows! We got there around 10 am and it was already full of hyped tourists waiting to hit the road with their trekking poles. Before you enter you pay €5 entrance fee which is basically nothing compared to what you will experience.
The first kilometer of the hike you get some spectacular views and I guarantee you'll just walk with your mouth wide open. Then you enter a forest for another 5 kilometers with no views. But don't worry there you can enjoy more than 450 types of flora with 70 endemic species—that means they only occur there and you won't see them anywhere else in the wild the whole world! But unless you are botanist or plant enthusiast, it's pretty boring.
Samaria Gorge hike map from AllTrails

And then again, breathtaking views of mountains covered in cypresses and pine trees. Oh my God just imagine the air scented by the trees. It simply drives all your worries away. Of course, only until the point you stumble across slow walkers on your way. Yeah, we get it, you're enjoying the views. But would it kill you to let faster people pass in front of you? It surely can kill us when we try to pass around you. Please be responsible guys!
Tip: If you always travel with your loved ones—as I do—try visiting some romantic spots on your vacation and make the most of it. And maybe try mine 13 best places to visit in Scotland for couples. We sure enjoyed them.
2. Zakros Gorge
Zakros Gorge

Hike length: 11 km (6.1 miles)
Elevation gain: 350 m (1148 feet)
Difficulty level: Moderate   
Hiking time: 3.5 hours 
Parking and trailhead: Google Maps link 
On the other side of the island is something people call a hidden gem. Well, I'm not a fan of these cliches but to be honest Zakros Gorge truly felt like we found one. However, I must admit its name doesn't sound tempting at all.
But you don't have to worry they don't call it Gorge of the Dead because the hike would be super dangerous or something. Actually, it got its name because of its use in ancient times. The Minoans used the caves on the steep walls of the gorge to bury their dead.
The place itself reminded me Zion National Park in Utah, so if you've been there and liked it, you might enjoy this place as well. The gorge has dramatically steep walls which are truly breathtaking.
The hike we took is out and back type and is around 11 km (6.1 miles) with elevation gain almost 350 meters (1148 feet). On your way, you meet a nice viewpoint on an unpaved road, many herbs and unique geological structures. And of course—goats wherever you look!
More details about the hike on Alltrails (no affiliation, I just think they are awesome).
Lots of tips and Zakros Gorge hike map of the hike you can find on AllTrails

Do you know the E4 European walking path? It starts in Tarifa Spain and ends right here at Kato Zakros! In Crete it's a 320 km (198 miles) long path leading though Zakros Gorge with some picturesque views and wonderful nature.
You can leave your car in free parking close to the start of the trail. It's a 3-hour drive from Heraklion so be ready to make it a whole day trip or you can sleep somewhere in eastern Crete.
3. Richtis Gorge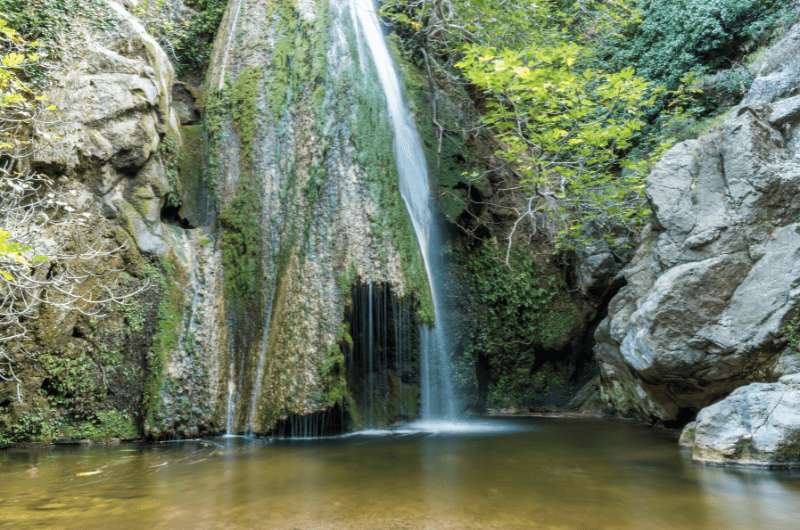 The Richtis waterfall

Hike length: 9 km (5.1 miles)
Elevation gain: 380 m (1246.7 feet)
Difficulty level: Moderate   
Hiking time: 3 hours 
Parking and trailhead: Google Maps link 
Another rather moderate and beautiful hike is along Richtis Gorge. But let me tell you one thing. I was truly impressed how well marked the hike was. Sometimes it can be a bit challenging to get oriented on your hike in Crete, but not on this one. To be honest, you have to be a total dummy to get lost there.
The hike is out and back style and is about 9 km (5.1 mile) long. You don't have to walk all the way, many people stop at the waterfall that is like 3 km from the start and go back. The Richtis Waterfall is picturesque and tempting to dip in during the flaming hot Cretan days. So maybe stop there for a while and don't forget to pack your swimsuits. Will come in handy!
The elevation gain is 380 meters (1246.7 feet) starting with the descent one way and going up the hill on the way back. It can be a bit challenging for people who are not as fit as they should be, but as I know you my fellow readers, that won't be a problem.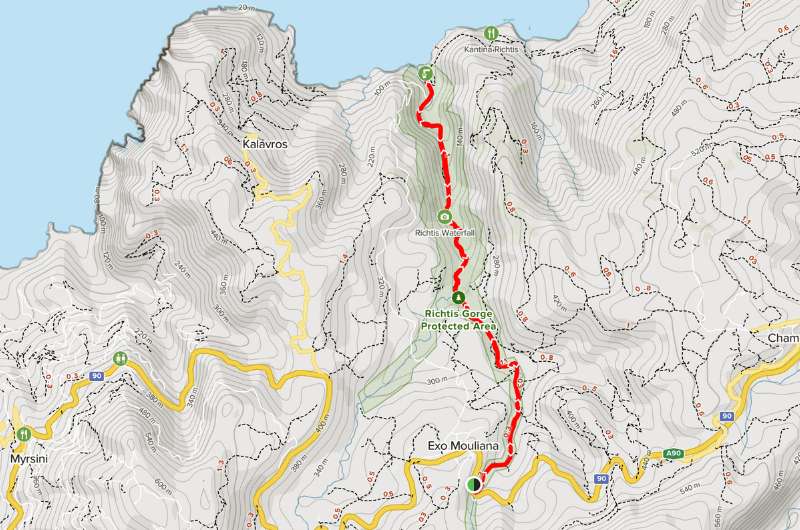 Map of Richtis Gorge map in Crete from AllTrails

There is a small parking lot probably a mile from the beginning of the hike. You can park there for free, if you get a spot of course. If you don't want to depend just on luck and pray to the gods you don't even believe in, get there in the morning.
The entrance fee is €3 and you pay it at the beginning of the hike.
Tip: Another promised land for hikers is Chile. I experienced some of the most wonderful views on the challenging peaks of the mountains there. Read more about the hikes we trekked in Chile!
4. Imbros Gorge
Imbros Gorge

Hike length: 8 km (4.1 miles)
Elevation gain: 318 m (1043 feet)
Difficulty level: Easy
Hiking time: 2 hours 
Parking and trailhead: Google Maps link 
Imbros Gorge is moderate difficulty but it's still one of the easiest hikes you can take in Crete. So, if you aren't hiking enthusiasts, put it on your to-do list! Or if you are on a family vacation and want to take your restless little angels and channel their energy into something else than constant fighting for your attention, this should wear them out.
Even though the hike is rather easy, it doesn't mean you should cross it off your list. On the contrary! Even if you are more into challenging hikes, you shouldn't miss this one. I also like to be more challenged and if I'm not on the edge of dying after the hike, I don't consider it worth trekking—theoretically speaking. But I'm glad we hiked this one because I really liked the rocky cliffs and especially the scenery.
The hike is about 8 km (4.1 miles)—not 6 km (3.1 miles) as AllTrails states—long of the out and back type and it probably won't take you more than 2 hours. But be careful, the road is covered with small rocks and can be very slippery.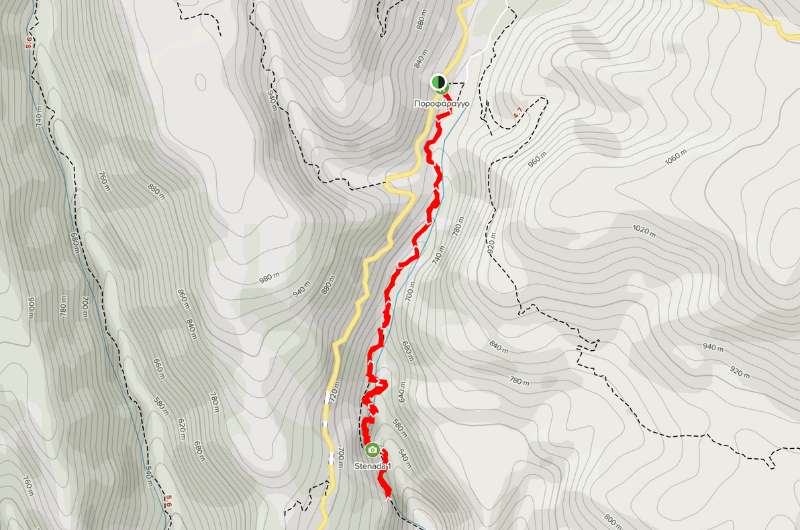 Details about the route on AllTrails

You can find the start of the hike in Imbros village right next to the parking lot. There is a big sign guiding you to the trail so you can't miss it, the entrance fee is €2.50. And as I almost always say, get there as soon as you can otherwise there will be many tourists even in October.
The end of the hike is in Komidates village where you can take a bus or a taxi back to Imbros.
Overall, I rank the hike positively, some parts are worth seeing, especially the narrowest point not even 1.5 meters (4.9 feet) wide. So, if you are wider than the gorge, maybe it won't be the right fit for you—pun intended.
Interior of Rivira Boutique Hotel is nice and modern!

Hotel tip: Another hotel we stayed in during our vacation in Crete was Rivira Boutique Hotel. The hotel and rooms were nice and clean with a very modern interior. Overall, the place was very cozy, food was fresh—the breakfast options were wide continental and American style, but not something extraordinary.
But I will be a bit strict now—we spent more than 20 minutes just checking in. I mean, in Mossa it took a few minutes, so we were pretty bummed by that. On the top of that, there is no parking in the area belonging to the hotel, so we had to find our own... This kind of took a few points from our ratings, but I would still recommend staying there.
The prices start around €150 per night breakfast included.
5. Mili Gorge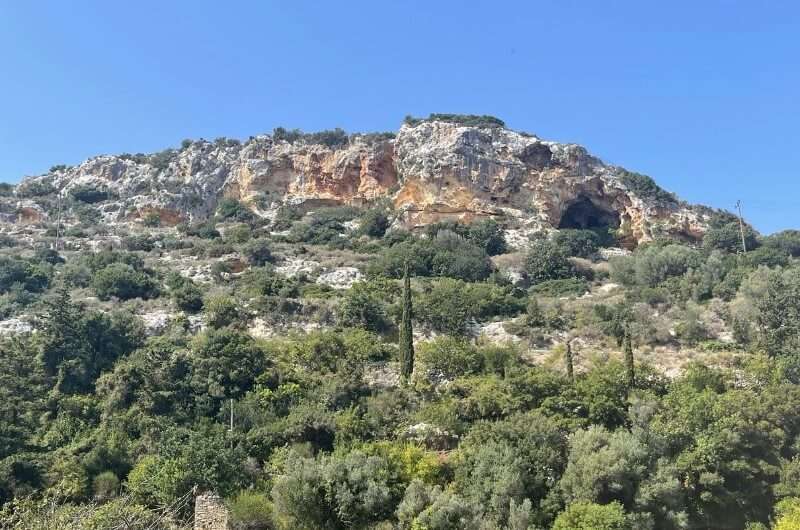 Mili Gorge

Hike length: 5.1 km (3.1 miles)
Elevation gain: 200 m (656 feet)
Difficulty level: Moderate   
Hiking time: 1.5 hours 
Parking and trailhead: Google Maps link  (no parking lot, but the side of a road has got your back)
Mili gorge is an easy 1.5-hour long trail close to Rethymno city—only a 15-minute car ride—near the city of Mili. No, I'm not an illiterate dummy, it can also be Myli you can find both versions and both are right.
There is a tourist bus stop close to it but as always, I recommend going by car. If you do so, put in your GPS "Mili Gorge Trailhead" than only "Mili Gorge", otherwise it will lead you somewhere else. Unfortunately, there is no dedicated parking lot or anything even remotely close. Therefore, we left our car along the road. I felt like a true Greek, they park literally everywhere.
The hike itself is quite short but full of scenic views. It's only 5km (3.1 miles) with an elevation of 200 meters (656 feet) and if you start at the south entrance, you mostly walk down.
The path is very green and so fairytale-like! Pretty unusual for Cretan hikes but that is probably why we liked it so much—it was just something else! We even saw some rare species of flora. You walk past breathtaking flowers or tree arches. And look out for ruins on your way. I saw one that reminded me of Angkor Wat in Cambodia. I know, didn't expect that either! In one word—beautiful!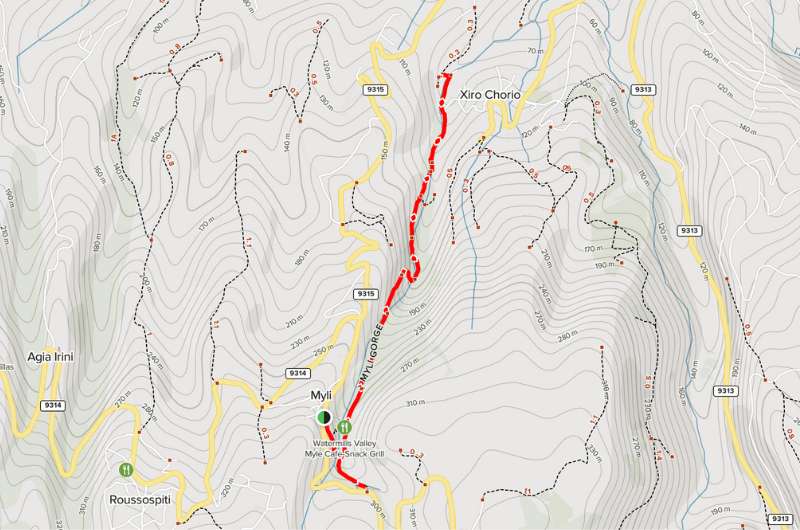 Mili Gorge hike map and details available on AllTrails

Entrance to Mili Gorge is free and with its easy access I don't see a reason why you shouldn't visit it. You can also walk through the small Mili city. Wondering how it got its name? You guessed right, thanks to its many mills. Greeks are so imaginative!
Tip: For a gazzilion more fairytale-like hikes, you need to head over to Scotland. Some of the places there are truly out of this world. Except for Fairy Glen... Read about them in the best and worst hikes in Scotland article.
6. Rouvas Gorge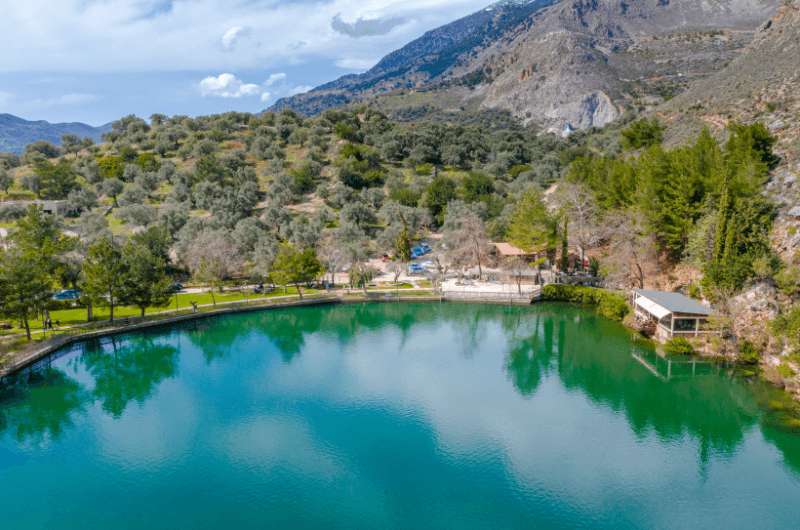 The Rouvas Gorge hike and the lake of Zaros

Hike length: 9.7 km (6.4 miles)
Elevation gain: 633 m (2076.7 feet)
Difficulty level: Moderate   
Hiking time: 4 hours 
Parking and trailhead: Google Maps link 
Rouvas Gorge hike starts at this wonderful Zaros lake and continues up the hill through Rouvas woods. The scenery is absolutely stunning as you combine walking through a forest with the view of mountains once you get out. Lake, forest, nature, mountain view. This hike just has it all!
I would rank this hike a bit more challenging than for example the Richtis Gorge. The path is very steep in many parts of it, so be careful and wear proper shoes. As you should always when going hiking. Nothing makes me more furious than seeing tourists wearing insufficient shoes. Nobody cares about your new flipflops buddy, you are a danger not only to yourself but also to others!
While we're talking about equipment, for this hike don't forget to bring enough water. On the way up I felt like I was boiling alive. Even though we were there deep in October, the weather didn't seem to notice.
The whole hike is 9.7 km (6.4 miles) with elevation gain 633 meters (2076.7 feet) and will take you about 4 hours. The first half of the hike you go up the hill, so don't worry and take your time, the journey back is way faster.
Rouvas Gorge hike details on AllTrails

You can leave your car in the parking lot nearby about 10 minutes' walk from the gorge entrance.
Tip: Crete is full of wonderful gorges you can hike. Check out my article about all of the gorge hikes, I trekked during my stay in Crete.
Beach hikes
1. Balos Lagoon
The Balos Lagoon

Hike length: 2 km (1.4 miles)
Elevation gain: 100 m (328 feet)
Difficulty level: Moderate   
Hiking time: 0.5 hour
Parking and trailhead: Google Maps link 
Crete is full of wonderful beaches. And one of them totally worth visiting is Balos Beach and the lagoon with its turquoise water and white sand. This beach looks literally like an advertisement for beaches by travel agencies.
A mild hike leads there and it's more a way to the beach from parking than a hike per se. It's not even 2 km (1.4 miles) long with only about 100 meters (328 feet) descent to the sea. But judging from the red faces of some people coming up like they're reaching one of the eight-thousanders it can be quite the achievement.
Anyways, the lagoon is even prettier from the view up the hill. So, don't forget to take some pictures on your way down.
On one side of the beach the lagoon is very shallow, so it's perfect for kids to play in. The other side is exactly the opposite—rocky, wavy and deep. Connection of tiny Cape Tigani to the mainland Crete creates an isthmus that gives the whole scenery a real tropical vibe.
I 100% recommend visiting Balos Beach. The only minor inconvenience is the hell of a road leading there. The drive from Chania takes you about an hour and this unpaved road is about half of it. It sure sounds a bit annoying, but it was one of the prettiest beaches I've ever encountered.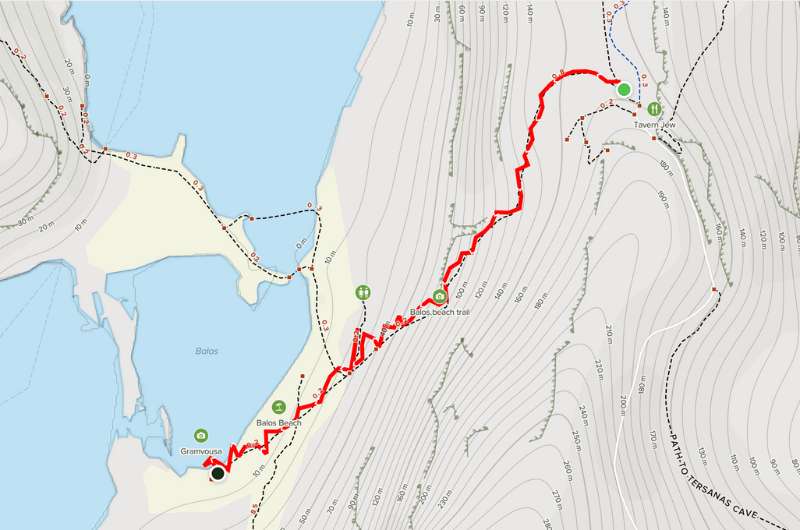 How to get to Balos Beach? Take this hike—more info on AllTrails

2. Preveli Beach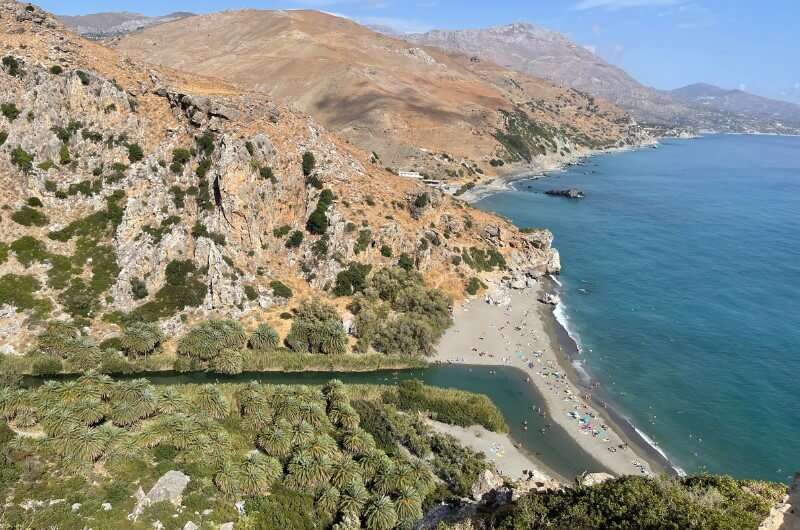 The view of Preveli beach

Hike length: 1.3 km (0.14 miles)
Elevation gain: 35 m (115 feet)
Difficulty level: Easy   
Hiking time: 0.5 hour 
Parking and trailhead: Google Maps link 
Preveli Beach is also being referred to as Palm Beach thanks to its—you guessed right—many palm trees! The tree line grows all the way from the beach into the gorge and it's truly stunning.
The weather at this second most famous beach in Crete is pleasant as the river flows into the sea there. Therefore, the temperature of the sea is regulated by the cold river, so it has this semi hot and semi cold feel. That was an extraordinary and new feeling for me. I found it very nice after the hike!
You can get there from a parking lot close by in about 10 to 15 minutes. The way down is steep with descending about 150 meters (492 feet) so be careful and don't roll all the way down straight to the sea. In the burning sun we almost felt like pigs on a spit being grilled. Well, some people on the beach even looked like ones... Sorry, I'll be more politically correct—I felt like true grilled Greek gyros spinning around next to flaming hot grill. And the people looked like they are enjoying gyros probably way more often than they should!
If you are not sunbathing type of a guy like me, take a walk from the beach around the river through the palm forest. I didn't expect much from this place but once we got to Preveli Gorge I was truly amazed. We can call it a short very easy hike, that takes you a few minutes, but will surprise you, how nice it's. One of the most beautiful places on Crete!
If you want to know other great beaches in Crete, check out my article!
Nice and short walk on Preveli Beach—more details about Preveli Palm Forest hike on AllTrails.

3. Matala - Red Beach Trail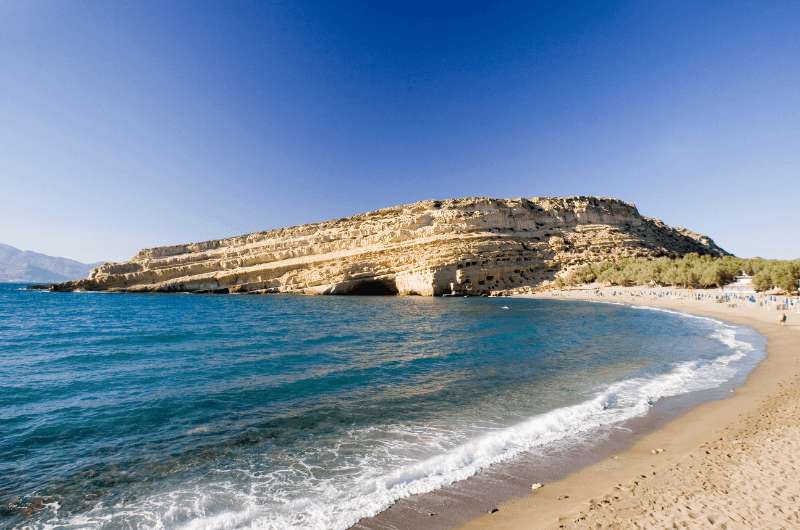 Matala Beach

Hike length: 2 km (1.4 miles)
Elevation gain: 141 m (463 feet)
Difficulty level: Easy
Hiking time: 1 hour
Parking and trailhead: Google Maps link 
Another very easy but nice, short hike that won't take you more than an hour starts at Matala Beach and takes you via the 2 km (1.4 miles) long way to Red Beach also known as Kokkini Ammos. I don't know what was supposed to be red about it, but never mind.
Matala is probably one of the most famous Cretan beaches. And not only because of its clean sand but also thanks to its history. And you know me, I can't waste an opportunity not to tell you a bit about its past.
In the cliff running along the coastline there are many caves that were used all the way by Romans as tombs. But what made it famous more recently is that during the wild years of the 70's hippies inhabited the caves. Good for them but thank God they are gone now. Wouldn't like to run into some of them there!
Matala Beach is covered in soft sand and truly makes a wonderful vacation spot. The water is see-through and quite warm but it's too famous for you to feel relaxed there. It's this typical picture of a tourist beach with those annoying plastic chairs in the ocean of towels with screaming and crying kids in the background. Nah, not for me, thank you. So, get up and take a walk to Red Beach.
The short hike takes you there through the steep descend to something, that is supposed to be red sand—I didn't see that but okay. What I saw was too many naked people. Lately I discovered it was a nudist beach, so be ready to see a lot of jiggly things, that are surely not jellyfish...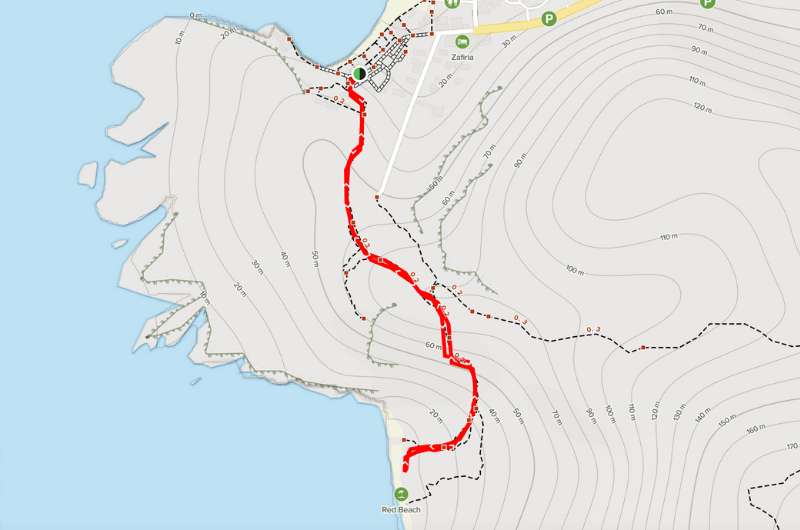 Map with details of short Matala - Red Beach trail on AllTrails

4. Glyka Nera Beach - Timios Stavros chapel – Loutro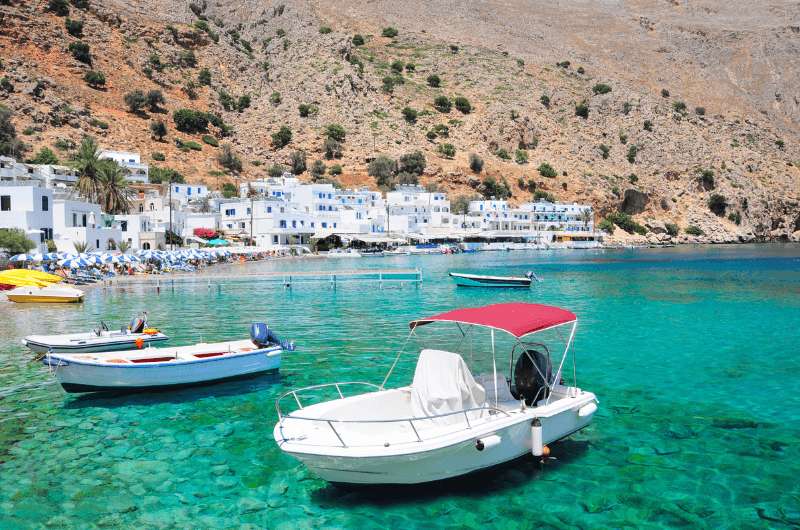 Loutro

Hike length: 9.2 km (5.2 miles)
Elevation gain: 306 m (1004 feet)
Difficulty level: Moderate   
Hiking time: 3 hours 
Parking and trailhead: Google Maps link for parking few minutes from the trailhead
This one is a bit different than the other beach hikes. It doesn't just lead to a beach like the previous ones, but it's a longer coastal path full of breathtaking views and picturesque scenery—definitely one of the best hikes Crete has to offer.
I recommend doing the hike in the morning. Remember the ruthless flaming Cretan sun, right? And as you walk along the coast, it'll be hitting you hard! But overall, the route itself is not that challenging. AllTrails says it's moderate difficulty, but I probably wouldn't even say that—it's really chill, guys.
Some parts of the way are not the easiest, the first 20 minutes you walk on rocky terrain, so be careful. But that's probably it as far as the challenging bits go.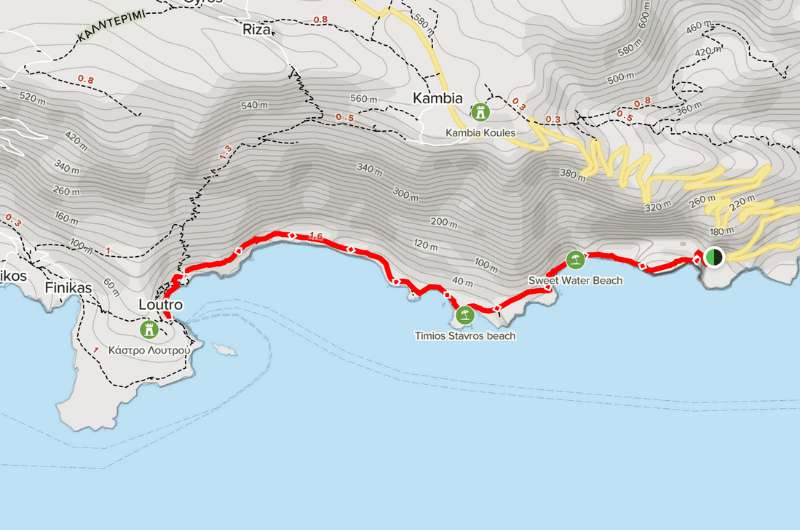 The best coastal walk in Crete—that's definitely this one! Details on AllTrails

The hike is 9.2 km (5.1 miles) long and won't take you more than 3 hours. It's very popular, and I definitely get why. The landscape is beautiful and the views of the nice turquoise sea? Just like a postcard picture!
Not sure if this is what I imagine behind the words "authentic village", but The Authentic Village Boutique Hotel is surely a nice place to stay!

Hotel tip: If you are not in a rush to head back, why not stay a night around Loutr? I happen to have a perfect tip for a place few kilometers away from the city.
The Authentic Village Boutique Hotel is in a small village close to Loutr and for me, it was one of the coziest places we stayed in Crete.
Big clean rooms with clean bathrooms and beds, not even talking about that terrace. You know I like my comfort and in The Authentic Village Boutique Hotel I was on cloud nine.
They don't serve breakfast—which is a huge deal for me—but at least there is a bakery/café close to the hotel, which you get a coupon to buy the food yourselves. Not much, but I got over it eventually.
The prices start at €100 for the larger rooms.
5. Elafonisi Beach and Pink Beach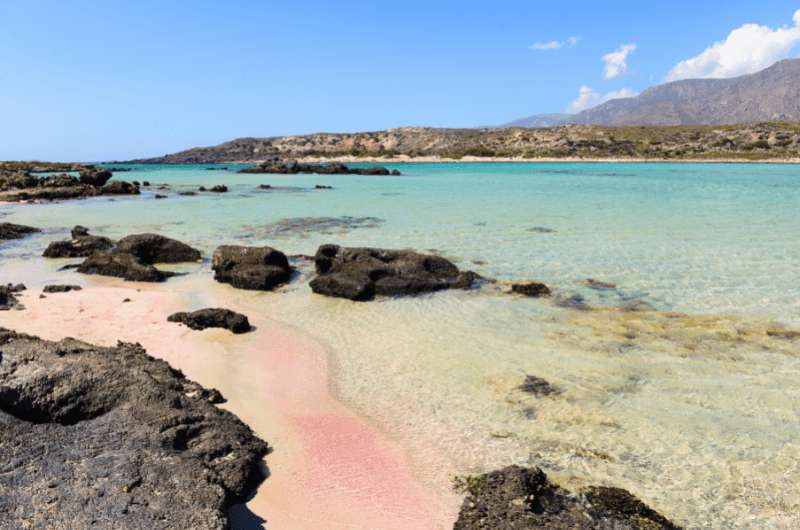 Elafonisi Beach

Hike length: 4.3 km (2.1 miles)
Elevation gain: 56 m (184 feet)
Difficulty level: Moderate   
Hiking time: 1 hour
Parking and trailhead: Google Maps link for free parking at the beach
Clear see-through turquoise water, exotic pink sand beach. That's what you expect from a visit of Elafonisi Beach. But that's definitely not what you get.
When we got there, we had those pictures of the almost impossibly pink beach in our heads but what we saw was a bit of red dust and that's it! So, thank you Instagram for deceiving me once again. I will never trust you again (you also lied about the colors on Rainbow Mountain in Peru!)
Otherwise, when you get over the disappointment, it's actually a really nice beach. Just not as pink as you thought. The sea has a nice light blue color and is not that deep, so your children can play in it and won't drown (probably). But keep an eye on them, just to be sure.
After you are done just lying around, up on your feet and take a walk. And I've got the right one for you. It's short and easy hike, that won't take you more than an hour. Lying in the sun for a long time is unhealthy anyways!
How to get to Elafonisi Beach map from AllTrails

The biggest bummer about this place is the location. It's far from anywhere, it takes at least 1.5 hour to get there from Chania. Well, there is a huge parking lot for free so you can drive there. You can visit many beaches that are closer than Elafonsi, but in the end it's just up to you.
This post contains affiliate links. I earn a small commission if you make bookings through my links, at no additional cost to you. This helps keep this blog free, thank you!